---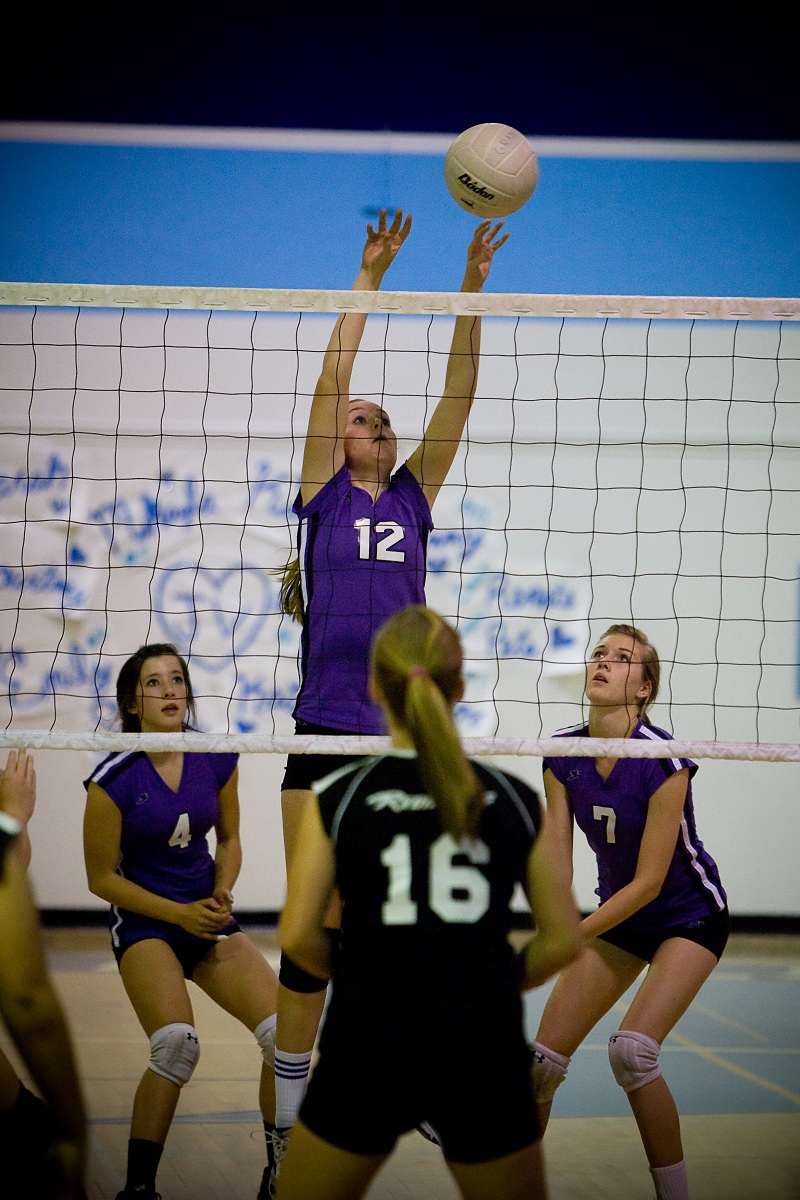 Foothills Christian middle blocker Reagan Falduti,
flanked by Karly Santos (4) and Karris Esselstrom.
(FCHS courtesy photo)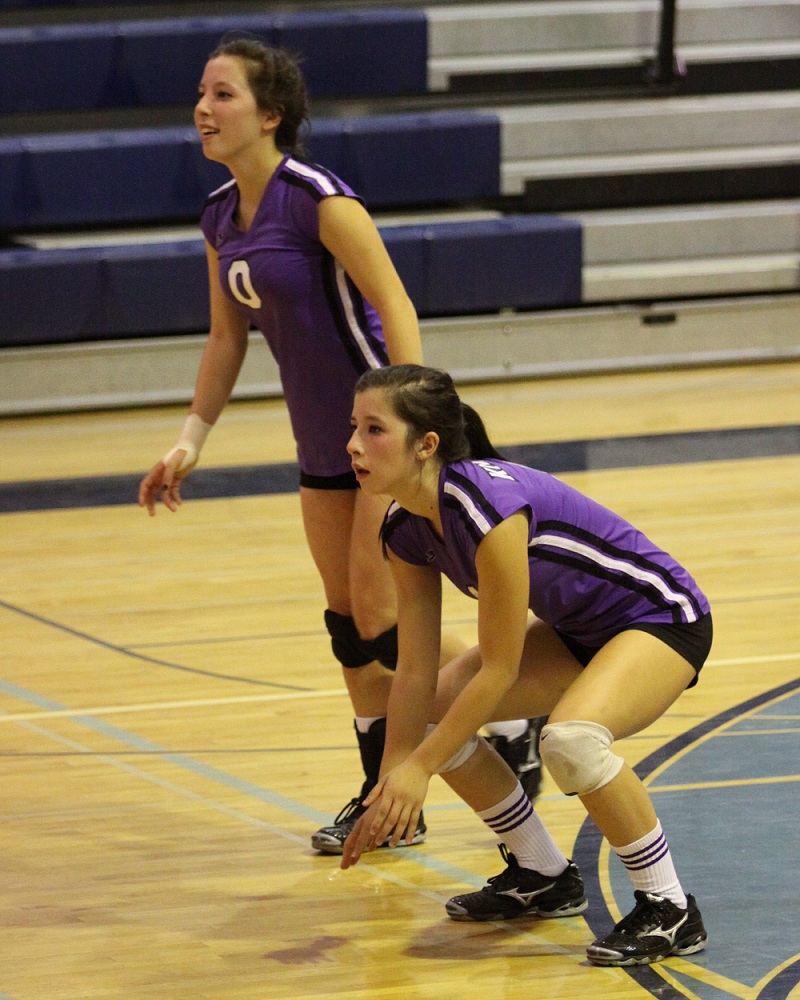 The Foothills Christian sister combo
of Mikaila (left) and Karly Santos.
(FCHS courtesy photo)
CIF-SAN DIEGO SECTION PLAYOFFS

Lions rally from down 2-0 to upend Knights
© East County Sports.com
SPRING VALLEY (11-14-10) — The greatest season in the young history of the Foothills Christian High volleyball team came to a premature ending.
After the Knights built a 2-0 lead in Saturday's (Nov. 13) San Diego CIF Division V quarterfinals, a ticket to the Final Four seemed to be in hand. However, visiting San Diego Jewish Academy made the necessary changes on defense to flip-over the match, taking a shocking 3-2 victory at Mount Miguel High gymnasium.
The Lions, blitzed in the first two sets, won by scores of 9-25, 12-25, 25-14, 25-21, 15-11.
"We just needed to take a deep breath and be more together on the court," said SDJA junior Gabi Rothman, who fueled the rally with 14 of her match-high 17 kills over the final three sets. "Then we kept an eye on the short ball."
As quickly as second-seeded Foothills moved in front, suddenly they were unable to score points when the Lions starting to dig more consistently. And when Rothman was in the back row, her Solana Beach Volleyball Club co-member Katie Sherman delivered the offense.
The Knights opened the match on a 15-3 roll in the opener, then 9-2 in the second set. The leads featured tough serving by JEANNIE LAMBERT and KARRIS ESSELSTROM. Both finished with seven aces.
Meanwhile, Esselstrom and KARLY SANTOS registered nine kills each, while REAGAN FALDUTI added five putaways, as sophomore setter MIKAILA SANTOS found open hitters throughout the early going.
"I'm still so proud of my girls -- they really had a terrific season," said Foothills coach DAN SANTOS, who will lose just one starting senior from the Knights. "We hoped to have gone farther, but our effort was there the entire match."
San Diego Jewish Academy advances to Tuesday's semifinals on the road at Horizon.
---
Knights capture CIF opener in sweep
© East County Sports.com
EL CAJON (11-11-10) — For the first time in school history, Foothills Christian High owns a postseason victory in volleyball.
Paced by eight kills and nine aces by outside hitter KARRIS ESSELSTROM, the Knights scored a first-round sweep over Liberty Charter of El Cajon, 25-14, 25-9, 25-13, in Wednesday's (Nov. 10) CIF-San Diego Section Division V opener held at Granite Hills.
Esselstrom came through with one of her biggest performances of the season while Liberty was busy trying to halt Knights spiking leader REAGAN FALDUTI.
"It was one of the best matches that I've played," said Esselstrom, a sophomore. "MIKAILA (SANTOS, the setter) and I were able to connect and hit to the outside."
Falduti, the middle-blocker, also registered eight kills, but with the Lions spying on her all match, the deeper Foothills offense was still able to produce points all night.
"We came in stronger and with more confidence than we had in other playoffs," said KARLY SANTOS on her school's first CIF victory after a trio of first-match exits. "This year's different because we're a closer team than before and we trust each other."
Karly Santos, a three-time Sunset League player of the year, added five kills to fuel the offense. Meanwhile, the Knights (20-11) collected half of their points on strong serving, keeping Liberty off-strike all contest.
And with Mikaila Santos (33 assists) weaving the ball to a variety of hitters with her sets, Foothills kept its position as the second-seeds (behind 4-time champion Tri-City Christian) to advance deep into the postseason tournament.
"Mikaila reads the court so well, she always seems to find the open player," noted Esselstrom, who recorded four of her kills from the backcourt.
AMANDA SCHOOLCRAFT posted three blocks for the Knights.
Liberty, in its first season of athletics, saw middle NICOLE SWAFFORD register a team-best four kills and four blocks.
Foothills Christian advances to this weekend's Division V quarterfinals. While all other matches will be played Friday, the Knights were forced to move their contest to Saturday to respect the beliefs of opposing San Diego Jewish Academy, which does not play on Friday nights or Saturday afternoons.
Thus, the match will be held Saturday at Mount Miguel High. First serve is tentatively set for 7 p.m., yet could be moved back to 8 p.m. for religious considerations.

SDJA, the Division V runners-up the past two seasons, survived a 5-set marathon against Borrego Springs on Tuesday, taking a 22-25, 25-21, 22-25, 25-14, 15-12 decision.
---
CIF-SAN DIEGO SECTION
CHAMPIONSHIPS
DIVISION V
First Round — Tuesday
Borrego Springs (13-6) at SD Jewish (11-6)
First Round — Wednesday
Liberty Christian (9-4) at (2) Foothills Christian (19-11), at Granite Hills, 7 p.m.
Quarterfinals — Nov. 12/13
Semifinals — Nov. 16
Finals — Nov. 20, 9:30 a.m. at Del Norte
Foothills Christian seeks initial CIF triumph
Sunset champions seeded second in Division V
© East County Sports.com
EL CAJON (11-7-10) — Following the best season in school history, Foothills Christian High was rewarded with a second seed when the Knights open play in the CIF-San Diego Section Division V girls volleyball championships this week.
The Knights, champions of the Sunset League for the third time in four seasons, posted a 20-11 overall record while going perfect in 10 league contests.
While playoff action begins Tuesday for the majority of area schools, Foothills Christian will open its postseason schedule on Wednesday, taking on the first-year program from Liberty Charter of El Cajon. The match is slated for 7 p.m. at Granite Hills High gymnasium.
Despite a roster averaging a diminutive 5-foot-5 along the net, Foothills is noted for its defensive excellence.'
"That's where we pride ourselves," said fourth-year coach DAN SANTOS, who previously headed the girls and boys programs at Granite Hills. "Our goal is to make the other team take five swings before they score a point."
Pacing the Knights is senior outside hitter KARLY SANTOS, who is expected to garner her third Sunset League player of the year citation following the season.
The coach's daughter is also a three-time first-team selection on the All-CIF Division V team. However, her future will be the dental hygienist program at Southwestern College.
Other top Knights including another sister in sophomore setter MIKAILA SANTOS, while junior REAGAN FALDUTI patrols the middle of the net, as the team seeks its first-ever post-season victory (they once received a bye into the quarterfinals).

Tri-City Christian was seeded No. 1 in Div. V. The Eagles seek their fifth straight section title.

Should the Knights win their opening CIF match, they are expected to meet San Diego Jewish Academy in the quarterfinals. Due to faith considerations by SDJA, the date of this match will also be moved to Sat., Nov. 13.
---