Four Cougars playing on the next level
© East County Sports.com
RANCHO SAN DIEGO (6-5-15) — Four Steele Canyon High graduates have latched onto football college scholarships from their 2014 season play.
WILLIE FAIR, a linebacker, will attend NCAA Division 2 Azusa Pacific University.
ROBERT TEO and JORDAN JOHNSON will check in at NAIA Hastings College in Hastings, Nev.
ROOSEVELT JOHNSON will play for the NAIA Baker University Wildcats in Baldwin City, Kansas.
First set of 2016 scholarships are coming in
© East County Sports.com
EL CAJON (5-18-15) — Granite Hills senior-to-be JACOB BURTON, a 6-foot-3, 240-pound lineman, has been offered a scholarship to the University of Arizona.
Burton, if he accepts the Wildcats' offer, will join former Santana lineman T.D. GROSS at the Tucson campus. Burton's father, BRAD, who played at San Diego State, and uncle MITCH, who also played football for the Aztecs, offer the youthful Jacob plenty of experience going into his final season of high school football.
Other Scholarship Recruits
A handful of West Hills seniors earned scholarships to the University of Minnesota Crookston. Lineman GARRET MEAD, a first team Grossmont Valley League player who played virtually every snap for the Wolf Pack in 2014 has already accepted a scholarship.
Also earning a scholarship to UMC is linebacker CONNER FINNESTEAD, who played his first three years at West Hills and then transferred to Mater Dei Catholic where he earned All CIF honors.
Versatile PEANUT HERRADA, who red-shirted last year at UMC, joins former West Hills wide receiver ERIC FIEGE on the Crookston campus.
2014 ALL-EAST COUNTY FOOTBALL TEAM
REVISED
As selected by the East County Sports.com staff
FIRST TEAM – OFFENSE
Pos.
NAME
SCHOOL
HT
WT
YR
QB
Brad Cagle
El Capitan
6-1
195
SR
QB
Michael Austin
Helix
6-1
175
JR
UTL
Seth Collins
Granite Hills
6-4
175
SR
RB
Nathan Stinson
Helix
5-6
175
JR
RB
D.J. Smith
El Capitan
6-0
225
SR
RB
Adrian Petty
Christian
5-7
153
JR
RB
Joey Morones
Christian
5-10
220
SO
WR
Isaiah Capoocia
El Capitan
6-0
180
SR
WR
Michael Ledesma
Granite Hills
5-11
170
SR
WR
Raphy Carr
West Hills
5-7
152
SR
WR
DeShawn Keirsey
Helix
6-2
180
SR
TE
Dominick Wood-Anderson
Steele Canyon
6-4
210
JR
OL
Jalon Kuykendall
Helix
6-1
295
SR
OL
Laithe Esenmann
Christian
6-4
340
SR
K
Takota Curo
El Capitan
5-8
158
SR
East County Offensive Player of the Year – BRAD CAGLE, El Capitan
East County Offensive Rookie of the Year – JOEY MORONES, Christian
East County Offensive Most Improved – DaSHAWN KEIRSEY, Helix
East County Offensive Unsung Hero – ZACH CAGLE, El Capitan
East County Coach of the Year – RON BURNER, El Capitan
SECOND TEAM – OFFENSE
Pos.
NAME
SCHOOL
HT
WT
YR
QB
David Todd Jeremiah
Christian
6-1
194
JR
QB
Spencer Moyer
West Hills
6-4
210
JR
RB
Jacob Shaw
West Hills
5-9
200
SR
WR
Matthew Shearin
El Cajon Valley
5-7
160
SR
WR
Frankie Lima
El Capitan
6-0
170
SR
WR
Lee Wade
Monte Vista
5-6
156
SR
WR
Dominick Wood-Anderson
Steele Canyon
6-4
210
JR
WR
Julius Frazier
Valhalla
6-2
182
SR
WR
Nick Sexton
Christian
6-0
167
JR
WR
Zach Cagle
El Capitan
6-1
195
SR
TE
Chad Humphries
Christian
5-10
199
SR
LB
Joey LaChappa
El Capitan
6-3
180
SR
OL
Jon Stine
Christian
6-1
242
SO
K
Bryce Strickland
Granite Hills
6-1
155
SO
FIRST TEAM – DEFENSE
Pos.
NAME
SCHOOL
HT
WT
YR
DB
Nathan Stinson
Helix
5-6
175
JR
DB
Isaiah Capoocia
El Capitan
6-0
180
SR
DB
Michael Ledesma
Granite Hills
5-11
170
SR
DB
Clay Cromwell
El Capitan
6-3
230
SR
DB
Trevor Howell
Christian
6-0
150
SR
DB
Seth Collins
Granite Hills
6-4
174
SR
LB
Logan Baker
Valhalla
5-11
200
JR
LB
Ryan Barnes
Grossmont
6-0
200
JR
LB
John LaChappa
El Capitan
6-3
180
SR
DL
Christian Chavez
Helix
6-0
245
SR
DL
D.J. Smith
El Capitan
6-0
225
SR
DL
Jaylon Kuykendall
Helix
6-1
295
SR
DL
Forrest Hanlon
Helix
6-3
215
JR
P
Martin Patti
El Cajon Valley
6-0
180
SR
East County Defensive Player of the Year – Logan Baker, Valhalla
East County Defensive Rookie of the Year – Clay Cromwell, El Capitan
East County Defensive Most Improved – Isaiah Capoocia, El Capitan
East County Defensive Unsung Hero – ZACH CAGLE, El Capitan
SECOND TEAM – OFFENSE
Pos.
NAME
SCHOOL
HT
WT
YR
DB
Zach Cagle
El Capitan
6-1
195
SR
DB
Lee Wade
Monte Vista
5-7
152
SR
DB
Chad Humphries
Christian
5-10
199
SR
DB
Mugen Blue
Helix
5-11
170
SO
DB
Sam Melero
El Capitan
5-8
156
SR
DB
Riley Reyes
Granite Hills
6-0
175
JR
LB
Joey Morones
Christian
5-10
220
SO
LB
Ryan Barnes
Grossmont
6-0
200
JR
DL
Garrett Mead
West Hills
6-0
200
SR
DL
JayVon Jones
Mount Miguel
5-11
190
SR
DL
Chaz Cadwalader
Grossmont
5-10
265
SR
DL
Jeremyah Quichocho
El Capitan
5-10
225
SR
DT
Laithe Isenmann
Christian
6-4
340
SR
DL
Tanner Kvederis
Santana
6-0
250
SR
DL
Tito Ortiz
Mount Miguel
5-9
165
SR
CIF STATE CHAMPIONSHIP GAME at StubHub Center, Carson - CAMPOLINDO 35, EL CAPITAN 28
Fumblievable ending
Vaqueros in scoring range in last minute, but Campolindo gets 90-yard scoop 'n score for State championship
By Jim Lindgren
EastCountySports.com
CARSON (12-21-14) — Twelve yards from paydirt. Twelve stinking yards from history!
With one minute to play in the state championship game, SAM MELERO took a reverse handoff and raced around left end for a 22-yard pickup and a first down at the 12-yard line.

A touchdown would likely have given El Capitan its first state championship. A field goal would probably have done it as well.
Instead, the unthinkable happened.
Oh, brother, did it ever.
ISAIAH CAPOOCIA, one of the best all-around players in San Diego County, lined up at tailback, took a handoff from BRAD CAGLE, was hit hard in the thighs at the 10-yard line and … agonizingly … coughed up the ball.
Campolindo's Adam Remotto, already a thorn in the Vaqueros' side with two touchdown receptions in the second-half comeback, scooped up the ball and thundered untouched 90 yards for the game-winning score with 0:52 left.
Instead of a magical end to a wonderful season, El Capitan had to swallow a 35-28 defeat against Campolindo in the State Bowl Championship Division III title game Saturday afternoon (Dec. 20) at the StubHubCenter.
Instead of El Cap rocking and rolling back to Lakeside, Campolindo got the storybook ending it was wishing to tell all the folks back in Moraga about.
"They made a helluva play," said El Capitan head coach RON BURNER, who obviously was hoping for a different result to help celebrate his 57th birthday. "It's a great win for them.
"But it doesn't dampen our season. It's by far the best team ever at El Cap. By far the best."
Indeed. El Capitan (14-1) already had won the first San Diego Section title in school history, and the Vaqueros punched their ticket to this game with a 41-0 shutout of Paso Robles in the Southern California Regional championship last week before the biggest crowd ever at El Capitan.
Campolindo (15-0) won its first state title, having lost its first shot in 2011.
"They made more plays," El Capitan two-way star D.J. SMITH said. "That's what it comes down to. They made more plays."
Tied 7-7 at halftime, El Capitan scored three touchdowns over a 4:00 span in the third quarter to take what appeared to be a commanding 28-7 lead with 2:32 left in the quarter.
Campolindo scored the final four touchdowns to stun the thousands of El Capitan faithful who made the 120-mile trip from Lakeside.
Remotto had three of those scores, and he obviously enjoyed the last one best.
"The scoop and score," he said. "That sealed the deal. It felt like I was on a spaceship. Out of this world."
The only guy with any hope of catching Remotto also played the entire second half with a possible broken foot or ankle or both.
BRAD CAGLE, among the all-time passing leaders in San Diego Section history, suffered the injury near the end of the first half, one play before tossing a 3-yard touchdown pass to JOEY LaCHAPPA to tie the game with 4:32 before intermission.
Immediately afterward, Cagle was administered to on the sideline and had to be carried off the field and into the locker room. RYAN SMITH took over at quarterback and completed 3-of-4 passes for 12 yards.
Moments into the second half, Cagle came running onto the field. He was limited in mobility but not in sheer guts.
"I wasn't going to let myself sit out" he said. "They said it might be a small bone chip. They wrapped it up a lot at halftime. I wasn't about to not play the second half."
Cagle's first pass of the second half was a perfectly placed 24-yard touchdown toss to FRANKIE LIMA as the Vaqueros began their third-quarter charge. Lima, blanketed by a Cougar cornerback along the left sideline, juggled the ball a bit before snaring it and falling into the end zone.
Minutes later, Campolindo was lined up for a 36-yard field-goal attempt, but the kick was blocked by Capoocia, and the ball bounded out to the 20-yard line where Melero scooped it up and raced 80 yards for the score and a 21-7 lead.
One minute later, Campolindo had a bad snap on a punt attempt, and Melero tackled the punter at the 13-yard line. One play later, Capoocia scored on a sweep to the right to make it 28-7 with 2:32 to play in the third quarter.
Late in the third, Campolindo started its comeback as Remotto caught a 37-yard touchdown pass from Jack Stephens.
Those two connected again three minutes into the fourth quarter, this one a 13-yarder that capped a 7-play, 79-yard drive to make it 28-21.
After a three-and-out El Cap possession, Campolindo tied it up, 28-28, with 4:30 left as Stephens connected with Max Flower on a 14-yard touchdown pass that capped a 6-play, 69-yard drive.
After Remotto's stunning fumble return, El Capitan had 0:52 left but fumbled on the kick return, and all Campolindo had to do was watch Stephens take a knee for the final two plays.
Stephens finished with 291 passing yards and four touchdowns on 19-of-32 passing attempts that included an interception by Melero. Stephens also broke the state championship Division III game record of 264 passing yards set by his brother Brett in 2011.
El Capitan started its final drive on its own 45-yard line after a 20-yard kick return by Melero.
Capoocia ran twice for 4 yards each, and D.J. Smith rushed for 4 yards and a first down. Capoocia then had consecutive runs of 6, 3 and 1 yards for another first down before Melero's 22-yarder put the ball on the 12-yard line.
Capoocia's fumble was so uncharacteristic for the all-section performer.
"There's no one to blame in this game," Cagle said. "It's a total team effort. We've been like a family all season. We all love each other.
"Everyone's worked so hard to get here. Things happen, and life goes on."
Of the fumble, Cagle said, "It happens. You never know which way the ball's going to bounce. That's why they shape the ball the way it is."
Cagle finished with 89 yards and two touchdowns on 7-of-13 passing without an interception. D.J. Smith had 81 yards on 17 carries, and Capoocia added 46 on 10 touches as the Vaqueros posted 259 total yards.
Capoocia also led the Vaqueros with 37 receiving yards on two catches, plus the blocked punt and a fumble recovery. Lima caught three balls for 31 yards and Joey LaChappa three for 19. LaChappa also teamed on a sack with ROBBY CALLAWAY.
Despite the disappointing loss, Burner and his staff took the high road in defeat.
"Keep your heads up," they kept telling the players as they walked off the field, defeated for the first time in over a year.
"You guys are my heroes," Burner told his troops after the game. "You're the best. You know what you did this season, and no one can take that away from you."
El Capitan, Campolindo to square off in Carson for the California State title
By Jim Lindgren
© East County Sports.com
CARSON (12-19-14) — Having won its first San Diego Section title and now playing in its first state championship game, El Capitan (14-0) faces a stern test against Campolindo (15-0) when these two gunslingers meet at high noon Saturday in the Division III State Bowl Championship game at the StubHub Center in Carson.
Campolindo is the North Coast Section Division III title winner from Moraga in San Francisco's East Bay area and is playing for a state title for the second time in four season, having lost to Washington Union, 21-16, in 2011.
Enjoying their finest season in school history this fall under coach Kevin Macy, the Cougars rallied from a 14-point deficit to beat undefeated Sutter, 35-14, in the Northern California Regionals Division III final last Saturday.
Campolindo averages 46.7 points per game while yielding 19.4. The Cougars' closest game was a 27-21 win over Marin Catholic in the section championship. In three previous playoff games, the Cougars won 62-46, 56-14, and 52-14. They have scored more than 50 points six times this season and 40 or more points 11 times. They have a 15-game winning streak. Quarterback Jack Stephens threw for 302 yards and three touchdowns last week. He has 3,273 passing yards with 33 touchdowns and nine interceptions in 15 games. His favorite targets are good ones. Max Flowers has 51 receptions for 1,000 yards and 11 TDs, though he is nursing a sore shoulder. Conner McNally has 75 catches for 550 yards and seven TDs, though he is nursing a pulled groin. Running back Nick Fadelli has rushed for 1,814 yards and 32 touchdowns.
Also enjoying its finest season, El Capitan will counter with quarterback BRAD CAGLE (2,769 yards, 30 touchdowns) leading an offense averaging 38.0 points per game. D.J. SMITH has rushed for 1,280 yards and 19 touchdowns. Receivers ISAIAH CAPOOCIA (59 catches, 941 yards, 15 TDs) and ZACH CAGLE (27-455-4) are also dangerous runners on slot sweeps. The Vaqueros defense got its third shutout against Paso Robles and is allowing only 10.4 points per game. The unit is led by Smith (124 tackles), JAMES OWENS (12 sacks), JARRED TURNER (8 interceptions) and a host of others who have contributed mightily.
Arguably the best defense in San Diego County, El Capitan has posted 55 sacks and 25 interceptions.
CIF State Playoffs - First Round
Vaqueros shutout Paso Robles, next stop CIF State championship game
By Jim Lindgren
©EastCountySports.com
LAKESIDE (12-14-14) — Amongst the thousands of fans packed into El Capitan Stadium, a solo voice was heard in the fourth quarter of Saturday night's (Dec. 13) Southern California Regional Division III final.
"Hey, shouldn't there be a running clock? Why is the clock stopping?"
The voice would have been correct if this was strictly a San Diego Section game in which a 35-point lead in the second half automatically triggers a running clock. It's called the "mercy rule" down in these parts, but it doesn't exist in the state playoffs.
There would be no mercy in El Capitan's complete dismantling of a Paso Robles team from San Luis Obispo County.
The top-seeded Vaqueros (14-0) ignited a dynamite-like 28-point second quarter to rout Paso Robles (13-2) by a 41-0 margin in front of perhaps the largest crowd in El Cap history.
"You know what?" El Capitan coach RON BURNER told his charges. "We're going to Carson!"
For photos of El Capitan's CIF Division III regional playoff game victory over Paso Robles Saturday night at Cutting Field.
(please visit dondemarsphotography.com)
That would be the site of the Division III State Bowl Championship game pitting the Vaqueros against Moraga Campolindo (15-0) at noon Saturday at the StubHubCenter in Carson.
"The feeling is unbelievable," El Cap senior star D.J. SMITH said. "This is our ultimate goal. We want to win a state championship. It's the greatest feeling in the world."
The first Vaqueros team to win a San Diego Section football title will now play for a state title after shutting out a team that was averaging 39.7 points per game, while limiting opponents to 16.7.
"It's an unreal feeling," quarterback BRAD CAGLE said. "Like I've said before, we've worked so very hard for so long to get to this moment."
That moment Saturday was shared by a huge crowd that arrived early and cheered wildly as the Vaqueros unleashed a major whooping. "It definitely helped that this was our home turf," Cagle said. "Having so many people here created such an awesome atmosphere. "They were energetic. We were energetic. We weren't about to lose this one."
The Vaqueros scored 28 rapid-fire points in a 5:06 span of the second quarter to punctuate the historic moment, scoring four different ways against the stunned Bearcats.
ISAIAH CAPOOCIA scored on a 1-yard sweep.
Capoocia scored again on a 62-yard punt return.
Smith returned an interception 77 yards for a touchdown.
And FRANKIE LIMA snared a 15-yard scoring pass from Cagle. That made it 31-0 with 4:48 to play before halftime.
"We played as a team," Burner said. "Offense had their moments. Defense had their moments. Special teams had their moments. "I think we showed them we're the No. 1 seed for a reason. We showed them how good El Cap football really is."
El Capitan's superb defense did the rest, stuffing the run, breaking up the pass, sacking the quarterback, and basically frustrating the bejeebers out of the first Central Coast team to make the state playoffs.
Paso Robles got only 175 total yards and really never got close to scoring.
"Our defense did what our defense always does," Smith said. "Shut them down."
This could have been even more lopsided.
El Capitan got in the red zone on each of its first three possessions but came away with only a 3-0 lead.
Capoocia returned the opening kickoff 48 yards, and the Vaqueros advanced to the 3-yard line before being stopped on a fourth-and-1 quarterback sneak.
After a three-and-out and a 16-yard punt, they started the next possession at the 19-yard line but could only produce a 28-yard field goal by TAKOTA CURO, his fifth of the year.
Their third possession started at the Bearcats' 44-yard line but finished on downs at the 23.
Finally, early in the second quarter, El Cap drove 54 yards in six plays and scored on a 1-yard run by Capoocia to make it 10-0 with 9:54 on the clock.
Paso Robles then rushed three times for 0, 0 and again 0 yards and was forced to punt.
Capoocia grabbed the ball on a bounce at the 38-yard line, raced right, slid left, broke a couple tackles, sprinted up the right sideline, broke a couple more tackles, tip-toed along the sideline, regained his balance and darted into the end zone for a 62-yard score and a 17-0 at 7:12.
Four plays later it was 24-0 when Smith picked off a pass at the 23 and raced virtually untouched for a 77-yard pick-six, the first of his career.
JOHN LaCHAPPA recovered a fumble two plays later, and Cagle then tossed a perfect lob to Lima for a 15-yard TD and a 31-0 lead at 4:48.
"We knew we weren't going to settle for three points," Cagle said. "We knew the defense was going to hold them. And then we started clicking on offense and got us some points."
Among the all-time passing leaders in section history, Cagle finished 9-of-15 passing for 119 yards and his 77th touchdown pass in a three-year career. He also posted his ninth rushing touchdown this season on a 1-yard keeper in the fourth quarter. He now has 2,769 passing yards this season, topping his 2,738 yards last season.
"Our defense puts up points," Cagle noted. "Our special teams puts up points. Our offense puts up points. It's not just one guy or one unit. Everybody contributes."
Smith had 85 rushing yards on 12 carries to give him 1,280 yards on the season.
Lima had three catches for 47 yards, SAM MELERO two for 23 and JOEY LaCHAPPA two for 27.
Capoocia, El Cap's leading receiver, did not have a reception on offense. He had an interception on defense near the goal line at the end of the first half.
Joey LaChappa, the identical twin of John who are sons of Vaqueros assistant coach EAGLE LaCHAPPA, notched three sacks to give him 9½ for the season.
JARRED TURNER collected his team-leading eighth interception, and TREVOR ZAMORA had a fumble recovery and a key tackle for loss.
Like El Capitan, Paso Robles had the finest season in school history. The Bearcats had lost 15 games in the previous three seasons before this year's breakout.
They came in wounded, however, down to their No. 4 running back. Their No. 1 receiver, Bailey Gaither (1,453 receiving yards and 20 TDs) was also injured. No. 2 receiver Ty Jones sustained a neck injury on a kickoff return in the first quarter.
They boarded a bus for a 7-hour return trip home licking more than physical wounds.
Quarterback Justin Davis had 2,502 yards and 31 touchdowns coming in. He was 8-of-19 for 55 yards and two interceptions against El Cap.
"After the first couple series," Burner said, "with our defense, we knew we were going to dominate." That they did. "They played inspired football," Paso Robles coach Rich Schimke said. "No excuses. They played lights out all night long. "Forty-one to nothing – that pretty much says it all."
Fearless Forecaster - State Semi's
Undefeated teams clash for state title berth as Christian hosts East Valley outlier St. Margaret's
By Devin Ugland
Special to EastCountySports.com
EL CAJON (12-12-14) - The Tartans of St. Margaret's in San Juan Capistrano (14-0) will meet the Christian High Patriots (13-0) on Friday (Dec. 12) at 7:30 p.m. at Granite Hills High in round one of the State CIF Playoffs.
The head coach for St. Margaret;s is Stephen Barbee (1st year, 14-0 overall).
The Tartans won the CIF Southern Section East Valley Division championship, 34-21, over Grace Brethren of Simi Valley. They also won the Academy League (4-0).

Key Players for St. Margaret's are QB George Krantz (6-1, 175, Soph.), RB Oscar Gomez (5-7, 180, Sr.), RB/WR/CB Nick Shanks (5-9, 165, Jr.), WR Fernando Delgado (5-10, 175, Sr.), WR Jeremy Davis (5-7, 150, Soph.), DE James Eidt (6-0, 170, Soph.), CB Preston Ellis (6-0, 170, Sr.), LB Ryan Harnisch (5-8, 160, Sr.), MLB Dalan Cragun (6-2, 215, Sr.).

Offense: It's easy to tell, just by looking at the stats, that St. Margaret's is a ground-and-pound type of team. Senior running back Oscar Gomez has 279 carries this season that have gone for 2,285 yards and 39 touchdowns.
Defense: The Tartans switch between a 3-4 and 4-3 recognition look, which has resulted in them allowing just 11.4 points per game on the season. Barbee believes that his defensive unit is one of the most dominant that the East Valley Division had to offer.
Patriots running back ADRIAN PETTY is just four yards away from eclipsing the 2,000-yard mark on the season for Christian. Coach Stephen Barbee said that the key to beating the Patriots will be to stop the run-game while forcing Christian to throw deep.
Christian head coach MATT OLIVER (15th season, 130-54-2 overall) leads the Patriots, who have won the CIF San Diego Section Division III championship, 31-9, over Hoover – their second consecutive SD Section Division III title – which was won last year, 19-7, over San Marcos. The Patriots also won the Central League (3-0).
Christian is playing in its first CIF bowl game.
Best Win: The Patriots are yet another team that blew through its non-league and league schedules virtually untested. But the Patriots stepped up twice in the play-offs when it was gut-check time. They escaped La Jolla, 42-38, in the first round of the CIF-SD Section Division III playoffs and followed that up with a 25-20 win over Morse in the semifinals, scoring a touchdown with 17 seconds left to ensure the victory.
Key Players: QB DAVID TODD JEREMIAH (6-1, 195, Jr.), RB ADRIAN PETTY (5-7, 153, Jr.), RB/ILB JOEY MORONES (5-11, 220 Soph.), WR NICK SEXTON (6-1, 167, Jr.), WR/DB TREVOR HOWELL (6-1, 150, Sr.), WR BRANDON HESTER (6-0, 178, Jr.), TE/ILB CHAD HUMPHRIES (5-9, 190, Sr.), DE CODY KIRWAN (5-10, 160, Sr.), OLB/DE HUNTER ARVAN (6-0, 170, Sr.), DB ETHAN CONTRERAS (5-10, 142, Soph.), DB J.D. PARKER (5-8, 124, Sr.).
Offense: Christian is one of few high school teams you will see using the traditional single-back, under-center, pro-style offense. The Patriots have a good pocket-passing quarterback in David Todd Jeremiah (goes by D.T. Jeremiah). The junior is 180-for-258 through the air (69.8 completion percentage) for 2,670 yards with 31 TDs to just four interceptions. His favorite targets are junior Nick Sexton (who is coming off a knee injury) and Trevor Howell. Sexton has 52 receptions for 926 yards and nine TDs. Howell has 45 catches for 648 yards and nine TDs.
Tight end Chad Humphries serves as Jeremiah's security blanket. The senior has 26 catches for 533 yards and nine scores. The Patriots have a duo of underclassmen at the running back position that serve as a one-two-punch. Petty is the main back with 1,996 yards and 28 TDs on 180 carries. Morones is the more stout back, used for short-yardage and goal-line carries, and has run it 80 times for 469 yards and 15 TDs on the year.
Defense: The Christian defense is a 4-4 base anchored by Morones - the sophomore inside linebacker - who leads the team in tackles with 76. The Patriots use Kirwan as both a defensive end and outside linebacker which has resulted in a team-leading 13 tackles for a loss. Hunter Arvan will line up opposite Kirwan and he's picked up 51 tackles and four sacks on the season. Trevor Howell leads the secondary with four picks on the year. Cornerback Ethan Contreras, another corner, J.D. Parker, and inside linebacker Chad Humphries all have three interceptions this season.
Key Injuries: Wide receiver Nick Sexton has been in a walking boot all week due to a small broken bone in his foot. He played with it last week and he will play with it again this week.
Patriots coach Matt Oliver said that the matchup against St. Margaret's will be different than any other his team has faced so far in the playoffs. While Christian played bigger and more physical public school teams throughout the CIF-San Diego Section Division III playoffs, he believes that St. Margaret's is one of the more disciplined teams the Patriots will see all year. Oliver is definitely worried about St. Margaret's running back Oscar Gomez, but also stressed the need to keep Nick Shanks at bay when it comes to special teams.
Fearless Forecaster's Record
Last week: 2-2 (.500)
Season record: 124-26 (.827)
---
El Capitan vs. Rancho Bernardo photos of the Vaqueros' 14-7 victory in the San Diego Section CIF Division II championship game Saturday afternoon at Southwestern College can be viewed at
dondemarsphotography.com
Week 15 - SDCIF Finals
Vaqueros lasso title
Undefeated El Capitan hog-ties Rancho Bernardo for first section championship, host Paso Robles Saturday night
By Jim Lindgren
©EastCountySports.com
CHULA VISTA (12-7-14) — Shortly after winning the first football championship in El Capitan history Saturday evening (Dec. 6), the Vaqueros were posing for a team photo at midfield of Southwestern College's DeVore Stadium.
One problem: No ball.
D.J. SMITH, as he has done all season long, saved the day. Slicing his way through the masses and sprinting to the sideline, Smith retrieved a game ball for posterity's sake.
Then, kneeling next to head coach RON BURNER, Smith raised his right index finger toward the heavens.
"I guess we can say we're the greatest team ever at El Cap," Smith said after the Vaqueros dispatched Rancho Bernardo, 14-7, in the CIF San Diego Section Division II championship game.
With its 13th straight win, No. 1-seeded El Capitan (13-0) capped a perfect season and likely will be selected to play in the CIF State Playoffs beginning next Friday (Dec. 13). A home game is also likely.
"We made history, and it's special," senior quarterback BRAD CAGLE said.
"It's a phenomenal feeling. We have worked HARD. We've worked so incredibly hard all year."
Star receiver ISAIAH CAPOOCIA caught a 24-yard touchdown pass with 3:33 to play in the first half to tie the game 7-7. Cagle scored the game-winner on a 6-yard QB sneak with 1:27 left in the third quarter.
Rancho Bernardo (10-3), which had gone 2-19 in its previous two seasons, netted only 135 total yards and eight first downs against what Burner declared "the best defense in the county."
"This is great," Capoocia said. "It's kind of surreal. It's kind of like a dream. We've never won anything like this."
Cagle, who ranks in the top 5 in section history in passing yards and touchdowns, completed 11-of-26 attempts for 174 yards without an interception. And this CIF title should make his college resume complete, though he has yet to be tendered any scholarship offers.
Cagle's best toss was the TD to Capoocia. Trailing 7-0, Capoocia hauled in the 24-yard lofted pass looking over his left shoulder and coming down just inside the left front corner of the end zone.
"We've been in that situation before – like in the Helix game," Capoocia said. "Brad put the ball in the perfect spot."
Said Cagle, "We faced adversity all season long, and we handled it every time. This was no different."
El Capitan came out smoking after halftime, running off 10 plays before stalling at the 22-yard line. Then, after Rancho Bernardo's sixth punt early in the third quarter, El Cap ran 10 more plays before Cagle's TD burst behind center DOMINICK SALAZAR and guards CARLOS ALEXANDER and JEFF ABBOTT.
Said Burner, "I told the kids at halftime, 'It's your game. You're playing for second place right now. You want to play for second?"< /p>
It was Cagle's eighth touchdown run this season to go with 29 passing scores, giving him 76 scoring passes over a three-year career.
The defense did the rest.
Early in the fourth quarter, CLAY CROMWELL sacked Rancho Bernardo quarterback Tucker Reed for a 6-yard loss, forcing a seventh punt by the Broncos to that point.
Midway through the final quarter, on a fourth-and-two from the 18-yard line, Cromwell and SAM MELERO stuffed Broncos running back Anthony Barnum for no gain. Moments earlier, Smith put a huge hit on Barnum and lifted him backward before throwing him to the turf.
With 1:38 to play, RB had a third-and-4 at the 25-yard line before JAMES OWEN and ROBBY CALLAWAY combined on a sack for a loss of seven yards. Then from the 32, Reed misfired on the fourth down play that was nearly intercepted by Capoocia.
"Our defense is lights out" Cagle said. "We know if offense is struggling a bit, the defense will pick us up."
El Cap allowed only 68 rushing yards to a team that had averaged 222 a game coming in. Reed completed only 7-of-15 attempts for 67 yards and was intercepted by Capoocia in the end zone on the final play of the first half.
The Broncos only had three first downs and 75 total yards in the first half. They punted five times, missed a 41-yard field-goal attempt and threw an interception.
Rancho Bernardo's only score came midway through the first quarter, a 1-yard run by Barnum after he had reeled off a 29-yarder three plays earlier that turned out to be RB's longest gain of the evening.
"Our defense comes to play," Burner said. "Other teams can talk all they want, but I'm telling you our defense is the best in San Diego County.
"And they proved it tonight El Capitan has had some special teams over the years, especially when discussing potent offenses. But this season Burner put an emphasis on improving the defense.
"It's only taken me nine years to figure out that defense wins championships," Burner joked.
Defensive coordinator CHUCK MERINO and defensive assistants ERIC ORAHOOD and BEN CLEVENGER pieced together a great unit and got extra help when ANTWAN APPLEWHITE, a former standout linebacker for San Diego State and the Chargers, joined the coaching staff this season after being cut by the Miami Dolphins before the 2013 season.
Applewhite's impact was noticeable all season as the Vaqueros allowed only 125 points during the regular season and just 20 in three playoff wins.
El Capitan posted six sacks and at least as many hurries. Owens, Callaway, Cromwell, Smith, JOHN LaCHAPPA and CHANCE COLSON each registered a sack to boost the Vaqueros to 54 sacks on the season.
"It's the kind of defense we've played all season," said ZACH CAGLE, Brad's identical twin brother who posted a number of big hits. "We know they had a good pro-style offense, but we weren't afraid of them. We just played lights out."
Brother Brad added another thought about the support from the El Cap faithful.
"It's huge," Cagle said. "The whole community has supported us all season. They're amazing."
Smith, on offense, rushed for 54 yards on 13 carries, to give him 1,201 yards for the year.
FRANKIE LIMA caught four passes – all in the second half – for 58 yards. Capoocia had two grabs for 57 yards and Zach Cagle two for 37.
Capoocia also gained 30 yards on four carries, and his 16-yarder within a minute to play allowed Brad Cagle to kneel twice in victory formation to end the game.
Seconds later, Burner was doused with a bucket full of Gatorade.
"I'll take that shower any day," Burner said. "I had some coaches next to me, and I said, 'You better get away from me. You're about to get all wet.' "
No division too tough
Undefeated Patriots make sure of playoff bid with tough schedule, late championship game surge over Hoover
By Jim Lindgren
©EastCountySports.com
CHULA VISTA (12-7-14) — MATT OLIVER has tasted a lot of sweet victories over his 15 seasons as the head coach at Christian High. Among them were four previous CIF San Diego Section titles, not counting three others when he served as an assistant coach.
Saturday's fifth championship – a 31-9 whooping of top-seeded Hoover (10-3) in the Division III Final at Southwestern College's DeVore Stadium – had Oliver spewing about perhaps this being the sweetest one ever.
With its second consecutive crown, No. 2-seeded Christian (13-0) completed its first undefeated section season, ran its state-best winning streak to 20 games and assured itself of being invited to the CIF State Playoffs on Friday.
"One of the sweetest of all," Oliver said, "because we get to advance.
"This is huge. It's a once-in-a-lifetime achievement. I told the kids, 'We get to participate in a once-in-a-lifetime game next week. That's special."
Christian senior tailback ADRIAN PETTY rushed 26 times for 90 yards and two touchdowns to lead the offense against Hoover's No. 1-ranked defense.
"We knew they were very good on defense," Oliver said. "We weren't sure how we were going to move the ball on them."
Petty also had a 67-yard kickoff return – following a safety – that enabled the Patriots to take an unusual 8-3 lead into halftime.
"It was a big play," Petty said of his kick return. "I saw a crease and just ran right through it."
DAVID TODD JEREMIAH was 8-of-10 passing for 129 yards, including a key 79-yard touchdown pass to NICK SEXTON that gave Christian the lead for good at 14-9 with 4:41 to play in the third quarter.
Christian then got a huge break when Hoover flubbed a shotgun snap that the Patriots' JOEY MORONES pounced on for a 27-yard loss and, more importantly, a Christian first down at the 11-yard line.
Petty then rushed for five, one and six yards for the touchdown and a 21-9 lead.
"We knew we were going to have our hands full," Oliver said. "Hoover is a great team. We thought it would be a tough defensive battle, and it would come down to a couple big plays.
"Ultimately it did with the big kickoff return and the fumble recovery that led to a touchdown."
In his third season at Hoover, former Santana coach Jerry Ralph led the Cardinals to their first championship game in a school history that dates to 1929.
But against Christian's formidable defense, Hoover managed only 262 yards, 10 first downs and two scores.
"We didn't think they'd be that good," Hoover receiver Shaun Jones said. "They're OK. Hats off to them."
Said Oliver, "We knew we'd have to stop the run. I didn't expect them to pass too much. Our defense really did a nice job, especially in the latter part of the game."
Petty has now rushed for 1,994 yards and 28 touchdowns – he has 31 overall TDs.
"There were a lot of games early in the season that we played with a running clock in the second half, and he wasn't getting that many carries," Oliver said. "We just told him, 'Don't worry, Adrian, there will be times we'll need you to carry the mail."
Christian got into this final by gutting out two close playoff wins over La Jolla (42-38) and Morse (25-20), needing a huge TD run by Petty with 20 seconds left in the Morse game.
"We just felt like we've been in a couple dog fights," Oliver said. "Those two games prepared us for this game."
Indeed. Expect the unexpected.
Hoover tallied first, going up 3-0 on a 21-yard field goal by Luis Aparicio.
The Patriots sliced that to 3-2 when ETHAN CONTRERAS tackled George Jones in the end zone for a 3-yard loss and a safety.
Hoover elected to kick off after the safety (instead of punting), and Petty made them rue that decision, darting up the middle and then down the left sideline for his second kick return touchdown of the season. That made it 8-3 after a failed 2-point conversion pass.
Hoover went back on top after its first possession of the second half. The Cardinals went 80 yards in 12 plays with Jaquille Bradford scoring from 1 yard out. A PAT run attempt failed to make it 9-8.
Three plays later, Christian went ahead for good with 4:41 to play in the third quarter. On third-and-9 from their own 21-yard line, Jeremiah hit Sexton in the left seam about 15 yards upfield. Sexton split two defenders and was off to the races for a 79-yard touchdown, his ninth TD reception and longest of the year. It was touchdown pass No. 31 for Jeremiah. A PAT pass incompletion kept the tally at 14-9.
Morones' fumble recovery at the 11 led to Petty's second touchdown and a 21-9 lead with 2:45 left in the third quarter.
Early in the fourth quarter, after a sack by JON STINE, Petty returned Hoover's next punt 34 yards to give the Patriots the ball at the Hoover 26-yard line. Three plays later, KYLE THOMPSON nailed a 39-yard field goal for a 24-9 lead.
Christian's last meaningful possession went 12 plays and 68 yards and was capped by Petty's third touchdown for the final margin of 31-9.
"This was a blessing," Petty said. "I give all my glory to God. The O-line, they stepped it up. They were great all year."
Hoover's last possession ended with an interception by Contreras with just over a minute to play.
Jeremiah took a knee three straight times to end the game, and Oliver was doused with the obligatory Gatorade bath before the clock struck 0:00.
"I didn't mind it at all," said a drenched Oliver.
DAVID BEEZER, who is the Patriots' offensive coordinator, won three straight Division IV championships as the head coach in 1993, '94 and '95 before Oliver took over the program in 1999. Oliver lost his first title game in 2001, but has since won titles in 2002, '06, '11, '13 and '14. Along with losses in 2005 and 2007, Oliver is 5-3 in championship games as a head coach and 8-3 overall at Christian, which now has 10 titles in school history, second only to Oceanside's 16 in section history.
Pirates take bounty from Highlanders again
Helix jumps out to 10-0 lead, but Oceanside wears down Scots
By Jim Lindgren
©EastCountySports.com
CHULA VISTA (12-7-14) — Several things are guaranteed whenever Helix and Oceanside meet for a San Diego CIF football championship game … and Saturday's battle was the eighth such epic title game between the two powerhouses in the past 13 years.
Bone-crushing hits. Plenty of 'em.
Huge momentum swings. Check.
A deserving but disappointed team. Both have been there.
And a Gatorade bath for the coach in green. This time it was John Carroll and the Oceanside Pirates.
With 17 unanswered points in the final 13 minutes of Saturday's San Diego Section Open Division championship game, Oceanside rallied to beat Helix, 20-13, before a near-capacity crowd of 7,000 at Southwestern College's DeVore Stadium.
"It's heart-breaking," Helix junior quarterback MICHAEL AUSTIN said. "We put in a lot of work, and we didn't come out on top this time."
Until 1:10 left in the third quarter, NATHAN STINSON had supplied the only touchdown of the game on a blistering 76-yard sprint down the right sideline with 4:34 before intermission.
MATTHIAS LAYTON's second field goal gave Helix a 13-3 lead midway through the third quarter.
Then it was all Oceanside, which capped a 13-0 season with its section-best 16th title by scoring the next 17 points.
On their last five possessions, the Highlanders' offense went:
Five plays, punt.
Three plays, blocked punt.
Three plays, punt.
Three plays, stopped on fourth-and-1 for no gain.
Three plays, punt.
Still, there was hope. The Scotties forced an Oceanside punt with 1:33 left and trailing by a touchdown.
The gut-wrench and final emotional swing came when the Pirates' punt sailed awkwardly beyond the right hash marks and hit an unaware Scottie return blocker. The ball caromed off his shoulder a few yards to the middle of the field, and Oceanside's John Grumbling – no, we are not making this up – pounced on it for a Pirate first down with 1:20 play.
Grumbling aside, Helix watched top-seeded Oceanside (13-0) take two kneel-downs by quarterback Matthew Romero in victory formation to seal its section-record 16th championship – six of them coming against No. 2-seed Helix (10-3).
"Disappointing, to say the least," Helix coach TROY STARR said.
"Our defense played well enough to win the game. Our offense did not play well enough to win the game. Offense just did not get it done."
Senior defensive end LUKE HALLOWAY had a key deflected pass late in the first half and several other dynamite hits for the Highlanders, who allowed only 20 points, 285 yards and 11 first downs to an Oceanside offense accustomed to much more gold and real estate.
"We played our hardest," Halloway said. "Some things don't turn out how you want. But I love my team. No regrets."
Trailing 10-3 at halftime, Oceanside's Carroll told his charges, "No. 1, you have to eliminate mistakes. No. 2, you've got to re-arrange your attitude.
"Helix is a very good football team, a very talented football team. This just demonstrated our will to win."
Halloway agreed: "They're a good team. They've been doing this all year. They have a lot of heart. I have a lot of respect for them."
Josh Bernard, a strong candidate for section Player of the Year (on either side of the line), was the catalyst of the second-half surge for the Pirates. He gained 55 of his 78 rushing yards in the final 17 minutes, carrying seven times for 39 yards in an impressive, 10-play 67-yard drive that cut the Scotties' lead to 13-10 with 1:10 remaining in the third quarter. Bernard also had a key sack in the fourth quarter and several other big hits that rattled the Highlanders.
"Josh was Josh," Carroll said. "He's a warrior and a stud."
After a blocked punt by Oceanside's Taj Apodaca ended the third quarter, the Pirates took their first lead at 17-13 when Romero heaved a long pass to Johnny Arzola, who made a terrific catch at about the 4-yard line and then dived into the end zone for a 40-yard TD.
Oceanside tallied again with 7:41 remaining as Caleb Ramirez booted his second field goal to complete the scoring.
Helix went four-and-out on the ensuing possession as Stinson slipped on a fourth-and-1 call at the Helix 33-yard line. The Highlanders escaped, however, when SCOTTIE YOUNG intercepted a Romero pass along the right sideline with 5:01 to play.
Stinson finished with 162 yards on 20 carries, including his 76-yard score. Austin was 7-of-15 passing for 47 yards. Both are juniors.
Oceanside senior Romero was 13-for-30 passing for 150 yards but was also picked off by JIHAD WOODS in the second quarter.
Oceanside is now 16-6 in championship games and 6-2 against Helix in title tilts.
"They have a strong senior class," Starr said. "We have a strong junior class. We'll play them again."
Helix is now 7-10 in championship games. Former Scotties coach JIM ARNAIZ won four section crowns with Helix, but he never had to face Oceanside in a title game.
"Oceanside has warriors," Arnaiz said after Saturday's game. "You better come to play the whole game against these guys."
---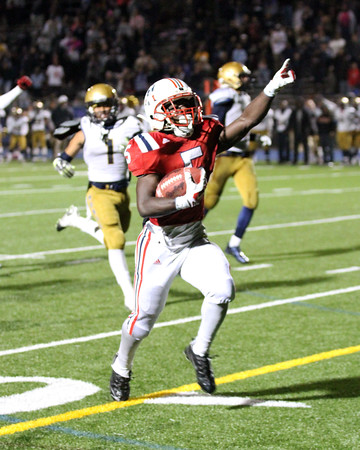 Christian High running back Adrian Petty celebrates his way to the San Diego Section CIF Division III championship during his 33-yard touchdown run in the fourth quarter of the Patriots' semifinal win, 25-20, over the Morse Tigers at Granite Hills Stadium Friday night. (photo courtesy dondemarsphotography.com)
Fearless Forecaster Week 15
SDCIF Playoffs - Finals
Highlanders, Vaqueros, Patriots ready for championship stage
By Bill Dickens
©EastCountySports.com
EL CAJON (12-6-14) - The last three divisions of the San Diego Section finals will be held at Southwestern College on Saturday (Dec. 6).
DIVISION III - Noon
(2) CHRISTIAN (12-0) vs. (1) Hoover (11-2) - The undefeated Patriots are averaging 49 points per game, while Hoover is averaging 33 ppg. Christian is seeking its second straight SDCIF championship. The kingpin of the Patriots is running back ADRIAN PETTY, the East County leader averaging 13.7 yards per carry . . . Christian 27-20.
DIVISION II - 3:30
(1) EL CAPITAN (12-1) vs. (3) Rancho Bernardo (10-2) - This game could be the biggest surprise of the afternoon. Top-seeded El Capitan will be seeking its first SDCIF championship, averaging 40 ppg. Quarterback BRAD CAGLE will guide the Vaqueros against the upset bid of the Broncos . . . Rancho Bernardo 27-26.
OPEN DIVISION - 7
(1) Oceanside (12-0) vs. (3) HELIX (10-2) - When it comes to dueling between Oceanside and Helix, the Highlanders usually come out on the short end. Maybe this time Helix will pull off the upset . . . Oceanside 17-14.


Fearless Forecaster's Record
Last week: 2-2 (.500)
Season record: 124-26 (.827)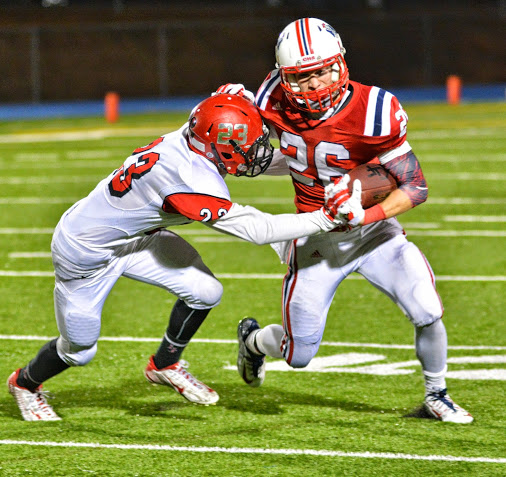 Christian High junior receiver Nick Sexton fights off a defender during the fourth quarter of the Patriots' playoff win over La Jolla Friday night
(EastCountySports.com photo)
Patriots, Vaqueros, Highlanders give East triple-presence on championship Saturday
Christian thrills in last-minute drama; El Capitan, Helix dominate
By Bill Dickens
©EastCountySports.com
EL CAJON (11-29-14) — Christian skipped past Morse in one of the more exciting victories in Patriots' history in Friday's (Nov. 28) Division III San Diego Section semifinals.
The No. 2 seed Patriots pulled out a 25-20 victory in a nail-biter of a fourth quarter at Valley Stadium, as Christian posted its 19th straight victory.
ADRIAN PETTY scored three times for the Patriots – twice for 10 yards and later for 33. The final touchdown made the difference in the game as Morse had secured the lead 20-19 for the first time with :51.5 left in the fourth quarter.
Things were looking glum after quarterback-running back Khyran Jackson-Barbee scored his third touchdown for the Tigers with so little time left in the game.
But the Patriots regrouped and with :20.1 remaining in the game, Petty took the pigskin on a final run to put the Patriots ahead for good.
BRANDON HESTER scored on a 10-yard pass from Patriots' quarterback DAVID TODD JEREMIAH in the second quarter.
HELIX 27, CATHEDRAL 5 – The Highlanders are back in the title game, and will face championship-rival Oceanside after exacting revenge for a 9-7 early-season loss against the Dons.
Junior quarterback MICHAEL AUSTIN connected with senior receiver DaSHAWN KEIRSEY, JR. on a pair of touchdown passes to help Helix to a 20-3 lead after three quarters.
The duo hooked up when Austin rolled right and threw a 16-yard out route for a score with 1:27 left in the second quarter to make it 13-3, as the teams headed in for intermission.
They connected again in the third quarter for a 2-yard touchdown with two minutes left in the third quarter. It was just a shorter version of their first touchdown, as Austin went on a shorter roll-out and quickly got the ball to his open receiver for an easy score.
With 2:27 left in the game, Austin took a snap deep in Helix territory. He took off running and ended up with an 87-yard quarterback keeper for the final margin of victory.
Sophomore kicker MATTHIAS LAYTON boomed a pair of field goals in the first quarter, from 47 and 39 yards, spiking the Highlanders to an early 6-0 edge with 6:13 left in the first quarter. The Dons countered with a 22-yard three-pointer with 6:49 left in the first half.
Helix picked up a safety when Cathedral inadvertently snapped the ball out of the back of the end zone with nine minutes left in the game.
The Scotties' EVAN PERKINS had an interception mid-way through the first quarter.
Austin was an effective 12-for-15 for 75 yards, as MEKHI STEVENSON had 4 receptions for 45 yards, and Keirsey finished with four catches for 28 yards. Stevenson also broke up a pass out of punt formation during the first half, which set up a red-zone touchdown on the next play, when Keirsey, Jr., caught his first touchdown of the game.
Junior back NATHAN STINSON had 20 carries for 80 yards for Helix. Stinson powered through the blocking of KEVIN MOORE, BLAYKE DeLaROSA and senior DEREK WILLIAMS.
Senior MICHAEL BENJAMIN had a pair of sacks on a secondary blitz in the second half for Helix, while SEFA TAUANUU had a first-half sack for Helix, as part of a big defensive night for the big green. Included in the Helix charges were LUKE HOLLOWAY, CHRISTIAN CHAVEZ, FORREST HANLON, JIHAD WOODS and sophomore ZEKE NOA, as the Scotties teamed up to make a goal-line stand late in the game.
Helix out-gained Cathedral Catholic by just 247-234.
EL CAPITAN 34, BRAWLEY 7 – It has almost become ho-hum at El Capitan over the past three years. BRAD CAGLE threw for 292 yards and four touchdowns, completing 16-of-22 attempts in only three quarters.
What's new and different is the stalwart defense the Vaqueros are demonstrating in this glorious season.
In what could have been its third shutout of the season – save for an extra-point attempt miss – El Capitan routed Brawley, 34-7, in the semifinals of the San Diego Section Division II playoffs Friday night at El Capitan.
Top-seeded and undefeated El Capitan (12-0) advanced to its first championship game in 51 years behind the stellar play of Cagle and a defense that allowed only four first downs before subbing in the second unit in the fourth quarter.
The Vaqueros will meet No. 3-seed Rancho Bernardo (10-2) in the Division III title game at 3:30 p.m. on Saturday, Dec. 6, at Southwestern College. El Capitan has never won a section crown, losing to Kearny in the 1963 title game.
"Defense has been great all season," El Capitan coach RON BURNER said. "We made a decision before the season to have the best defense we could possibly have. Get the best players on that side of the ball. If it means costing the offense, that's OK. That's what we did. We put the best players on defense, and it's paid off tremendously."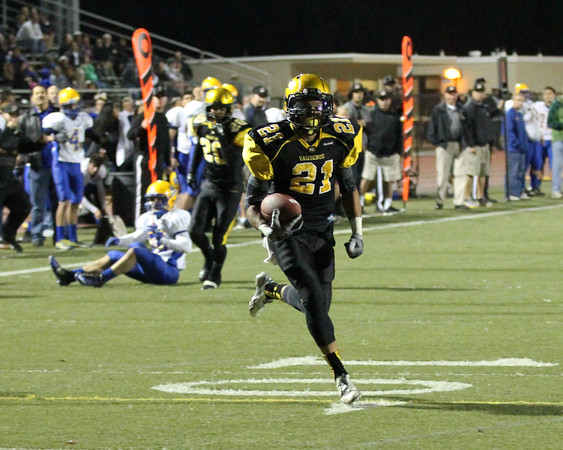 El Capitan running back Isaiah Capoocia heads into the end zone for a touchdown during El Capitan's semifinal win over visiting Brawley in Lakeside Friday night.
(photo courtesy dondemarsphotography.com)
Brawley (10-2) came into the game with a 10-game winning streak and averaging over 350 yards rushing per game. The Wildcats wound up with 180 rushing yards on 53 carries.
"We'll give them 3 yards a carry all day long," Burner said.
Passing? Brawley completed one pass for minus-3 yards.
"We knew what kind of team they are," Burner said. "We knew if we got ahead of them, they'd have a hard time catching up. They're a wing-T team that relies on the run. And we do a pretty good job shutting down the run."
Brawley star Andrew Ortiz, who entered with 1,845 rushing yards, finished with 100 on 30 carries.
The Wildcats had only 65 yards and two first downs at halftime, while El Capitan piled up 256 yards and a 21-0 cushion.
El Capitan increased that to 28-0 early in the third quarter on a 16-yard touchdown run by D.J. SMITH. Four minutes later, the Vaquero.s took a 34-0 lead on Cagle's fourth TD pass of the game, this one a 36-yard strike to SAM MELERO in the back of the end zone.
A successful PAT attempt would have (at 35-0) forced a running clock. The miss, however, allowed Brawley to escape the shutout when it scored its only points with 1:21 to play … against the Vaqueros' second unit.
Cagle was brilliant, as usual. Despite his first pass sailing and being intercepted (only his fifth of the year), he went on to complete 16 of his last 21 attempts for 292 yards and four touchdowns.
He now has 2,233 passing yards and 20 touchdowns, giving him three straight seasons over 2,000 yards and 20 TDs. His career numbers – 7,156 passing yards and 75 touchdown passes – both are in the top five all-time in section history.
Despite those gaudy numbers, Cagle remains without a college scholarship offer.
"It's frustrating knowing I've worked so hard," Cagle said. "No college scholarship offers. I hope my hard work, dedication and love for the game will take me somewhere.
"But right now, it's all about getting that ring."
Burner told his team after the game, "You are right now THE BEST team all-time at El Cap. But we've got a lot more to do."
With 12 wins, El Cap set a school record. Burner's 2006 team was 11-0 before bowing to St. Augustine, 51-43, in an epic semifinal loss that ranks among the wildest games in section history.
"We've had some good teams get to the semifinals and lose," Burner said. "This team doesn't know how to let down. They go 100 percent all the time."
After a scoreless first quarter Friday (Nov. 28), El Capitan tallied its 34 points over an 18-minute stretch between the second and third quarters.
Cagle hit ISAIAH CAPOOCIA for a 10-yard touchdown pass to start the onslaught with 11:06 to play in the second quarter.
The Vaqueros then scored twice in a 49-second span late in the first half. Cagle again tossed to Capoocia for a 46-yard touchdown pass.
After a three-and-out defensive stand, Cagle tossed a short inside screen to Smith, who took it 43 yards for 21-0 halftime lead.
"We're full of playmakers," Cagle said. "Every game we've got so many guys making big plays. It's an unbelievable brotherhood we have."
Early in the third quarter, JARRED TURNER recovered a Brawley fumble near midfield.
Cagle then hit Capoocia for 16 yards, FRANKIE LIMA for 10 yards and Lima again for 8 yards before Smith rushed up the middle for his 16-yard touchdown.
On El Cap's next possession, a holding penalty put the Vaqueros in a third-and-24 hole. Cagle, scrambling, then nailed JOEY LaCHAPPA for a 40-yard gain. The next play was Cagle's fourth TD, a 36-yarder to Melero.
Capoocia finished with seven catches for 111 yards and two touchdowns. Joey LaChappa added four catches for 72 yards.
In addition to his fumble recovery, Turner had an interception in the end zone.
Smith, Capoocia, CHANCE COLSON, JOHN LaCHAPPA, ZACH CAGLE and ROBBY CALLAWAY were also instrumental on defense.
"They made more plays than us," Brawley coach Jon Self said. "We got beat by a better team. I hope they go on to win a championship."
— Jim Lindgren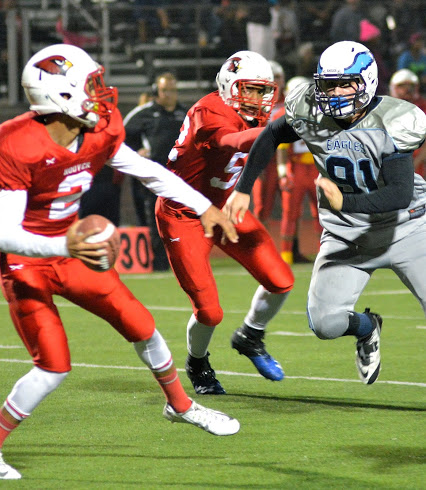 Granite Hills senior lineman Billy Cummings applies pressure on the Hoover quarterback Friday night.
(EastCountySports.com photo)
HOOVER 21, GRANITE HILLS 13 – Granite Hills, coming off one of its finest seasons in recent history at 9-4, missed making the San Diego Section Division III finals by being stuffed three times at the 1-yard line in the final quarter of Friday night's (Nov. 28) semifinals by defensive-minded top-seed Hoover (11-2).
The Eagles were grounded by the fog – not to mention – the Hoover defense, as humid conditions limited visibility in the second half, and quite possibly, the Granite Hills potent passing attack combo of SETH COLLINS and MICHAEL LEDESMA, as the Cardinals reached a championship game for the first time in the 85-year history of the El Cajon Boulevard school.
The dramatic goal-line stand late in the fourth quarter that could barely be witnessed by those in attendance, prevented the Eagles from getting back to the title game for the first time since 1979. With just under six minutes left in the game, the Cards kept the Eagles from the end zone after Granite Hills had a first-and-goal from the 3.
The Eagles turned the ball over four times in the first half, which led to a pair of Hoover touchdowns. Da'Quan Walker had one of the scores when Collins was met hard on a scramble and the ball bounced out of the falling quarterback's grasp and right to Walker, who ran in from 36 yards. Hoover led 21-3 at halftime.
The conditions changed quickly at halftime, and Hoover had trouble hanging onto the ball, as well.
Senior linebacker JAKE ENGLISH recovered a fumble at the Hoover 45, then Collins ran a keeper to the Cards' 9, setting up a 30-yard field goal from BRYCE STRICKLAND.
With 9:38 left, Hoover had another mishap at the start of a play, as another fumble was chased down by Granite Hills senior ALEX MACK, who picked up the ball for a 26-yard scoop-and-score, to bring the Eagles to within 21-13.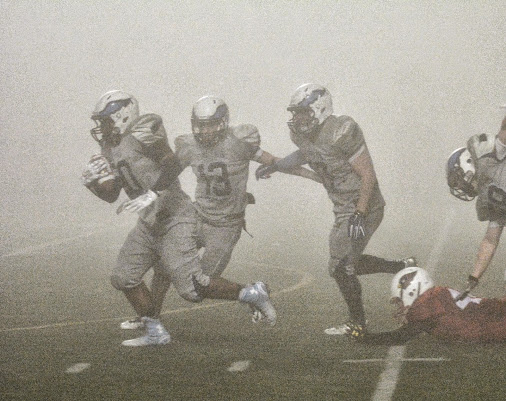 Granite Hills senior Alex Mack is escorted into the end zone for a scoop 'n score by Riley Reyes (13) and Kellen Gaeir during the fourth quarter of the Eagles' playoff loss at Hoover Friday night.
(EastCountySports.com photo)
On the ensuing possession, Hoover fumbled the damp ball again, and BILLY CUMMINGS came out of the clouds with the ball in his hands at the Cards' 17.
Collins scrambled during the next series down to the three, where the Hoover defense made the stand that will be remembered for many years to come around 46th street.
The Eagles had one last possession near midfield, but gained nothing on four final attempts.
Granite Hills completed a pair of fourth-down conversions on its opening drive of the game, but a sack and an interception terminated the Eagles' initial possession. In the second half, the Eagles had a fourth-down pass attempt defended on a short field.
After the Eagles pinned the Cards back inside their own five in the first quarter, Granite Hills got a short field, but could only capitalize with a 29-yard field goal from sophomore kicker Strickland.
The Cardinals were able to do what so many teams have failed to do this season, and that was, keeping Collins' scrambling damage to a minimum.
The San Jose State-bound QB has made a killing this season when he takes off running.
Meanwhile, he wasn't able to find his star target Ledesma through the thick haze, as several of their attempts to re-create what worked so well for them this season – the deep pass – ended up well off target, thanks mostly to the Cards' pressure on Collins' roll.

FEARLESS FORECASTER

Patriots, Eagles could meet in first all-East County final since 2003
El Capitan, Helix also can gain championship berths

©EastCountySports.com
EL CAJON (11-27-14) — The Granite Hills Eagles have obviously hit a post-season stride.
CIF championship games
DeVore Stadium
Division III
Saturday, December 6, 2014
Christian 31, Hoover 9
Division II
Saturday, December 6, 2014
El Capitan 14, Rancho Bernardo 7
Open Division
Saturday, December 6, 2014
Oceanside 20, Helix 13
OPEN DIVISION (complete bracket)
QUARTERFINALS
Friday, Nov. 21
Helix 58, Ramona (8-3) 35
SEMIFINALS
Friday, Nov. 28
(3) Helix (10-2) 27, (2) Cathedral Catholic (10-2) 5
DIVISION I (complete bracket)
FIRST ROUND
Friday, Nov. 14
Grossmont 57, (9) Westview (3-8) 34
(7) El Camino (5-5) 31, (10) Valhalla (4-7) 17
(5) Point Loma (9-2) 47, (12) Mount Miguel (3-8) 35
QUARTERFINALS
Friday, Nov. 21
(7) El Camino (7-5) 33, (2) Steele Canyon (7-4) 31
(1) La Costa Canyon (6-5) 47, (8) Grossmont (6-6) 28
DIVISION II (complete bracket)
FIRST ROUND
Friday, Nov. 14
West Hills 41, (12) Imperial (6-5) 27
QUARTERFINALS
Friday, Nov. 21
El Capitan 48, Mt. Carmel (6-6) 6
(4) Brawley 29, (5) West Hills (9-3) 13
SEMIFINALS
Friday, Nov. 28
(1) El Capitan (12-0) 34, (4) Brawley (10-2)
DIVISION III (complete bracket)
FIRST ROUND
Friday, Nov. 14
(9) Parker (6-5) 41, (8) Monte Vista (6-5) 21
Granite Hills 55, (12) Patrick Henry (5-6) 28
QUARTERFINALS
Friday, Nov. 21
Christian 42, La Jolla (6-6) 38
Granite Hills 38, (4) Fallbrook (7-4) 7
SEMIFINALS
Friday, Nov. 28
(1) Hoover (10-2) 21, (5) Granite Hills (9-4) 13
(2) Christian (12-0) 25, (11) Morse (6-7) 20
DIVISION IV (complete bracket)
FIRST ROUND
Friday, Nov. 14
(8) El Cajon Valley (3-8) 49, (9) Horizon Christian Academy (5-6) 34
QUARTERFINALS
Friday, Nov. 21
(1) The Bishop's School (11-0) 62, (8) El Cajon Valley (3-9) 0
Winners of four-straight, the Eagles (9-3) can advance to the San Diego CIF Division III semifinals with a road win tonight at top-seed Hoover (9-2). Last week, SETH COLLINS, MICHAEL LEDESMA and crew put the Cardinals on notice by drubbing Fallbrook last Friday night on the North County road.
Hoover has a seven-game win streak of its own, however. The ground-oriented Cardinals last loss was to this Granite Hills squad, 24-21, back on Sept. 26. Hoover has recorded five shutouts this season, but its one-dimensional attack will have to keep the Eagles' weapons off the final... GRANITE HILLS 28-27.
(11) Morse (6-6) at (2) Christian (11-0) - The defending division champion Patriots sailed through their regular-season campaign - pretty much as expected, but found themselves in a fight last week when they face La Jolla, a team that possessed nearly as much speed as they have.
The Vikings pushed Christian High to the brink until ADRIAN PETTY busted a 64-yard touchdown run early in the fourth quarter. Then, the Patriots defense - combined with a ball control drive in the mid-way through the fourth quarter - put the visitors' upset hopes to rest.
Morse got here on the heels of a 12-0 upset over Sweetwater. The Tigers have won four-straight thanks in large part to their defense. But will they have enough to hold down the multi-faceted Christian attack... CHRISTIAN 28-19.
Helix quarterback Michael Austin is wrapped up for a sack by El Capitan senior Clay Cromwell during the first half of the Vaqueros' Grossmont Valley League-clinching win over the visiting Highlanders Friday night.
(EastCountySports.com photo)
(4) Brawley (10-1) vs. (1) El Capitan (11-0) - This matchup appears closer on paper, as the Vaqueros march to the Division II championship game would seem expected against the visiting Wildcats.
Brawley lost its season-opener, but the strong running attack of the Wildcats has led them to this matchup in Lakeside.
The Vaqueros are having a season for the ages on both sides of the ball, as offensive stars BRAD CAGLE, ISAIAH CAPOOCIA and D.J. SMITH pace the offense, while JARRED TURNER, JOHN LACHAPPA, SAM MELERO and CLAY CROMWELL are top stoppers on a defense allowing less than 13 points per game... EL CAPITAN 38, BRAWLEY 28.
(2) Cathedral Catholic (10-1) vs. (3) Helix (9-2) - The Dons won an early season showdown between the perennial powers, 9-7.
Cathedral gets it done on the ground for the most part, while Helix has a more balanced approach with quarterback MICHAEL AUSTIN, running back NATHAN STINSON and receivers MASON VINEYARD and DASHAWN KIERSEY.
Helix's defense is led by defensive player-of-the-year candidate FORREST HANLON.
The Dons seem to have the Highlanders' riddle solved... CATHEDRAL CATHOLIC 17, HELIX 14.
Week 13 - SDCIF Quarterfinals

East sends four teams through in wild night of quarterfinals
Helix, El Capitan, Granite Hills, Christian advance to semis

By Jim Lindgren
©EastCountySports.com
SPRING VALLEY (11-22-14) — No matter how the ball bounced, this would have been a sweet-tasting victory or a tough pill to swallow for either team. The winner moves on to the semifinals of the CIF San Diego Section Division I playoffs, the loser turns in its gear.

Six lead changes in the second half ultimately favored El Camino when Antonio Garcia chipped in a 26-yard field goal with 31 seconds to play to give the Wildcats a wild, 33-31, win over Steele Canyon on Friday night (Nov. 21) at Steele Canyon.

Keep in mind this was a 0-0 game until 5:30 remained in the second quarter, a 9-3 El Camino lead at halftime and a 17-16 Steele Canyon advantage heading into the fourth quarter.

Then the scoreboard went cuckoo with five alternating scores and ultimately an upset "W" by the No. 7-seeded Wildcats (7-5) over No. 2 Steele Canyon (7-4).

"That was crazy," Steele Canyon coach SCOTT LONGERBONE said. "From 9-3 (at halftime) to 33-31, that was wild."

El Camino, playing with a heavy heart on the discovery of one of its team leaders had been diagnosed with leukemia just three days ago, rallied behind a backup quarterback who found out he'd be starting his first varsity game about 30 minutes before kickoff.

"You gotta credit their guys," Longerbone said. "They made some big plays.

"It's a tough way to go out, but at least we went out swinging."

El Camino senior nose guard D.J. Ingram, who started the season at 6-foot-3 and 250 pounds was admitted to the hospital last week after losing about 40 pounds during the past several weeks. His diagnosis on Tuesday stunned the Wildcats faithful. Ingram started chemotherapy on Wednesday and is expected to be hospitalized for at least another month.

"Our thoughts and prayers go out to that kid," Longerbone said. "We're all out there playing football. You never want to hear about things like that. Wins or losses, you just hope and pray that kid gets better."

On top of that, El Camino had to scratch star quarterback Sergio Lopez in pregame warm-ups due to a recurring back injury he suffered three weeks ago.

His replacement, Beau Gallegos, played like a veteran, completing 10-of-22 passes for 273 yards and two touchdowns.

"That backup QB, he really came through for them," Longerbone said. "We were prepared all week for their starter, but their backup did a great job."

Gallegos, truth be told, was helped immensely by receiver Eric Wilson, who hauled in five receptions for 200 yards, including a nifty catch over double coverage that turned into a 78-yard TD to give the Wildcats a 30-24 lead with 8:40 to play.

"That No. 6, boy, he's a stud," Longerbone said. "We had him double-covered, and he still caught the ball, stayed in bounds and made the play."

El Camino has won eight section championships but none since 1999. The Wildcats have not made the semifinals since 2000.

They will get another shot next Friday against No. 3-seed St. Augustine (6-5) at Mesa College. El Camino coach John Roberts was a top assistant coach at St. Augustine before taking the El Camino head coach job last spring.

Steele Canyon ended a campaign that saw an improvement of four wins over last year's 3-8 squad that lost to Mission Hills, 56-35, in the Open Division playoffs.

"Our seniors did a great job all season," Longerbone said. "They went from three wins last year to seven wins. I can't say enough about them … This team has been a real pleasure to coach. I'm very proud of our guys.

"And the future looks bright. We return a lot of key players next year."

Among them will be junior quarterback DOMINICK WOOD-ANDERSON, who threw for 310 yards and three touchdowns on 12-of-27 attempts with two interceptions (the last one coming in desperation time with no timeouts remaining).

ROOSEVELT JOHNSON caught five passes for 122 yards, including a 76-yard TD that gave the Cougars a 31-30 lead with 2:27 to play.

Noteworthy on that one was that it came on a fourth-and-4 call after a timeout by the Cougars.

"Man, that fourth-and-4, and we went big. That was awesome," Longerbone said. "We thought we had them there."

Not quite. El Camino's Wilson returned the ensuing kickoff 60 yards to set up the winning score. From the 39, Gallegos scrambled twice for 12 yards apiece before El Camino settled into field-goal formation for the win.

JORDAN JOHNSON racked up 127 yards on four receptions, including a 68-yard TD in the third quarter that cut El Camino's lead to 16-10.

Steele Canyon then took its first lead when Wood-Anderson kept on an option play to the left side for an 8-yard TD that made it 17-16 with 3:03 left in the third quarter.

El Camino went up again early in the fourth quarter when limited-used fullback Nathan Williams scored his second touchdown on a 2-yard blast with 11:35 to play. Earlier, Williams burst free for a 42-yard TD run to give the Wildcats a 16-3 lead two plays after Steele Canyon misfired on a fake-punt pass attempt on a fourth-and-4 from its 43-yard line. Williams more than doubled his season output with 113 rushing yards and his first two touchdowns.

The Cougars made it 16-10 when JORDAN JOHNSON took a short pass from Wood-Anderson and turned it into a 68-yard TD with 8:46 to play in the third quarter. Jordan Johnson, like Roosevelt Johnson, finished with 122 receiving yards on just three catches.

Steele Canyon took its first lead, 17-16, on Wood-Anderson's TD scamper.

El Camino countered with a nine-play, 84-yard TD drive to go up 23-17. Four plays later, Wood-Anderson fired a strike to DEREK TYLER in the end zone for a 22-yard TD to give the host a 24-23 lead.

Three plays later, it was El Camino up 30-24 when Gallegos tossed to Wilson for the 68-yard score.

Roosevelt Johnson's improbably TD gave Steele a 31-30 lead, but the Wildcats snared the win on Garcia's field goal two minutes later.

Remember this game started as a defensive slugfest.

Anthony Taele scored first, taking a short rollout pass from Gallegos and turning it into a 21-yard TD with 5:30 to play in the first half.

Steele Canyon sliced that to 6-3 on a 41-yard field goal by ALEXANDER RAYA with 3:32 left.

El Camino countered with a 21-yard field goal by Garcia to make it 9-3 at halftime.

Steele Canyon managed just 74 yards and four first downs (two by penalties) in the first half.

"We told our kids at halftime, the plays are there," Longerbone said. "We just have to make 'em."

Senior linebacker WILLIE FAIR, as per norm, had a huge game defensively for the Cougars. MARVIN CALDWELL (sack), DYLAN HAMLET (sack) and Roosevelt Johnson also stood out on defense.

HELIX 58, RAMONA 35 – Once beaten Ramona, in a lop-sided 42-0 victory by Helix earlier this season, had to endure another drubbing by the Highlanders in Friday night's (Nov. 25) SDCIF Open Division quarterfinals.
Helix quarterback MICHAEL AUSTIN started the scoring with a 25-yard run early in the first quarter. DaSHAWN KEIRSEY followed shortly thereafter with a TD of his own – one of three he scored on the night on two aerials and a 65-yard punt return.
Austin was hot on this night and would finish with four scoring passes and one rush. He completed 19 of 27 passes for 382 yards.
At the end of the first quarter MEKHI STEVENSON scored on a 76-yard pass from Austin and also grabbed an interception, returning it 42 yards. NATE STINSON logged a TD on a 4-yard run and SCOTTIE YOUNG scored on a 25-yard pass from Austin. ZEKE NOA was another recipient of one of Austin's passes as he scored from 8 yards out.
NICK SOLIZ logged 5 tackles and 3 pass break-ups, while FORREST HANLON and EMMANUEL ALAILIMA each recorded a sack for the Highlanders.
Kicker MATTHIAS LAYTON was 7 of 8 on PATs and also contributed a 32-yard field goal.
The score was 30-7 at halftime as the Highlanders' defense held Ramona in check throughout the first two quarters.
Ramona came out strong after intermission and made a brave stand, scoring 28 points to go with their first quarter touchdown, but it was too little, too late and the outcome was never in question.
Helix will travel to Cathedral Catholic next Friday (Nov. 28) for a semifinal game against one of the two teams that has beaten the Highlanders this season.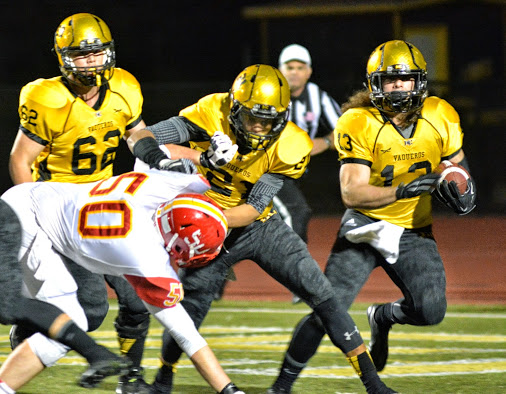 El Capitan senior star D.J. Smith rushes the ball out of trouble during the first quarter of the Vaqueros' playoff win over visiting Mt. Carmel at Wendell Cutting Field Friday night.
(EastCountySports.com photo)
EL CAPITAN 48, MT.CARMEL 6 – BRAD CAGLE and the Vaqueros won for the 11th time this season without a loss. The veteran quarterback threw for two scores and ran for another, as El Capitan controlled the Sundevils in the SDCIF Division II quarterfinals Friday (Nov. 21).

El Capitan scored on its second drive when Cagle hit his brother ZACH CAGLE with a quick seam pass, and he took it untouched for a 57-yard score at 5:33 of the first quarter.

Brad Cagle got the Vaqueros into scoring position late in the first quarter with a 33-yard pass to ISAIAH CAPOOCIA, then closer with a wild, spinning scramble for a 34-yard gain down to the 5, then the shifty-footed QB skirted in for the score on the next play, giving the hosts a 14-0 lead with 0:19 left in the quarter.

Zach Cagle had a tackle-for-loss in the first quarter, while senior corner JAMES OWEN had a sack. Then, to start the second, ball-hawking senior safety JARRED TURNER went to his knees for an interception just outside the Sundevil 40.

Senior back D.J. SMITH then took a sweep left to gain a first down, followed by a short completion from Cagle to set up first-and-goal. Smith capped his work with a 3-yard TD run at 9:29 for a 21-0 lead.

Mt. Carmel got a big kick-off return to set up a drive that resulted in a touchdown on a fourth-down play that culminated following a wild QB scramble.

However, the Vaqueros would nullify the score when JOEY LaCHAPPA got a touchdown on a 75-yard play on a completion from Cagle, who got the pass off under the constant pressure of the Mt.Carmel, although they had a tough time bringing the Vaqueros' leader down.

Smith added a 54-yard touchdown in the second quarter and a 10-yard score in the third.

El Capitan's TAKOTA CURO had field goals of 21 and 31 yards.

CHRISTIAN 42, LA JOLLA 38 – The Patriots gave their fans the most thrilling victory of the season Friday night (Nov. 21) in the SDCIF Division III quarterfinals.
Adrian Petty is off on the game-decisive 64-yard touchdown run during the fourth quarter Friday night, as Christian edged La Jolla, 42-38, in the San Diego Section CIF Playoff quarterfinals.
(EastCountySports.com photo)
They can thank the La Jolla Vikings for that, as Christian faced its fastest opponent of the season and needed every stride to secure a victory in the fourth quarter.

ADRIAN PETTY's 63-yard touchdown run early in the fourth quarter gave Christian the final margin of victory, as they won a clock, and field-position battle late.

The Vikings led 7-0 after one quarter, but Christian tied the game on a 49-yard hookup from quarterback DAVID TODD JEREMIAH to NICK SEXTON with 10:02 left in the second. Sexton caught a short pass down the line of scrimmage on the left side, then out-raced his man to the corner and had clear sailing up the sideline.
After the Vikings stunned the hosts with a pair of second-quarter touchdowns, including a pick-six by La Jolla's Anthony Stanley, who picked off a batted pass by a fellow defender just beyond the line of scrimmage, to take a 24-7 lead, Christian reached into their bag of tricks and got a 55-yard pass play from BRANDON HESTER to TREVOR HOWELL for a touchdown.
Christian then held the Vikings to a short possession and countered for a final score before halftime on a long pass from Jeremiah to Howell with 1.2 left. Jeremiah scrambled in the pocket, lofted a deep pass down the middle that Howell actually bobbled once before securing behind the defender, before cruising into the end zone.

The Patriots opened the second half with a ball-control drive led by Petty. Jeremiah then hit Sexton for a conversion on third down to take the ball to the La Jolla 15, where Jeremiah found Howell on the next play to give Christian a 28-24 lead with 8:06 left in the third.

The Vikings quickly countered with a big-play touchdown covering 71 yards, taking the lead back, 31-28, in just under a minute.

After Jeremiah threw an interception, the Vikings cashed in with a short scoring drive, taking a 38-28 lead with 4:05 left in the third.

Petty returned the ensuing kick to the 41, and on the next play, Jeremiah fired a quick out to Sexton, who out-maneuvered his man with a spin, then up the right side before cutting back to the middle for the goal line, to cut the deficit to 38-35 with 3:43 left in the third.

Christian's defense squelched the next drive as JOEY MARONES and HUNTER ARVAN combined on a sack, then Howell recorded an interception at the Pats' 27.

That set up big-play A.P. – Adrian Perry for his big jaunt. The junior back hit a quick stutter-step delay on a toss to the right, then exploded through the hole back up the middle against an over-committing defense, and off to the end zone, giving Christian the lead on the first play of the fourth quarter.

Marones had a sack, then a penalty, ended La Jolla's next drive. Christian then took off six minutes of the fourth-quarter clock, mostly behind Petty, before La Jolla made a late fourth-down stop after Christian decided against kicking a field goal, which would have made the margin 7.

The Vikings were denied on the final drive by an offensive interference penalty, and finally, a pass defended by Hester on the Vikes' final play.

GRANITE HILLS 38, FALLBROOK 7 – The Eagles went to Fallbrook and stunned the hosts with a stifling defense. And of course, a heavy dose of SETH COLLINS and MICHAEL LEDESMA.

Collins hit RYAN ROJ for an 18-yard touchdown pass that put Granite Hills ahead 14-0 in the first.

Earlier, Ledesma had a 5-yard score with 8:45 left in the opening quarter, as he took an inside handoff after coming across in motion, then easily skated in for six.

The Eagles controlled the first half, especially defensively, making two fourth-down stops. The Eagles led 17-7 at halftime of Friday night's (Nov. 21) SDCIF Division III encounter as neither team could get a threat together for most of the second quarter. Roberto Ramirez had a TD run for the Warriors that cut it to 14-7 early in the second.

Ledesma capped the scoring with a 7-yard run around the left side in the fourth quarter after the Eagles forced another turnover on downs, while THOMAS YOUMOG had a 7-yard score in the third quarter.

Ledesma had a 3-yard touchdown run in the third quarter on the same play that seems to work every time for Granite Hills , as the Eagles led 31-7 into the fourth.

RILEY REYES had a fumble recovery for the Eagles in the third quarter following his own strip of a Fallbrook runner, while JAKE ENGLISH recorded 4 sacks for minus 36 yards and JARRED BRADLEY also had 4 sacks for minus 36 yards

Overall, it was a huge night for the Eagles' defense, as KELLEN GAEIR, GABRIEL JOHNSON, CHASE GANDY, ALEX MACK and TRAYSHAWN WRIGHT shutdown the Warriors for nearly three quarters of the game. Also a big contribution came from BILLY CUMMINGS, as Granite Hills continued the pressure in the second half, nearly recording a safety on one particular play.

Granite Hills also blocked a punt.

LA COSTA CANYON 47, GROSSMONT 28 – The Foothillers shocked the hosts early, taking a 14-7 lead following RICKY VALDEZ's 2-yard touchdown run with three minutes left in the first quarter of Friday night's (Nov. 21) SDCIF Division I quarterfinals, then extending the advantage to 21-7 on a 32-yard touchdown run by junior ALEX LILLIARD.

Lilliard opened the scoring with a 2-yard touchdown run just 1:40 into the contest, but the Mavericks tied the game, 7-7. On his 32-yard jaunt, Lilliard got the big blocks up front from MARCUS MORGAN, LOGAN CANDELARIO and MICHAEL BYERLINE to spring him into the secondary and into the end zone.

Senior MALIK HAYES had an interception off a pass coming on a fake field-goal attempt and subsequent 20-yard return to set up Lilliard's run that gave Grossmont the two-score lead.

The Mavericks would quickly tie the game, however, 21-21, as the teams went into halftime. LCC had an interception return for a touchdown, which extended the Mavs' lead to 31-21 with 4:09 left in the third quarter.

LCC put up a third-consecutive score in the third quarter before Grossmont answered when quarterback CALVIN FARRIS had a 3-yard touchdown run to close the gap to 38-28. The Mavs also recorded a safety.

BRAWLEY 29, WEST HILLS 13 – The Brawley Wildcats scored on their first four possessions, and won the SDS-CIF Division II quarterfinal in the desert Friday night (Nov. 21)

The Wildcats opened with a length-of-the-field drive, capped by a 20-yard scoring run. Brawley led 20-6 with 5:36 left in the first half, extending its 14-6 lead.

West Hills countered the Wildcats first score with a 9-yard touchdown pass from SPENCER MOYER to TAJ BROOMFIELD, as Moyer faked a handoff to the right from the right hash, and that allowed Broomfield to slip away to the left, and with enough field to beat the chasing defenders after he caught a short screen.

West Hills turned the ball over during a miss-timed snap from a read-set. West Hills couldn't seem to get a break in the first half, especially from the officials.

JACOB SHAW had a 2-yard touchdown run for the Wolf Pack.

BISHOP'S 72, (8) EL CAJON VALLEY 0 – Following their first SDCIF Division IV playoff win in nine years, the Braves' season ended with a loss to Bishop's.

The Braves won their first playoff victory in nine years last week against a Horizon team that finished fourth in the Coastal League.
What they went up against in Friday's Quarterfinal Round, however, was a top-seeded Bishop's squad that ransacked that same league by a wide margin and came in undefeated at 10-0)
Six first-half possessions resulted in 6 touchdowns and to make it an even longer Knight for ECV, Bishop's kicker Chris Alleyne took the second half kickoff 98 yards for a score. That was followed up with a 22-yard pick-six by Jack Case to make it a 55-0 lead.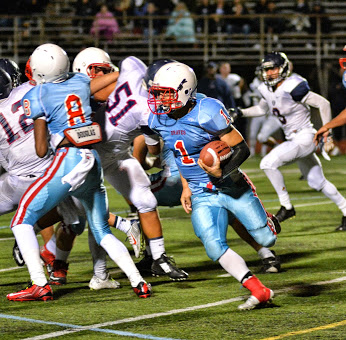 El Cajon Valley quarterback Meriton Hasani carries last Friday night during the Braves' first playoff win in nine years, as the Braves beat Horizon
(EastCountySports.com photo)
Fearless Forecaster – Week 13
SDCIF Playoffs – Quarterfinals

East teams try to weather playoff storm
By Bill Dickens
©EastCountySports.com

EL CAJON (11-20-14) — The San Diego Section football quarterfinals will commence on Friday (Nov. 21) at 7 p.m. for all divisions.

(6) RAMONA (8-2) at (3) HELIX (8-2) – The last time these teams met Helix smothered Ramona 42-0. This time around, in the SDCIF Open Division, the Highlanders figure to roll over the Bulldogs once again but it should be much closer . . . Helix 44-28.
(7) EL CAMINO (6-5) at (2) STEELE CANYON (7-3) – El Camino, probably one of the most hardluck teams in the San Diego Section since they repeatedly lose close games, is ready to break out at any moment. Friday night's Division I game may be their last chance. Quarterback DOMINICK WOOD-ANDERSON is the main ticket for the Cougars . . . Steele Canyon 32-22.

(8) GROSSMONT (6-5) at (1) LA COSTA CANYON (5-5) – The high-scoring Grossmont Foothillers may surprise the No. 1 rated Mavericks in Friday's SDCIF Division I quarterfinal . . . La Costa Canyon 33-30.

(8) MT. CARMEL (6-5) at (1) EL CAPITAN (10-0) – The Vaqueros of El Capitan have yet to lose and don't figure to do so against Mt.Carmel in Friday's SDCIF Division II meeting. The Vaqueros have to avoid an upset when they take on the Sun Devils . . . El Capitan 27-20.

(5) WEST HILLS (9-2) at (4) BRAWLEY (9-1) – This game is anybody's guess as the two teams have similar records. Brawley will have the advantage of the home crowd and they get noisy out in the desert. The Division II quarterfinal will be a close one . . . West Hills 37-31.

(5) GRANITE HILLS (8-3) at (4) FALLBROOK (7-3) – The Eagles will travel to North County Friday for the SDCIF Division III quarterfinals. These two teams are ranked among the better crews in the county, but the Eagles have a double-double offensive unit in quarterback SETH COLLINS and quarterback-running back MICHAEL LEDESMA. The nod goes to . . . Granite Hills 27-24.

(10) LA JOLLA (6-5) vs. (2) CHRISTIAN (10-0) at Granite Hills – The Patriots will be hard pressed to overcome the high-scoring Vikings, whose record belies their potential. This Division III SDCIF quarterfinal could tilt either way as Christian doesn't figure to relinquish its record . . . Christian 48-38.

(8) EL CAJON VALLEY (3-8) at (1) BISHOP'S (10-0) – El Cajon Valley would like nothing more than to play spoiler in the Division IV SDCIF quarterfinal against Bishop's. It might be an uphill battle but the Braves want it pretty bad. Unfortunately desire and defeat start with the same letter . . . Bishop's 27-17.
Fearless Forecaster - Week 12
Granite Hills junior Riley Reyes runs with the ball during the Eagles' playoff win over visiting Patrick Henry Friday night in El Cajon.
(EastCountySports.com photo)