Norsemen ready to state championship case
Updated: November 26, 2015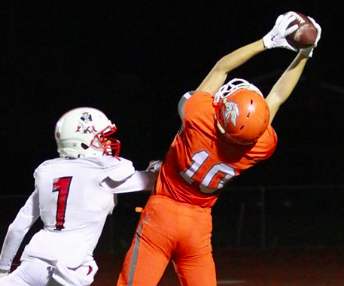 Junior receiver Brandon Fuller stretches for a catch during Valhalla's quarterfinal win over Christian. / Don De Mars Photography
2015 FEARLESS FORECASTER
SDCIF Playoffs – Semifinals
By Bill Dickens
© East County Sports.com
(4) MT. CARMEL (8-3) at (1) VALHALLA (9-2) – Valhalla's CHARLES BUSSEY doesn't make any bones about it:
"I think we could compete with any team in Division I," said the Division II Norsemen's head football coach.
Valhalla has won 7 of its last 9, falling only to Otay Ranch in the opener 14-7 and caved in to Helix 42-14.
"We have two signature wins, over Steele Canyon and Grossmont," Bussey said.
Defense is Valhalla's muscle.
Linebacker LOGAN BAKER (98 tackles, 38 TFL, 9 sacks and one fumble recovery) is the mainstay of the unit.
Linebacker CADE BAKER is right on his heels with 70 tackles, 6 sacks, 4 fumble recoveries and 3 interceptions.
Definitely not to be overlooked is defensive end DANIEL BENDER who has chalked up 75 tackles, 31 TFL, 8 sacks, 2 fumble recoveries and an interception.
Linebacker TREY SCHIMKE has left his mark with 53 tackles, 6 sacks, a fumble recovery and 3 interceptions.
"I'm sure by now most people recognize that defense is our strength," said Bussey.
However, Valhalla is starting to show more spark on offense thanks to the offensive line of RYAN BURKE, TYLER EASTLICK, LIAM CLINGAN, JACOB SMITH, CASEY CASPER and JAKE SINES, who have provided golden pass pro for quarterback PHILLIP NASEH (132-242, 1717 yards and 16 TDs).
The game will be available on Orange Nation Television by clicking here.
The Norsemen like to believe they are of championship caliber, and this may be the year . . . Valhalla 28-12.