Eagles' Humphries catches on with Waves
© East County Sports.com
EL CAJON (08-04-07) — Granite Hills senior-to-be BRIAN HUMPHRIES has accepted a baseball scholarship to Pepperdine University in Malibu. The talented Eagles center-fielder will join the Waves in time for the 2009 season.
The 6-foot-3, 185-pound Humphries, who helped lead the No. 1-ranked Eagles to the San Diego CIF Division I championship a year ago, also figures to be a blue-chip draft prospect in June, 2008.
"This is a win-win situation for him," Granite Hills coach JAMES DAVIS said of Humphries, who batted .456 (52-for-114) with 26 RBI and 11 steals as the Eagles' junior leadoff man.
Humphries, who already owns Granite Hills career records for hits (137 in three seasons), and doubles (34), is easily one of the top defensive outfielders in the SDCIF. His glove and speed running the bases makes him a standout. His consistency as a hitter remains his top attribute.
"He's the complete package," Davis said. "Yeah, I think he's a pro prospect."
Baseball talent shows this week
© East County Sports.com
EL CAJON (8-05-07) — No question East County's baseball class of 2008 is loaded with talent.
Valhalla's versatile RYAN O'SULLIVAN, Grossmont shortstop BRYAN HAAR, Granite Hills center fielder BRIAN HUMPHRIES and pitcher-outfielder MILES REAGAN of El Capitan are just four names that come to mind. The quartet will showcase their talents in the 21st annual Area Code Games Aug. 5-10 at Long Beach 's Blair Field.
All four will play for the Milwaukee Brewers Blue Team.
This event is regarded as the nation's top talent show, featuring the cream of the senior class. Ten major league organizations are sponsoring teams in the six-day event, which annually attracts dozens of college coaches as well as pro scouts.
Upon conclusion of the Area Code Games, O'Sullivan and Fallbrook's Clark Murphy will take part in this year's 5th annual Aflac All-American Baseball Classic at San Diego State 's Tony Gwynn Stadium on Saturday, Aug. 11 at noon. This contest features 38 of the nation's top high school baseball players in a contest to be televised live by the Fox Sports Network.
For the moment, Humphries' focus is on his senior season and a college career.
"The main thing is I'm happy to have this behind me," Humphries said. "I'm glad to have a plan for my future. I'm happy with my decision."
Humphries' college opportunities stretched nationwide. Iowa, Kansas State, Jacksonville and the majority of Ivy League schools made pitches for his talents, but only those on the West Coast caught his attention.
UCLA, Arizona, Cal State-Fullerton, Arizona Stat , Long Beach State, UC Riverside and UC Irvine were among the area colleges wooing Humphries. He visited UCR and UCI as well as Pepperdine before drawing a conclusion.
"I just love the school, the location and the coaching staff," Humphries said of Pepperdine. "It's a place where I'll have a great opportunity to play as a freshman."
Humphries said he does not plan to play basketball his senior season at Granite Hills so as to concentrate exclusively on baseball.
---
Three Eagles land
All-State berths
© East County Sports.com
TORRANCE (7-7-07) -- CalHiSports announced its All-State baseball teams Friday (7-6-07), which feature both ERIC KRAUSE and TRAVIS TAIJERON of Granite Hills, along with CIF-San Diego Section player of the year Nick Noonan (Francis Parker) of Tierrasanta. The trio were all first-team selections.
Five other seniors from the county also received second team berths, including NICK LONGMIRE of Grossmont. The others included Mira Mesa's Deryk Hooker, Rancho Bernardo's Tyler Kuehl, Montgomery's Brad Procopio and Torrey Pines's Kevin Silvett.
Christian High's EDDIE YOUNG, a junior infielder, was also tabbed all-state in the Small Schools division, while the All-Underclass first team also features Granite Hills junior BRIAN HUMPHRIES and Grossmont junior BRYAN HAAR.
Granite Hills ranked 36th in nation

CalHiSports also places Eagles 4th in California
© East County Sports.com
TORRANCE (7-6-07) -- Capped by its CIF San Diego Section Division I championship, the Granite Hills Eagles received one final award for the 2007 baseball season, ranked 36th in the nation in the CalHiSports' Fab 50 rankings.
Horizon High (Scottsdale, Ariz.) was declared the nation champions by CalHiSports after posting a 33-3 overall record, nipping three other teams in consideration: Sarasota (Fla.), Seton Hall Prep (West Orange, N.J.) and Wilson (Long Beach, CA).
Under the leadership of coach JAMES DAVIS, Granite Hills became the first team to supersede any ballclub from the North County to take a Division I title in nine seasons. This drew attention from the voters, which placed the Eagles in 10th place in the West Region (covering Alaska, Arizona, California, Colorado, Hawaii, Idaho, Montana, Nevada, Oregon, Utah, Washington and Wyoming), and 4th-best in the state, behind only Wilson (4th in the nation), Chatsworth (10th) and San Jose-Valley Christian (16th).
Catcher TRAVIS TAIJERON led the way with 11 homers, while pitcher ERIC KRAUSE was 12-1, picking up a save in the section title deciding game, and ending with 123 strikeouts in 88 innings.
Krause was later named both East County Player of the Year, while both were first-team All-San Diego Section selections by the media. Outfielder BRIAN HUMPHRIES earned a second-team berth.
Grossmont, which like Granite Hills raced through the playoffs with an unblemished record, failed to make the publication's list.
---
Wilson named Norsemen baseball coach

Opening at Monte Vista; Rinehart resgins
© East County Sports.com
EL CAJON (6-15-07) — More changing of the guard occurred in East County baseball circles this week.
Valhalla principal LARRY MARTINSEN has appointed MIKE WILSON as the Norsemen's baseball coach, while LARRY RINEHART stepped down after five seasons as the Monte Vista Monarchs baseball skipper. Monte Vista athletic director ZACH PECK is out of town, but reported by email no successor has been named.
Wilson, who has been an assistant coach under JAMES DAVIS at Granite Hills the past two seasons, is a product of East County high schools. He graduated from Granite Hills in 1998 after helping the Eagles capture the San Diego CIF Division I championship.
An 8th round pick of the Phillies in the summer of '98, Wilson pitched for seven seasons in the Philadelphia and San Francisco minor league chains. His career was cut short by injuries and three arm surgeries.
Although Wilson said his future sights included a chance to be a varsity head baseball coach, the Valhalla position was an unexpected opportunity presented to him by Martinsen.
"This is something I've always wanted to do," said Wilson, who is a site support technician at Valhalla .
Rinehart posted a 53-86-1 record during his tenure at Monte Vista. His best season was 2004 when the Monarchs finished 16-16.
"This is just another chapter in my life that I'm so thankful to have had," said Rinehart, a teacher at Helix High. "It's just time to move on."
---
Krause tops half-dozen returnees
to All-East County baseball team
© East County Sports.com
EL CAJON (6-7-07) — Six players on the 2007 All-East County Sports.com baseball team were named to the first team for the second year in a row, including Granite Hills pitcher ERIC KRAUSE, who was selected as Player of the Year.
Krause, a 5-foot-10, 175-pound right-hander, posted a 12-1 record which extended his Granite Hills career record victory count to 32 over 2005-07. He also had 2 saves, a 1.33 ERA and struck out a SDCIF best 123 in 89 1/3 innings this season.
Four Eagles earned first team berths on the All-East County squad, including senior catcher TRAVIS TAIJERON, center-fielder BRIAN HUMPHRIES, and third baseman AUSTIN COLEMAN. Taijeron, Humphries and Coleman were repeat first team picks.
Taijeron, who batted .451 with 11 home runs and 39 RBI, broke the Granite Hills career home run record with 33 round trippers. He shattered the previous Granite Hills record of 24 set by Padres second baseman MARCUS GILES (1994-96).
Humphries, a junior and 3-year starter in center field, batted .456 – setting Granite Hills records for hits in a season (52), career hits (137) and career doubles (34). His 17 doubles as a sophomore is also a Granite Hills record.
San Diego Section Division II champion Grossmont landed three first team berths – pitcher TAYLOR WOHLWEND, shortstop BRYAN HAAR, and right fielder NICK LONGMIRE.
Longmire, who finished with an East County-leading .514 batting average, set a Grossmont season record with 56 hits.
Other repeat first team winners were versatile Valhalla junior RYAN O'SULLIVAN and Christian shortstop EDDIE YOUNG.
Rookie of the Year honors went to Grossmont sophomore pitcher-first baseman LEVI STEVENS. West Hills first baseman ERIC McKNIGHT was tabbed Most Improved, while Steele Canyon senior shortstop ERIC CARRILLO garnered Unsung Hero honors.
East County Sports.com also selected Grossmont's ROB PHILLIPS and Granite Hills' JAMES DAVIS as Co-Coaches of the Year. Phillips led the Foothillers to their 3rd straight SDCIF Division II championship, while Davis guided the Eagles to the Division I championship and the No. 1 ranking in the SDCIF section.
2007 All-East County Baseball Team
Selected by East County Sports.com staff

FIRST TEAM

Pos

Name..................

School

.Ht..

Wt

Yr

P

Eric Krause

Granite Hills

5-10

175

12

P

Taylor Wohlwend

Grossmont

6-3

190

12

P

Mahi LaBastida

Helix

5-9

160

12

P-SS

Ryan O'Sullivan

Valhalla

6-0

175

11

C

Travis Taijeron

Granite Hills

6-2

200

12

C

Nick Sica

Santana

6-2

175

12

INF

Eric McKnight

West Hills

6-2

190

11

INF

Bryan Haar

Grossmont

6-3

190

11

INF

Austin Coleman

Granite Hills

6-1

186

12

INF

Eddie Young

Christian

5-11

175

11

INF

Taylor Eichhorst

Christian

6-2

225

10

OF

Nick Longmire

Grossmont

6-2

180

12

OF

Brian Humphries

Granite Hills

6-3

180

11

OF

Jordan Hindi

Steele Cyn.

5-10

155

11

SECOND TEAM

Pos

Name..................
School.........

.Ht..

Wt

Yr

P

Bobby Wilkins

Valhalla

6-3

210

12

P

Levi Stevens

Grossmont

5-10

160

10

P

Travis Hopper

Granite Hills

6-1

165

10

P

Kevin Morton

El Capitan

5-10

155

11

C

Zach Tanida

Helix

6-0

180

12

INF

Greg Garcia

Valhalla

5-9

170

12

INF

Anthony Lopez

Monte Vista

6-0

170

12

INF

Josh Simms

Grossmont

6-0

160

11

INF

Louis Cazares

Granite Hills

5-8

165

12

OF

Tomas Karagianes

Valhalla

6-0

190

12

OF

Mikes Reagan

El Capitan

6-2

188

11

UTL

Dallas Martin

Santana

5-9

180

12

UTL

Tanner Rust

El Capitan

6-1

195

10

UTL

James Trebus

Mount Miguel

6-2

175

12

Player of the Year
Eric Krause, Granite Hills

Rookie of the Year
Levi Stevens, Grossmont

Most Improved Player
Eric McKnight, West Hills

Unsung Hero Award
Eric Carrillo, Steele Canyon

Coaches of the Year
Rob Phillips, Grossmont
James Davis, Granite Hills
---
San Diego Hall of Champions All-CIF San Diego Section Team
(Selected by media panel with input from coaches)

Player of the Year
Nick Noonan, Francis Parker

Coach of the Year
Rob Phillips, Grossmont

First team
Pitchers: Eric Hillenbrand, Torrey Pines, Sr.; Deryk Hooker, Mira Mesa, Sr.; Eric Krause, Granite Hills, Sr.; Bradley Procopio, Montgomery, Sr.; Bobby Shore, Oceanside, Sr.

Catchers: Brandon Meredith, Montgomery, Jr.; Travis Taijeron, Granite Hills, Sr.

Infielders: Ryan Fariss, Hilltop, Sr.; Tyler Kuehl, Rancho Bernardo, Sr.; Nick Noonan, Sr., Francis Parker; John Stefanski, Francis Parker, Sr.; Eddie Young, Christian, Jr.

Outfielders: Noah Jackson, Rancho Buena Vista, Jr.; Nick Longmire, Grossmont, Sr.; Matt Moynihan, Cathedral, So.

Second team
Pitchers: Mitchell Beacom, University City, Sr.; Brian Busick, Poway, Jr.; Craig Rasmussen, Hilltop, Sr.; Cole Selser, Ramona, Jr.; Jonathan Soto, St. Augustine, Sr.

Catchers: Kevin Silvett, Torrey Pines, Sr.; Chris Wilson, Cathedral Catholic, Jr.

Infielders: Andrew Castaneda, Oceanside, Sr.; Tommy Cheek, Cathedral Catholic, So.; Taylor Eichhorst, Christian, So.; Bryan Haar, Grossmont, Jr.

Outfielders: Ricky Alvarez, Otay Ranch, Sr.; Corbin Cutshaw, Santa Fe Christian, Sr.; Brian Humphries, Granite Hills, Sr.; Drew Muren, Ramona, Sr.
---
All-CIF San Diego Section Teams by Division
(Selected by coaches)

DIVISION I
First team–Eric Krause (Granite Hills) Sr.; Travis Taijeron (Granite Hills) Sr.; Brian Humphries (Granite Hills) Jr.; Ricky Avarez (Otay Ranch) Sr.; Deryk Hooker (Mira Mesa) Sr.; Tyler Kuehl (Rancho Bernardo) Sr.; Noah Jackson (Rancho Buena Vista) Sr.; Eric Hillenbrand (Torrey Pines) Sr.; Kevin Silvett (Torrey Pines) Sr.; Brian Busick (Poway) Jr.
Second team–Anthony Nutter (Escondido) Sr.; Austin Green (Patrick Henry) Jr.; Guido Knudson (Bonita Vista) Sr.; Evan Kehoe (Mira Mesa) Sr.; Tony Nix (Poway) Sr.; Austin Coleman (Granite Hills) Sr.; Jerrud Sabourin (Torrey Pines) Sr.; Louis Cazares (Granite Hills) Sr.; Vince Riedel (Rancho Buena Vista) Sr.; Jarrett Sisler (Escondido) Jr.
Player of the Year–Travis Taijeron (GH).
Pitcher of the Year–Eric Krause (GH).
Team champion–Granite Hills.

DIVISION II
First team–Bryan Haar (Grossmont) Jr.; Nick Longmire (Grossmont) Sr.; Taylor Wohlwend (Grossmont) Sr.; Craig Rasmussen (Hilltop) Sr.; Bobby Shore (Oceanside) Sr.; Matt Cerda (Oceanside) Jr.; Ryan Fariss (Hilltop) Sr.; Brandon Meredith (Montgomery) Jr.; Bradley Procopio (Montgomery) Sr.; Mahi LaBastida (Helix) Sr.

Second team–Josh Simms (Grossmont) Jr.; Levi Stevens (Grossmont) So.; Derek Baum (Grossmont) Jr.; Scott Heylman (Point Loma) Sr.; Domenic Bowen (Hilltop) Jr.; Raul Gonzalez (Oceanside) Sr.; Brennan Metzger (Mission Hills) Jr.; Kevin Lovelace (San Pasqual) Sr.; Allen Boyer (Mt. Carmel) Sr.; Mike Sevilla (Serra) Sr.
Player of the Year–Nick Longmire (Gr).
Pitcher of the Year–Taylor Wohlwend (Gr).
Team champion–Grossmont.

DIVISION III
First team–Mitchell Beacom (University City) Sr.; Matt Frankfurth (University City) Sr.; Mike Zoellner (St. Augustine) Sr.; Ryan O'Sullivan (Valhalla) Sr.; Chris Wilson (Cathedral Catholic) Jr.; Tomas Karagianes (Valhalla) Sr.; Jonathan Soto (St. Augustine) Sr.; Sequoyah Stonecipher (Mission Bay) Sr.; Drew Muren (Ramona) Sr.; Trent Jemmett (La Jolla) Jr.

Second team–Heriberto Reyes (Brawley) Jr.; Matt Moynihan (Cathedral Catholic) So.; David Popkins (St. Augustine) Jr.; Tyler Saldino (University City) Sr.; Ed Kalankiewicz (University City) Sr.; Daniel Moreno (Madison) Sr.; Francisco Valdez (Mission Bay) Sr.; Nick Sica (Santana) Sr.; Cole Sulser (Ramona) Sr.; Beck Wheeler (St. Augustine) Sr.
Player of the Year–Mike Zoellner (StA).
Pitcher of the Year–Mitchell Beacom (UC).
Team champion–University City.
DIVISION IV
First team–Nick Noonan (Francis Parker) Sr.; Dorsey Ek (Francis Parker) Sr.; John Stefanski (Francis Parker) Sr.; Eddie Young (Christian) Jr.; Levi Hyams (Santa Fe Christian) Jr.; Paul Guardado (Marian Catholic) Sr.; Greg Wisenberg (La Jolla Country Day) Jr.; Tim Leary (Coronado) Jr.; Jim Schultz (Francis Parker) Sr.; Taylor Eichhorst (Christian) So.
Second team–Colin Walsh (The Bishop's) Sr.; Kyle Reese (La Jolla Country Day) Jr.; Greg LaBarre (Francis Parker) Sr.; Russell Havens (Imperial) Sr.; Rory Sullivan (Santa Fe Christian) Sr.; Josh Barber (Mountain Empire) Jr.; Zack Kusnir (La Jolla Country Day) Sr.; Juan Soriano (Marian Catholic) Sr.; Bryan Mitchell (Christian) Jr.; Kenn Malec (Julian) Sr.
Player of the Year–Nick Noonan (FP).
Pitcher of the Year–Dorsey Ek (FP).
Team champion–Francis Parker.
---
2007 All-League Teams
Selected by League Coaches based on Conference Statistics only
Grossmont North League
Champions: Grossmont Foothillers

Pos.
First Team
School

Year

RHP
Taylor Wohlwend
Grossmont

12

LHP-1B
Levi Stevens
Grossmont

10

C
Nick Sica
Santana

12

1B
Eric McKnight
West Hills

11

2B
Josh Simms
Grossmont

11

SS
Bryan Haar
Grossmont

11

OF
Nick Longmire
Grossmont

12

OF
Miles Reagan
El Capitan

11

Util
Dallas Martin
Santana

12

Util
Tanner Rust
El Capitan

10

Athlete of the Year
Nick Longmire, Grossmont

Pitcher of the Year
Taylor Wohlwend, Grossmont

Rookie of the Year
Levi Stevens, Grossmont

Pos.
Second Team
School

Year

RHP
Kevin Morton
El Capitan

11

LHP-OF
Lucas Whitmore
El Capitan

12

RHP-OF
Brian Ritayik
West Hills

12

C
Derek Baum
Grossmont

11

C
Aaron Gagnon
West Hills

12

OF
Kyle Secciani
Grossmont

11

OF
Augie Williams
Grossmont

12

OF
Jonathan Tippin
Santana

12

OF
Ryne Barkley
West Hills

11

Util
Brandyn Bell
Santana

11

Honorable Mention
El Capitan: Bryson Lukacik (Sr.); Ryan Inverso (Sr.). Grossmont: Justin Rutherford (Sr.); Justin Mason (Sr.). Santana: James Needy (So.), Chris Rabichaud (Jr.). West Hills: Bret Skinner (Sr.), David Bristol (Jr.). ECV: none.

Grossmont South League
Champions: Granite Hills Eagles

Pos.
First Team
School

Year

RHP-1B
Eric Krause
Granite Hills

12

RHP-IF
Mahi LaBastida
Helix

12

RHP-SS
Ryan O'Sullivan
Valhalla

11

LHP
Travis Hopper
Granite Hills

10

C
Travis Taijeron
Granite Hills

12

3B
Austin Coleman
Granite Hills

12

2B
Louis Cazares
Granite Hills

12

OF
Brian Humphries
Granite Hills

11

OF
Jordon Hindi
Steele Canyon

11

OF
Tomas Karagianes
Valhalla

12

Athletes of the Year
Eric Krause, Granite Hills
& Travis Taijeron, Granite Hills

Pitcher of the Year
Eric Krause, Granite Hills

Rookie of the Year
Jason Hindi, Steele Canyon

Pos.
Second Team
School

Year

RHP
Bobby Wilkins
Valhalla

12

LHP-OF
Josh Queriones
Granite Hills

11

LHP-OF
David Wynn
Mount Miguel

12

RHP-1B
Jeremy Peterson
Helix

12

C
Zach Tanida
Helix

12

1B
Anthony Lopez
Monte Vista

12

2B-SS
Greg Garcia
Valahlla

12

SS
Randy Perez
Helix

12

SS
Johnny Omahen
Granite Hills

12

OF
Aaron Dodd-Waddington - Helix

11

Honorable Mention
Granite Hills: Darren Gay (Sr.), Tyler Winters (Sr.). Helix: Raul Ritchie (Sr.), Matt Elliot (Sr.), Matt Cobb (Sr.). Monte Vista: Josh Kelly (Sr.), Bo Aguilar (Sr.). Mount Miguel: Bryant Shimizu (Sr.), Nico Calafato (Jr.). Steele Canyon: Mark Bellatti (Jr.), Andrew Bellatti (So.). Valhalla: Trevor Frank (So.), Pete Thomas (Fr.).
---
GRANITE HILLS EAGLES
2007 CIF-SDS DIVISION I BASEBALL CHAMPIONS
(Photo by Greg Eichelberger)
CIF DIVISION I CHAMPIONSHIP
GRANITE HILLS 3, TORREY PINES 2
Krause finally gets the ball -- the hard way
Granite Hills claims 4th CIF baseball title
© East County Sports.com
SAN DIEGO (6-7-07) -- Granite Hills High pitcher ERIC KRAUSE desperately wanted the baseball to start Wednesday's (June 6) San Diego CIF Division I championship contest. However, circumstances dictated for him to wait. But when the senior finally received the baseball, little did he know the sphere would come in his direction in two distinctly different forms.
The first came when Granite Hills coach JAMES DAVIS handed him the ball in a relief role to escape a bases-loaded jam in the 5th inning.
The second time, the ball came via express delivery – right at his head. Fortunately Krause was ready, preventing a serious injury by stabbing at the sharp liner in a self-defense reflex. The blast came off the bat of Torrey Pines slugger, Kevin Silvett, who earlier homered off Krause.
"I had a dream about a line drive heading right at my face," Krause recalled.
Dogpile!
The celebration is on after Eagles pitcher Eric Krause survived a sharp line drive aimed for his grill, making the grab for the final out to give

Granite Hills a 3-2 triumph over Torrey Pines at Tony Gwynn Stadium.

(Photo by Susan Cooper Photography)

But when Krause completed his deja vu experience by stabbing at the line shot for the miracle catch for the final out, he was mobbed by teammates after Granite Hills won the San Diego Section championship, nipping the Falcons, 3-2, at Tony Gwynn Stadium.

"I know that guy (Silvett) is an awesome hitter, so that's the last guy I wanted to face, especially for the last out of the game," added Krause. "It was do-or-die."

Krause nearly lost his opportunity to even participate in the title game due to an off-field incident. Yet some frank discussion and some compromise allowed him to be in uniform -- but not as a starter.

His chance to contribute came in the 5th inning of a 2-1 contest, with three Falcons on base and only one out.

"When coach gave me the ball with the bases loaded, I just feel like I got so much respect from that -- I appreciated that from my coach so much," added Krause. "I'd like to thank him and so many others for giving me a second chance after I came out of character that one day."

Back in character, Krause broke loose a sharp curveball for a called strike three for the second out, followed by coaxing a routine fly ball to center field to stem the threat and maintain the slim lead.

"The district came down with a 3-day (suspension on Krause)," said Davis.

In other words, Krause was unable to attend practice with his teammates before rejoining the club on game day.

"It was probably the most difficult decision I've had to make ever as a coach on whether to play him or not," Davis admitted. "What happened the other day was completely out of character for him. I think Eric is a good solid human being who made a serious mistake in judgment. So I had to weigh all options as far as the team, and all the other players who work hard throughout the year."

The compromise between not starting or not playing at all was a welcome one from supportive teammates.

"He's our best pitcher on the team. We needed him in a clutch situation and he came through," noted BRIAN HUMPHRIES, who scored two of the Eagles' three runs. "Eric did a great job tonight."

Krause's second save of the season allowed Granite Hills (28-5) to close the season winning 19 of its last 20 contests, clinching the school's fourth SDCIF banner. Torrey Pines, which won its lone crown in 1994, finished at 26-9.

Humphries, the leadoff hitter, reached base to start both the 1st and 3rd innings, eventually scoring both times for an early 2-0 lead against the Falcons starting pitcher Eric Hillenbrand.

"He was very tough with a great slider -- it was nasty tonight," said Humphries. "I was trying to get on anyway I could -- single, double or error -- it doesn't matter, as long as I get on base."

The center fielder initially singled then took an extra base when the ball was misplayed in the outfield, eventually scoring on basehits by LOUIS CAZARES and AUSTIN COLEMAN. Humphries later reached on an error by the Torrey Pines shortstop on a tough 2-hopper, stealing second base then coming home on a JOSH QUERIONES chopper over the right side of the infield.

"I was just looking for a first-pitch fastball, but he gave me a slider outside," said Queriones. "But I was able to get it over the third baseman's head."

Meanwhile, Eagles sophomore TRAVIS HOPPER, who received the starting pitching nod, carried a perfect game into the 4th inning.

"After that first pitch, it was just amazing -- the best thing ever," Hopper noted on his fast start. "I kept battling and kept my team in it, then Eric came in with the greatest pitching performance I've seen in a while. I knew it would come down to our best versus their best, and it was a great match-up."

"I knew Tuesday at practice that I would get the start," Hopper continued. "Coach came over when I was warming up and told me to just have fun out there, and that's what I did -- it helped me a lot."

Hopper (8-2) yielded just three hits in his 4 1/3 innings.

"Hopper did an outstanding job. Being a sophomore coming in a situation like that, I can't say enough good things about what he did," noted Davis. "Coming in there under adverse conditions like he did, is amazing. I'm not surprised. He's done that for us all year -- he's a solid baseball player."

The Falcons got a run back on an error in the 5th, but couldn't move even thanks to Krause.

"That was a tough situation, but it timed out just right because Torrey Pines just turned over its lineup and I didn't want them to see Hopper a third time," added Davis. "And they had right-handers coming up, so it really worked out for us in that situation."

Granite Hills, lifted by Krause's emotional performance, immediately answered on a two-out single by TRAVIS TAIJERON, followed by Coleman's booming triple over the center fielder for his second RBI of the finale.

"I thought the outfielder might have a chance," noted Coleman. "After that, I was just running."

"Even with a great slider, (Hillenbrand) had been coming in with a first-pitch fastball the whole time, so I decided to hit it. But that slider was nasty," Coleman added. "They're a tough team and this was one of the toughest ballgames I've ever played in."

Silvett opened the 6th by lining an 0-1 fastball over the fence in left for his 7th homer of the season.

Granite Hills could've avoided facing Silvett one more time in the 7th, but a two-out single by Jerrud Sabourin brought the potential go-ahead run to the plate.

And Silvett blasted the ball once again.

Said Davis, "I don't think Eric saw it coming."

Krause admitted as much.

"I just threw my glove up and prayed the ball didn't hit me in the face," Krause said. "I never saw it leave the bat."

Queriones stated, "It was a perfect way to end it. You had the 1-and-2 ranked teams going at it -- the best match-up right there."

With the victory, Granite Hills is expected to be declared the top-ranked team in the San Diego Section.

The difference makers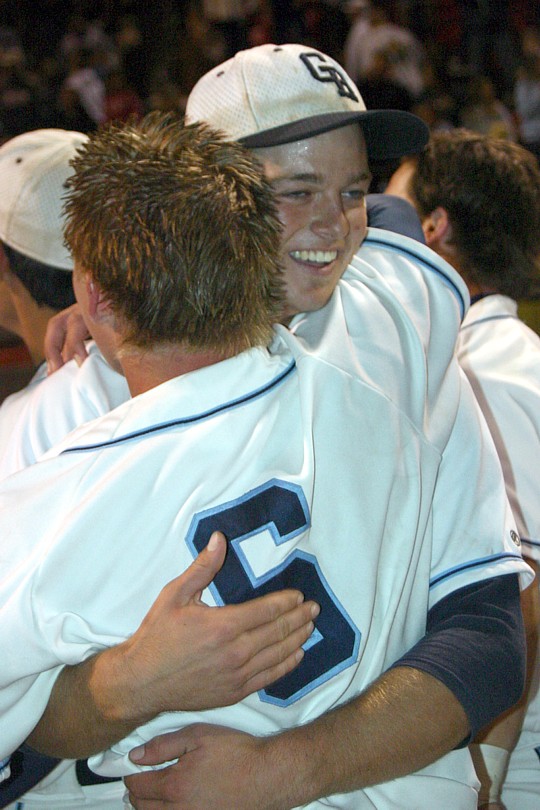 Eric Krause (6) and Austin Coleman were the difference makers to take the CIF title.
Krause pitched 2 2/3 innings of solid relief for the save, while Coleman registered
a run-scoring single in the 1st and an RBI triple in the 5th to power the offense.
(Photo by Greg Eichelberger)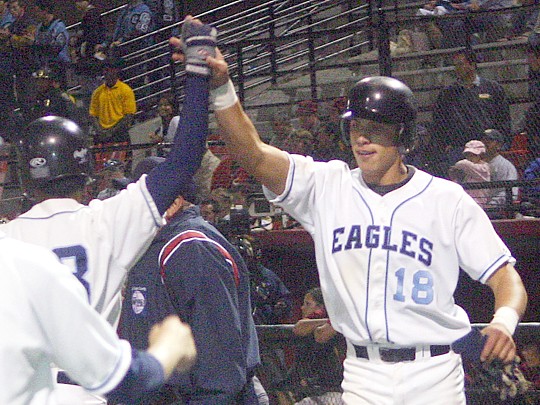 Travis Taijeron (18) welcomes scoring what proved to be a pivotal insurance run in the 5th.
(Photo by Greg Eichelberger)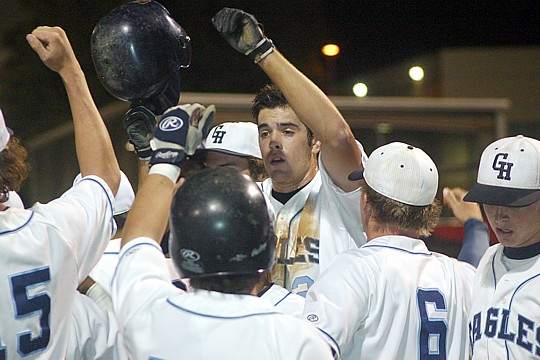 Brian Humphries (center) after scoring his second run of the game for a 2-0 lead in the 3rd.
(Photo by Greg Eichelberger)
Reliever Eric Krause escaped a bases-loaded jam in the 5th inning to earn his 2nd save.

(Photo by Susan Cooper Photography)
---
GROSSMONT FOOTHILLERS
2007 CIF-SDS DIVISION II BASEBALL CHAMPIONS
7-TIME TITLISTS (1990, '91, '97, 2001, '05-'07)
(Photo by Greg Eichelberger)
CIF DIVISION II CHAMPIONSHIP
GROSSMONT 6, HILLTOP 3
Flexible Foothillers claim
third straight CIF crown
© East County Sports.com
SAN DIEGO (6-6-07) -- In order for the Grossmont Foothillers to match a piece of San Diego CIF baseball history Tuesday (June 5), some adjustments were in order.
"We knew we couldn't play the same style like we play at home," said DEREK BAUM. "We had to play small ball to get back into the game. And once we got the lead back, we knew that we had it."
Indeed, playing at spacious Tony Gwynn Stadium would not be the same as hitting home runs out of cozy Joe Gizoni Field, where a routine fly ball could -- and often does -- easily carry out.
So the Foothillers (27-7) revamped their offensive philosophy. Utilizing five stolen bases and taking the extra base whenever possible, Grossmont rallied with four runs in the 5th inning, then rode the pitching arm of TAYLOR WOHLWEND to top Hilltop, 6-3, capturing a third consecutive SDCIF Division II baseball championship.
Grossmont head coach Rob Phillips hoists
his 5th CIF championship award.
(Photo by Greg Eichelberger)

ADDITIONAL PHOTOS BELOW STORY

Grossmont, which has won 12 straight playoff games, becomes only the sixth time in section history to capture three straight division pennants.

"Unbelievable -- it's a great honor," added Baum, a junior catcher who drove home the championship-clinching run for the second straight season. "We just put it together at the right time."

Wohlwend overcame a trio of unearned runs in the 2nd inning, striking out seven Lancers in tossing a complete-game 5-hitter to again give Grossmont (27-7) a 4-0 sweep through the playoffs.

" Taylor was consistent just like he had been all year," added Baum. "He hit his spots, and he kept his composure even though he felt he was getting squeezed a little bit."

Wohlwend registered his ninth win in 10 decisions.

"We're a veteran team and we've been here before, so we knew we could come back and we did," said Wohlwend. "We knew what we're capable of, and we handled it appropriately. I was just focused on getting strikes."

Moments after Grossmont skipper ROB PHILLIPS turned up the pressure on the Hilltop defense by having his Hillers execute a game-tying double steal to score NICK LONGMIRE from third base, Baum short-hopped the fence just left of straightaway centerfield for a booming double, plating shortstop BRYAN HAAR to grab the lead for keeps.

"I didn't want to get caught because I was the tying run," admitted Longmire, a member for all three title teams. "We were aggressive and that's what it takes to get it done. This has to be the greatest thing in my life."

AUGIE WILLIAMS followed with a sacrifice fly for his second RBI of the ballgame, as Baum barely beat the throw home. The Running Hillers then sent KYLE SECCIANI to third base for another steal, scoring when the wide throw skipped down the line in left.

"We've been aggressive all year, so we basically stuck with the game plan," Secciani said. "And now we're going for four-in-a-row."

After Hilltop took advantage of a pair of Grossmont errors to take a 3-1 lead, Wohlwend shut down the Lancers. The senior right-hander allowed just three singles over the final five frames.

A pair of double plays featuring JOSH SIMMS at second base helped Grossmont maintain the lead.

To quell Hilltop's only rally, Simms accepted a toss from Haar for one out, but instead threw to third base to cut down the lead runner.

"The runner didn't take off right away and I noticed it, so I knew I had the easy out at third," Simms recalled.

Simms reversed roles with Haar by starting Grossmont's second double play, as the relay to LEVI STEVENS at first base ended the contest and ignited the celebration.

"I got a nice hop, made the toss, then Bryan turned it," added Simms. "We had a couple of errors, but overall we played good defense. It was a little tough, but once the ball came down into the lights, we were fine."

Hilltop (20-13), seeking its first title in 22 years, may have simply enjoyed advancing to the final. The team's lone RBI came on a bases-loaded walk, with errors allowing two other runs to score. The Lancers advanced to the final round after twice stopping top-seeded Oceanside on the road last week, yet were no match for the second-seeded Foothillers.

The change in scheme by Grossmont's offense started immediately.

Simms opened with a walk, then promptly stole second base when neither Hilltop middle infielder covered the bag. Haar followed with a double just inside third base for a quick 1-0 advantage.

After Hilltop took its lone lead, Haar walked to open the 3rd inning, gaining two bases on a hit-and-run basehit by Baum, who batted 3-for-4 with a pair of doubles. Haar later scored on a ground ball by Williams.

"The way I look at it, for 4.5 innings we didn't get one ball to bounce once our way, including the ball Levi Stevens hit off their pitcher for a 1-2-3 out," said Phillips. "I knew if we continued to battle back we were going to break their back eventually, and we did."

"We were resilient and tough running the bases the way we did. We've got good team speed and we can't play longball here, so we had to do something different, and these kids did it."

Grossmont became the San Diego Section's sixth school to claim crowns over three straight seasons, joining Christian (1976-78), Francis Parker (1985-87), Mira Mesa (1990-92), Mission Bay (1995-97) and Rancho Bernardo (1999-2001).

For Phillips, it was his fifth trophy -- he also led the Hillers to crowns in 1997 and 2001 -- matching former Mission Bay coach Dennis Pugh for the most San Diego Section titles since the playoff format was revised for the 1993-94 school year.

Pugh owns eight overall titles to match Sam Blalock (four each with Mt. Carmel and Rancho Bernardo) all-time since the section was created in 1960, followed by Phillips, who broke a tie with Dick Serrano (USDHS), Bill Sandback (Crawford) and others.

In his 14-year coaching career at Grossmont and Monte Vista, Phillips owns a mark of 299-146-3. And if he had it his way, Win No. 300 would come sooner than next season.

"I only wish we had a state playoff because I would love to take this team into it," added Phillips.
Grossmont High School rallied from a 3-1 deficit to down Hilltop, 6-3,
to claim a third consecutive CIF Division II baseball championship.
(Photo by Greg Eichelberger)
Grossmont's Nick Longmire (right) slides home on the back end of a double steal,
scoring the tying run when the Foothillers recorded four runs in the 5th inning.
(Photo by Chris Edwards)
Winning pitcher Taylor Wohlwend (22) overcame three unearned runs allowed
in the 2nd inning to pitch the Grossmont Foothillers past Hilltop, 6-3.
(Photo by Greg Eichelberger)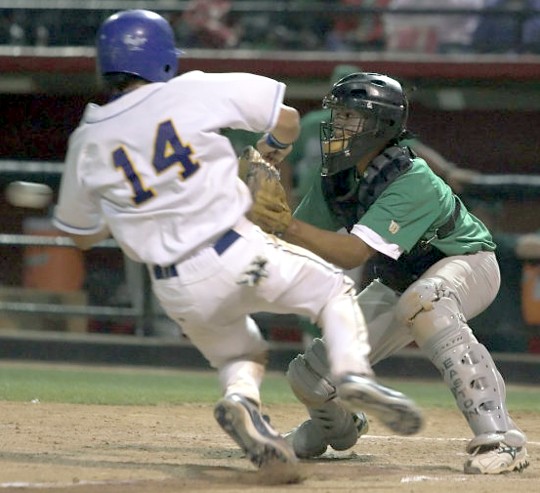 Grossmont's Derek Baum beats the throw home, scoring on a sacrifice fly
by Augie Williams to cap a 4-run, go-ahead rally in the 5th inning.
(Photo by Chris Edwards)
Nick Longmire (15) accepts kudos after
scoring on a double steal in the 5th.
(Photo by Greg Eichelberger)

Hilltop's Kyle Rolf (6) is nailed at third base for a double play, as Grossmont's Justin Mason applies the tag from Josh Simms' throw.
(Photos by Chris Edwards)
---
Grossmont's Taylor Wohlwend (left) congratulates Augie Williams following his
go-ahead, 3-run homer to defeat Montgomery and advance to the CIF final.
(Photo by Greg Eichelberger)
Hillers, Eagles, seek sweeps to CIF crowns
© East County Sports.com
SAN DIEGO (6-5-07) -- The psychological advantage on two fronts may be all that is needed for Grossmont and Granite Hills high schools to capture San Diego CIF baseball championships this week.
On Tuesday (June 5), the Grossmont Foothillers (26-7) will seek their third consecutive San Diego Section crown by meeting upstart Hilltop (20-12).
Then on Wednesday (June 6), the Granite Hills Eagles (27-5) will attempt to halt North County's run of eight consecutive Division I titles by meeting Torrey Pines (26-8). Both ballgames are slated for 7 p.m., with the Eagles-Falcons contest to be televised on ITV (Cox Cable 16).
Both East County programs raced through the double-elimination portion of the postseason with 3-0 records. And both are meeting teams which had to fight their way through five post-season games to advance to San Diego State's Tony Gwynn Stadium.
The East County entries hope to add to their lengthy resumes of championships, while Hilltop is seeking its first crown since 1985 and Torrey Pines its second section crown overall.
"We like our chances," Grossmont coach ROB PHILLIPS said. "If we play our game, I think we'll be fine."
The Foothillers are expected to start senior right-hander TAYLOR WOHLWEND (8-1), who earned his 5th save in downing Montgomery to cap a perfect run through the playoffs. The winning pitcher was sophomore LEVI STEVENS, who stands ready just in case with a splendid 9-1 record.
The lone negative may be the lengthy delay between the semifinals and the title games, as the high school playoffs were placed on hold to allow the University of San Diego to host an NCAA Regional at TGS since the Toreros' Cunningham Stadium failed to meet NCAA criteria for seating capacity.
Grossmont has played only one game in 11 days. Same is true for Granite Hills. Torrey Pines and Hilltop have played twice over that stretch.
"The extra days off will be a benefit for us," said Torrey Pines coach Matt Chess. "I know Granite Hills has a top-notch pitcher in ERIC KRAUSE, who has a record of something like 12-1, but we have a kid who is 12-2 to go against him (senior right-hander Eric Hillenbrand."
"Both of our teams have lots of kids back who lost in the semifinals last year, so I expect really strong efforts."
The Eagles were the last non-North County team to capture a Division I title, taking it all in 1998 in the final game of legendary coach GORDIE THOMPSON. But present Eagles coach JAMES DAVIS has been on the brink of breaking through for several years, finishing as SDCIF runners-up in 2005, then last year's run to the semifinals.
Granite Hills also won SDCIF titles in 1994 – the first year of the current four division format – in addition to Thompson's first crown in 1977.
"Our kids are excited about having this shot," said Davis, who realizes the winner of this game will be probably claim rights to the section's No. 1-ranking. "We're as ready as we'll ever be."
Meanwhile, Grossmont is guaranteed of matching the run made by the school in 1989-91, when then coach JEFF MEREDITH took two titles and a runner-up finish the other season.
Overall, the school owns six banners. In addition to flags for 1990-91, the Hillers under Phillips were crowned champions in 1997 in Division I before falling to Thompson's Eagles in 1998. Moving to Division II, Grossmont downed Oceanside for the 2001 title, then defeated El Capitan and Montgomery over the last two seasons in title contests.
---
Grossmont, Granite Hills, to play for SDCIF championships
© East County Sports.com
EL CAJON (5-30-07) — Grossmont and Granite Hills high schools will play for San Diego CIF championships in their respective divisions after both completed the double-elimination portion of the playoffs with perfect records, capped by decisive triumphs Tuesday (May 29).
The Foothillers rallied twice to stop Montgomery, 7-4, earning a berth to achieve their third consecutive Division II banner. They will play the winner of Thursday's (May 31) playback final between Oceanside and Hilltop, with the title game slated for Tuesday (June 5) at Tony Gwynn Stadium. First pitch is set for 7 p.m.
Grossmont will attempt to become only the sixth team in SDCIF history to capture three straight section titles. The first was Christian (1976-78) and the last was Rancho Bernardo (1999-2001).
Meanwhile, the Eagles jumped to a 7-1 lead en route to an easy 10-4 pasting of Mira Mesa. Granite Hills' championship game in Division I is Wednesday (June 6), also at 7 p.m. at San Diego State, against the winner of Thursday's playback final between Poway and Torrey Pines.
GROSSMONT 7, MONTGOMERY 4 — The Hillers business-like approach allowed the host to rally back from early 1-0 and 3-2 deficits. Back-to-back doubles by BRYAN HAAR and DEREK BAUM to open the 3rd inning tied the ballgame, then AUGIE WILLIAMS barely cleared the barrier in right field for a go-ahead, 3-run homer in the same inning.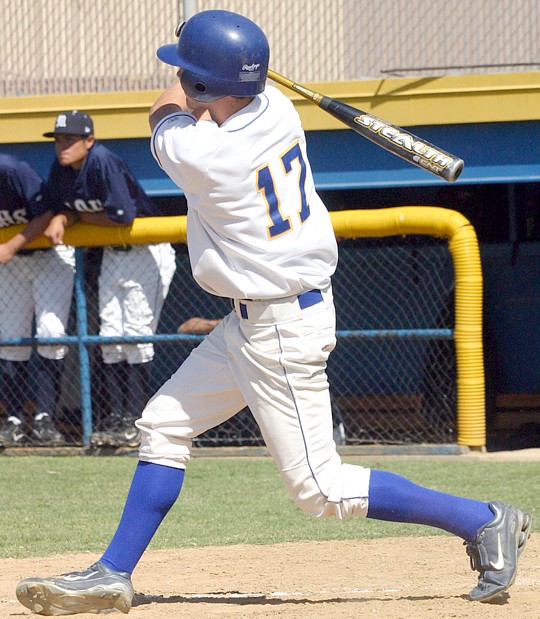 Grossmont's Kyle Secciani with a 2-run basehit in the 1st inning. The left fielder finished with three RBI in the Hillers' 7-4 victory over Montgomery to advance to the Div. II final.
(Photo by Greg Eichelberger)

The triumph will allow Grossmont an opportunity to become the first team in a decade (Mission Bay, 1995-97) to achieve three consecutive Division II crowns in the San Diego Section.

"We came up big when we had to and now we have a chance to win three in a row," said left fielder KYLE SECCIANI, who drove in three runs, including a go-ahead, 2-run double in the 1st.

The Aztecs reclaimed the lead on a 2-run single by Johnny Miranda in the 3rd, but as champions do, Grossmont answered immediately with a 4-run rally, capped by Williams' high floater which carried beyond the short porch in right field.

"It was a definitely a Grossmont cheapie, but we play on the same field and they had the opportunity to do that, too," noted Williams of his 6th homer of the season. "I was just trying to make solid contact and drive some runs in -- kind of, sort of, solid contact, I guess, but when you put the ball in play, especially on this field, things happen."

Haar opened the inning with a shot which hit the bag at third base and bounded into the corner. Baum then sent a bomb to the fence in left-center to promptly level the ballgame.

Secciani walked, then he and Baum moved into scoring position on a sacrifice bunt by JUSTIN RUTHERFORD. However, the intentional out proved moot when Williams went yard.

An inning later, Secciani followed with a run-scoring basehit, capping a perfect 2-for-2 effort and a walk at the plate to finish with three RBI.

Meanwhile, sophomore LEVI STEVENS took a few innings to find location on his curveball, but once he did, the Aztecs started to go down meekly at the plate.

"I struggled a bit early, but once I found the spot, the pitch went in," said the left-hander, who struck out six after allowing three early runs in his 5 2/3 innings of work.
Grossmont pitcher Levi Stevens fires to first base after recovering a Montgomery bunt.
(Photo by Chris Edwards)
TAYLOR WOHLWEND entered in the 6th finding two Aztecs on base, but coaxed a groundout to start a stretch, retiring four consecutive batters for his 5th save of the season. And with seven days before the team's next start, Wohlwend will be ready to start the championship game against either Hilltop or Oceanside.
Added Stevens, "We just have to hit and we're good, because we'll have our ace going for the championship. So I think we're going to come in strong."
Meanwhile, several seniors on the Foothillers finished as winners in their final appearance at Joe Gizoni Field.
"It's definitely sad, but at the very same time I've got some fond memories," noted Williams. "And that homer is going to go right on top there as one of the best I've had."
"It's been a great season, but we really need to put the icing on the cake Tuesday night and finish it off," said Williams. "We understand that if we play our game, it's hard for teams to beat us. And that's been the challenge, game-in and game-out, to play our game and when we do that, I don't think we've lost this year."
Can Grossmont achieve the Pat Riley inspired "three-peat?"
Said Williams, "One more game? We definitely have it in us, no doubt about it."
Granite Hills pitcher Eric Krause ran his record to 12-1 after stopping Mira Mesa. In the background is second baseman Louis Cazares.
(Photo by Greg Eichelberger)

GRANITE HILLS 10, MIRA MESA 4 — Granite Hills received an offensive infusion from sources other than the heart of its lineup in Tuesday's (May 29) fourth round of the Division I San Diego CIF playoffs, which added up to the Eagles defeating visiting Mira Mesa 10-4 and securing a spot in the Division I final.

LOUIS CAZARES, batting No. 2 in the order, put a charge in the Eagles attack, driving in 3 runs with 2 hits, including his 7th home run of the season.

"This game was about getting momentum for the next game," said Cazares, referring to the Division I championship bout slated for Wednesday (June 6) at SDSU's Tony Gwynn Stadium, starting at 7 p.m.

The Eagles fell behind 1-0 in the 2nd inning but fought back to tie it in the 3rd. JOHNNY OMAHEN was hit by a pitch for the first of two times in the game and advanced to third on BRIAN HUMPHRIES' double down the right field line.

Cazares, who singled in the 1st inning, tapped a slow roller to shortstop to score Omahen and even the score at 1 apiece.

Granite Hills broke the game open in the 4th, scoring 6 runs on 3 hits. The visiting Marauders (25-9) added to their demise by committing two errors and hitting two batters.

KENNY BELZER's sacrifice fly scored AUSTIN COLEMAN to give Granite Hills a 2-1 lead. Humphries added a 2-run double and Cazares cracked a 2-run homer in the big inning.

"He threw me a high inside fastball and I just turned on it," said Cazares of the pitch he hit for his 7th home run of the season. Cazares, who is presently batting .340 – 70 points higher than his average of a year ago – credited his newfound hitting strength to an off-season weight lifting plan that added 20 pounds to his 5-9 frame. He now weighs 175.

"I just feel stronger," he said.

Mira Mesa's defensive follies continued in the 4th as TRAVIS TAIJERON was awarded a double on a high pop fly lost in the sun that landed behind second base. Krause then rolled a ball through the legs of the Marauders second baseman to score Taijeron.

Cazares, a senior second baseman, has batted in several positions in the Eagles' lineup, but admits he likes batting between hurricane leadoff man Humphries and typhoon Taijeron.

"It's kinda nice," Cazares said. "I like being No. 2 because I like the surroundings – in front of me and behind me."

Granite Hills junior right fielder JOSH QUERIONES was 2-for-4 with a double and 2 RBI. His 2-run single was the key blow in the Eagles 3-run 6th.

"We've been getting guys on all season but the last couple of games we've finally gotten some clutch two-out hits," said Granite Hills coach JAMES DAVIS.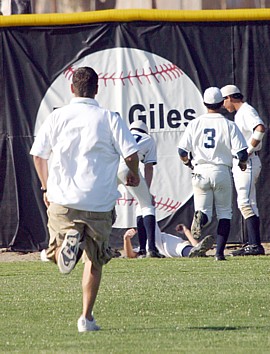 The trainer for Granite Hills rushes to the aid of outfielder Brian Humphries, who was shaken after slamming into the wall while chasing a fly ball. Humphries remained in the ballgame.
(Photo by Greg Eichelberger)

Seven of the Eagles runs were driven in with two-out hits.

"That makes a lot of difference between winning a close game and losing a close game," Davis said.

Granite Hills senior pitcher ERIC KRAUSE, the Greg Maddux of the Grossmont Conference, survived the temporary tough sledding to gain his 12th win in 13 decisions this season.

Krause, who has a Grossmont Conference record 32 career wins, is only two shy of the San Diego CIF record held by Christian High's BRIAN SCHROEDER, set in 2003.

"I've seen Krause pitch better but he did a pretty good job outside of one inning," Davis said. That would be the 5th, when Mira Mesa scored 3 runs on 5 hits.

"When I went out to the mound to talk to him in the 5th, all he could say was 'Those guys can flat out hit,'" Davis said. "So I said to him, just find a way to get them out."

And so Krause did. He struck out 8 and allowed one hit and one unearned run in the other six innings. Krause logged his 9th complete game in 11 starts.

It was also a day for records at Granite Hills. Humphries broke the Eagles records for base hits in a season (51) by whacking 2 doubles in four at-bats.
---
CIF Baseball Finals Rescheduled
USD hosts NCAA Regional
© East County Sports.com
LINDA VISTA (5-28-07) — Officials with the CIF-San Diego Section announced that all four baseball championship games, originally scheduled for Sat. June 2 at San Diego State's Tony Gwynn Stadium, will be moved back to June 5-6 due to a scheduling conflict.
The Division IV finals are now slated for Tuesday, June 5 at 4 p.m., followed by the Division II final at 7 p.m. The Division III finals will be Wed., June 6 at 4 p.m. with the Division I final to take place at 7 p.m.
The switch was made to allow the University of San Diego, seeded 8th in the nation, to host an NCAA Regional over the weekend, since USD's Cunningham Stadium does not meet NCAA specifications for seating capacity. The Toreros will host Fresno State in an opening-round game on Fri., June 1, at 8 p.m., following a meeting between Minnesota and four-time national champion Cal State Fullerton.
USD moved up to No. 4 in the latest Baseball America top-25 poll after claiming the West Coast Conference championship over the weekend, while remaining at No. 6 in both the Collegiate Baseball top30 poll and Rivals.com top 25 poll.
Granite Hills needs one win to reach the Division I final, and the same is true for Grossmont, which is seeking its third straight Division II title.
It's anything but
Super Saturday
© East County Sports.com
SAN DIEGO (5-27-07) — For it's 1-2-3 and they're out… from the old ballgame.
Three East County teams hoping to avoid elimination, didn't come close in Saturday's (May 26) third round of the San Diego CIF baseball playoffs.
It was like a domino effect as El Capitan succumbed to Cathedral 7-0 in Division III, Helix faltered against Oceanside, losing 9-2 in Division II, and Christian's Patriots never challenged Francis Parker before falling 8-2 in Division IV.
Only Granite Hills and Grossmont remain alive in the post-season tournament. The top seeded Eagles (26-5) host Mira Mesa (25-8) on Tuesday (May 29) at 3:30, while the 2nd seeded Foothillers (25-7) entertain No. 3 seed Montgomery (24-8-1) the same day and time at Joe Gizoni Field.
CATHEDRAL 7, EL CAPITAN 0 – Playing in the cavernous ballpark at Cathedral Catholic has not been conducive for success in the eyes of the Vaqueros.
After falling 15-4 to the Dons in the first round of the double elimination tournament, the visiting Vaqueros did a better job of keeping the Cathedral bats in check.
However they could not solve the deliveries of the Dons' junior right-hander Jake Staton. All that El Capitan could muster against Staton were five singles. Staton turned in a complete game effort, striking out four as he earned his 5th win against one loss.
"We faced a pitcher who kept us off balance all day," said El Capitan coach STEVE VICKERY. "They put a lot of pressure on us. We never got anything going all day. Bottom line is they beat us twice."
The Dons (23-11) jumped on hard-throwing Vaqueros right-hander MILES REAGAN for three runs in the 1st inning and then let Staton take care of the rest.
The loss left El Capitan with a 19-14 finish.
"I was pretty happy with the overall season," Vickery said. "We've got a great nucleus for next year."
Christian pitcher John Gee.
(Photo by Tori Mills)

FRANCIS PARKER 8, #3 CHRISTIAN 2 – Hopefully the Christian High baseball players had a better time at the prom Saturday (May 26) night than they did in that afternoon's season-ending loss to powerhouse Francis Parker at Coronado.

Six-foot-8 senior Dorsey Ek (9-0) stepped on the Patriots baseball plans, holding the usually offensive Christian lineup hitless through 5 2/3 innings.

Christian's EDDIE YOUNG finally broke the spell with a double off the center field fence in the bottom of the 6th. BRADLEY JOHNSTON, who struck out but reached base on a wild pitch, advanced to third on Young's hit. BRYAN MITCHELL followed with a base hit up the middle, plating the Patriots only two markers in the contest.

Christian's comeback was pretty much after the fact as the 2nd seeded Lancers (26-6) were breezing 5-0 before Mitchell's breakthrough.

Just to make sure that any comeback plans Christian (21-6) might have had, Parker pushed across three more tallies in the bottom of the 6th to put a lock on the victory.

Cathedral transfer Jim Schultz came out of the bullpen for the Lancers and struck out the side in the 7th.

"We were playing far and away the best team in our division," said Christian coach MIKE MITCHELL. "We got their No. 1 guy (pitcher) and he was dominating today. Parker was saving Ek for us."

#1 OCEANSIDE (23-10) 9, HELIX (19-13) 2 – Riding an apparent high from their come-from-behind win over Westview the night before, the Highlanders received an immediate infusion of hope as RANDY PEREZ led off Saturday's (May 26) San Diego CIF Division II third round contest with a home run.

The top-seeded Pirates (23-10), however, didn't seem to be intimidated in the least. Paul Middleton countered with a 2-run homer in the bottom of the 2nd.

But this guy Perez, the Highlanders' senior shortstop, didn't want to see Helix' season end. Perez smacked a one-out single in the 3rd inning, advanced to second on a wild pitch and scored on a throwing error to tie the score at 2-2.

Helix (19-13) saw its offense go into slumber mode after Perez' second hit. In fact the Highlanders got only three runners on base – 2 hit batters and a walk – over the final four innings.

It was obvious that the Highlanders were emotionally spent, having played four games over five days.

"Our kids played hard but they got beat by a better team today," said Helix coach COLE HOLLAND.

It was the second time this season that the pitching-light Highlanders hit the wall against Oceanside . The Pirates edged the Highlanders 3-1 in the Division 5A semifinals of the Lions Tournament in early April. Looking back, this season-ending loss to Oceanside was something like déjà vu.

"We don't have enough pitching to play four games in a week so it's hard to prepare," Holland said. "But the thing I like about our kids this year is they always played hard. They were overachievers."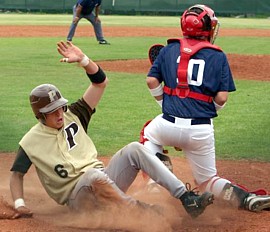 Francis Parker's Evan Smith (6) scores while
Patriots catcher Michael Gruber can do nothing but wait for the baseball in an 8-2 setback.
(Photo by Tori Mills)
---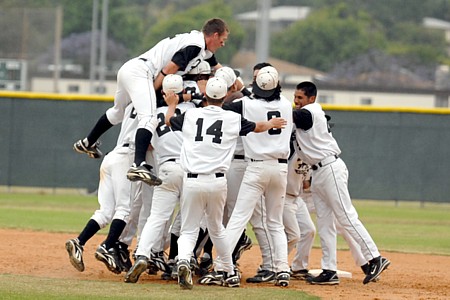 Trust us -- In the middle of "the bounce" is Helix' Caleb Schumaker, who gets mobbed following his 2-run, walkoff basehit as the Scotties score three times in the bottom of the 7th to eliminate Westview.
(Photo by Tony Bordine)
Helix avoids elimination on fourth try;
Highlanders among 5 East County teams still alive
© East County Sports.com
EL CAJON (5-26-07) — Top-seeded Granite Hills nearly blew a 3-run lead, committing four errors in the final inning before holding off visiting Mira Mesa in Friday's (May 25) second round of the San Diego CIF Division I playoffs.
Meanwhile in Division II, Grossmont squeaked past Montgomery behind the complete game pitching of TAYLOR WOHLWEND, while Helix made a dramatic comeback to edge Westview.
In Division III, El Capitan eliminated Valhalla, while Christian saw its 14-game winning streak end with a loss to Marian Catholic in Division IV.
Granite Hills and Grossmont, both unbeaten in post-season play, will take the weekend off before picking up action in Tuesday's (May 29) semifinals. Helix, El Capitan and Christian need victories in Saturday's (May 26) third playoff round to keep their playoff flames burning. (See schedule to right.)
Steven Perez scores the game-winning run (top) on a 2-strike, 2-out, line drive to right field by the Scotties' Caleb Schumaker (15).
(Photos by Tony Bordine)

HELIX 8, WESTVIEW 7 — Helix High endured either torture or a form of brainwashing, depending on whatever you want to call it, with a pair of frustrating walkoff losses recently, including Tuesday's (May 22) first-round playoff setback to Hilltop.

And another unbelievable setback was in the offing after Westview pushed across four runs in the 7th inning after the Highlanders moved to within an out of a SDCIF Division II playoff victory.

So the baseball gods gave the Scotties four chances to land on the positive side of a close ballgame, capping an improbable comeback on a two-run, walkoff basehit by pinchhitter CALEB SCHUMAKER, lifting Helix past the stunned Wolverines, 8-7, in Friday's (May 25) SDCIF elimination contest.

"It's nice to be on this side of one of these," said Helix coach COLE HOLLAND. "We lost a heartbreaker after leading in the 7th at Hilltop on Tuesday, so it's nice they got to know what it feels like to be on the other side of it."

The Highlanders, needing three additional wins to land a finals berth at Tony Gwynn Stadium, will continue their trek at 10 a.m. Saturday (May 26), meeting Oceanside (22-10) at Grossmont High's Joe Gizoni Field. The Pirates suffered their first loss by getting tripled-up by undefeated Hilltop, 12-4.

"It was tough, but we rallied together in the last inning, then coach put me in and let me pinch hit and I came up big," said Schumaker. "I'm just really happy to get the game-winning hit for the team and keep us in the playoffs.

MAHI LaBASTIDA proved to be the focal point on more than one occasion in the buildup to Schumaker's heroics.

After yielding a 2-run homer to opposing pitcher David West in the 1st inning, the senior right-hander was masterful over the ensuing five innings, yielding just an unearned run in an 8-strikeout performance.

However, LaBastida was forced from the mound upon reaching the 10-inning limit for a week.

"Mahi's been our guy all year long," noted Holland . "We waited a little long to score some runs against Castle Park (in Tuesday's CIF play-in game), so he had to had to throw four (innings) before we broke it open so we could get him out of there."

Despite going with a left-handed reliever, a string of Westview left-handed batters battered the Scotties bullpen, tying the game on a squeeze bunt by reserve first baseman Andy Cole. And when the throw to first base sailed well outside the bag, Tommy Darcey followed Caleb Hatcher home with the go-ahead run, followed by a basehit by Erik Leas to make it 7-5.

"In this kind of format, you have to look a little bit towards the future to give yourself a chance for tomorrow," said Holland . "And with an all-left-handed lineup by Westview, we brought in our left-hander, but the emotions got to him."

Indeed, it would've been a difficult way to conclude the season, but returning the favor, a series of Westview defensive mistakes handed the ballgame right back to the Scotties.

"We're scrappers and we do our stuff," said LaBastida. "But when I went an extra inning against Castle Park , I had to come out. But with this team, I knew we could still get it done."

"Caleb comes through clutch most of the time -- he's the right man to do it."

With two outs, it seemed a lead basehit by right fielder AARON DODD-WADDINGTON, who batted 3-for-4, would be wasted on a ground ball to second by sophomore MIKE ANDRADE. But not only was the throw to first base wild to keep the game alive, the ensuing throw home also went to the fence to allow Dodd-Waddington to score on the double-error.

The Wolverines' second chance to eliminate Helix from the playoffs came following an intentional walk to JEREMY PETERSON. Trailing 7-6, LaBastida lifted a popup near the Helix dugout, when Cole made the apparent game-ending grab.

Nope. Cole was standing on the cement slab at the far end of the dugout. Although outside of the dugout railing, it was still an out-of-bounds area, thus the Wolves were forced to stay on the field on what umpires ruled was a foul ball.

With new life, LaBastida eventually sent a roller to third base, but the defender missed the tag when Andrade skipped around the tag, loading the bases. Another visit by Westview skipper Beau Champoux again failed to deter the umpires' decision.

Schumaker followed with a series of foul balls, finally pumping a fastball into right field to plate Andrade and pinchrunner STEVEN PEREZ to send the Scotties charging from the dugout with the improbable knockout punch.

"I didn't expect him to triple-up on fastballs on me," noted Schumaker. "So I got my pitch and turned on it and drove the ball like I'm supposed to."

Down 2-0 early, Helix rallied back on a lead homer by RANDY PEREZ to open the 1st. The shortstop later singled home DERRIC MILLER (double) in the 6th for a 5-3 advantage.

In between, Dodd-Waddington singled home Randy Perez in the 3rd, a Peterson basehit plated RAUL RITCHIE (double) to tie the game in the 4th, then a basehit by catcher ZACH TANIDA brought home Dodd-Waddington in the 5th.

"Chasing two runs that late in a playoff atmosphere is real tough," admitted Holland . "It's something we do as a team -- we bust hard all the way no matter what base we're going to."

The Wolverines (11-20) could look to four errors and several missed conversions on defense as their downfall.

"We let the umpires decide the game instead of taking care of business ourselves," Champoux noted. "If we make any of those plays in the 7th inning, we'd still be playing tomorrow."

Westview finished with seven hits, including two each from Riley Danford, Darcey and Leas.

GRANITE HILLS 4, MIRA MESA 3 – This game ended in controversy as the Eagles survived their own fielding lapses to turn back the visiting Marauders (24-8) in Friday's (May 25) SDCIF Division I second round playoff game.

A dropped pop-foul led to the first of two errors by the Granite Hills third baseman AUSTIN COLEMAN in the top of the 7th with the Eagles leading 4-1.

That spelled the end for Granite Hills starter TRAVIS HOPPER, who escaped a wild 1st inning to pitch 6 innings, allowing just 4 hits and one earned run.

At that point Granite Hills coach JAMES DAVIS went to the whip, summoning his Iron Man ERIC KRAUSE to the mound.

Primarily a starter, Krause was greeted by Darrell Erese's second double of the game, putting runners at second and third with nobody out. Clark Labitan hit a cue shot at first baseman MARK ANDERSON, who wound up with no play on the ball. Labitan had a single and the Marauders had a run.

Krause then reared back and struck out a Mira Mesa pinch hitter Dillon Haupt for the first out of the inning.

After that the Granite Hills defense went radically south. Mira Mesa's Julian Figueroa hit a ball to third base that was booted for an error, allowing Erese to score and cutting the Eagles lead to one run. But the ball Figueroa hit turned into a continuous adventure.

By the time Granite Hills (26-5) quit throwing the ball around the Marauders had runners at the corners with one out.

Then came the play of the game – or, more accurately – the play that ended the game.

Alejandro Diaz hit a jam shot ground ball that the Eagles figured to execute into a game-ending double play. Shortstop Omahen got the force out at second base but was unable to make a throw to first base when he was flattened by a slide by Figueroa.

The immediate reaction on the Mira Mesa side was jubilation, as it appeared that Labitan had scored the tying run coming in from third. However, veteran umpire Nacho Bracamontes ruled that Figueroa had made an illegal slide and thus awarded Granite Hills with the game-ending double play.

"It was a very aggressive slide that in pro and college baseball would be considered a legal play," said Davis of Figueroa's slide. "But in high school you can't go past the bag and do any kind of roll-up. That's the rule."

Davis said there was no question in his mind that the right call was made.

"It was runner interference because their kid went past the bag and rolled up on Johnny, knocked him flat on his back," Davis added. "Had there not been any contact I truly believe Johnny would have thrown Diaz out at first to complete the double play."

Not surprisingly, the Mira Mesa coaches and players were visibly upset by the call.

"Even though I know the call was right, I can see where they're coming from," Davis said. "If for no other reason I would have raised a fuss just to see if I could change something."

No change was forthcoming.

Mira Mesa was on the verge of pushing Granite Hills in a deep hole in the opening inning. The Marauders led 1-0 and had the bases loaded and a 3-0 count to leading RBI-man Alex Cann.

Hopper fell behind in the count to Cann: 3 balls, 0 strikes.

"Hopper was about one pitch away from being yanked," Davis said. Perhaps the sophomore southpaw received the mental message from his coach as he proceeded to strike out Cann to end the inning.

Mira Mesa had Hopper on the ropes right off the bat in the 2nd inning as Erese led off with a double.

"I was beginning to think that this wasn't his day," Davis said. Once again though, Hopper regained his poise and retired the Marauders 1-2-3.

It was not a banner day for banging the baseball for Granite Hills. The Eagles tied the game in the second inning on a triple by Coleman and a passed ball on a strikeout.

Granite Hills' go-ahead run came on a double play in the 4th.

The closest thing the Eagles had to an offensive uprising came in the 5th. Consecutive singles by BRIAN HUMPHRIES, LOUIS CAZARES and TRAVIS TAIJERON made it 3-1. Coleman added an RBI single but the Eagles could do no more damage, despite having the bases loaded with just one out.

GROSSMONT 3, MONTGOMERY 1 – A pitching duel between Grossmont's TAYLOR WOHLWEND and Montgomery's (23-8-1) Bradley Procopio could have come down to the wire in Friday's (May 25) round two SDCIF Division II playoff game.

Although hitters are not credited with saves in this game, Grossmont pinchhitter CHARLIE PIRO struck what was probably the crucial blow in the Foothillers (25-7) bid for a third consecutive SDCIF Division II championship.

Frustrated Grossmont head coach/third base coach ROB PHILLIPS, who had seen three of his Foothillers cut down at third on base-running blunders, decided to roll the dice when he called upon Piro to pinch hit with two outs in the bottom of the 6th.

"You know what I was thinking," Phillips said. "I was just hoping Charlie would run into one."

Piro, a 6-foot-3, 185-pound junior with a .543 slugging percentage and 2 home runs in 46 at-bats, made his coach look good. Piro powered the first pitch from Procopio well beyond the right-center field fence, giving Wohlwend a 2-run cushion.

"It's kinda tough coming off the bench usually," said Piro. "Earlier in the year I've struggled hitting that first pitch. But today I told myself to be more aggressive. I finally went after the first pitch, and it was a fastball, middle in."

When Piro connected there was no doubt the ball was going to leave the ballpark in a hurry.

"I wasn't thinking home run when I went up there. I just wanted to get on top of one and hit a line drive," said Piro. "I usually pop a lot of balls up in batting practice. This time I went after one and just let my swing do the work. This was most definitely one of the biggest hits I've ever had."

Wohlwend turned in a complete game 5-hitter to post his 8th win in 9 decisions.

Not to be overlooked was JUSTIN MASON, who delivered a clutch 2-run single, giving Grossmont a 2-run lead in the bottom of the 4th.

NICK LONGMIRE hit three groundball singles up the middle, raising his season batting average to .529.
It was an extremely busy day for Valhalla
catcher Danny Hawksley, who first tagged
out El Capitan's Taelor Worrell...
(Photo by Greg Eichelberger)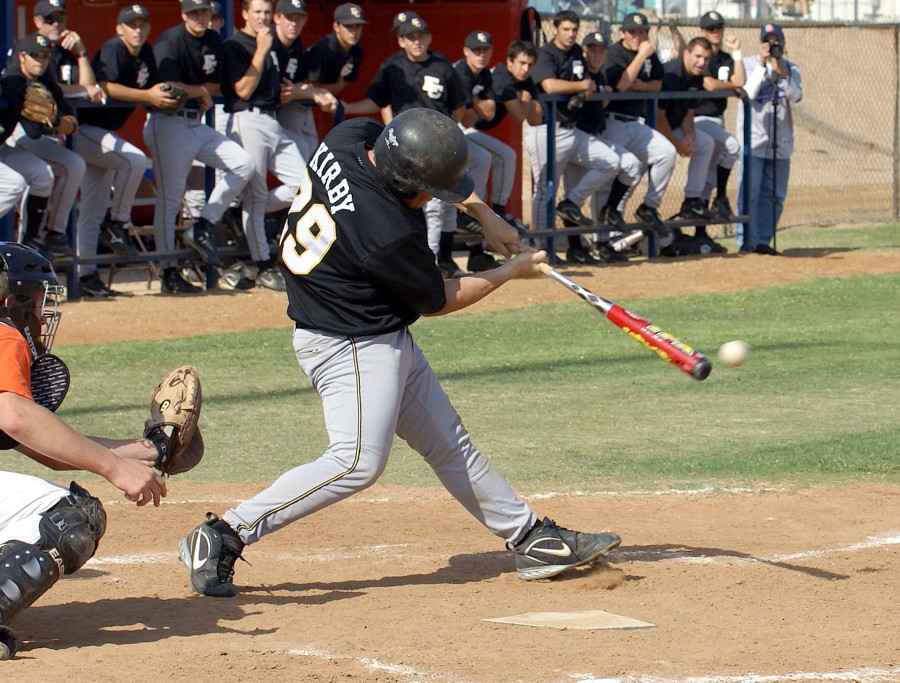 The Vaqueros' Nathan Kirby drills the ball
to left field, driving home the winning run
to eliminate Valhalla, 2-1.
(Photo by Mark Gonzales)

EL CAPITAN 2, VALHALLA 1 – Vaqueros coach STEVE VICKERY could not ask for better pitching than what he received from KEVIN MORTON and MILES REAGAN to edge host Valhalla in Friday's (May 25) SDCIF Division III elimination game.

Outside of RYAN O'SULLIVAN's leadoff double in the 2nd inning, the Norsemen (18-14) might as well have kept their bats in the rack.

Morton pitched 6 innings and struck out 8 to post his 8th win in 11 decisions. Reagan came on in the final frame and performed as the ultimate closer, striking out the side in only 12 pitches.

"Morton had an outstanding changeup that really kept them off balance," Vickery said. That only made Reagan's 90 mph fastball appear even faster.

The Vaqueros (19-13) broke a 1-1 tie in the 4th inning. Reagan led off with a single and advanced to second on an ANDY HALE sacrifice bunt. With two outs the suddenly explosive NATHAN KIRBY hit a shot that skipped just inside the third base bag and down the left field line for a double, scoring Reagan.

"I want to brag a little bit about my team," Vickery said. "After the 2nd inning Valhalla only got two runners on base – once when (DANNY) HAWKSLEY walked and the other one when (TREVOR) FRANK struck out but reached base on a wild pitch. But then we got Frank trying to steal."

In other words, Valhalla , which had scored 23 runs in its previous two playoff games, reverted back to its all too familiar hunt-and-peck offense.

Norsemen pitchers BOBBY WILKINS and reliever Frank deserved a better outcome as they allowed the Vaqueros only 6 hits.

"Both teams were fairly even. It was an extremely well-pitched game on both sides," said Vickery.

Vaqueros designated hitter TAELOR WORRELL was 3-for-3 against the Norsemen, raising his 3-game playoff average to .778 (7-for-9).

"Worrell puts the ball in play. He puts so much pressure on the defense – his speed makes things happen for us," said Vickery.

MARIAN CATHOLIC 9, CHRISTIAN 6 – The Patriots punished themselves by committing 8 errors which led to 5 unearned runs for the visiting Crusaders in Friday's (May 25) second round of the SDCIF Division IV playoffs.

"Having so many errors makes the pitchers have to throw so many more pitches," said Christian coach MIKE MITCHELL. "You don't realize how much that changes the game. You can't make eight errors and win a playoff game. Almost every time we made an error, they scored a run."

A two-out Christian error in the 3rd inning set the stage for four Marian Catholic runs and a 5-0 lead for the Crusaders (14-18).

In the bottom of the 3rd the Patriots (21-5) pecked away for two runs on only one hit.

But Marian kept adding to its lead in the 4th on Paul Guardado's 3-run homer.

This was a chase that the Patriots, a team that has not had trouble scoring runs, was not going to win due to its porous defense.

Christian countered with one run in the bottom of the 4th on JOHN FERREIRA's infield single, which seemed only fitting since Ferreira was tagged with the pitching loss created by the Patriots' soft defense. The Patriots might have scored more in that inning had a bases-loaded smash by BRYAN MITCHELL not been hit right to the second baseman to end the threat.

Christian did not go out without a bang however. With two outs in the bottom of the 6th, EDDIE YOUNG walked and Bryan Mitchell singled up the middle. TAYLOR EICHHORST followed with a mammoth home run shot, cutting the Crusaders' 9-3 advantage in half.

"Eichhorst hit a bomb… into the swimming pool," said coach Mitchell. "It cleared both the fences and the weight room."

Eichhorst and Ferreira each had two hits for the Patriots, who suffered their first loss since April 4th.
The Highlanders flood the field following Caleb Schumaker's walkoff basehit.
(Photo by Tony Bordine)
---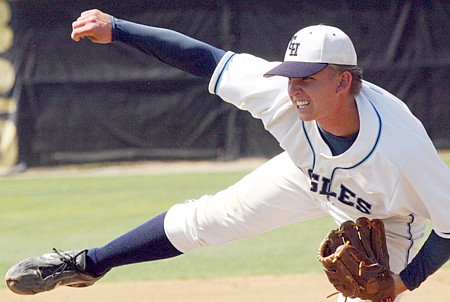 Granite Hills pitcher Eric Krause in an unusal follow-through to top Henry.
(Photo by Greg Eichelberger)
East County splits six games, but Oh! those losses
© East County Sports.com
EL CAJON (5-24-07) — It was a rocky day for East County baseball teams as the San Diego CIF double elimination tournament began. The Inland squads came up with a split of the six games, although El Capitan lost a spicy protest and eventually wound up on the wrong end of a lop-sided score.
Division I top-seed Granite Hills, Division II No. 2 seed Grossmont, and Division IV No. 3 seed Christian came away with victories. Helix was one strike away from defeating Hilltop, and Valhalla lost a close call against St. Augustine at Hickman Field in Division III.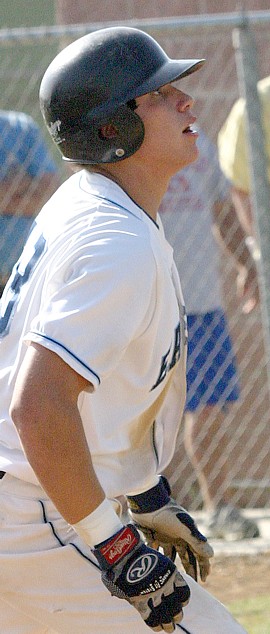 Travis Taijeron of Granite Hills jaw-drops
watching his 11th homer of the season clear
the fence to help down Patrick Henry, 8-2.
(Photo by Greg Eichelberger)
GRANITE HILLS 8, PATRICK HENRY 2 – When the top-ranked Eagles send ERIC KRAUSE to the mound a victory is almost sure to follow.
After suffering half of Patrick Henry's 4 hits, including a 2-run home run by Ryan Wynveen in the 1st inning, the Eagles senior right-hander blanked the Patriots on 2 hits over the final 6 1/3 innings to log his East County-best 8th complete game in 10 starts.
"I've seen Krause better than he was today," said Granite Hills coach JAMES DAVIS. "His mechanics were a little bit off but Patrick Henry's hitters were very aggressive, probably as aggressive as any team we've faced."
That might have been a little bit hard to prove to Patrick Henry (20-9), as Krause struck out 11 Patriots, giving him an East County-best 110 whiffs in 78 2/3 innings.
The No. 1 ranked Eagles (25-5), who have won 16 of their last 17, tied the game in the bottom of the 1st on sacrifice flies by TRAVIS TAIJERON and AUSTIN COLEMAN.
In the 4th inning the Eagles attacked the Patriots with small ball. After KENNY BELZER led off with a walk, JOHNNY OMAHEN attempted to sacrifice him to second base. However, Omahen's bunt was so good that he legged it out for a single. BRIAN HUMPHRIES followed with a bunt single to load the bases.
After a Patrick Henry pitching change, the Patriots got a 1-2-3 double play to take the air out of the budding Granite Hills rally and keep the score tied at 2-all.
Henry coach Jack Lococo then ordered an intentional pass to the Eagles Taijeron to load the bases. What Lococo did not plan on was reliever Farid Missoui dealing an unintentional walk to Krause to force in the go-ahead run.
Granite Hills broke the game open with 5 runs in the 5th. A 2-run single up the middle by No. 9 hitter Omahen was the key blow.
Omahen hit the first pitch from Missoui up the middle, driving in JOSH QUERIONES and TYLER WINTERS.
"As a No. 9 hitter, you learn to look for the fastball first," said senior shortstop Omahen, who was 2-for-3 with 2 RBI and 2 runs scored.
Omahen, who submitted to a designated hitter and was relegated to playing only defense as a junior, is batting.324 for the Eagles this season.
"I did not like being DHed for because I knew I could hit," Omahen said. "But I'm not the coach so I just worked that much harder during the off-season to become more aggressive."
Omahen wanted to emphasize that he's never had ill feelings towards Coach Davis.
"I just think Coach didn't have that much confidence in me as a hitter, although he has told me that he thinks I'm the best glove in East County ," Omahen said. "I feel like I'm a more complete player this year."
Taijeron put the clamps on the Patriots when he launched his 11th home run of the season with two runners aboard, giving Granite Hills a 6-run advantage to cap the 5-run 5th inning.
"I think this is a very important win for us," said Omahen. "We want to win it all, and this game can only help our confidence and momentum. I'm so glad that we have the home field advantage throughout."
Grossmont's Levi Stevens ran his record to 8-1
with five solid innings to halt the Pointers.
(Photo by Adolfo Villanueva)
Grossmont's Josh Simms (right) safely slides into third in the Hillers' rout of Point Loma.
(Photo by Adolfo Villanueva)
The Foothillers' Derek Baum (14) trots home
following his fifth homer of the season, a solo shot in the 2nd inning in an 11-4 triumph.
(Photo by Adolfo Villanueva)
GROSSMONT 11, POINT LOMA 4 – The Foothillers put together a 6-run 4th inning to break a 3-3 tie to pop the visiting Pointers (17-14) in Wednesday's (May 23) San Diego CIF Division II first round game.
Grossmont (24-7), the defending Division II champion, loaded the bases on a single up the middle by JUSTIN RUTHERFORD, a hit batter and an infield single by LEVI STEVENS.
After a pitching change Grossmont coach ROB PHILLIPS ordered a squeeze play. JUSTIN MASON executed the plan by rolling a bunt up the first base line. Rutherford scored on the play, but Point Loma's first baseman came with inches of catching the bunt, which could have easily resulted in a triple play.
Back-to-back Point Loma errors added two runs to the Grossmont column. NICK LONGMIRE, East County 's leading hitter who was 3-for-4 in the game, slashed an RBI single to left field.
BRYAN HAAR followed with his 10th home run over the right-center field fence, extending Grossmont's advantage to 9-3.
Although Stevens, a sophomore left-hander, labored through five innings in which he gave up 4 runs and 9 hits, his effort was good enough to stretch his record to 8-1. He started fast, striking out the first four Pointers he faced, and then held on.
MATT SILVA pitched a scoreless 6th, and TAYLOR WOHLWEND struck out the side in the 7th to complete the post-season conquest.
Wohlwend, the likely starter for Grossmont in Friday's (May 25) match-up against Montgomery at Joe Gizoni Field, needed only 14 pitches to pin the Pointers.
CATHEDRAL CATHOLIC 15, EL CAPITAN 4 – There were plenty of coaches who believed that Cathedral Catholic was overrated as the No. 2 seed in the San Diego CIF Division III playoffs.
No doubt Cathedral felt those rumblings as they took the field for Wednesday's (May 23) first round of the playoffs.
The Dons (22-10) should have made believers of those who doubted their talent, scoring in all six innings as they routed the visiting Vaqueros (18-13).
The game was actually closer than the final score indicates. Cathedral broke the game open with eight unearned runs in the bottom of the 6th inning, which included a 15-minute brouhaha about a certain ruling which seemed to baffle the umpires.
In the 4th inning Cathedral's Ryan Wilkins hit a single and Taylor Case went in to pinch run for him. Then in the 5th inning Wilkins came back in to hit – unannounced by coach Gary Remiker or the umpire.
As simple a move as that might have seemed, El Capitan coach STEVE VICKERY protested.
After a 15 minute debate the umpire declared "You don't have to announce substitutes."
Dissatisfied with the ruling, Vickery handed the umpire his cell phone and asked him to call Bob Merchant, the baseball umpire assignment secretary, for a ruling on the protest. Merchant consulted the Rule Book and concurred, "In high school all substitutes don't have to be announced."
Wow. Seems like the umpires have an answer for everything. If coaches can make unannounced substitutions, what's to keep players from batting out of order or entering a game at a coach's whim.
One can understand Vickery's consternation because had his protest been upheld the game would have gone retro. In other words it would have resumed at the point of the protest, when the Dons led only 6-4.
Of course protests in playoff games are rarely upheld, but they've had dramatic effect on East County teams in the last five years.
Former Valhalla coach STEVE PERDUE won a protest in 2003 when the umpires incorrectly ruled that Norseman pitcher SEAN O'SULLIVAN had toiled more than the weekly limit, when in reality he had not. The game reverted back to where the protest had been lodged by Perdue with the score tied at 2-2 in the 9th inning, and proceeded from there. When the game resumed, Helix won it 3-2 in 11 innings.
In 2004 Granite Hills lost a protest at Montgomery in the 10th inning of what the record will show was a 2-1 loss. The dispute was over a collision between an Aztecs baserunner and an Eagles defender. In the heat of the moment the base umpire ruled the baserunner had interfered with the defender.
A few hours after the game, the story changed as the umpiring tandem decided it was obstruction by the Granite Hills shortstop. That's the ruling that stood and the protest by Eagles coach JAMES DAVIS was denied.
After the Vaqueros' protest was denied at Cathedral, the Dons capitalized on a critical El Capitan error to break the game open in the 6th inning.
The aforementioned Wilkins contributed a 2-run single, as did Matt Moynihan. Tyler Gaffney drove the final nail in El Cap's coffin with a 2-run double to right.
"Every single one of Cathedral's (19) hits was a key hit," said the weary Vickery.
TANNER RUST was 3-for-3 with 2 RBI to pace the Vaqueros. MILE REAGAN continued his torrid hitting with a 3-for-4 effort, while NATHAN KIRBY, MARCO MARISCAL and TAELOR WORRELL pitched in with 2 hits apiece.
"Offensively we put a lot of guys on base but never got the big hit to score more than one run at a time," said Vickery. "We had bases loaded four different times and hit into two double plays and two fielder's choices. We had opportunities but let the game get away from us in the late innings."
Five El Capitan errors led to nine unearned runs for Cathedral.
"We played our poorest defensive game of the year," Vickery observed.
CHRISTIAN 16, HIGH TECH 3 – The High Tech Storm would like to believe it's close to running with the big boys. Just making it into the SDCID Division IV playoffs was a goal, and then when the Storm thundered past Horizon in the play-in round, folks at the Liberty Station began to think maybe this squad could go a little further than the prognosticators thought.
Apparently MIKE MITCHELL and his Christian High Patriots did not receive that memo.
The Patriots pranced to a 9-1 lead after three innings and then broke the game open with 7 runs in the 6th as they posted their 14th straight win and 19th in their last 20 starts.
Eleven different players had hits for Christian and the top three batters of the Patriots' order went 9 for 12.
TAYLOR EICHHORST, batting in the No. 3 hole, was 3-for-4 with 5 RBI. His biggest shot of the day was a mammoth 2-run homer in the 2nd inning, which helped stake the Patriots to a 7-1 advantage.
"Eichhorst's home run was the farthest he's hit and is only the second ball ever hit out in dead center," said Mitchell. "The other one was El Capitan 's JORDAN ABRUZZO (in 2003)."
Leadoff hitter EDDIE YOUNG laced a 2-run homer in the 2nd inning as part of a 4-for-5 effort in which he had a hand in providing the Patriots with 7 runs.
Junior COLIN RYAN ripped a 3-run homer to key a 7-run 6th inning for the Patriots (21-4).
JOHN GEE, the often overlooked junior right-hander, held the Storm to one hit and 2 unearned runs in four innings as he rolled his record to 7-0.
BRADLEY JOHNSTON pitched the final three innings to post his first save.
The Patriots took pride in holding High Tech's Zac Keane, who came in with a.500 batting average, hitless in three at-bats.
Tomas Karagianes gives Valhalla a 1-0 lead,
opening the ballgame with this solo blast.
(Photo by Mark Gonzales)
ST. AUGUSTINE 6, VALHALLA 5 – After opening the playoffs with an offensive scoring spree, the Norsemen made the most of 4 hits against No. 3 seed St. Augustine in Wednesday's (May 23) first round of the San Diego CIF Division III playoffs at Hickman Field.
The problem for the Norsemen (18-13) – who have lost 3 of their last 5 games by a one run margin – is that they created their own demise by committing four costly errors.
"Aggressive base running by St. Augustine caused us to rush a couple of throws, which cost us 3 runs," said Valhalla interim head coach ROBERT WILSON.
With the score tied 5-5 entering the bottom of the 5th, the Saints' Larry Parker tripled to right-center field to drive in Tim Barnes with the winning run for the Saints (20-9). The victory was St. Augustine 's 15th in 16 games.
Valhalla, which hosts El Capitan in an elimination game on Friday (May 25), took the early lead as TOMAS KARAGIANES greeted the Saints with a leadoff home run – his 5th of the season.
The Norsemen made it 2-0 an inning later as freshman WILL COOMBS tripled and scored on CHRIS THOMAS' sacrifice fly.
Sloppy defensive play by the Norsemen contributed to the Saints' 3-run 2nd inning. Colin Hofmann's RBI single gave the Saints a 3-2 lead by the close of the 2nd inning.
The Norsemen refused to lie down as Karagianes led off the 3rd with a single and scooted to third on an errant pickoff throw by Saints pitcher David Popkins. Karagianes scored the tying run on RYAN O'SULLIVAN's groundout.
Valhalla's defense disintegrated in the bottom of the 3rd as the Norsemen dropped a pop-up that would have ended the inning, giving the Saints Beck Wheeler life at first base.
Barnes followed with a double down the left field line just inside the third base bag. The Norsemen allowed Wheeler to score on a wild relay throw.
St. Augustine increased it's 3-2 lead in the 4th inning as Carlos Carriedo led off with a double. Valhalla 's right-fielder misplayed Carriedo's hit, allowing the Saints sophomore to advance to third. One out later Hofmann doubled to right, expanding St. Augustine 's lead to 5-3.
Valhalla rebounded in the top of the 5th. Back-to-back walks to GREG GARCIA and O'Sullivan plus a wild pitch set the stage for freshman PETE THOMAS' single to center that tied the game at 5-5.
"We had base runners on in every inning but the 7th," said Wilson. "But once you reach the playoffs and you can't get that one big hit, you're in trouble."
HILLTOP 4, HELIX 3 – The visiting Helix Highlanders were one strike away from knocking off South Bay co-champion Hilltop in Wednesday's (May 23) San Diego CIF Division II first round game.
That's when Joey Orozco hit a slicing fly ball to right field that landed in the corner, allowing the Lancers (18-11) to score the tying and winning runs in the bottom of the 7th.
Helix (18-12) had snapped a 2-2 tie in the top of the 7th. A leadoff double by MATT COBBS and a sacrifice fly by MAHI LaBASTIDA gave the Highlanders a 3-2 edge.
"This is what playoff games are all about. It's absolutely heartbreaking for us. It was just a well-played game," said Helix coach COLE HOLLAND. "We did a very good job of playing small ball. We put ourselves in position to win, it just didn't happen."
After falling behind 2-0 the Highlanders tied the game in the 5th inning. ZACH TANIDA provided the spark with a double and advanced to third on Cobbs' infield single. The Highlanders scored their first two runs on groundouts by pitcher JEREMY PETERSON and third baseman LaBastida.
---
East County goes Four it in CIF openers
© East County Sports.com
EL CAJON (5-23-07) — As far as East County goes, the play-in round of the San Diego CIF playoffs was perfect on Tuesday (May 22). Four teams took the field, four teams came home winners.
Helix, El Capitan, Valhalla and Christian were successful in the win-or-go-home play-in competition, while Division I top-seed Granite Hills and Division II No. 2 seed Grossmont took the day off.
Therefore, all six East County teams will continue on to Wednesday's (May 23) first round of the double-elimination postseason tournament. All games begin at 3:30 p.m.
HELIX 10, CASTLE PARK 3 – Helix coach COLE HOLLAND wasn't surprised but was disappointed when his Highlanders failed to receive a Top 4 seed and a first-round by in the SDCIF Division II playoffs.
Senior JEREMY PETERSON drove in 4 runs with a double and a single to help the Highlanders (18-11) topple the visiting Trojans in Tuesday's (May 22) SDCIF play-in round.
Talk about peaking at the right time – that was mighty clutch hitting for Peterson, who had driven in only 11 runs in his first 53 at-bats.
Helix shortstop Randy Perez with an acrobatic,
off-balance throw to first to beat C-Park. The umpire is actually more than 20 feet away
and did not interfer with the defensive gem.
(Photo by Adolfo Villanueva)
Peterson's 1st inning double gave Helix a 2-1 lead. The Trojans (13-13-1) scratched back to tie it in the 2nd inning, but once again Peterson came through in the 3rd.
After AARON DODD-WADDINGTON's RBI single broke the tie, Peterson laced a 2-run single, and MATT COBB clubbed a 2-run double to give Helix ace right-hander MAHI LaBASTIDA a lead he would not surrender.
Dodd-Waddington lead Helix's 13-hit attack with 3 singles in 4 at-bats. Not to be overlooked was ZACH TANIDA, who was 2-for-4 with 2 RBI.
Holland admitted that walking the tightrope during the play-in round is not his idea of fun.
"It's tough when you don't get the Top 4 seed," Holland said. "If you play a bad game, you don't get another chance. Any time you're playing a game where the loser is out, it's tough on the kids."
Not to mention the coaches.
In the early stages of the season Helix put together a 7-game winning streak and won 9 out of 10. Once the Highlanders reached league play, they began to falter.
"It's the character of our team to not panic," Holland said. "We did a good job of swinging the bats today… got more than 2 hits per inning."
Helix appears to be on the rebound, winning 3 of its last 4 games.
"Our goal has been we want to get into the dance – the double elimination round," said Holland .
Lucas Whitmore (left) of El Capitan slide
safe into home to top Valley Center, 16-1.
(Photo by Greg Eichelberger)
EL CAPITAN 16, VALLEY CENTER 1 – Some might question whether Valley Center (17-12-1) was worthy of participating in the playoffs after the Jaguars were massacred at El Capitan in Tuesday's (May 22) SDCIF Division III playoff game.
Twenty-one Vaqueros had a hand in this lop-sided victory, which saw El Capitan (18-12) score 7 runs in the 1st inning on only one hit and then steadily increase its lead to 16-0 by the end of the 4th inning. By that time Vickery was emptying his bench and allowed three junior varsity players to make their varsity debut.
"The best thing about it is we had so many quality at-bats," said El Capitan coach STEVE VICKERY. "We knew we were going to be facing a 'thumber' (Jaguars' ace Daniel Ingalls) and we didn't want to chase anything down."
The Vaqueros had trouble making contact with the ball in the 1st inning. Outside of an RBI double by MILES REAGAN, shoddy pitching and defense by Valley Center allowed the Vaqueros to take a 7-0 lead.
Valley Center contributed 8 errors, 8 walks, one hit batter, and 5 wild pitches to an El Capitan offense that generated 9 hits. Twelve of the Vaqueros' runs were unearned.
"What I really liked about this game is the way we just kept adding runs for the next three innings after that first seven," Vickery said. "Our kids stayed focused and did a super job."
NATHAN KIRBY, the Vaqueros catcher, drove in 3 runs with a double and a single, while Reagan added his 7th home run – a solo shot – to his totals.
TAELOR WORRELL was 2-for-2 with 2 RBI.
Statistics aside, the Vaqueros were clearly the better team.
Vaqueros starter KEVIN MORTON blanked the Jags on two hits over the first four innings to post his 7th win in 10 decisions. JOSH SODEN finished the job, allowing the only run and two hits over the final three innings to notch his first save.
"Morton is such a solid kid – our most focused and locked in player," Vickery said. "I knew he was going to go out there and pump strikes so I felt pretty good after that 7-run 1st inning."
CHRISTIAN 3, CANYON CREST ACADEMY 2 – For the first time in nearly a month, the host Christian High Patriots had to scramble for a victory in Tuesday's (May 22) SDCIF Division IV playoff game.
Sophomore BRAD ROBERTSON arrived on the scene in the opening inning with the 3rd seeded Patriots trailing the visiting Ravens 2-0. It took Robertson one pitch to begin his rescue effort and halt the Ravens.
Robertson went on to blank Canyon Crest (7-15-1) on three hits over the final 6 1/3 innings to earn his 5th win against one loss.
Christian managed to tie the game at 2-all and eventually won it in the bottom of the 7th.
With one out, Young skyed a ball to right center that was misplayed, allowing the Patriots junior shortstop to advance all the way to third base.
That brought up BRYAN MITCHELL, who worked the count to 2-0.
Canyon Crest made a pitching change at that point. Before the Ravens reliever could deliver a pitch, Christian coach MIKE MITCHELL thought a balk should have been called.
"I argued with the ump for 5 minutes about that," Coach Mitchell said.
Nonetheless, the call stood: no balk.
It was almost anticlimactic when the next pitch was a wild one, and Young scooted home with the winning run.
It was a narrow escape for the Patriots, who extended their winning streak to 13 games and advance to the Division IV double elimination tournament. Christian (20-4) has won 18 of its last 19.
Christian picked up its first run on an RBI single to right by Bryan Mitchell. The Patriots tied it in the 4th.
SHAUN DAY singled and stole second. One out later JOHN FERREIRA singled to put runners at the corners. The Ravens brought their infield in tight and DANNY MITCHELL hit a sharp ground ball that bounced off the shoulder of the Ravens second baseman, allowing Day to score the tying marker.
On the down side, Christian leadoff hitter Young went hitless in four at-bats, thus snapping his 18-game hitting streak. Danny Mitchell extended his hitting streak to 9 games.
Valhalla's Trevor Cahoon in relief.
(Photo by Mark Gonzales)
VALHALLA 18, SAN DIEGUITO ACADEMY 3 – Scoring runs has been a laborious chore for the Valhalla Norsemen. Oh sure, the Norsemen have managed to ring up 20 runs against El Cajon Valley and 15 against Mount Miguel (twice), but those teams are in the basement of their respective leagues.
In Tuesday's (May 22) play-in round of the SDCIF Division III playoffs, the Norsemen erupted for 5 runs in the 1st inning and then turned the game into a rout with 11 runs in the 3rd as they blew out Coastal North League champion San Dieguito Academy (19-7) in Encinitas.
Facing San Dieguito ace Steve Taft, who came in with a 0.95 ERA, the Norsemen roughed up the senior right-hander for 10 earned runs and 10 hits in 2 1/3 innings.
Senior TOMAS KARAGIANES was 4-for-4 with an RBI and 2 runs scored, while RYAN O'SULLIVAN went 3-for-5 with 3 RBI for the Norsemen (18-12), who won for only the second time in their last six games.
For one of the few times, the Norsemen's hitting attack was spread throughout the lineup.
Senior designated hitter CHRIS THOMAS was 3-for-5, and freshman catcher DANNY HAWKSLEY was 2-for-5 with 2 RBI.
Freshman WILL COOMBS, making a rare start, was 2-for-4 with 2 runs scored.
Valhalla pitchers BOBBY WILKINS, TREVOR FRANK, MATT GONZALES and TREVOR CAHOON combined to limit the Mustangs to 6 hits and 2 earned runs.
---
Red-hot Sultans, Cougars denied CIF invitations
© East County Sports.com
EL CAJON (05-18-07) — Six East County baseball teams have qualified for the San Diego CIF post-season playoffs, which begin on Tuesday (May 22).
Not unlike any post-season pairings draw, teams that believe they are deserving are overlooked.
Take Santana (14-14-1) in Division III. The Sultans won six of their final seven yet could not land one of the 12 playoff spots.
Steele Canyon (12-14-1) completed a third-round five-game sweep in the Grossmont South, including a win over top-ranked Granite Hills yet was denied an invitation. The Cougars were unable to claw their way into the Division III playoffs.
A playoff tournament without Santana – winner of four section championships – is like bread without butter.
"That's hard to believe," said Santana coach JERRY HENSON, who has guided the Sultans to 296 wins in 16 seasons. "We beat a lot of teams that got in ahead of us. And we were playing well at the end of the season."
CIF BASEBALL PLAYOFFS

Div. I

Div. II

Div. III

1. Granite Hills
2. Torrey Pines
3. Poway
4. Rancho BV
5. Mira Mesa
6. Rancho Bernardo
7. Vista
8. Otay Ranch
9. Patrick Henry
10. Bonita Vista
11. Escondido
12. La Costa Canyon
1. Oceanside
2. Grossmont
3. Montgomery
4. Hilltop
5. Helix
6. Mt. Carmel
7. Point Loma
8. Westview
9. Mission Hills
10. Eastlake
11. Serra
12. Castle Park

1. Mission Bay
2. Cathedral
3. St. Augustine
4. La Jolla
5. University City
6. Valhalla
7. El Capitan
8. Ramona
9. Brawley
10. Valley Center
11. San Dieguito
12. EC-Central

Tuesday's Games
Patrick Henry at Otay Ranch (winner at Granite Hills)

---

La Costa Canyon at Mira Mesa (winner at Rancho Buena Vista)

---

Escondido at Rancho Bernardo (winner at Poway)

---

Bonita Vista at Vista (winner at Torrey Pines)

Tuesday's Games
Mission Hills at Westview (winner at Oceanside)

---

Castle Park at Helix (winner at Hilltop)

---

Serra at Mt. Carmel (winner at Montgomery)

---

Eastlake at Point Loma (winner at Grossmont)
Tuesday's Games
Brawley at Ramona (winner at Mission Bay)

---

University City at *El Central-Centro (winner at La Jolla)
*home team (league champ)

---

Valhalla at San Dieguito (winner at Saints)

---

Valley Center at El Capitan (winner at Cathedral)

Div. IV

PLEASE NOTE

1. Coronado
2. Francis Parker
3. Christian
4. Santa Fe Christian
5. La Jolla Country Day
6. Horizon Christian
7. Marian Catholic
8. Imperial
9. Mountain Empire
10. Christian Life
11. High Tech
12. Cal. Christian
13. The Bishop's
14. Canyon Crest
15. SD Jewish Academy
16. Borrego
Tuesday's Games
Borrego at Coronado
Imperial at *Mtn. Empire *home team (league champ)

---

Cal. Chr. at LJCD
The Bishop's at Santa Fe Christian


---

Canyon Crest at Christian
High Tech at Horizon

---

Marian at *Christian Life *home team (league champ)
SD Jewish Aca. at Francis Parker

Admission MAY BE charged for games on May 22-25.

Admission WILL BE charged for games on May 26-June 6.

Parking WILL BE charged for finals at San Diego State on June 5-6.

Games at home sites are all at 3:30 p.m., unless changes are approved by CIFSDS office. In all pairings, higher seed is home.

POSTSEASON SCHEDULE

Play-In Round
(1-game series)
Tue., May 22
Home Sites

Double-elimination begins (2 pools)
Wed., May 23
Thurs., May 24
Fri., May 25
Home Sites, 3:30 p.m.

Super Saturday
Sat., May 26
11 a.m. and 2 p.m.
D-1: at Poway
D-II: at Grossmont
D-III: at Cathedral
D-IV: at Coronado

Winner's bracket
Tue., May 29
Pool Playback
Thurs., May 31

Championships
Sat., June 5-6
Tony Gwynn Stadium
San Diego State
D-IV, time/date TBA
D-III, time/date TBA
D-II, time/date TBA
D-I, time/date TBA

Dates, sites, times, subject to change

Posted FIRST by East County Sports.com... You're Welcome, Fans!
What hurt the Sultans was a 6-10-1 record against playoff teams. Santana did beat Mesa League champion Otay Ranch and tied South Bay League co-champion Montgomery.

An even more stinging reality was the Sultans were only 1-9 in one-run games.

"If we turn that around it's a whole different ballgame," Henson said. "We just came on too late, I guess."

This is the first time in Henson's tenure that the Sultans won't be participating in the post-season playoff party. The last time Santana failed to make the post-season grade was in 1983 when fewer playoff positions were available. The Sultans' record that year -- 18-10.

Steele Canyon was 5-9 against playoff teams. A mid-season loss to lowly Mount Miguel and a tie against also-ran Monte Vista hurt the Cougars' chances.

This is East County 's fewest playoff entries in more than a decade.

Three-time Grossmont South League-champion Granite Hills (24-5) was awarded the No. 1 seed in North County-laden Division I. The Eagles gained a narrow edge over No. 2 Torrey Pines (22-7) and No. 3 Poway (23-7). Rancho Buena Vista (23-8) is seeded 4th.

By earning a lofty seed, the Eagles can skip Tuesday's (May 22) play-in round. They won't make their first pitch until Wednesday (May 23) when the eight-team double-elimination tournament begins. Granite Hills hosts the winner of the Brawley-Ramona play-in game.

Other East County entries include Grossmont (22-7-1), which has claimed the last two SDCIF Division II titles, Helix (17-11), El Capitan (17-12), defending Division III-champion Valhalla (17-12) and Christian (19-4).

The Foothillers, seeded No. 2 behind Avocado League champion Oceanside (21-9), will open post-season activity on Wednesday hosting the Eastlake-Pt. Loma play-in winner.

Helix will not be afforded that extra day off as the Highlanders dive into post-season on Tuesday by hosting Castle Park (13-12-1) at 3:30 p.m.

In Division III, East County did not qualify for a top-4 seed and accompanying bye. Valhalla, in fact, was assigned a play-in road game at San Dieguito Academy in Encinitas while El Capitan hosts Valley Center (17-11-1). Both games begin at 4 p.m.

Although Christian coach MIKE MITCHELL had eyes for the No. 2 seed in Division IV, he was handed the No. 3 position. In this 16-team division there are no byes as all teams will be in action on Tuesday. The Central League-champion Patriots, who have won 12 in a row and 17 of 18, host Canyon Crest (7-14-1) at 3:30 p.m.
---