Reggie Bush of the NFL's New Orleans Saints (center) is flanked by
Helix High student-athletes Brandon Fountain (left) and Matt Cobb,
the inaugural recipients of $10,000 college scholarships, courtesy
of the Reggie Bush Foundation. Bush attended both Helix and USC.
(Photo by Greg Eichelberger)
Reggie gives back
© East County Sports.com
LA MESA (3-24-07) – New Orleans Saints rookie running back REGGIE BUSH hasn't forgotten his roots.
Bush, who led Helix High to a pair of San Diego CIF Division II football championships (2000, 2001) during a three-year career as the Highlanders compiled a 36-3 record, returned to his alma mater Friday (Mar. 23) bearing gifts.
Speaking at an assembly inside the Highlanders' Caledonia Gym, Bush presented $10,000 scholarships to Helix seniors BRANDON FOUNTAIN and MATT COBB.
Fountain is an All-East County Sports first team standout who helped the Highlanders' 31-2 basketball team reach the Southern California Regional semifinals.
Cobb is a two-sport star, who made All-Grossmont South League tight end for the Helix football team and presently splits his time between first base and outfield for the Scotties' baseball squad.
Bush is in town to launch "Reggie Bush Camp 619," a youth football clinic to be held on Saturday (Mar. 24) at Qualcomm Stadium. More than 2,000 kids ages 7-to-17 will attend the inaugural event, which is sold out.
Bush turned "619" (East San Diego County's telephone area code) into a brand name as a USC running back on his way to winning the 2005 Heisman Trophy. He went on to help the Saints reached the NFC championship game against the Chicago Bears.
---
Reggie Bush
(Courtesy: USC)
Bush hosts free football camp
© East County Sports.com
MISSION VALLEY (3-14-07) -- REGGIE BUSH, the 2005 Heisman Trophy winner from Helix High who helped the New Orleans Saints to the NFC Championship game in his rookie season, is hosting his first "Reggie Bush Camp 619" on March 24 at Qualcomm Stadium.
The free football clinic is for boys and girls ages 7 to 17. Registration begins at 8:30 a.m. and the camp runs from 10 a.m. to 2 p.m.
For further information or to register, visit the San Diego Hall of Champions website HERE.

---
Following Reggis Bush's season on the
official New Orleans Saints website: HERE
His player profile page is: HERE
---
Bush goes marching to New Orleans
East County Sports.com
NEW YORK (4-29-06) -- Former Helix High standout REGGIE BUSH may not have been the top pick in the 2006 NFL draft, but No. 2 is okay, too.
Bush (pictured above; USCTrojans.com photo), the Heisman Trophy winner out of USC, will join former San Diego Chargers quarterback DREW BREES after he was selected by the New Orleans Saints.
Bush was one of seven Trojans tabbed by NFL teams -- the most from the school since 1991. Also taken in the first round (10th overall) was quarterback MATT LEINART by the Arizona Cardinals.
---
Padres' Guest of Honor -- Reggie Bush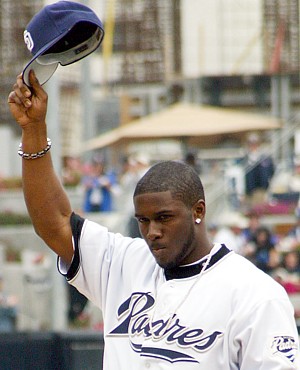 Heisman Trophy winner Reggie Bush of USC tips his hat to the crowd after tossing the first pitch before the San Diego Padres home opener Monday at Petco Park (top). Later, Bush talked in the dugout with former Helix High School teammate Derrell Hutsona, the All-America running back for the 2005 national champion Grossmont College football team.
(Photos by Greg Eichelberger)
Jason Phillps with the New York Mets (left) and L.A. Dodgers.
Phillips invited to join Toronto Blue Jays
East County Sports.com
TORONTO (1-13-06) -- Former El Capitan High and San Diego State standout JASON PHILLIPS has signed a minor league contract with the Toronto Blue Jays with an invitation to attend spring training with the major league club.
Phillips, 29, spent last season with the Los Angeles Dodgers batting .238 with 20 doubles, 10 home runs and 55 RBI in 121 games. He caught 93 games registering a .992 fielding percentage. He also played a couple dozen games at first base for the Dodgers.
The 6-foot-1, 220-pound right-hand hitting Phillips has played parts of five seasons in the majors. He is a career .254 hitter with 29 home runs and 150 RBI in 385 games.
Phillips spent the first four years of his career with the New York Mets (2001-2004) before being traded to the Dodgers on March 20, 2005. He was originally selected by the Mets in the 24th round of the 1997 First Year Player Draft.
---
Reggie Bush wins Heisman in landslide

Mr. President
Reggie Bush
East County Sports.com
NEW YORK (12-10-05) -- He wears uniform No. 5, and in the 5 O'clock hour, at 5:55 p.m. Pacific Time, former Helix High standout REGGIE BUSH captured college football's ultimate prize: the Heisman Trophy.
In one of the largest margins of victory ever, Bush, the USC tailback, captured the award over teammate (and defending Heisman honoree) Matt Leinart and Texas quarterback Vince Young.
"I've always did this for all my friends and family back home," said Bush, who usually wears his hometown area code ('619') in silver ink on his anti-glare "eye black" during all USC games. "So I'd like to thank my family, who gave me unconditional love and support all my life."
The Trojans now have produced seven Heisman winners, matching the record held by Notre Dame, and an unprecedented three in four seasons, starting with quarterback Carson Palmer in 2002. The other four USC winners of the Heisman were all tailbacks: Mike Garrett, O.J. Simpson, Charles White and Marcus Allen (Lincoln High in San Diego).
The Heisman Trophy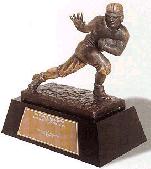 Check out the Heisman Trophy Foundation website
HERE
.
Chargers running back LaDainian Tomlinson was credited with demonstrating to Bush what the next level is all about, aiding to his development as a football player.
"LaDanian showed me what it takes to be the best running back in the NFL, and for me to be the best running back," added Bush of his off-season workouts. "I went back (to USC) with a new focus."
Bush, a junior, appeared on 99 percent of all ballots cast, and finished first in all six regions of the country. Included were 784 first-place votes -- the second-highest in Heisman history behind the 855 by Simpson in 1968. Bush also became the fourth running back from San Diego to win the award, joining Allen (1981), Rashaan Salaam (Colorado, 1994) and Ricky Williams (Texas, 1998).
Bush and Leinart will become the first Heisman teammates in a college game when USC meet Texas in the Rose Bowl to determine the national champion on Jan. 4. The Trojans will seek a third consecutive national title.
CHECK OUT THE USC WEBSITE HERE FOR MORE.

---
Reggie Bush claims two national awards... is the Heisman next?
Reggie Bush
(USC Courtesy Photo)
East County Sports.com
ORLANDO, Fla. (12-9-05) -- REGGIE BUSH became the first USC player to receive the Doak Walker Award, which annually honors the nation's top collegiate running back. Bush beat out DeAngelo Williams of Memphis and Washington State's Jerome Harrison in voting for the award, which has been given out since 1990.
Bush, the former Helix High standout, became the third San Diego County back to capture the award in its 16-year history, joining Rashaan Salaam (Colorado, 1994) and two-time winner Ricky Williams (Texas, 1997-98).
Bush, a junior, leads the nation in all-purpose yards with 217.6 per game while scoring 18 touchdowns. He rushed for a career-high 1,658 yards, averaging 8.9 yards per carry. The Doak Walker Award is sponsored by the Southern Methodist Athletic Forum.
The award is expected to be a prelude to Bush capturing the Heisman Trophy on Saturday (Dec. 10), the nation's highest award, given to the most outstanding college football player in the country by the Downtown Athletic Club in New York.
Earlier this week, the Heisman Trophy Trust announced the three finalists for the 71st annual Heisman Memorial Trophy Award. They include Bush, defending Heisman honoree and teammate Matt Leinart, and quarterback Vince Young of Texas.
Walter Camp Award
NEW HAVEN, Conn. -- Meanwhile, Bush was also tabbed the 2005 winner of the Walter Camp Football Foundation Player of the Year award.
The 39th recipient of the Walter Camp Player of the Year award, Bush is the fifth USC player (O.J. Simpson, 1967 and 1968; Charles White, 1979; Marcus Allen, 1981; and Matt Lienart, 2004) to capture the honor.
The Walter Camp Player of the Year recipient, who is voted on by the nation's 119 Division I-A coaches and sports information directors, is strongly viewed in the college football world as the favorite to win the Heisman Trophy.
Other finalists for the award include Leinart, Young, Notre Dame's Brady Quinn, and Ohio State linebacker A.J. Hawk.
---
Reggie Bush (USC courtesy photo)
USC's Reggie Bush tabbed Pac-10 player of the week
Special to East County Sports.com
LOS ANGELES (10-17-05) -- For the second time this season, USC tailback REGGIE BUSH has been named the Pacific-10 Conference player of the week for his performance in the Trojans' last-second 34-31 triumph at Notre Dame. Rush carried the ball 15 times for 160 yards and three touchdowns, plus caught four passes to tie for the team high to overcome the Fighting Irish. The Helix High graduate was also honored by the conference following a 45-13 triumph at Oregon on Sept. 24.
Recently described as, "a Gale Sayers with speed," by ESPN commentator Sean Salisbury, Bush is considered one of the nation's leading candidates to capture the Heisman Trophy as the most outstanding college football player in the country.
---
<< Back