East County Sportsline
To report scores, highlights, news stories and tips, schedules and announcements,
please call or text
(619) 300-9868
PREP FOOTBALL
JV/Frosh scores
Junior Varsity
Friday, Sept 19
Grossmont 20, Hilltop 13
El Capitan 26, Serra 21
La Jolla 28, West Hills 16
Santana 42, Francis Parker 6
Only score reported
Freshmen
Thursday, Sept. 18
Helix 22, Cathedral Catholic 8
El Capitan 26, Serra 0
Hilltop 24, Grossmont 21
Rancho Buena Vista 24, Steele Canyon 6
Santana 33, Francis Parker 16
Only scores reported
WEEK 4
Highlanders Dealt Revenge by the Dons
© East County Sports.com
SAN DIEGO (9-20-14) — After Helix scored on its first drive of the game, Cathedral Catholic seemingly controlled the clock and field position for the remainder of Friday night's (Sept.) non-league game, dealing the Highlanders a stunning 9-7 blow.

The Dons got what would be the game's decisive score with about nine minutes left in the second quarter when Cathedral Catholic's Choyce Bostian had a 19-yard pass completion for a touchdown to Kai Walter. (more..)
Friday's scores
Non-League
El Capitan 42, Serra 0
Grossmont 75, Hilltop 22
West Hills 26, La Jolla 24
Steele Canyon 41, Rancho Buena Vista 0
Granite Hills 44, El Centro-Central 22
Monte Vista 31, Mount Miguel 28
Christian 55, Ontario Christian 7
Cathedral 9, Helix 7
Francis Parker 28, Santana 14
CV-Calvary Christian 46, Foothills Christian 6
West Hills quarterback Spencer Moyer, a junior, surveys the field Friday night against visiting La Jolla. 9-19-14 (EastCountySports.com photo)
FEARLESS FORECASTER - Week 4
Highlanders, Dons features one of county's top regular-season matchups

By Bill Dickens
©EastCountySports.com
EL CAJON (9-18-14) — Helix, the No. 1 ranked team in the state as well as in the San Diego Section, have motored past two of the top-ranked teams in the state.

The Highlanders (2-0), who play one of the top schedules in Southern California, will travel to Cathedral Catholic (2-1) on Friday (Sept. 19) to face the Dons at 7 p.m. (more...)

Complete East County season statistical leaders - through week 3 - click here
Week 3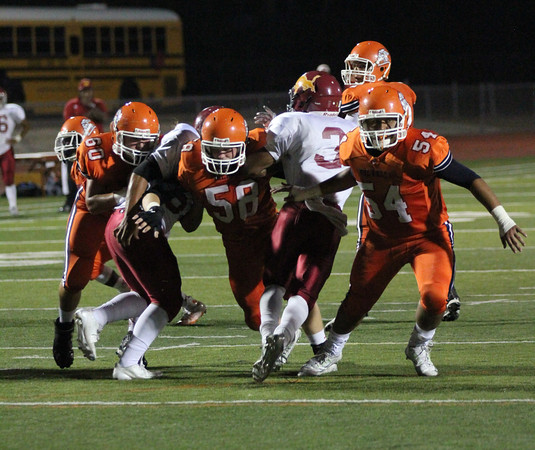 Valhalla linemen Michael Rivera (54) and Tyler Eastlick (58) protect against Monte Vista Friday night. (Photo by DonDeMarsPhotography)
U-T SAN DIEGO
SPORTSWRITERS/SPORTSCASTERS
PREP FOOTBALL POLL
TEAM;RECORD;POINTS;LW
(First-place votes in parenthesis)
Points awarded on a 10-9-8-7-6-5-4-3-2-1 basis
1. Helix (16)/ 2-0/ 187/ 1

2. Oceanside (3)/ 2-0/ 174/ 2

3. Mission Hills/ 1-1/ 123 / 3

4. St. Augustine/ 1-1/ 120 / 4
5. Cathedral Catholic/ 1-1/ 98 / 7

6. El Capitan/ 2-0/ 93 / 6
7. Ramona/ 2-0/ 83 / 5

8. Rancho Bernardo/ 2-0 / 57 /9

9. Eastlake/ 1- 1/ 35 / 8

10. Mount Miguel/ 2-0/ 17/ ----

Others receiving votes: San Marcos (14), Carlsbad (13), La Costa Canyon (7), Sweetwater (7), Otay Ranch (6), Westview (5), Poway (2), Mt. Carmel (1), Steele Canyon (1).
WEEK 3
© EastCountySports.com
EL CAJON (9-13-14) — Valhalla's football team hit the trifecta Friday evening (Sept. 12). The varsity earned its first win of the season after defeating rival Monte Vista 35-14, immediately after its JV and freshmen squads each scored an identical 35 points against the Monarchs' respective underclassmen.
For most of the game, the Norsemen defense smothered the visitors' offense, forcing 7 punts. In fact, the Monarchs were unable to generate a first down until mid-way through the second quarter...(more)
---
PREP SCOREBOARD
GIRLS VOLLEYBALL
Tuesday's match
Christian 3, Montgomery 1
COMMUNITY COLLEGE SCOREBOARD
TUE, 9-09-2014
WOMEN'S SOCCER
Non-Conference
Grossmont 2, Victor Valley 0
SAT, 9-06-2014
MEN'S CROSS COUNTRY
Palomar Invitational at Guajome Park, Oceanside/Vista
Cuyamaca 2nd of 8 teams (54 points).
WOMEN'S VOLLEYBALL
Bakersfield College Quad
Grossmont def. Antelope Valley 3-1 (23-25, 25-9, 25-19, 25-18)
Grossmont def. Bakersfield 3-0 (25-15, 25-21, 25-11)
Imperial Valley College Tournament
Arizona Western def. Cuyamaca 3-0 (25-9, 25-11, 25-14)
FRI, 9-05-2014
WOMEN'S SOCCER
Non-Conference
Grossmont 0, Glendale (CA) 0
WED, 9-03-2014
MEN'S WATER POLO
PCAC
Grossmont 23, Southwestern 7
WOMEN'S WATER POLO
PCAC
Grossmont 17, Southwestern 2
WOMEN'S GOLF
OEC 9-Team Match at Woodhaven CC (Palm Desert)
Cuyamaca 8th (396).
PREP BASEBALL

Valhalla's contact-man Houghtby to attend USD

By Bill Dickens
© EastCountySports.com
EL CAJON (8-21-14) — Valhalla senior-to-be shortstop JEFF HOUGHTBY will be attending the University of San Diego following his senior season.

Houghtby batted .342 with one home run, a triple and 5 doubles last year. He knocked in 15 runs and stole 5 bases in the leadoff spot.

Abruzzo completes move to Grossmont; Havird is new Matadors' skipper
By Bill Dickens
© EastCountySports.com
EL CAJON (8-21-14) — Two Grossmont Conference baseball coaches have been named to new positions heading into the 2015 season.

JORDAN ABRUZZO, who spent the last two campaigns at El Capitan, moves over to Grossmont High, taking over for CHAD WILLIAMS who has moved to the East Coast. (more)
Valhalla hires former SDCC coach as skipper
| | | | |
| --- | --- | --- | --- |
| | | | |
| Chris Hudgins | Jayson Rose | Hunter Stratton | Jordan Qsar |
San Diego County dominates Cal-Hi Sports' All-State team
Chris Hudgins, Jayson Rose named first team
THE ALUMNI PAGE — FORMER EAST COUNTY ATHLETES
El Capitan Alum Signs with Chargers
© EastCountySports.com
SAN DIEGO (9-1-14) — RYAN LINDLEY began his football career as a Lakeside-Santee Pop Warner offensive lineman way back when.
Eventually a record-breaking varsity quarterback at El Capitan under head coach RON BURNER, Lindley was heavily recruited and cast his lot with San Diego State where he was convinced he was a better quarterback by West Hills alum LON SHERIFF, who also called signals for the Aztecs.
Lindley was drafted in 2012 as a sixth round pick as a quarterback by the NFL Arizona Cardinals.
He's come a long way and is now on the edge of earning a back-up quarterback berth with the San Diego Chargers.
Local Pair Contribute in Aztecs Victory
©EastCountySports.com
SAN DIEGO (8-31-14) — Former El Capitan tight end ROBERT CRAIGHEAD, a two-time All-East County performer, caught a 2-yard touchdown pass from quarterback Poe Kyren in San Diego State's 38-7 season opening victory over Northern Arizona University in Saturday's (Aug. 29) non-league contest at Qualcomm Stadium.

Punter JOEL ALESI, a Christian High graduate, averaged 35 yards on three punts in the Aztecs' victory.
PRO BASEBALL: Summer Notebook

COLLEGE WOMEN'S FASTPITCH
Gourley shares National Championship memories
BASKETBALL
Matadors' Branch selects Fresno State over CSUN, UNLV
© EastCountySports.com

SPRING VALLEY (8-25-14) — Mount Miguel senior-to-be guard ZARIA BRANCH has accepted a scholarship to Division I Fresno State, selecting the Bulldogs over Cal State Northridge and UNLV.

The Mountain West Conference school features a student body of 21,500.

The 5-foot-8 Branch captured a fistful of postseason honors, including first team All-EastCountySports.com and first team All-Grossmont Valley League. She was named to the California All State Division 3 second team as selected by MaxPreps.com.

She finished her junior year averaging 13.9 points per game for the Matadors.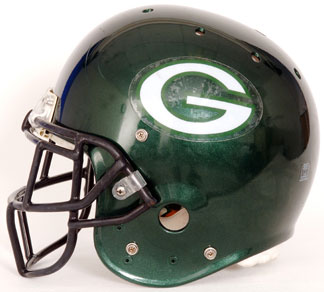 GROSSMONT COLLEGE FOOTBALL
Griffins host state's top-ranked team Riverside on Saturday
By Bill Dickens
©EastCountySports.com
EL CAJON (9-19-14) – One of the most famous duels between No. 1 ranked Riverside City College and Grossmont College took place in 1974. Talk about a cast of characters.

JOE ROTH guided the Griffins' offense to a 9-9 tie at Aztec Bowl in front of a crowd of 5,000, and Riverside countered with 3 field goals by Frank Corral, who wound up playing for the Los Angeles Rams in the NFL.

These two legendary teams will face off on Saturday (Sept. 19) at Mashin-Roth Stadium at 3 p.m.

Riverside (2-0) rolls into town No. 1 ranked in the state and undefeated.

The Griffins (1-1) are a youthful team with only three returning starters. Quarterback MICHAEL CARRILLO, a 5-foot-11 freshman, directs the Griffins' attack. Carrillo has completed 33 of 73 passes for 385 yards and a touchdown.

Running backs THOMAS McDONALD (27-85) and RYAN WILLIAMS (10-78, 1 TD) are the mainstays of the Grossmont ground game.

Quarterback Kelly Hilinski is the triggerman for the Tigers, having completed 24-of-42 yards for 414 yards and 4 touchdowns. Denzel Foster spearheads the ground game with 186 yards on 29 carries and a touchdown.

The Tigers won their first two games, rolling over Bakersfield College 51-3, and then destroyed Saddleback 37-34 in overtime.

Griffin Graffiti: A special screening of "The Joe Roth Story: Don't Quit" will be shown in La Costa on Saturday (Sept. 20) by invitation only. . . Roth, who played quarterback at Granite Hills High and Grossmont College, was a first team JC All-American in 1974. He went on to Cal Berkley where he earned many honors before his career was cut short by cancer. At the time Roth was considered a potential first team NFL pick. . . Grossmont leads the all-time series with the Riverside City College Tigers 7-6-1 but picked up two extra victories due to forfeits. . . Grossmont is ranked No. 20 in Southern California.. (more)

For complete regional coverage, click here for the Southern California Football Association
Grossmont schedule
Date -- Site/Opponent/Time
Sept. 6 – SOUTHWESTERN 35, Grossmont 6
Sept. 13 – Grossmont 17, PASADENA 14
Sept. 20 – RIVERSIDE, 3
Sept. 27 – *at Golden West, 1
Oct. 4 – *PALOMAR, 1
Oct. 11 – at Mt.San Antonio, 6
Oct. 18 – *SADDLEBACK, 1
Oct. 25 – *at Fullerton, 6
Nov. 1 – Bye
Nov. 8 – *at Santa Ana, 1
Nov. 15 – *ORANGE COAST, 1

Nov. 22 – Bowl Games – TBA

*National Southern Conference games
BOLD FACE – home games
---
2014 EAST COUNTY
ATHLETES OF THE WEEK
PREP FOOTBALL
Week 3 - 9-14-14

JEROME JOHNSON - Valhalla
The 6-foot, 202-pound sophomore was involved in a triple play against Monte Vista. Johnson rushed for 108 yards and 2 touchdowns in that victory.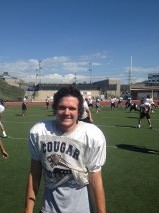 RILEY JONES - Steele Canyon
The 6-foot, 197-pound senior linebacker-running back recorded 2 sacks – one in each half – as the Cougars remain undefeated with a 26-7 victory over the Panthers of Vista.
---
Week 2 — 9-07-14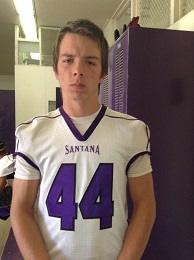 ZACH LEWIS, Santana

Lewis, a 5-foot-11, 165-pound junior who plays both sides of the ball, has made an impact every time he touches the pigskin. He blocked 2 kicks in the Sultans' 30-0 shutout of the Kearny Komets. He also had his 4th sack in two games for the undefeated Sultans.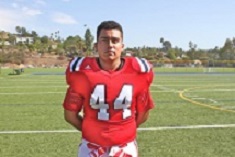 JOEY MORONES, Christian

The versatile 5-foot-10, 220-pound sophomore scored 3 touchdowns and one 2-point conversion in the Patriots' march past West Hills 43-29 in the second week of the season. Morones excels as a running back, tight end and inside linebacker. He finished with 20 points for Christian (2-0).
---
Week 1 — 8-31-14

SETH COLLINS, Granite Hills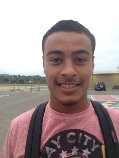 San Jose State commit, Granite Hills senior quarterback Seth Collins carried the ball only five times for 222 yards and 4 touchdowns, including a 51-yard scoring strike that set the stage for the Eagles' 41-0 victory over San Diego High. The 6-4, 175-pounder scored on an 88-yard keeper and threw one TD pass.

ALIJAH AVANT, Grossmont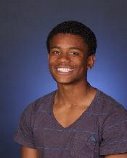 Grossmont's senior running back, ALIJAH AVANT accumulated 330 total yards in the Hillers' season opening victory over Patrick Henry. He had 6 catches for 132 yards, including one 2-point conversion, 5 rushes for 109 yards, including a 62-yard TD run and 2 kickoff returns for a total of 89 yards.
EAST COUNTY SPORTS.COM
Celebrating Our 15th Year
of Local Sports Coverage
Founded, Feb. 1 2000
SPONSORS NEEDED
CLICK HERE to donate $10 or $20 Today!

Display Advertising Rates for your company HERE
IN THE COMMUNITY
Sockers to host international matches at Valley View Casino Center

Special to EastCountySports.com
SAN DIEGO (9-10-14) — The 14-time indoor soccer champion San Diego Sockers will host an international doubleheader as part of their exhibition schedule prior to start of the Major Arena Soccer League season.
On Sat., Oct. 18, the Sockers will meet Los Toros de Mexico, their former Western Division rivals from Tijuana, in a 6 p.m. start. The game will be followed with an international "friendly" between Team USA and Mexico, both at Valley View Casino Center (formerly SD Sports Arena).
Tickets are $12.50 each with open (general admission) seating in the lower deck.
The Sockers open the MASL season against their rival Las Vegas Legends on Sat., Nov. 1. The team shared the division title last winter. Game time is set for 7:05 p.m. at Valley View Casino Center (formerly SD Sports Arena).
The complete schedule is now available on the Sockers website.