SPONSORS
7005 Navajo Road
(619) 461-5757
---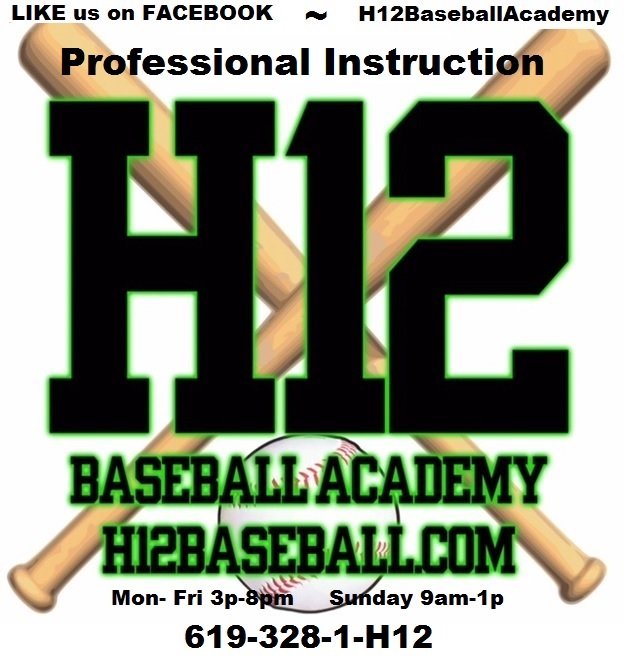 9314 Bond Ave.
El Cajon
619-328-1-H12
Monday-Friday 3-8pm
Sat-Sun : Teams by Appointment Only
Led by Scott Hopgood
---
San Diego Section CIF
---
Contact
East County Sports
---
To report scores, highlights, news stories and tips, schedules and announcements,
please call or text
(619) 300-9868
or
Use the Scorestream app on your iPhone or Android
---
---
15 Years
of Local Sports Coverage
Founded Feb. 1, 2000
SUPPORT EastCountySports.com
Contribute with PayPal to the continuing production of your favorite website, covering the athletic accomplishments of your friends, family and neighbors
OR
show your support with your company's ad

Display Advertising Rates for your company HERE
PREP SOFTBALL
Martorana and Menard score the first two of what became blowout
By Adam Paul
© East County Sports.com
LAKESIDE (4-17-15) — On Thursday (Apr.16) the Santana Sultans traveled to Lakeside to take on the El Capitan Vaqueros for the latest installment of their rivalry. It didn't disappoint as the Sultans survived a bases loaded jam to win 8-4 in Grossmont Hills League play.
In the second inning the Sultans struck early to take the 2-0 lead as both CELINE MENARD and SOPHIA MARTORANA scored. However the lead didn't last long as the Vaqueros answered with two runs of their own in the bottom of the inning. Both KELSEY HENZI and JESSICA BAUER came in to score to tie the game at 2-2.
With the score tied the Sultans in the third inning were able to break the tie by pushing across a couple of runs to take a 4-2 lead. Lead-off hitter SYDNEY VATES singled to left field and moved to second as MACKENZIE REYNOLDS reached on an error. Vates came around to score when Celine Menard hit into a fielder's choice. Menard would move on a passed ball and move to third as TAYLOR BRIGGS singled which scored Menard.
Both teams pitching took shape over the next couple of inning and the offense wouldn't show until the sixth inning when the Sultans erupted for four runs to take an 8-2 lead. For the Sultans, TAYLOR KUKUK, ERICA REID, CASSIDY MATTHIE and Sydney Vates all scored. Mackenzie Reynolds blasted a two run double that scored Erica Reid and Cassidy Matthie. In the bottom of the sixth inning the Vaqueros would push across a run as COURTNEY WILLIAMS came in on a single by ZANDRA RAGALE to make it 8-3.
The El Capitan Vaqueros in the bottom of the final frame made things really exciting as they scored a run to make it 8-4. With one out, KACI HOSTETLER was able to draw the walk, the next batter KIM GARCIA flied out. The Sultans looked to end the game but NICOLE VACARRO had other ideas as she was able to get ahold of one for a single that moved Hostetler to second. Hostetler moved to third on a wild pitch, Jessica Bauer walked, which moved Vacarro to second. Bases loaded and still two outs, the Vaqueros still had life and were able to knock in a run as COURTNEY WILLIAMS singled scoring Hostetler.
PREP BASEBALL
Foothillers and Patriots split double dip
By Bill Dickens
© East County Sports.com
ALLIED GARDENS (4-19-15) — Grossmont continued its winning ways with a non-league double-header split against Patrick Henry on Saturday (Apr. 18) at the Patriot' home field.
The Foothillers, who have now won 12 of their last 14 starts, have hoisted their record to 13-7. The shutout Patrick Henry in the first game 7-0.
In the opening contest of the twinbill, JACKSON HULETT and MICHAEL BYERLINE combined for a seven hit shutout. Hulett earned the win to go 2-1, and Byerline logged his third save.
The second game was not as successful as the Patriots pasted the Foothillers 9-3.
In the opening round EVAN McCARTHY was 3-4 with three runs scored, and BRAEDEN BARR was 3-4 with four RBI.
PREP BASKETBALL
11 Total East County players in All-Star game
The San Diego County Basketball Coaches Association is pleased to announce the teams for the 2015 Boys' and Girls' Senior All-Star Basketball Games to be held Friday, April 17th at Horizon Christian Academy.
Girls' Game @ 5:30 p.m. – 3-Point Shooting Contest @ Halftime.
Boys' Game @ 8:00 p.m. – 3-Point Shooting Contest @ Halftime. Slam Dunk Contest @ approximately 7:15 p.m.
In both games, the North will be considered the home team and should wear their white uniforms. The South will be considered the away team and should wear their dark uniforms.
Tickets will only be available at the door and will cost $12 for adults/$8 for students. Doors will open at 4:45 p.m.
Rosters available at Here
2015 East County Sports.com Senior All-Star Boys game
Ali shows final trick in 2015 East County Sports.com Senior All-Star game
By James McHugh
© East County Sports.com

Ibrahim Ali shooting.
Photo courtesy of Don DeMars.
RANCHO SAN DIEGO (3-28-15) — IBRAHIM ALI had one final trick up his sleeve as he closed the door on his high school days on the court, an all-star game MVP. Ali picked up the game honors after his 33 point performance on Friday night (Mar. 27) propelled the East County East team over the West 104-102 in overtime. RICARDO BARAJAS picked up the game MVP honor for the West which was much more balanced on the stat sheet, finishing with 23 points, 11 rebounds.
In overtime Ali drove the lane and drew a foul with seven seconds to play (not an easy thing to do in an all-star game), then coolly sank both free throws. Steele Canyon's AARON PISIONA was not awarded the same gratitude at the other end of the floor, fighting through a slew of tough contact before a game tying effort fell just short. Pisiona was a consistent staple on the boards throughout the night for the West and a late consideration for game MVP on the West side, finishing with 12 rebounds.
Head Coach MARTY ELLIS of El Cajon Valley captained the East victory and managed one final win out of most of his graduating seniors. Monte Vista's DEVRON YOUNG dazzled with his quickness and poured home 19 points for the West while DONNELL PAYNE of Mount Miguel and TARIQ TILLMAN of Steele Canyon helped the West maintain the lead for most of the game. Payne scored 14 points while grabbing 12 rebounds and Tillman scored 17, including the game's first seven points while representing the Cougars. Valhalla's JAKE BASSETTE and JACOB HAMMETT took the floor as members of the same team with their league rival Braves, one of the greatest aspects of the all-star experience. The Norsemen were tough on the boards as usual, but Hammett's three point shooting thrust him into the spotlight.
2015 East County Sports.com Senior All-Star Girls game
Harvey and Branch both shine in 2015 East County Sports.com Senior All-Star game
By James McHugh
© East County Sports.com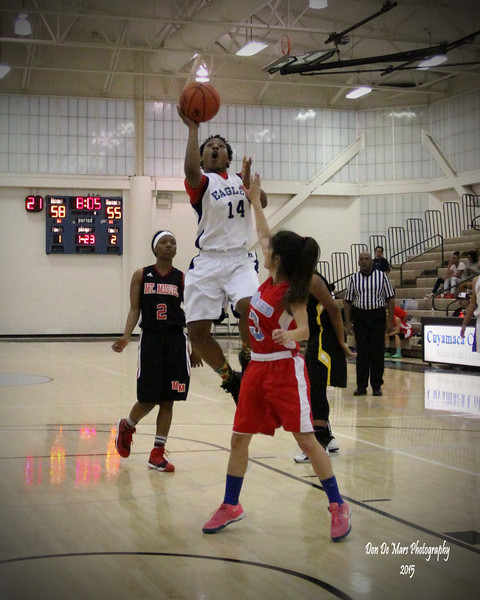 Deajanae Harvey with a shot.
Photo courtesy of Don DeMars.

RANCHO SAN DIEGO (3-28-15) — DEAJANAE HARVEY and ZARIA BRANCH both earned first team All San Diego Section CIF honors earlier this week. On Friday night (Mar. 27) the two retired to opposite sides of the floor but once again shared in reaping accolades of success. Harvey and Branch were named game MVP's in the 2015 East County Senior All-Star Game.

Harvey and the West all-stars came out on top 78-76, with Harvey leading the charge for the West, finishing with 29 points, 16 rebounds and nine assists. Branch was right in step, collecting 12 rebounds while pouring in a game high 31 points and also finishing runner up in the three point contest to Helix's SHIRAH HANCOCK. Hancock and Branch eat hit 10 three pointers in the first round of the contest, then Hancock finished off her performance with a 7-5 advantage in the championship round.

BRIAJUNAE SHEPARD scored 21 on the night for the West in their victory. KAMREE HARRISON of Mount Miguel also had 21 to go along with five assists and six rebounds. NASHEA LAMPKIN had a solid effort for the West, representing El Cajon Valley with 11 rebounds, an assist and one bucket on the night. For some this was the final time taking the court in uniform, however a number of the senior participants will be moving on to play at the college level. Among them, Branch is headed to Fresno State in the fall.
PREP FOOTBALL
IN THE COMMUNITY
| Tweets by @ECSportsDotCom | |
| --- | --- |
GROSSMONT COLLEGE
BASEBALL
Streak continues in a bad way
By Chris Davis
© East County Sports.com
SAN MARCOS (4-15-15) — The Grossmont College Griffins would really like to avoid playing Palomar College if it was possible. After Tuesday's (Apr. 14) 8-0 loss at Myers Field, Palomar has defeated the Griffins in 13 consecutive Pacific Coast Athletic Conference games dating back to late March 2012.
The Griffins (15-16, 9-10 PCAC) streak of being shutout now stands at 11 innings, after being shut out the final two innings on Friday and then all nine innings on Tuesday. Grossmont collected four hits with DIEGO REYNOSO (1-4), JORGE GARCIA (1-4), ROMELLO CARBUCCIA (1-3) and NATHANIAL NGUYEN (1-3) were the lucky batters who reached base via hit.
NEIL LANG (L, 2-3) was saddled with the loss after allowing six hits over the first 5.1 innings. Those six hits lead to five runs (one earned), he walked one and struck out two.
SOFTBALL
Griffins jump early, hang late
By Chris Davis
© East County Sports.com EL CAJON (4-16-15) - After jumping out with a big first inning, the Griffins had to hang on late in the game. They still managed to secure a 5-3 victory over Mt. San Jacinto in a Pacific Coast Athletic Conference game on Wednesday (Apr. 15). The top of the Griffin (15-17-1, 10-6 PCAC) lineup was tearing the cover off the ball going a combined 6-9 with five runs scored and a pair of RBI. By contrast the middle of Mt. San Jacinto's (10-20, 4-12 PCAC) lineup went 2 for 8 with a RBI. The Eagles scored a single run in the top of the first. In the Griffin half, AMANDA HARTNETT (2-3, 2 runs) led off the game with a single through the right side. After stealing second base, she scored on a MELISSA EGGLESTON (3-3, 2 runs, 2 RBI) single to center field. KAYLA BROWNING (1-3, run) reached on an error which allowed Eggleston to advance on third. Browning then stole second to put two runners in scoring position. On a attempted suicide squeeze play, NICOLE BALINGER (0-2, RBI) had to duck out of the way of the pitch. Eggleston and Browning were both moving and by the time that they realized what was going on it looked too late for Eggleston. But when the throw went down to third, Eggleston stopped and broke to home. Melissa slid home around the tag and scored. While all of this was happening at the plate, Browning was moving up to third. After an out, BRIANA STRANDBERG (0-2, RBI) hit a sacrifice fly to left to bring in Kayla for a 3-1 Griffin lead.
FOOTBALL
Grossmont College Spring Offensive Line Clinic
© East County Sports.com
EL CAJON (4-10-15) — Grossmont College Football is presenting a Spring Offensive Line Clinic on Saturday (Apr. 25) intended for student-athletes in grades 9 through 12 in the fall of 2015.
The Offensive Line Techniques Camp will be held at the college, 8800 Grossmont College Drive, El Cajon 92020. Check in time is 8 a.m. at the Grossmont College Football Field. The camp runs from 9 a.m. – 1 p.m.
The focus of the camp is to provide young offensive linemen the opportunity to further develop their fundamentals, skills and techniques for offensive line play. High school and youth coaches are more than welcome to attend the techniques camp.
Camp activities will include conditioning drills, running game fundamentals and techniques, passing game fundamentals and techniques.
The fees for Individuals is $25; Group Rate of 5 Linemen is $100; 6 or more $20 per Linemen. Registration will be done the day of the camp during the check in time.
Required equipment will be shorts or sweats and football shoes.
Insurance – Each camper must be covered by a parent's or guardian's medical insurance. Campers may not participate in any activities without this information on file with the Grossmont College coaching staff. Liability release and medical forms will be available online (see below) and upon registration the day of the camp.
For more information and to obtain the camp brochure, registration form and the medical consent and liability forms they can be downloaded from the Grossmont College athletic website: www.grossmont.edu/athletics or contact Camp Director and Griffins Offensive Line coach KEN WILMESHERR at (619) 370-0765 or email him at kwilmesh@cox.net.
In Coach Wilmesherr's eight years at Grossmont College he has developed two JC All-Americans, had two Academic All-Americans, and 13 All Conference linemen. In the last eight years, 28 of his linemen have received scholarships to 4-year universities: 12 D-I, 2 FCS, 10 D-II, and 4 NAIA. Wilmesherr has written a book, soon to be published on offensive line play titled, "Living in the Trenches: Offensive Line Techniques and Fundamentals."
MEN'S BASKETBALL
ALUMNI — EAST COUNTY ATHLETES
NCAA DIVISION II FOOTBALL
Bruder named to GNAC All-Conference
Special to East County Sports.com
MORAGA (4-17-15) — Humboldt State University Senior Kicker MATTHEW BRUDER (Steele Canyon - 2010) was selected to the Great Northwest Athletic Conference All-Conference First Team for the 2014 football season.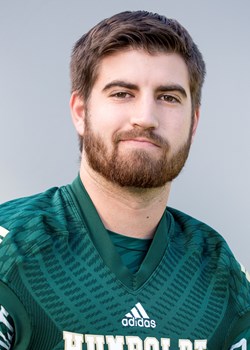 Photo courtesy of Humboldt State Sports Information
Matt was a Second Team selectee as a sophomore and junior. During the season, Matt set records as Humboldt State's all-time leading scorer, for career field goals and extra points, for extra points in a game and extra points in a season.
Matthew will graduate in May 2015 with a degree in Environmental Resource Engineering.
NCAA DIVISION I SOFTBALL
Bauer goes record deep
Photo courtesy of
SDSU Athletics/
goaztecs.com
© East County Sports.com
BOISE (3-30-15) — LORENA (KLOPP) BAUER set a San Diego State single game record with three home runs and seven RBI to lift the Aztecs softball team to a 16-2 five inning rout of Boise State Saturday (Mar. 28) in Idaho.
A graduate of Steele Canyon High School, Bauer, a pitcher-first baseman, went 4 for 4 at the plate with three runs. She is batting at a .400 clip and has 10 homers and 38 RBI this season. She has 51 career home runs in 185 games.
Her second inning home run was her second grand slam of the season.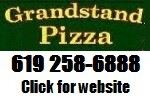 Get Free Pizza On Your Birthday!

2014 EAST COUNTY
ATHLETES
OF THE WEEK
PREP SOFTBALL/BASEBALL
WILL HAIL, Christian
A 5-foot-11, 205-pound senior catcher, Hail recorded 7-8 (.785) against Clairemont and Coronado with four runs scored and six RBI for the Christian Patriots.
CASSIE VAN TIL, Patrick Henry
The sophomore outfielder, in three games last week against Scripps Ranch, Morse and Rancho Bueno Vista, went 7-10 (.700) with two runs scored and six RBI for the Patrick Henry Patriots.
MYLES EMMERSON, El Capitan
The highly recruited versatile junior went 5 for 7 with three runs, two doubles and three RBI in the finals of the Bill Dickens Grossmont Conference Tournament. He also hit his second home run for the Vaqueros.
HALLE KYLER, Granite Hills
The sophomore is a double threat for the Eagles, going 3 for 4 against Santana with two doubles, a single, two RBI and four runs scored. Against West Hills she earned the win with a complete game outing, allowing two hits and striking out 11. She scored two runs against Bishop's in the Jaguar Classic Championship game, and earned the win with three innings pitched, giving up one hit and striking out six.
COLE HENDERSON, Valhalla
The 6 foot-3, 185 pound versatile junior batted .667 with 10 hits in 15 swings in the Premier Division of the 65th Annual Lions Tournament. Included in his totals were two doubles, a home run, six RBI, and five runs. In his only pitching start he hurled five innings versus Poway allowing only one unearned run.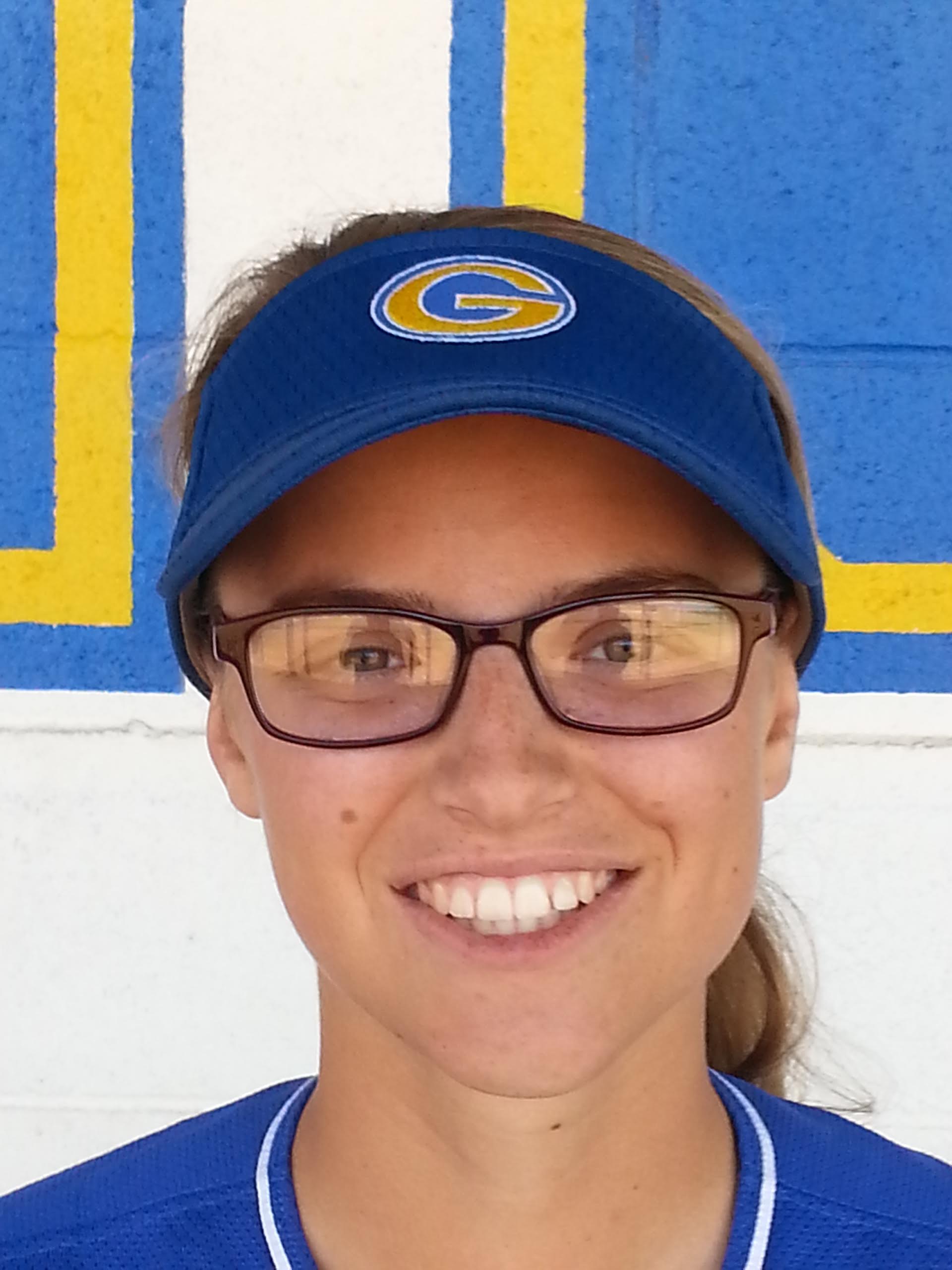 CARLY PEARSON, Grossmont
The junior infielder went 7 for 9 with a double, five runs, four stolen bases and an RBI against Bishop's, El Camino and Rancho Bernardo in the Jaguar Classic and Falcon Fiesta Tournaments.
JOSH ESQUIBEL, Steele Canyon
The freshman first baseman began the season with 15 hits in 26 at-bats (.577) in three games as the Cougars averaged 12 runs a game in a 3-game sweep during the Bill Dickens Grossmont Conference Tournament.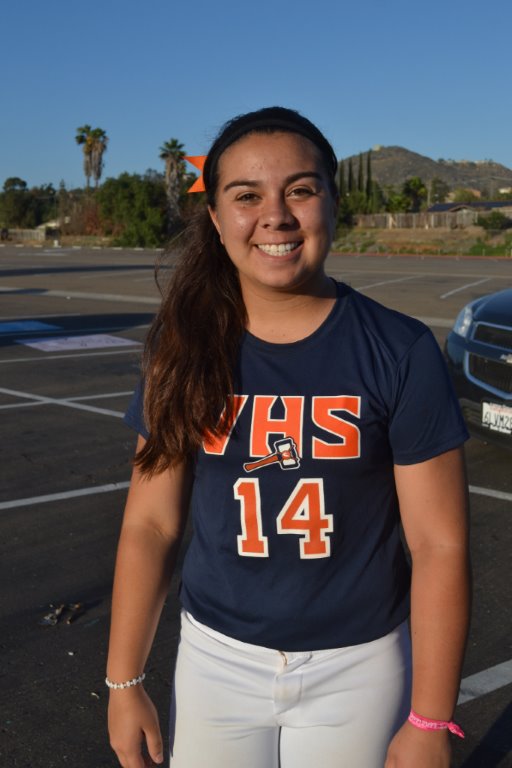 VICTORIA VILLEGAS, Valhalla
Against Helix in the Bucs Classic, the freshman went 4 for 4 with four runs, a triple, two home runs and six RBI.
BRYCE JURRIES, Christian
The 6-foot, 170-pound right-handed pitcher twirled 2 shutouts in leading the Patriots to three straight wins and the championship of the Aztec/Foothiller Tournament. In 14 innings he allowed only 8 hits and 2 walks. He struck out 6.
KENDRA BUCKLEY, Steele Canyon
The senior went 10-for-16 (.625 average) with 5 runs, 3 triples, 2 home runs, a double and 5 RBI in four softball games last week, two of which the Cougars won and two of which they lost.
KENDALL MARINESI, West Hills
The Wolf Pack junior infielder went 3 for 4 with four RBI in the Silver Bracket semifinal of the Cougar Classic as West Hills defeated Hilltop 10-0. In other games this week she hit a double and scored two runs.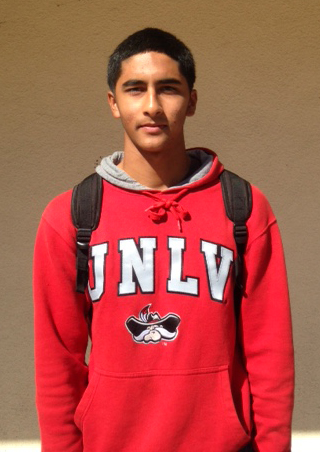 JAKE CASTILLO, Mount Miguel
The 5-foot-10, 160-pound senior infielder-pitcher batted .533 (8 for 15) as the Matadors streaked to a 3-0 start to begin the season. Included in Castillo's totals were six RBI and five Runs in the sweep. He was 3 for 5 with five RBI for the Matadors against Mission Bay. He also posted one victory on the hill against SD-Southwest.
For previous 2014 Football winners, click here
For previous 2014-15 Basketball winners, click here
LOCAL PROFESSIONAL TEAMS
SOCKERS