Titans tab Tanida
© East County Sports.com
LA MESA (8-31-09) — Cal State Fullerton baseball coach Dave Serrano caught Helix High alum ZACH TANIDA by surprise when he called Highlanders' baseball coach COLE HOLLAND and offered the catcher out of San Diego Mesa College a chance to catch for one of the nation's top college programs.
A versatile baseball player for the Olympians, Tanida continue his education and baseball career with the NCAA Division I power Titans.
"Coach Serrano called us and wanted Zach to come up and play for him," Holland said. "It was an opportunity that none of us expected."
Tanida batted .345 (51 for 148) with one home run and 31 RBI last season for Mesa.
---
Granite Hills' Eric Krause (circa 2007)
(East County Sports.com file photo)
Former Eagles great accepts scholarship
Krause set Granite Hills mark with 32 career wins

© East County Sports.com
OSKALOOSA, Iowa (8-19-09) — ERIC KRAUSE, a former EastCountySports.com Player of the Year, has accepted a baseball scholarship to William Penn University. Krause, who was an all-state pitcher at both the high school (Granite Hills, 2007) and community college (Southwestern, 2009) levels, is projected to be a starting pitcher for the Statesmen next season.
Krause, a 5-foot-11, 190-pound right-hander, was named to the All-Grossmont South League team in 2005, 2006 and 2007 and was also a three-time honoree to the All-EastCountySports.com team during that period. He established a Granite Hills record for career wins with 32, leading the Eagles to the San Diego CIF Division I championship in 2007.
William Penn finished as Midwest Classic Conference champions and advanced to the regional NAIA Regional playoffs last season.
Krause just finished a summer campaign with the San Diego Force that included a trip to the NBC World Series in Wichita, Kan. While on the Force, he compiled a record of 5-1, and was named the team's pitcher of the year in leading the semipro ballclub to the Western Baseball Association crown. At Southwestern College, Krause compiled a 6-3 record with a 4.66 ERA in 2009.
---
Former Griffins making progress
© East County Sports.com
EL CAJON (8-9-09) — Former East County standouts JOSH MAZZOLA, SHANE KAUFMAN, LANCE JANKE and JOHNNIE LOWE, all 2006 graduates of the Grossmont College baseball team, are currently making a strong showing at the minor league level.
Mazzola, a 23-year-old first baseman for the San Francisco Giants' South Atlantic League (Class A) affiliate Augusta Greenjackets, is proving to be a big time RBI man. While compiling a .270 average in 381 at-bats, Mazzola, a product of Santana High, has driven in 82 runs with 103 hits. Included in his totals are 13 home runs and 25 doubles.
Kaufman, a 6-foot, 185-pound right-hander out of Santana High, also began the season pitching for the Greenjackets before receiving a promotion to the Giants' Eastern League (Double-A) farmclub, the Connecticut Defenders. He's posted a combined 4-1 record with a 5.11 ERA.
A product for the Cincinnati Reds, Janke was dominating the Midwest League as a member of the Dayton Dragons before he was recently promoted to the Class A Florida State League Sarasota ballclub. Janke, who played two seasons (2005-06) for the Griffins, posted a 5-5 mark and a 4.06 ERA for Dayton before joining Sarasota.
The 6-foot-5, 220-pound Lowe, a right-handed draftee in the 6th round by the Chicago White Sox in June 2007, has made rapid progress up the organizational ladder. Lowe posted a 7-5 record in 20 outings for the Double-A Birmingham Barons earlier this season. Lowe has since moved over to Double-A Winston-Salem of the Central League, where he has lost his only decision.
---
Baseball in the summertime
© East County Sports.com
ROCHESTER, Minn. (7-28-09) — Although college baseball players don't play an organized home schedule during the summer doesn't mean that they aren't busy. Many of them travel to other parts of the country to fine tune their game.
Five collegians from East County high schools are participating in The Northwoods League, a 14-team wood-bat circuit comprised of franchises from Wisconsin, Minnesota, Michigan and Iowa.
Granite Hills alum and current Pepperdine sophomore outfielder BRIAN HUMPHRIES along with Grossmont High-Pacific outfielder NICK LONGMIRE are playing for the St. Cloud (Minn.) River Bats. Humphries recently earned player of the week honors with a 3-for-6 batting effort, including a game-winning single in a 9-8 victory over the Brainerd (Minn.) Lakes Area Lunkers.
Other Inlanders playing in the Northwoods League include left-handed pitcher ERIC JULIENNE (Valhalla-Cal State San Marcos), who toils for the Waterloo (Iowa) Bucks; sophomore infielder BRYAN HAAR (Grossmont-Pacific) who is a member of the Mankato (Minn.) Moondogs; and 6-foot-7, 195-pound pitcher MATS MATTSON (Grossmont High-New Orleans), who plays for Brainerd.
ON TOP OF THE CASCADES
Senior designated hitter/catcher DANE PONCIANO (Mount Miguel High) and junior third baseman AUSTIN COLEMAN (Granite Hills), both products of Cal State San Marcos, have been named to the All-Cascade Conference baseball team and then repeated the honors by being selected to the All-NAIA West Region team.
---
Braves send Conrad back to AAA
© East County Sports.com
GWINNETT, Ga. (7-24-09) — It's a tough business, this baseball. Just ask Monte Vista High graduate BROOKS CONRAD.
Despite batting .344 (11-for-32) with two home runs and eight RBI in 14 games, Conrad found himself without a position when Atlanta's veteran second baseman Kelly Johnson was activated from the 15-day disabled list on Thursday (July 23).
Thus, Conrad was sent to the Braves AAA farm club in Gwinnett. Serving as Gwinnett's designated hitter, Conrad went 0-for-3 in a 5-1 win over Norfolk, Va.
---
Conrad making contact in Atlanta
© East County Sports.com
ATLANTA (7-14-09) — Former Monte Vista High graduate BROOKS CONRAD has spent the majority of his professional baseball career toiling in the minor leagues.
Oh sure, he had a brief stint – 19 at-bats – with the Oakland 's A's during the 2008 season. But then, a .158 batting average is obviously not a high enough caliber to keep one in the big leagues.
The A's gave Conrad his release following last season and the Atlanta Braves signed him as a free agent on Nov. 18, 2008.
Atlanta manager Bobby Cox sees a positive upside for the switch-hitting Conrad, whose primary position is second base.
"Fans will love this kid," Cox told MLB.com. "He's all-out all the time. He's one of those gritty old-timers. He's not old, don't get me wrong, but he plays like the old-timers."
The 29-year-old Conrad was batting an unspectacular .259 (67-for-259) with 9 home runs and 38 RBI at Triple-A Gwinnett, Ga. Yet, Cox had a feeling Conrad was ready to have a breakout year. The first step of that opportunity came earlier this month when Conrad was called up to the major league club.
The veteran skipper wasted little time putting Conrad in the hot seat, dispatching him as a pinch hitter. And Conrad responded with a three-run home run that gave Atlanta a 9-8 nod over the Nationals in Washington.
"[It was a] huge thrill," Conrad told MLB.com. "Obviously, [it's] the best experience I've ever had in the big leagues. It just feels awesome to come up and contribute right away like that."
Conrad has hit safely in eight of 10 games since joining the Braves, batting at a .355 clip with a pair of homers and eight RBI.
An eighth-round pick of the Houston Astros out of ASU in 2001, Conrad signed as a six-year Minor League free agent with the A's in December and opened some eyes with a strong spring, earning a trip to Tokyo for Oakland 's season-opening series against the Red Sox.
He was inactive for the games against Boston and opened the season with Triple-A Sacramento, where he was batting .242 with a .321 on-base percentage, 21 doubles, 21 homers and 67 RBI in 93 games for the River Cats.
"It's been a roller coaster," Conrad said, "But I'm just floating right now."
---
More honors for Phillips
© East County Sports.com
ORANGE (06-09-09) — Chapman University senior and Grossmont High graduate TRISTAN PHILLIPS has been named to the All-West Region Division III baseball team, as selected by the American Baseball Coaches Association (ABCA).
A second team pick, Phillips batted .416 with a team-high 64 RBI and added eight home runs and 17 doubles. Phillips' RBI total is the most by a Chapman player since 1999.
Chapman won its fifth consecutive West Region title in 2009 and finished third place at the Division III championships. The Panthers were 32-17 overall.
---
Tristan Phillips
(Chapman University photo)
Phillips at D-3 World Series
© East County Sports.com
APPLETON, Wis. (05-24-09) — Former Grossmont High all-star TRISTAN PHILLIPS and his Chapman University teammates have split their first two games at the NCAA Division III World Series.
Thus the Panthers (31-16) need a victory over Kean University (39-10) of Union, N.J. on Sunday (May 24) to remain alive in the double-elimination tournament that concludes on Tuesday (May 26).
Chapman lost its series opener to St. Thomas (Minn.), 9-1, but rebounded to defeat Farmingdale State (N.Y.) a day later, 4-2.
Kean toppled Trinity (Conn.) 8-5 in round one only to fall to Wooster (Ohio) 14-1 on day two.
---
Tristan Phillips
(Chapman University photo)

Phillips advance to D-3 finals

© East County Sports.com
APPLETON, Wis. (5-18-09) — TRISTAN PHILLIPS has made it clear to all those who know him, including his baseball oriented father coach ROB PHILLIPS, that the 6-foot-2, 210-pound senior Panther isn't ready to hang up his cap regardless how Chapman fares in the NCAA Division III championships that begin Friday (May 22) and runs through Tuesday (May 26).

The Panthers (30-15) take on St. Thomas (Minn.) with a 36-12 record in the opening round of the eight team tournament on Friday at noon.

Seeded No. 6 in the eight-team West Region, the Panthers (30-15) won four of five games in the double elimination event that concluded with a 7-4 victory over George Fox (Ore.) Sunday in McMinnville, Ore.

That victory catapults Chapman into the Division III final eight for the fifth straight season.
---
Phillips: An independent man

© East County Sports.com
ORANGE (5-17-09) — Former Grossmont High standout and current Chapman University third baseman TRISTAN PHILLIPS and eight of his teammates have been named to the Association of Division III Independents All-Independent baseball team for 2009.

Phillips was selected Independent Player of the Year and Panthers' head coach Tom Tereschuk was named Coach of the Year for the fifth consecutive season. It's Phillips' second All-Independent selection of his career.

A 6-foot-2, 210-pound senior, Phillips earned the award after leading Chapman with a .436 batting average and 60 RBI in 40 regular season games. He also had eight home runs and 14 doubles and compiled a .952 fielding percentage at third base.

Phillips' torrid batting has carried over into the NCAA Division III West Regional Playoffs in McMinnville , Ore. where he and the Panthers are only one victory short of qualifying for the Division III World Series in Grand Chute, Wis. (May 22-26).

But first things first. Chapman (29-14), which has swept to regional wins over Tyler ( Texas ) 16-2, Cal Lutheran 7-6, and Pomona-Pitzer 5-2, needs to beat George Fox ( Ore. ) on Sunday (May 17) at noon. If the Panthers win that game, a second contest between the two clubs will follow 40 minutes following the conclusion of game one.

Phillips is batting at a .538 clip (7-for-13) with a pair of doubles and three RBI in the regionals.

His production numbers have been some of the best in Chapman history. His batting average currently ranks second all-time in school history and only two players have had more RBI in a single season.
---
Phillips reaches fourth NCAA D-3 regional

© East County Sports.com
McMINNVILLE, Ore. (5-13-09) — Former Grossmont High School standout TRISTAN PHILLIPS will lead Chapman University into the NCAA Division III West Regional baseball playoffs Thursday (May 14) at Linfield College when the Panthers take on No. 2 seed Texas-Tyler (38-10) at 3:30 p.m.

Although the Chapman Panthers (26-14) are the four-time defending champs, they are seeded No. 5 in the six-team bracket, making them an underdog for a change.

Rounding out the six-team first round bracket are No. 1 Pomona-Pitzer (35-5), No. 3 Cal Lutheran (31-9), No. 4 George Fox (33-9) and No. 6 Hendrix (22-21). The Panthers are 2-4 against the field this season, having been swept in a three-game series by Pomona-Pitzer, splitting a pair of games with Cal Lutheran and defeating Hendrix ( Ark. ) in March.

Nobody has stopped Phillips, however. The Panthers are led by an offense that is averaging over 8.6 runs per game and batting .343. Phillips is the leader of the pack with a .436 batting average, with 8 home runs and 60 RBI.

Phillips is on track to establish several career batting records.

Temperatures in the McMinnville area have been in the high 30s, which certainly will be no advantage to Chapman.
---
Phillips ranks among national leaders
© East County Sports.com
ORANGE (3-28-09) — Former Grossmont High standout TRISTAN PHILLIPS is tearing up NCAA Division III pitching as a senior for perennial power Chapman University.
Phillips, in fact, ranks second nationally with 48 hits and is tied for fourth in the nation with 42 RBI.
In his last two games – against Claremont-Mudd on Friday (Mar. 27) and Sunday (Mar. 22) versus Occidental – Phillips pounded four home runs and drove in a dozen runs for the Panthers (17-6).
Phillips also tops Chapman in batting average with a .478 mark and 7 home runs.
He trails only Javier Arrieta of Sul Ross State (Texas) for the NCAA Div. III lead in hits (51). The RBI race is a little more jammed up as three players are tied for first with 44 runs driven in.
---
Powell, Blondin, named NAIA All-America

© East County Sports.com
KANSAS CITY, Mo. (6-5-09) — Former Grossmont College standouts MATT POWELL and ROSS BLONDIN have been selected among a group of 17 players as first-team members of the NAIA All-America baseball team. The team was chosen by the NAIA Baseball Coaches Association selection committee

Powell, a senior catcher who transferred from Cal State Fullerton to Southern Nazarene (Okla.), batted a career-best .451 for the Crimson Storm (37-15), including 12 homers and 65 RBI, starting in all 52 ballgames.
Powell is currently a member of the Barona-San Diego Stars semipro baseball club.

Meanwhile, Blondin helped Lubbock Christian (Texas) to the NAIA national championship. The junior third baseman batted .437 with 25 homers this season, finishing second to teammate Will Stramp (26 HRs) nationally.

Blondin also aided the Chapparals (51-8) in defeating Point Loma Nazarene, 5-1 and 11-8, for the school's second national crown at the NAIA World Series, held in Lewiston, Idaho.

In the first game, Blondin slugged a solo homer, then went 2-for-4 with three RBI in the playback final.
Notes — Former El Cajon Valley High standout CLIFTON THOMAS, who spent this past baseball season with Texas A&M-Kingsville, has been signed to play summer ball with the Brazos Valley (Bryan, Texas) Bombers of the Texas Collegiate League.

Known for his exceptional defensive ability, Thomas has also been a terror at the plate this season for the Javelinas. In 50 games, the center fielder has hit .330 with 12 doubles, 10 home runs, 37 RBI and 20 stolen bases.

Thomas was selected in the 46th round of the Major League draft by the Texas Rangers. He earned First-Team All-San Diego CIF honors during his senior season after setting an East County record with 50 stolen bases. Thomas also earned First-Team All-San Diego honors in football his senior season after catching 92 passes.
---
Former Griffins earn post-season honors
© East County Sports.com
EL CAJON (5-13-09) — Three former Grossmont College baseball standouts have earned 2009 All-Sooner Athletic Conference awards.
Lubbock Christian University's third baseman ROSS BLONDIN, and Southern Nazarene's shortstop NICK SPEARS and catcher MATT POWELL all received first-team honors.
Powell, a senior catcher from La Mesa, was one of two First Team All-Conference catchers after finishing regular season play with an average of .463, which is second best on the SNU squad. Powell had 12 homers during the regular season and hit 62 RBI's, while finishing with a slugging percentage of .815 and a school record on-base percentage of .556. Powell also earned the SAC's Golden Glove Award as the top defensive catcher in the league.
Spears, a junior from West Hills, was chosen the SAC's top shortstop this year and is third on the team in hitting with a .424 average. Spears has 13 homers on the year, which is second best on the team, and 67 RBI, which is second best on SNU's squad thus far this season. Spears has scored 63 runs heading into post-season play and has a slugging percentage of .762 and an on-base percentage of .507.
Blondin, a 6-foot-3 junior third baseman, leads the LBU Chaps with 84 RBI and 22 home runs. He ranks second in the NAIA in RBI per game (1.7) and is fourth in total bases per game (3.6) and slugging percentage (.942).
---
UPDATE - Chaps alone in First Place
LUBBOCK, Texas (4-5-09) – The only thing close in No. 1 Lubbock Christian's ballgame at No. 21 University of Science & Arts of Oklahoma was the program records the Chaparrals nearly set Saturday (Apr. 4).
The Chaps were a home run shy of tying a school single-game record for homers, as they used seven home runs to defeat USAO 20-1 in a game shortened to seven innings by run rule in sweep a 3-game Sooner Athletic Conference road series at Bill Smith Ballpark.
The Chaps are now in sole possession of first place in the SAC because No.2 Oklahoma City University lost at home to Oklahoma Baptist University 7-5.
Blondin hits cycle for No. 1 Chaps
© East County Sports.com
ABILENE, Texas (4-1-09) — Former Grossmont College standout ROSS BLONDIN became the first player in Lubbock Christian University history to hit for the cycle Tuesday (Mar. 31), going 4-for-6 to power the Chaparrals to a 13-6 triumph over host Hardin-Simmons at John J. Hunter Field.


Ross Blondin

Blondin opened his cycle sequence with a 1st-inning, 2-out solo homer, his team-leading 16th of the season.

He later added a line double off the top of the right-centerfield wall to drive home two more runs in the 3rd. An inning later, he went down the right-field line for a triple, then completed the feat with a lead single in the 8th.

For the contest, he produced four runs and three RBI.

Blondin, who has started in all 34 games at third base, is second on the team with a .446 batting average and a massive .962 slugging percentage.

The Chaps (30-4), ranked first in the nation in the NAIA, have now won four straight contests. They are tied for lead in the Sooner Athletic Conference with a 13-2 record. FULL STORY HERE.
---
Nick Spears
(SNU Courtesy Photos)
Spears finds the bull's-eye
© East County Sports.com
BETHANY, Okla. (2-25-09) – NICK SPEARS has made a lot of stops during his amateur baseball career.
Spears found firm footing at Poway High as a junior and senior, and finally locked in at Grossmont College last year as a sophomore. At present Spears, a junior shortstop, is tearing it up at Southern Nazarene University.
Spears is batting at a .600 clip (27-for-45) for the Crimson Storm, an NAIA team that boasts a 13-1 record. He was named Sooner Athletic Conference Player of the Week for Feb. 16-21, when he hit .667 (12-for-18) with 12 runs, two doubles, a triple, four home runs and 12 RBI.
---
Jusino loved in Philadelphia

© East County Sports.com
PHILADELPHIA (6-3-09) — Former Grossmont College standout TONY JUSINO has been named to the All-Philadelphia Big 5 team. The selections are from the five Division I schools – Temple, Villanova, Penn, St. Joseph's and La Salle – located within the metro area.

Temple infielder Tony Jusino.
(Courtesy, Temple Owls)

Following a pair of All-Pacific Coast Conference berths with the Griffins in 2007-08, Jusino ranked third on the Temple Owls with a stellar .363 batting average, also ranking among the ballclub's leaders in nearly every offensive category, including hits (73, 2nd) doubles (19, 2nd) and RBI (39, 4th).

Jusino's top performance of the season came in an Atlantic 10 Conference game against Xavier on Apr. 24. Playing at third base, Jusino batted 4-for-5 with 5 RBI, including a grand slam for a 13-9 victory at the Owls' home of Skip Wilson Field in Ambler, Penn.

Unfortunately for Temple, following a 10-5 start in conference play (16-20 overall), the Owls lost 12 of their final 13 contests to finish at 17-32 (11-15 in the A-10).

Jusino, who played his high school ball at Rancho Bernardo before joining Grossmont College, just completed his junior year. He is a criminal justice major. MORE
---
Upstart Utes down Aztecs for MWC title
© East County Sports.com
FORT WORTH, Texas (05-24-09) — Utah completed a remarkable run at the Mountain West Conference Tournament as it defeated San Diego State, 9-3, to claim the title and the league's automatic berth into the NCAA Regionals. The Utes became the first No. 6 tourney seed to win the championship while SDSU was the first No. 4 seed to advance to the final.
With the win, Utah improved to 26-29 while the Aztecs saw their record drop to 40-21.
San Diego State will now have to wait until Monday (May 25) when the NCAA hosts in annual tournament selection show to see if it will receive an at-large bid to the postseason. The show will be telecast live on ESPN at 9:30 a.m. (PT).
Freshman RYAN O'SULLIVAN was roughed up by the Utes on the mound and was saddled with his 4th win in eight decisions. However, the Valhalla High graduate paced the Aztecs with three hits, an RBI and one run scored.
The Utes took control of the contest when they sent 10 men to the plate and scored six times in the top of the 3rd against O'Sullivan. After striking out the first two batters, the Aztec right-hander gave up five hits and a pair of hit batters including a two-run double by Austin Jones and two-RBI single by Rick Cornu.
Two Aztecs were named to the all-tournament team at the conclusion of the contest. That twosome included third baseman/catcher Erik Castro along with starting pitcher STEPHEN STRASBURG. Castro hit .400 (8-for-20) over five games with four doubles, four runs scored and four RBI. Strasburg made one start, throwing 7.2 scoreless innings with six strikeouts in the win over New Mexico.
---
Aztecs go crazy in 8th
SDSU advances to MWC Tournament finale
© East County Sports.com
FORT WORTH , Texas (5-22-09) — The University of Utah entered the 8th inning with a seemingly comfortable 8-1 lead in Thursday's (May 21) winners bracket final of the Mountain West Conference Tournament.
Did someone say "seemingly"?
Former Valhalla High standout RYAN O'SULLIVAN opened the bottom of the 8th with a single, the first of 13 San Diego State batters in the frame, as the Aztecs rallied to shock the Utes, 9-8, at TCU's Lupton Stadium.
The victory advances SDSU to its first tournament championship contest since 2004, as the Aztecs (40-19) reached the 40-win plateau for the first time since the 2002 season and staging their biggest rally of the season. Utah fell to 23-29.
The 8-run outburst started when O'Sullivan led off with a basehit, was bunted over to second base, then a pair of walks loaded the bases.
Then it all unraveled for Utah
Erik Castro made it an 8-3 contest with a 2-run single. A walk to Cory Vaughn re-loaded the bases before Mitch Blackburn and Matt Parker singled to drive in a run apiece and pinch hitter Chris Wilson walked to bring in another and make it 8-6.

Tyler Andersen then came on to pitch, but he fared little better than his three predecessors. O'Sullivan promptly singled up the middle to bring home a pair of runs and tie the score before Colwell doubled to left center to complete SDSU's amazing comeback.
During the inning, the Aztecs had nine consecutive hitters reach base on five hits and four walks.

San Diego State closer Addison Reed was then called upon in the ninth and he shut down the Utes to record his nation-leading 19th save in 19 opportunities.
The winner of the challenger (losers) bracket finale between TCU and Utah , will play the Aztecs in the championship round, to be held Friday (May 22) at 5 p.m. (PT). If SDSU falls, a playback final will be played Saturday (May 23) at 1 p.m. (PT).
---
O'Boys make some noise
© East County Sports.com
SALT LAKE CITY (5-16-09) — One brother is currently taking the professional route in his baseball career, while the other is on course for The Show through the collegiate ranks. The O'SULLIVAN brothers of Rancho San Diego found themselves just 35 miles apart in the state of Utah on Saturday (May 16) – and both turned in marvelous performances.
While older brother SEAN O'SULLIVAN was tossing seven innings of no-hit ball for the Class AAA Salt Lake Bees of the Pacific Coast League, younger bro' RYAN O'SULLIVAN had a career game with a pair of home runs and recording the save in relief for San Diego State.
King Bee stings Iowa Cubs
Sean O'Sullivan flirted with a no-hitter, while his teammates pounded out 19 hits as the Salt Lake Bees routed the Iowa Cubs 16-7 on Saturday night. O'Sullivan (3-1) allowed only one batter to reach in the first 6 1/3 innings and that was when he hit Jake Fox with a pitch in the 1st inning. Ironically, it was Fox who broke up the no-hitter with a clean single up the middle.
Sean, a 21-year-old right-hander, fanned a season-high nine batters in seven innings with one walk. He was a standout performer at Valhalla High and Grossmont College before signing as a third round pick of the Los Angeles Angels in 2006.
Younger O'Sullivan is double threat
Earlier in the day, a half-hour drive north along Interstate 15, freshman Ryan O'Sullivan lifted the Aztecs from deficits of 4-1 and 7-3 to stun Utah , 10-9 in 12 innings, in the teams' final ballgame prior to the Mountain West Conference Tournament.
Ryan, the starting shortstop, batted 3-for-5 with three runs, accounting for four RBI with his two home runs. The first-year shortstop initially torched the fences at Lindquist Field with a solo homer in the 8th inning, then added his second bomb in as many innings – a 3-run shot – with two outs on a 3-2 pitch tying the game at 7-7.
In the 12th, SDSU scored three times, but the drama was far from over though as Utah would score twice in its half of the inning and eventually load the bases with two outs.
At that point, O'Sullivan was called to the mound and got the final out. He did so by inducing C.J. Cron to ground into a fielder's choice to nail down the victory and pick up his first collegiate save.
San Diego State (37-19) now heads to Fort Worth, Texas, for the annual Mountain West Conference Tournament hosted by TCU. As the No. 4 seed, the Aztecs will open play against UNLV on Tue., May 19, at 7 p.m. (CT) at Lupton Stadium.
---
O'Sullivan homers in Aztecs win
© East County Sports.com
SAN DIEGO (5-12-09) — Former Valhalla High standout RYAN O'SULLIVAN was one of three San Diego State batters to homer Monday (May 11), powering the Aztecs to a 12-4 triumph over San Francisco at Tony Gwynn Stadium.
Senior Jon Berger was honored with the start in the final home game of the season for SDSU (35-18), which won for the sixth time in seven outings.
Following a shaky start which included a 3-run homer by Dons second baseman Stephen Yarrow, Berger settled in and retired 14 batters in a row. Meanwhile, the Aztecs bats rallied from a 4-2 deficit with a series of homers.
Erik Castro's 2-run homer tied the game, then Chris Wilson added another 2-run bomb, as State scored four times in the 3rd inning to take a 6-4 lead.
In the 4th, O'Sullivan launched his fourth homer of the season – his second in two days – as the Aztecs went on to score 12 runs for the second straight contest.
San Diego State will hit the road for its final Mountain West Conference series at Utah . The 3-game series will be played in Ogden, Utah, at Lindquist Field, the home of the minor league Ogden Raptors, a Rookie affiliate of the Los Angeles Dodgers.
---
O'Sullivan: Strasburg's future replacement?

National leader Reed equals Ring's save record
© East County Sports.com
SAN DIEGO (5-10-09) — Just who will San Diego State replace as a member of its starting rotation following the expected departure of STEPEHN STRASBURG, who is odds on favorite to be the No. 1 choice in the Major League Baseball free agent draft next month.
The Aztecs may have another East County product in line following Saturday's (May 9) victory.
Former Valhalla High standout RYAN O'SULLIVAN captured his third straight victory, striking out a season-high six batters in the Aztecs' 5-2 win over Air Force at Tony Gwynn Stadium.
O'Sullivan, a freshman, tossed the first seven innings, then relievers GOLDY SIMMONS (Monte Vista) and Addison Reed limited the Falcons to a pair of unearned runs on three hits for the team's fifth win in six outings.
Reed, who tossed a perfect 9th inning, recorded the final two outs of the game on strikeouts. The save was his nation-leading 17th of the season as he tied the San Diego State single-season record set by former Monte Vista High standout ROYCE RING during the 2002 campaign.
The Aztecs (33-13, 12-8 MWC) and Air Force (14-33, 3-14 MWC) conclude their three-game weekend series with a contest at 1 p.m. Sunday (May 10) in SDSU's final home game of the season.
The Aztecs close the regular season next weekend at Utah (May 14-16), then the Mountain West Conference Tournament will be hosted by TCU in Fort Worth, Texas (May 19-20).
---
Niners nixed by O'Sullivan
© East County Sports.com
SAN DIEGO (4-22-09) – San Diego State freshman RYAN O'SULLIVAN (Valhalla HS), in his first start in nearly three weeks, pitched eight strong innings Tuesday (Apr. 21) to pace the 19th-ranked Aztecs to a 6-3 non-conference decision over Long Beach State at Tony Gwynn Stadium.
O'Sullivan allowed just seven hits during his stint on the mound, then sophomore closer Addison Reed recorded his nation-leading 13th save of the season for the Aztecs (27-15). The 49ers fell to 17-19.
O'Sullivan was staked to an early lead with three SDSU home runs, including a pair by sophomore outfielder Cory Vaughn, who went 3-for-4 for the contest. It was Vaughn's first multiple-HR game as an Aztec. Junior center fielder Josh Chasse also homered.
---
Ryan O'Sullivan chooses Aztecs over Giants
© East County Sports.com
EL CAJON (9-3-08) — When classes began at San Diego State University on Tuesday (Sept. 2), Aztecs baseball skipper Tony Gwynn was glad to see freshman RYAN O'SULLIVAN toting an arm-load of books.
O'Sullivan, a 10th round draft pick of the San Francisco Giants last June, turned down the professional team's offer to accept a baseball scholarship to SDSU.
"We put a number (desired signing bonus) out there at the beginning of the summer," O'Sullivan said. "The Giants finally made an offer close to what we wanted a day or so before the final signing date. But by then my feelings had changed."
O'Sullivan shunned the Giants and instead will play shortstop and occasionally pitch for the Aztecs for a minimum of the next three years.
"Shortstop is my first love," said O'Sullivan, who noted the Giants drafted him as a pitcher. "I want to get myself known as an everyday player. I want to work on getting stronger . . . perfecting my game. I'll be able to do that at SDSU."
O'Sullivan spent the majority of his summer playing wood bat baseball in the Northwoods League. He hammered five homers and logged 24 RBI in 146 at-bats.
"I don't regret my decision to choose college over pro ball at this time in my life," he said. "I feel in my heart that I made the right decision."
He'll look into his pro future some time before June 2012.
---
O'Sullivan enjoys banner night

Special to East County Sports.com
EAU CLAIRE, Wis. (8-4-08) — Valhalla High's RYAN O'SULLIVAN put together one of the best statistical lines of any Northwoods Collegiate League (NWL) player this summer in the Eau Claire Express' 19-0 destruction of the Madison Mallards on Sunday (Aug. 3).

It started with a three-run home run in the 1st inning, O'Sullivan's fourth consecutive game with a homer. He added three more hits, all doubles, in his next four at-bats to go with a walk in his other plate appearance. Overall, O'Sullivan finished 4-for-5 with six RBI and three runs scored.

O'Sullivan topped off the evening by tossing three innings and allowing just two hits while striking out three. O'Sullivan, a 10th round draft pick of the San Francisco Giants, is an incoming freshman to San Diego State University.
---
Top o' of the mound

O'Sullivan: 7 shutout innings for first collegiate victory
© East County Sports.com
SAN DIEGO (3-18-09) — Sometimes it's good to be a little bit Irish. No doubt it would be nice to have an Irish moniker if one were pitching on St. Patrick's Day.
That combination was a perfect fit for San Diego State freshman right-hander RYAN O'SULLIVAN, who picked up his first collegiate victory as the Aztecs blanked Kansas 1-0 Tuesday (Mar. 17) night at Tony Gwynn Stadium.
Making his fourth collegiate start, O'Sullivan turned in his best performance of the season as he allowed just three hits over 7 innings with a walk and a strikeout.
After giving up a pair of hits in the 1st, O'Sullivan – a Valhalla high graduate – settled in and retired 12 batters in a row from the 2nd through 5th frames before giving up a leadoff single in the 6th. His excellence was rewarded with a victory as he evened his season record at 1-1.
The Aztecs improved to 12-6, while Kansas fell to 10-6.
---
Longmire ain't no paper Tiger
© East County Sports.com
STOCKTON (5-14-09) — While the University of Pacific baseball team continues to struggle, Grossmont High alum NICK LONGMIRE continues to shine.
Starting all but one of the Tigers' 51 games as a freshman and leading the team in batting average (.323), triples (3) and RBI (31), Longmire is once again at the head of the class.
The 6-foot-2, 205-pound Longmire leads Pacific (18-28) with a .390 batting mark. He also has four home runs and 31 RBI with a half-dozen games remaining in his sophomore season.
He earned All-Big West Conference honorable mention as a freshman and should be recognized with even higher postseason praise this year.
Longmire came to Pacific already having proven his ability to hit the long ball as he led the state of California with 15 bombs in 2007. Drafted by the Oakland Athletics in the 37th round of the 2007 MLB Amateur Draft, Longmire chose instead to pursue his degree and play for the Tigers.
The Grossmont North League and Division II Player of the Year in 2007, Longmire led the Foot­hillers with a .514 batting average, 56 hits, 15 home runs, 19 stolen bases, 36 RBI and a 1.010 slugging percentage. In addition, Longmire struck out only nine times during his senior season.
---
Thomas joins exclusive club

Thomas named all-conference

© East County Sports.com
RICHARDSON, Texas (5-8-09) – El Cajon's CLIFTON THOMAS, who now plays baseball for Texas A&M-Kingsville, was one of two Javelinas named to the All-Lone Star Conference team.

Thomas, a junior centerfielder, had an outstanding year at the plate and in the field en route to earning second-team honors. He batted .330 with a team high 49 runs, .574 slugging percentage, 10 home runs and 20 stolen bases, becoming the first player in school history to hit at least 10 home runs and steal at least 20 bases in a season.

© East County Sports.com
KINGSVILLE, Texas (4-26-09) — Texas A&M-Kingsville will not repeat as Lone Star Conference baseball champions this season, nor will they advance to the NCAA Division II playoffs.

But they did enjoy a somewhat memorable season thanks to El Cajon Valley High/Grossmont College alum CLIFTON THOMAS.

On Saturday (Apr. 25), Thomas clouted a home run in the second game of a doubleheader against visiting Angelo State University, becoming the first Javelinas ballplayer to ever reach the 10/20 Club for homers and stolen bases.

His leadoff shot to open the 3rd inning allowed Thomas, a junior, to finish the year with a solid .330 batting average and a school-high .574 slugging percentage,

Thomas also stole 20 bases in 27 chances this season to reach the Barry Bonds type figures in 50 starts for the Javs (20-35).
---
Thomas transforms into power hitter

© East County Sports.com
KINGSVILLE, Texas (4-5-09) — It's hard to believe that former El Cajon Valley High standout CLIFTON THOMAS, who fell one short of the CIF-San Diego Section record for stolen bases in 2006, is developing into a power hitter.


Former ECVHS standout Clifton Thomas (2) jogs
around the bases following his second home run
of the ballgame against Tarleton State.
(Texas A&M-Kingsville courtesy photo)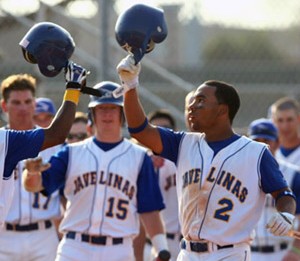 Former ECVHS standout Clifton Thomas (2)

celebrates yet another home run on Mar. 29 for

the Javelinas of Texas A&M-Kingsville. Thomas

batted 2-for-4 with six RBI.

FULL STORY HERE.

Nevertheless, Thomas slugged a pair of home runs in the first game of a doubleheader Saturday (Apr. 4), powering Texas A&M-Kingsville to a split with Lone Star Conference rival Tarleton State at Nolan Ryan Field.

In the first inning, Thomas struck for a leadoff home run to right field. An inning later, who went to right-center with a 2-run shot.

In the second game, Thomas "returned" to his high school ways, when he registered a stolen base and a sacrifice fly. The centerfielder finished the doubleheader batting 5-for-9, with four runs and four RBI for the Javelinas.

For the season, Thomas is batting a solid .338, leading the ballclub with 8 homers. He also is tops in extra-base hits, second in RBI, and third in doubles. Oh, yeah, he also leads in stolen bases, too.
---
Clifton Thomas
(TA&M-K photo)
Thomas starts big in Lone Star Conference
© East County Sports.com
KINGSVILLE, Texas (2-20-09) – Former El Cajon Valley High and Grossmont College standout CLIFTON THOMAS isn't the "Lone Star" for Texas A&M-Kingsville. The Javelinas are off to a quick start thanks a variety of community college transfers from the West.
Thomas topps the list, keying an early rally with a towering 2-run homer and also slugging a double, powering Kingsville to an 11-3 triumph over East Central University in a Lone Star Conference contest at Nolan Ryan Field.
Thomas' double came in the 1st, scoring on a basehit by Philip Johnson. An inning later, Thomas hit his homer to straightaway centerfield for a 5-0 lead. In the third, Luis Diaz (Cypress College) hit a sacrifice fly, followed by an RBI triple by Will Mettlach.
Later, Thomas Miller (Western Nevada CC) slugged a lead home in the 5th for a 7-0 lead.
For the contest, Thomas scored three runs and drove in a pair for the defending conference champions. He ranks second on the ballclub in extra-base hits, while leading the conference with a perfect 5-for-5 in stolen base attempts.
Thomas earned First Team all-East County honors as a junior and senior. He was named First Team all-San Diego during his senior year. He set an East County record for stolen bases in a season (50) and led the county in batting average. He was drafted in the 46th round by the Texas Rangers in 2006.
In addition, Thomas earned First Team all-East County and all-San Diego honors in football as a senior with 92 pass receptions.
---
Garrett Jenner
Jenner on record home run pace
© East County Sports.com
DAVENPORT, Iowa (4-16-09) — Former Grossmont College standout GARRETT JENNER slugged a 2-run homer to right field Tuesday (Apr. 14), capping a 6-run rally to give William Penn University a 10-3 triumph over St. Ambrose in Midwest Collegiate Conference action.
For Jenner, a resident of Jamul, it was his Statesmen leading 12th homer of the season, keeping the junior on pace to equal the school record of 17, set by Bill Holman in 1992.
The team's fourth straight victory moved William Penn (25-11, 10-4 MCC) into a first-place deadlock with Mount Mercy.
For the season, Jenner is among the conference leaders with a .366 batting average and 37 RBI.
---
East County Players at Four-Year Schools 2009
---
<< Back