El Capitan at Morse
El Capitan's Matt Burkett
UNDERCLASSMEN SCOREBOARD

JUNIOR VARSITY
Clairemont 34, El Cajon Valley 20
Helix 7, Rancho Buena Vista 6
Santana 28, Kearny 22
El Capitan 27, Morse 26
Steele Canyon 31, Cathedral 19
Granite Hills 29, Mission Bay 27
Patrick Henry df. West Hills, score not reported
Rancho Buena Vista df. Helix, score not reported
Otay Ranch df. Grossmont, score not reported
Mount Miguel df. Southwest, forfeit
Only scores reported
FROSH
Grossmont 33, Otay Ranch 24
Granite Hills 25, Mission Bay 6
El Capitan 27, Morse 6
Helix 13, Rancho Buena Vista 3
Santana 9, Kearny 7
Cathedral 27, Steele Canyon 7
Patrick Henry df. West Hills, score not reported
Mount Miguel - Bye
Only scores reported

WEEK ONE
Offense-minded Vaqueros score rare shutout

© East County Sports.com
SAN DIEGO (9-7-08) — It was a complete opposite from the previous two seasons when the El Capitan Vaqueros were primarily all about offense. A scoring juggernaut, if you will.

But the Vaqueros sputtered most of the afternoon in Saturday's (Sept. 6) season opener at Morse. They, in fact, netted only 4 yards rushing on 23 carries.

Unlike last year when El Capitan gave up more than 33 points per game during a 5-5 season, it was the Vaqueros' defense that came to the rescue in a 24-0 victory over the Tigers.

This was not the same El Capitan team that averaged 37.9 points per game a year ago. The tangle with the Tigers was scoreless until late in the 3rd quarter when the Vaqueros' BRANDON SANCHEZ broke the deadlock on a 1-yard plunge with 3:46 left in the period.

"There's no question about it, our defense was outstanding – won the ballgame for us," said Vaqueros coach RON BURNER.

At the forefront of El Capitan 's defensive stand was senior safety ANTHONY SOLIS, who intercepted 3 passes, returning one 37 yards for a victory-clinching touchdown with 9:34 remaining.

"I think the biggest difference in our defense this year is we have a lot more personal commitment," said Solis, whose theft total left him one shy of the Grossmont Conference and El Capitan records for interceptions in a game.

Another difference in El Capitan 's defense is Burner's decision to hire veteran coach JUDD HULBERT to coordinate the unit.

"Last year it seemed like we changed our defense every week," Solis said. "Too many people didn't know what was going on on the field as a result of all those changes. Now we play one base defense. We're more of an attacking defense than a reading defense, that's for sure."

Quarterback TANNER RUST admits he's seen better days.

"They were blitzing us off the edge, putting on a lot of pressure," Rust said of the Morse defense. "They kind of surprised me how big and fast they were. I think our guys were kind of nervous."

Nonetheless, Rust completed 12-of-27 passes for 214 yards and a 36-yard scoring strike to MATT BURKETT. Rust also had a decent day kicking the ball. Not only was he 3-for-3 on PATs, he also booted a 46-yard field goal – the 5th longest in El Capitan history – giving the Vaqueros a 10-0 advantage early in the 4th period.

Rust's 3-pointer would have been good from 55 yards, Burner figured.

"I've done 57-yarders in practice," added Rust, who also averaged 35 yards on three punts.

JON MOLZEN reeled in 5 passes for 82 yards to lead the Vaqueros. Burkett had 4 catches for 66 yards.

But perhaps the most stunning of El Capitan 's aerial antics followed a center snap over the quarterback's head. Not only did Rust chase the ball down with plenty of Tigers in pursuit, he turned and fired a 60-yard completion to Sanchez.

Burner blurted more praise for his defensive ranks. He discussed the excellence of linemen MATT HOBBY, AUSTIN HILL and ALAN ALTAMIRANO. He also noted the work of linebackers SCOTT LYNCH, J.T. WILDES, ALLEN THOMAS, BUBBA PROUTY, and DANIEL WADE.

FOOTHILLS CHRISTIAN 43, ESCONDIDO CHARTER 21 (REVISED) – Nearly a year to the day after Escondido Charter handed Foothills Christian its biggest home-field defeat of the 2007 season, the Knights roared back to apply an even greater smackdown against the White Tigers on their home turf.

Junior quarterback GARRET CAMPBELL led the charge by directly accounting for 31 consecutive points, leading the Knights to a comfortable 43-21 triumph in a contest held Saturday (Sept. 6) at Orange Glen High.

Following a MATTISON RUNDLETT scoring rush of 37 yards, Campbell continued the scoring mania with a pair of touchdown passes. He later took the second-half kickoff 92 yards for another score and a 34-14 advantage.

But he wasn't through, capping the contest with a 63-yard scoring gallop, then kicking a 39-yard field goal (along with PAT kicks) to power the Knights to a 37-21 advantage through three periods.

Campbell 's scoring strikes went to Rundlett (25 yards) and GAGE PROVENCHER (2 yards). Both receivers finished with a team-high three receptions.

Guess it would be safe to say that Campbell is a lot more than a double or triple threat. He rushed for 183 yards on 14 carries – an average of 13.1 yards per sortie. He also completed 9-of-18 passes for 120 yards.

ZACH IVY concluded the scoring with a 10-yard TD run in the fourth period.

Junior linebacker CALEB GARDNER anchored the Knights' defense with a dozen tackles. DYLAN WESTRICK, TRAVIS WOLFE, IAN MURPHY and Campbell each had a sack.

POINT LOMA 29, MONTE VISTA 26 – Junior quarterback MAURICE PAYNE accounted for 202 total yards and 3 touchdowns for the visiting Monarchs, but it wasn't enough as Monte Vista suffered a frustrating season-opening loss on Saturday (Sept. 6).

Payne's touchdown toss was a 30-yard screen pass to JERRAD SCOTT with 1:25 remaining. After JESUS VELARDE tacked on the extra point, the Monarchs pulled within 3.

"We tried an onside kick but couldn't come up with the ball," said Monte Vista coach PAGE CULVER. "It was a pretty exciting game for an opener and we had some fun. But we'd be a lot happier right now if we'd been able to pull out a victory."

Payne completed 14-of-25 passes for 149 yards. SEAN WOODFORK, a 5-foot-6, 137-pound senior, led the Monarchs with 6 receptions for 37 yards. Scott and MIKE HODGES had 3 catches apiece, totaling 82 yards between them.

Senior running back NICK WILLIAMS accounted for 65 yards, most of it coming on 8-for-42 yards rushing.

"Obviously we would have liked a different outcome, but we did a lot of good things in this game," said Culver.

But that did not include stopping Point Loma's Leslie Rogers, who stormed for 290 yards and 3 TDs on 24 carries.
---
Helix defensive back Trelan Taylor (21) returns
this interception a school-record 95 yards for
the touchdown to mount a 41-0 lead en route to
a season-opening win over Rancho Buena Vista.
(Photo by Larry Montalbano)

Braves' grit overwhelms Clairemont
No. 2 Helix shines in coach's debut

© East County Sports.com
EL CAJON (9-6-08) -- Quickly serving notice to the rest of the Grossmont North League, El Cajon Valley demonstrated grit and the ability to make key plays, mounting a 23-point lead through three quarters in gliding to a 33-23 decision over visiting Clairemont to highlight Friday's (Sept. 5) season openers.

"This one serves as an official warning to the rest of the league," noted Braves quarterback ISAAC SOLIZ. "El Cajon (Valley) will not be a pushover this year."

Converting keys plays on both sides of the line, the Braves displayed an array of weapons On offense, four different players found the end zone, while the defense found playmakers from all three segments.
Scotties quarterback Ty Culver follows
through on one of his two TD passes to
Trelan Taylor in a 41-7 rout over RBV.
(Photo by Larry Montalbano)

On the Chieftains first play from scrimmage, running back Steven Okidi busted loose for 56 yards, with Braves defender ANTHONY "Action" JACKSON making the touchdown-saving tackle from behind.

In the past, such bursts for big yardage would render the Braves hapless, often carrying over to the rest of the contest. Instead, Clairemont was held in check, settling for a 30-yard field goal.

"We just tried hard and never gave up, just like how we practice," said free safety GAVINO PINAL, one of the Braves' veterans with three years on the varsity. "We got a stop, then the offense scored -- game over."

Mission Bay at Granite Hills
Granite Hills' Aaron Harris.
Cathedral at Steele Canyon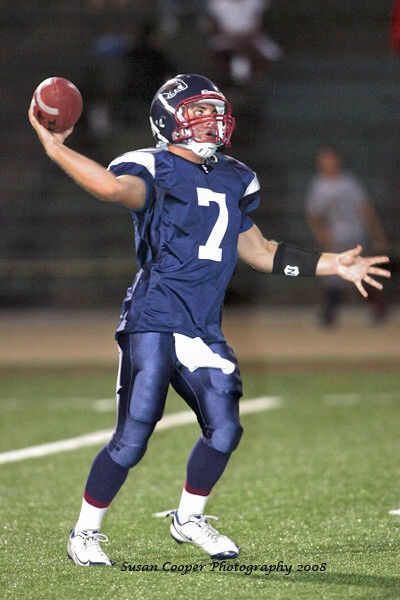 Steele Canyon's Chris McColl
Steele Canyon's Alex Perlin
Grossmont at Otay Ranch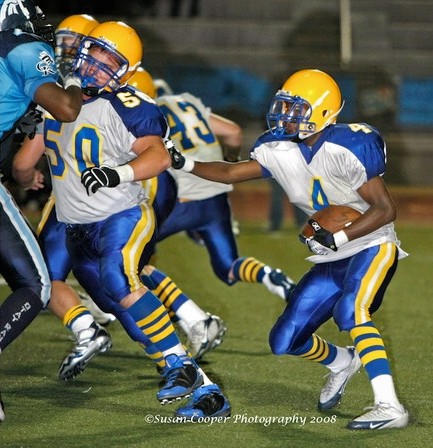 Grossmont lineman Brian Paznokas (50)
and running back Desean Waters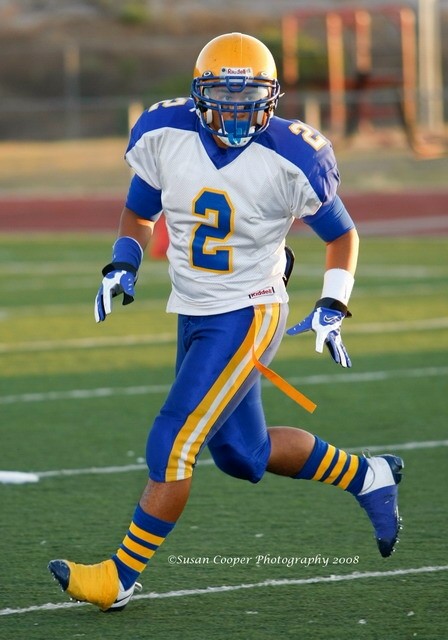 Grossmont's Felipe Valdez
To open the second half, the Chieftains, trailing 19-10, attempted some trickery with a lateral disguised as an intentional incomplete pass. But when the football bounced past the receiver, a hustling JOSUE MORENO not only prevented the ball from skidding out of bounds, he covered the ball for a quick turnover.

"Clairemont ran a lot of stuff we didn't see on the film," added Pinal. "So we adjusted and made plays by bringing blitzes and working hard."

GERALD KENDALL, the Braves' leading rusher with 88 yards, then carried for a 7-yard touchdown. Next possession, ALEX HANN (74 rushing yards) faked an inside hand-off and walked untouched for a 1-yard score and a 33-10 advantage.

Through three periods, the El Cajon Valley defense shined. After Clairemont's opening big play, they were held to just 45 additional yards, with the lone touchdown coming on an 84-yard kickoff return by Anthony Jensen.

"Our line flushed their quarterback out with a good rush, which gave me time to creep up and get the interception," said Hann, who also registered a sack and broke-up several other passes. "Winning league is too far down the road to worry about, but this was a good first step."

The runback countered a 32-yard TD pass by Soliz, who connected with PETER ALKASS for a 13-3 advantage. Soliz finished with 135 yards on 9-for-17 passing, while also averaging 41.0 yards on a pair of punts.

ALEX AGUAYO and BRYANT QUINONEZ registered quarterback sacks, while the Braves' secondary kept Clairemont without a pass completion through three periods (0-for-9).

"We came out with an extraordinary game plan to shut down their run game," noted Jackson. "Then our offense drove down the field -- every one of our backs scored."

A series of like performances could transform the Braves into a contender for a GNL title.

"We have enough team power and enough mental toughness to win league this year," Jackson added.

For the contest, Clairemont gathered just 231 yards in total offense, while El Cajon Valley mustered 351 yards, including 196 on the ground.

"Our defense played really well with some good gang tackling -- we shut them down," noted Braves head coach DAN GOODRICH. "It wasn't our best performance -- two penalties probably cost us touchdowns -- but we still scored 33 points, so we're happy for the first game."

No. 2 HELIX 41, RANCHO BUENA VISTA 7 — While the various TV highlight shows focused on the Helix offense in Friday night's (Sept. 5) opener, Highlanders first-year head coach TROY STARR turned his attention to defense.

And rightfully so.

Forget about the statistics; forget about the score. Bottom line here was No. 2 Helix physically manhandled the visiting Longhorns, which somehow were ranked as high as 6th in some polls.

While Starr was quizzed by media on how he felt at getting his first win at Helix, he couldn't turn his focus away from the players' defense.

"That was one of the most experienced offensive lines in the county and our guys completely stopped their running game," Starr said.

Five of Rancho Buena Vista's 9 fumbles came on the Longhorns' first 11 plays. Three of those were recovered by the Highlanders.

ANTHONY LARCEVAL, who has spent the majority of his career as a linebacker, made his debut as a nose guard. It was a natural fit as Larceval recorded a game-high 10 tackles, forced two fumbles and recovered one.

"They just couldn't handle him," Starr said of Larceval.

Eight of Rancho Buena Vista's 45 rushing attempts ended in losses adding up to 28 yards. Had Starr not elected to make wholesale substitutions in the final quarter, the Longhorns likely would have suffered a shutout and fallen short of 100 yards total offense.

ANTHONY ANDERSON recovered 2 fumbles that led to 1st quarter touchdowns for the Highlanders. Larceval also picked up a Longhorn fumble that was converted into seven points.

LEVINE TOILOLO, who has accepted a scholarship to Stanford University as a tight end, caught 2 passes for 34 yards. But where the 6-foot-8, 247-pound Toilolo excelled was as a defensive end, making 8 tackles.

TRELAN TAYLOR is picking up where he left off a year ago when he tied for the East County lead in interceptions with five. Taylor, a senior corner, not only picked off two passes, he established a Helix record with a 95-yard return of his second theft for a touchdown, opening up a 41-0 advantage with 10:31 remaining.

Earlier reports had Taylor 's record return marked at 91 yards, but review of the game video clearly show his junket covering 95 yards.

By any account, Taylor 's effort shattered the record of 82 yards set by KEITH HARRISON against West Hills in 1991.

Senior quarterback TY CULVER had arguably his finest performance, completing 11 of 18 passes for 159 yards and 2 touchdowns.

"I have to give a lot of credit to my line for giving me time to throw and to my receivers for running their routes so I'd know where they'd be," Culver said. "Every time I looked up to throw, my receivers were right where they should be. I think Coach Starr has a really good offensive scheme here and we're going to make it work."

Although ANTHONY DIAZ, a former Helix quarterback, was the Highlanders' leading receiver with 4 catches for 62 yards, it was TRAVON VAN and Taylor who reeled in touchdown passes from Culver.

Van made a pair of dazzling moves after receiving a pass from Culver to complete a 17-yard scoring play and extend the Highlanders' lead to 14-0 with 6:46 remaining in the 1st quarter. Van later scored on a 3-yard run to make it 21-0 after one quarter.

MOUNT MIGUEL 45, SD-SOUTHWEST 0 – Although the Matadors enjoyed one of their highest scoring outputs in recent memory, 4th year head coach TOM KARLO – a quarterback in his playing days – seemed to be more pleased by Mount Miguel's ability to record the shutout in Friday (Sept. 5) night's opener in South Bay .

"I was happy with a lot of things but probably what impressed me the most was our ability to play everybody and still come away with a shutout," said Karlo. "That's the first shutout since I've been head coach, and I give a lot of credit to our second team defense for saving it."

The last time Mount Miguel blanked an opponent was 48 games ago – on Oct. 24, 2003, with a 19-0 throttling of Granite Hills.

Junior end KHAALID ABDULLAH anchored the most recent shutout by chalking up 3 quarterback sacks along with notching half a dozen tackles.

According to Karlo the Raiders were forced to settle for 150 yards on the night.

"Our defense was all over them," Karlo said. "We even had two safeties."

The Matadors' defensive heroes were widespread. VINCE HURDLE blocked a punt, and FELIX DELEON intercepted a pass.

On the offensive side DERALL HUNTER rushed for 165 yards and a touchdown on 17 carries.

"Derall was breaking tackles and making guys miss all night," Karlo recalled. "All total, I don't think he played more than half the game."

Quarterbacks DJ NOLEN (8-for-14, 124 yards) and BRANDON RAMOS (4-for-4, 68 yards) fired 2 touchdowns apiece for the Matadors. Ramos connected with tight end JAMES MONTANO for a 51-yard scoring strike. Nolen and TYLER MILLER hooked up for a 43-yard scoring toss. Mount Miguel had eight different receivers catch passes. Miller led the way with 3 catches for 58 yards.

"We played a lot of guys tonight," Karlo said. "And I couldn't be happier."

He singled out offensive linemen CHRISTIAN TAUSAUGA, BRAXTON FALANIKO and TYRONE IAULUALO for "doing an excellent job."

Mount Miguel totaled 420 yards on 50 plays and did not commit a single turnover. BRYANT MITCHELL and STEVEN SALAZAR each had a safety.


OTAY RANCH 21, GROSSMONT 19 – When RON MURPHY was hired as the Foothillers football coach last winter, one of the first things he noticed was his rebuilding Foothillers were obligated to open the season at Otay Ranch on Friday (Sept. 5).

Murphy was well aware that Otay Ranch is a perennial Division I playoff participant.

"I knew we were going to have our hands full," Murphy said.

And so they did.

However, the visiting Foothillers missed a chance to pull off an upset when sophomore JORDAN REECE's 40-yard field goal attempt with 10 seconds remaining missed its mark.

"It was a disappointing loss, sure," Murphy said. "We had some problems with our kicking game but you can't place all the blame on that for losing. We had six dropped passes, had a TD called back and had too many penalties."

The Foothillers remained in contention throughout.

Junior quarterback TYLER MUTTER completed 12 of 29 passes for 244 yards and 2 touchdowns. Both of Mutter's passing scores – a 64-yarder to DIMITRI SCOTT and a 7-yard grab by DOMINIQUE BRADLEY – came in the 1st half, which ended with the Mustangs clinging to a 14-13 edge.

After a 1-yard scoring plunge by JOHN SHARPE, which made it a 2-point game in the 4th quarter, the Foothillers somehow put themselves in position to win. A key rocket screen pass from Mutter to Bradley covered 30 yards with only seconds to play.

"We thought we had a pretty good shot after that because we knew we were within Reece's range," said Murphy.

BRETT ETHERTON led the Grossmont receivers with 5 catches for 84 yards. The running game as a whole, however, was not overly impressive as Grossmont totaled just 75 yards on 26 carries.

Senior CONOR MEREDITH, a two-way starter, led the Grossmont ground troops with 34 yards on 9 carries. DESEAN WATERS had 2 interceptions for the Foothillers, while FELIPE VALDEZ had a third interception.

CHRISTIAN 28, CARDENAS FEDERAL PREP (Tijuana) 0 – Scheduling a game against an international opponent raises uncertainty across the board. Some might say that when the Patriots hosted Cardenes Federal Prep in Friday's (Sept. 5) opener at Valhalla, they were doing so only to pad their statistics.

It didn't turn out that way. The Patriots, in fact, were leading only 14-0 after three quarters.

"These guys play pretty good defense," Christian coach MATT OLIVER said. "They're a little bit lacking on the offensive side, but they provided us with a good opening season game."

Not that the outcome was ever seriously in doubt, but Christian couldn't rest easy until MIKE FERREIRA scored on a 36-yard run early in the 4th quarter. For good measure, quarterback ERICK ALLEN tossed a 5-yard scoring toss to MATTHEW FIELDS to put the game on ice.

"We could have scored more points but we had at least five embarrassing drops," Oliver said.

Nonetheless Allen completed 12-of-20 passes for 114 yards, including a 5-yard scoring connection with tight end TYRONE SAULS.

Christian collected 411 yards on offense with CHARLES THOMPSON paving the way. A 5-foot-10, 185-pound senior, Thompson rushed for 131 yards on 22 carries. It was his 27-yard TD dash in the 1st quarter that gave Christian a 7-0 lead.

Fields rushed for 108 yards on only 9 carries, while Ferreira finished with 58 yards on 5 rushes. Baseball convert MICHAEL GRUBER impressed Oliver with his kicking.

"We gave him a game ball," Oliver said.

Gruber was 4-for-4 on PATs, but more impressively was his ability to launch three of kickoffs into the endzone.

"I can't remember the last time we had a kicker put the ball in the endzone three times in the same game," said Oliver, who applauded Gruber's ability to execute a successful game-opening onside kick.

Junior linebacker STEVEN PITTS paced Christian's shutout effort with 13 tackles.

SANTANA 42, KEARNY 12 – Santana sophomore quarterback ZACH BREIDT is probably getting tired of hearing about passing guru JAMES NEEDY abandoning ship. Needy has decided that baseball is his game, which has left the door open for 5-11, 149-pound Breidt to take over as the Sultans' signal-caller.

Obviously there is no panic in the Santana huddle. Breidt proved he can put the ball on the mark in Friday's (Sept. 5) opener at Kearny, as he completed 13 of 24 passes for 244 yards and 4 touchdowns.

"I'm tremendously pleased with him," said Santana head coach DAVE GROSS. "He's only a sophomore so he's way ahead of his time. He showed a lot of poise and he's only going to get better."

Three of Briedt's scoring strikes went to TRAVIS REYNOLDS. The 6-foot-1, 168-pound senior receiver scored on aerials of 25, 27 and 58 yards, which gave Santana a 21-12 halftime lead. Reynolds finished with 153 all-purpose yards, including a 25-yard kickoff return.

Breidt spread his passes among 6 receivers, including T.D. GROSS, who caught 3 for 50 yards. KRIS KIMMEL caught 2 passes for 40 yards, and JOSH BRENNER reeled in a 9-yard scoring strike from Briedt as Santana outscored the Komets 21-0 in the 2nd half.

KYLE HAYES was the jewel of the Santana running game, accumulating 68 yards and a TD on 11 carries. JUNIOR NUNEZ added 29 yards and a TD on 8 rushes, while Kimmel totaled 44 yards on 8 carries. THOMAS SZAMPRUCH punched in 38 yards on 5 sorties.

The Sultans finished with 445 yards total offense.

Not to be overlooked was senior kicker JOSH VAN DE VRUGT, who was 6-for-6 on PATs and averaged 40 yards punting.

PATRICK HENRY 24, WEST HILLS 12 – Wolf Pack coach CASEY ASH had to admit that the performance of his youthful West Hills squad was vastly improved in Friday's (Sept. 5) from what his club showed against Francis Parker in the Kickoff Classic scrimmage game a week earlier.

Trailing 17-12 with less than a minute to play, West Hills definitely had victory within reach.

Facing a 3rd-and-5 at the Henry 16-yard line, quarterback JOE ROBERTS fired a pass into the end zone that was broken up. Roberts, who completed half of his 44 passes for 170 yards, located LEVI JACOB open in the end zone on 4th down but his pass was overthrown.

After that Henry swiftly put the game away on an 81-yard TD dash by the Patriots' Bill Dabbert.

"We were much better," Ash said. "I wasn't disappointed in my boys at all. We almost stole one tonight and that's what makes it so tough to accept."

After falling behind 14-0 in the opening quarter, the Wolf Pack finally broke through in the 2nd stanza when Jacob kicked the first of two field goals – this one for 22 yards. When Roberts scored on a 6-yard run in the 3rd quarter, West Hills was clearly making a game of it.

The teams swapped field goals to raise the score to 17-12. Jacob's 45-yard boot in the 4th quarter set a West Hills record, breaking the old mark of 43 yards set by MIKE HOBART against Mount Miguel in 1994.

"We had our chance to pull out a victory, just didn't get it done," Ash said.

Senior CHRISTIAN FONSECA, one of less than a handful of regulars from a year ago, accounted for 144 all-purpose yards, including 75 yards on 13 rushes. He also caught 11 passes for an additional 59 yards.

No. 4 CATHEDRAL CATHOLIC 48, STEELE CANYON 7 – This was not a typical Steele Canyon football game to be sure. Fact is the visiting Dons tied the dubious "record" of points allowed in a game by a Steele Canyon team in Friday night's (Sept. 5) non-league opener.

Not since Steele Canyon 's first varsity season – 2002 – have the Cougars been treated so rudely. They were mauled by Monte Vista 48-3 that year.

Cathedral scored 35 points in the second quarter to lead 42-0 by intermission. Senior running back Tyler Gaffney (13-107) scored four of those touchdowns – three on short runs and the other on a 15-yard pass from PARKER HIPP. Cathedral also burned a youthful Cougars offense by returning two interceptions for scores.

The Cougars avoided the shutout when JOEY LEOS scored on an 11-yard run in the final period. Leos made the most of five carries, compiling a team-best 62 yards rushing. ALEX PERLIN added 40 yards on 13 carries.

MISSION BAY 40, GRANITE HILLS 7 – The Eagles dedicated their new Field Turf synthetic grass playing field with a host of dignitaries in pregame ceremonies Friday night (Sept. 5).

"This is a great field we have here," said Granite Hills coach RANDY DeWITT.

But once the game started, it was all about Mission Bay.

The Buccaneers' superior size and strength in the trenches took its toll on the smaller Eagles. After the Bucs took a 13-0 lead, the Eagles broke through on a 13-yard scoring pass from TYLER JOWORSKI to VICENTE STAFFORD in the second quarter. TYLER STRICKLAND's PAT kick pulled the Eagles to within six points but that was it for Granite Hills.

"Mission Bay is a big, physical team across the front line," said DeWitt. "They had us by around 100 pounds per man. We beat ourselves tonight. We had a lot of penalties and too many turnovers. We played hard for 48 minutes, but we need to cut down our mistakes."

AARON HARRIS rushed for 94 yards on 19 carries in his varsity debut for Granite Hills. Although under pressure throughout, Joworski managed to connect on 9 of 23 passes.
---
WEEK ONE – Previews
No. 2 Highlanders host Rancho Buena Vista in opener

© East County Sports.com
EL CAJON (9-5-08) – A low-scoring game between a pair of CIF-SDS giants would appear to be in the offering when the East County season kickoffs Friday night (Sept. 5).

That would be in La Mesa where No. 2-ranked Helix hosts Rancho Buena Vista at 7 p.m.

Both teams cast their hopes for the season on defense. Eight Helix starters return from last year's stingy bunch. The Highlanders also have a slight edge on offense where quarterback TY CULVER is at the controls for first-year head coach TROY STARR.

There are two primary polls covering San Diego County football, and The North County Times operates one of them (the rankings, which East County Sports.com participates in). When the preseason voting was published, the Longhorns were fuming that their own local paper listed them among the honorable mention.

Such minute things tend to blurr team focus. RBV can't afford that against a team of Helix's caliber. . . Helix 21-19.

No. 4 Cathedral at Steele Canyon, 7 — Don't arrive late as the clock will rarely stop between a pair of ballclubs which love to run the ball. Both sides have a mammoth O-line, but the 4th-ranked Dons should again hold the advantage in an even series (1 win each) since "Uni" relocated to Carmel Valley. Look for Dons running back Tyler Gaffney to make the difference... Cathedral, 21-14.

Clairemont at El Cajon Valley, 7 — The last time the Chieftains defeated an East County football team, it took a 302-yard effort by Kevin Retoriano to paste Christian in a Harbor League contest in 2003. Don't expect the Braves to be bullied in such fashion. QB ISAAC SOLIZ gives ECV an experienced leader. These teams last met 16 seasons ago, the Braves winning by four. El Cajon Valley should enjoy a bigger spread this time... ECV 23-12.

Grossmont at Otay Ranch, 7 — The Foothillers defense, led by safety DOMININQUE BRADLEY, should again rank among the best in East County. Mostly new faces are in Grossmont's offensive huddle, so a rebuilding process is underway. Former El Capitan standouts BRAD and MITCH BURTON coach the hard-nosed Mustangs... Grossmont, 8-7.

Patrick Henry at West Hills, 7 — Both sides are pegged to finish near the bottom of their respective leagues, but those circuits are miles apart. The Patriots believe they are on the upswing, while the Wolf Pack took its lumps from Francis Parker in the Kickoff Classic. Look for the offensive line of the Patriots to control the ball, while the Wolf Pack will need some quick-strikes on offense to stay close. Later in the year, West Hills may be more competitive, but for now... Patrick Henry, 28-7.

No. 14 Mission Bay at Granite Hills, 7 — The Buccaneers are in the section rankings for one primary reason: junior Dillon Baxter, a running back/receiver who already holds a scholarship to USC and is considered a solid CIF-SDS player of the year candidate, The Eagles will be hard-pressed to stop him. AARON HARRIS, who broke a 70-yard run in a scrimmage against Poway , should have a big year for the Eagles. He'll need some help from his teammates.. . Mission Bay 35-10.

Mount Miguel at SD-Southwest, 7 — The Matadors open their campaign against one of South Bay's cupcakes in the Raiders... but isn't that what San Diego State thought before losing to Cal Poly? Fortunately, when Mount Miguel temporarily lost its star running back last season, plenty of underclassmen gained valuable playing time, so look for the Matadors to grind out the triumph... Mount Miguel, 28-6.

Santana at Kearny, 6:30 — Can the undermanned Sultans stay injury-free long enough to compete for a Grossmont North League title? The Komets are one program which won't beat them up. Both sides have too many question marks, so look for the home side to escape the minefield... Kearny, 21-17.

Christian vs. Cardenas Federal Prep (Tijuana), at Valhalla, 7 — The Patriots host the defending state champions of Baja California. Nevertheless, teams from Mexico rarely field the personnel to fire up on offense, so once the Christian ground game gets on a roll, expect a second-half rout... Christian, 42-7.

Sat., Sept. 6
El Capitan at Morse, 1:30 — The Vaqueros love to pass the football, featuring senior quarterback TANNER RUST, who tossed the rock for more than 3,100 yards in 2007. However, the Tigers' speed in the secondary will be hard to beat, thus, the O-line from El Capitan better get the ground game rolling or an upset could be had. A much improved defense should help bolster the Vaqueros... El Capitan, 27-6.

No. 12 Monte Vista at Point Loma, 1:30 — Based upon recent results, it's the Pointers who should be ranked No. 12, while Monte Vista remains a mystery. However, reports from Spring Valley indicate a ton of talent on defense, while the offense should be able to run the ball. And with Point Loma losing two-thirds of its starters -- sans RB Leslie Rogers -- could the early reports be true? We often take a wait-and-see approach. Add to the mix the only previous meeting in 1995 Monte Vista dominated 52-0. This one will be much closer... Point Loma, 14-13.

Foothills Christian vs. Escondido Charter, at Orange Glen, 7 — The Knights welcome back do-it-all quarterback GARRET CAMPBELL who missed half of last season due to a broken foot. Campbell is a big playmaker, but the Knights may not have enough to tame the White Tigers. Escondido Charter two-way lineman Joshua Tenney anchors one of the better lines among the small-enrollment schools in the CIF-SDS. Until Foothills develops a more balanced offense... Escondido Charter, 48-27.
---
CIF-SAN DIEGO SECTION
PREP FOOTBALL RANKINGS
Sportswriters/Sportscasters Poll
(First-place votes in parenthesis)
Rank/Team

Record

Points

LW

1. Oceanside (21)
2. Helix
3. Vista
4. Cathedral Catholic
5. La Costa Canyon
6. Mira Mesa
7. Eastlake
8. Mission Hills
tie. Poway
10. Carlsbad
11. Valley Center
12. Monte Vista
13. Scripps Ranch
14. Mission Bay
15. Lincoln

0-0-0
0-0-0
0-0-0
0-0-0
0-0-0
0-0-0
0-0-0
0-0-0
0-0-0
0-0-0
0-0-0
0-0-0
0-0-0
0-0-0
0-0-0

210
184
130
110
96
69
61
52
52
47
39
38
29
16
5

—
—
—
—
—
—
—
—
—
—
—
—
—
—
—
Honorable Mention: Rancho Buena Vista (4), Otay Ranch (3), El Capitan (2), Steele Canyon (2), Christian (1), El Camino (1), Point Loma (1).
For 2008, 21 sportswriters, sportscasters and CIF representatives from throughout the county vote in the weekly poll. This year's panel includes: John Maffei, Terry Monahan, Rick Hoff, Scott Bair, Matt Null (North County Times), Alan Kidd and Tom Shanahan (Hall of Champions), Nick Pellegrino (East County Sports.com), Steve Dolan (East County), Rick Willis (KUSI-TV), Rick Hill, Matt Gulbransen (KOGO Radio), John Kentera. Mark Chlebowski, Ted Mendenall, Bob Petinak (XX Sports Radio 1090), Jason Bott (Channel 4), Dave Axelson (Coronado Eagle Journal), Todd Salkuwski and Jeff Kortz (KBCSports) and Bruce Ward (CIF).
---
Highlanders lineman accepts Pac-10 offer
© East County Sports.com
LA MESA (9-2-08) — Helix High senior ANTHONY ANDERSON, a 6-foot-5, 230-pound lineman, has accepted a scholarship to the University of Oregon.
Although Anderson will probably play defense for the Ducks in 2009, he will serve the Highlanders as an offensive tackle and defensive end this season.
---
Services set for Mount Miguel teen Rojas

© East County Sports.com
SPRING VALLEY (8-20-08) — JOSEPH ROJAS, a 17-year-old senior at Mount Miguel High School, was killed in a crash on westbound Interstate 8 Wednesday morning (Aug. 13) near Lake Jennings Park Road. He was a passenger in an SUV that was hit by a car that crossed into oncoming traffic.

Rojas, a member of the Matadors varsity football team, was on his way to a team practice at 7 a.m.

Services for will be on Friday (Aug. 22) at 9 a.m. at Victory Outreach Church, 4235 National Avenue in National City.

Mount Miguel head coach TOM KARLO and the Matadors football players will be in attendance.

Donations to help defray expenses can be sent to any Downey Savings, c/o his mother, Christina Rojas.
---
Trio sign with small colleges
© East County Sports.com
EL CAJON (8-4-08) -- The Grossmont Conference has sent three additional players on to four-year schools on football scholarships, all with smaller NCAA and NAIA programs.
Advancing to the NCAA Division II level is El Cajon Valley High wide receiver KEVIN KELLY, who will play for New Mexico Highlands University. The Cowboys program, a part of the Rocky Mountain Athletic Conference, is located in Las Vegas, N.M., an hour east of Albuquerque.
Meanwhile, two other East County players will play for Midland Lutheran University, an NAIA school. The pair includes Grossmont High wide receiver MICHAEL GRAHAM and Steele Canyon Charter defensive back BRANDEN BROWN.
---
Dale TD not enough in Spanos Classic
© East County Sports.com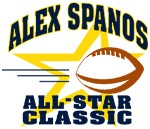 NORTH 14, SOUTH 7

RANCHO PENASQUITOS -- Steele Canyon High running back JAMIE DALE collected a 4th-quarter touchdown pass, but the South rally fell short in falling to the North, 14-7, in the 18th annual Alex Spanos All-Star Football Classic, held Friday night (July 11) before 3,148 fans at Mt. Carmel Stadium.

Dale, who has a scholarship to South Dakota School of the Mines in hand, raced over the middle to haul in a 31-yard scoring pass from Eastlake quarterback Derek Witte.

The 5-foot-9, 170-pound Dale made the grab at North 3-yard line, then made a spin move to shake off a tackler to cut the deficit in half.

Talk about a one-man effort... Dale set up his scoring play with a 38-yard punt return.

A final opportunity to win or force overtime was thwarted by Mission Hills safety Tyler Hanks, who registered his second interception of the contest to lock-up the victory in the closing minutes. Hanks finished his final high school season with 11 interceptions.

The opening score came on a 1-yard rush by North running back Joe DeMartino, who was playing at the stadium of his alma mater.

Carlsbad quarterback Justin Morales (Idaho) then connected with Lancers teammate Micharl Vandenkolk (Washington State) on a 45-yard TD pass early in the second quarter for a 14-0 cushion.

An interception on a tipped pass by Mario Kurn of Santa Fe Christian set-up the score. Kurn will play for USD this fall.

Poway's Nick Milani (Chadron State) was named MVP for the North. The MVP for the South was Mitte.

Despite the setback, the South has won three of the last five meetings.

---
Spanos Classic brings out the stars
© East County Sports.com
RANCHO PENASQUITOS (7-10-08) — Football in the summer seems to attract only hardcore football fans. When it comes to followers of high school football, the 18th annual Alex Spanos All-Star Football Classic, Friday night (July 11) at Mt. Carmel High will be special.
The annual tussle between the elite graduating seniors from the North County against the best 2008 graduates from the East County, South Bay and City Conference, once again promises to be a gala event.
Kickoff for this summer showcase is 7:30 p.m.
Running backs back LAWRENCE WALKER of Christian and JAMIE DALE of Stele Canyon will represent a contingent of 13 East County seniors who'll line up for the South All-Stars.
Others East County graduates in the South arsenal are DB SAMATRE JONES (Mt. Miguel), DB-RB KHALID WATERS(Grossmont) linebacker CHRIS PETERSON (Helix), flanker TYLER AUBREY (Santana), linebacker PATRICK KELLY (Christian), linebacker HOMER MAUGA (Helix), center DOMINIC LaRUSSA (West Hills), offensive lineman ROBERT FORRESTER (Steele Canyon), offensive lineman GRANT SIMPSON (Grossmont), offensive lineman DERYCK BEVERIDGE (El Capitan) and lineman RANDI TAITI (Mount Miguel).
Admission: Adults/$8, Children 5-12/$5. Free for 4-and-under. No CIF passes accepted.
The South captured last season's contest, 14-0, for its third win in the last fou meeting. However, under the current format, the North still holds a tight 8-5 advantage.
---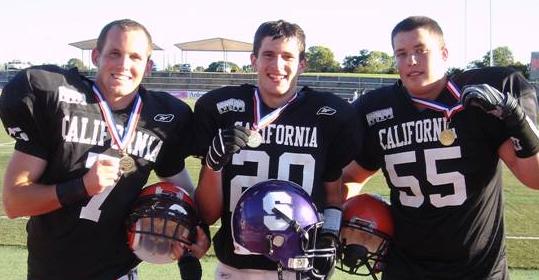 East County's Shane Mallory (7), Tyler Aubrey (20) and Nate Brown (55) participated in the Down Under Bowl, winning the championship.
(Courtesy photo)

'Team Cali' dominates Down Under Bowl

© East County Sports.com
SURFER'S PARADISE, Queensland, Australia (6-23-08) — A trio of East County high school football players participated in the Down Under Bowl, a series of contests between American and Australian players, held along the Gold Coast region south of Brisbane.

Representing Team California was SHANE MALLORY and NATE BROWN of Valhalla High, plus TYLER AUBREY from Santana. Each worked hard to raise money and earn sponsorships in order to participate in this highly competitive and memorable tournament and vacation of a lifetime, capped by a 26-7 championship victory over a team composed of players hailing from Arizona and Idaho.

Team "Cali," as they were affectionately known by th Aussies, was mostly comprised of San Diego area players, plus a few individuals from North Carolina, Oklahoma and Maryland, which dominated both sides of the line to race to the title after averging more than 26 points per contest.

Meanwhile, Team Cali did not allow a point until the championship contest, which was scored on special team. But the Americans' defence countered with a pair of touchdowns -- both by East County players. Included was a 30-yard interception return by Aubrey, then Mallory scooped a lateral pass and rumbled 25 yards to the end zone.
---
CIF Playoffs return to Qualcomm
© East County Sports.com
LINDA VISTA (6-19-08) -- The CIF-San Diego Section is pleased to announce that the 2008 Division I, II, III, and IV football championship games will return to Qualcomm Stadium on Fri., Dec. 12. The quadrupleheader was made possible through the cooperation of stadium officials and the City of San Diego; along with Alex and Dean Spanos, and the San Diego Chargers.
The football championships begin with all first-round contestts on Fri., Nov. 21. Quarterfinals are scheduled for Fri., Nov. 28, then the semifinals on Fri., Dec. 5.
The postseason will culminate with the CIFSDS championships for Divisions I-IV at San Diego Qualcomm Stadium on Fri., Dec. 12, and the CIFSDS Division V championship will take place Sat., Dec. 13 at a site to be determined.
---
David Castro

Castro headed for
"Baja Manitoba"

© East County Sports.com
MADISON, S.D. (5-13-08) -- Valhalla High defensive lineman DAVID CASTRO has agreed to continue his football career at Dakota State University. The Trojans play in the NAIA Dakota Athletic Conference.

Castro, one of the leading student-athletes on the Norsemen, was an honorable mention selection on the All-Grossmont South League, completing a successful conversion from linebacker to the team's starting nose guard.

"David's not the biggest player, but he reminds me of a badger -- he's ornery and tenacious," said Valhalla head coach STEVE SUTTON. "He's a good guy who works really hard and is really competitive."

At 5-foot-9, 200 pounds, Castro may lack the size needed to compete at a major college school, but Sutton noted this may be a good fit for him.

"His work ethic will make him successful in a conference like this one," Sutton added. "I'm happy for him."

Castro carries a 3.80 grade-point average.

Dakota State, located about 30 miles from the South Dakota--Minnesota border some 300 miles due west of Minneapolis, posted a 3-6 record (2-5 DAC) last season.

Perdue to guide Foothills football
Ex-Valhalla baseball coach now author


© East County Sports.com
EL CAJON (5-13-08) – STEVE PERDUE is back in the forefront again, this time as head football coach at Foothills Christian, a parochial school of 223 students in East County.

Perhaps known best for directing Valhalla to its first and only major sports championship when the Norsemen captured the San Diego CIF Div. III baseball crown in 2006, Perdue was officially named Foothills Christian football mentor on Tuesday (May 6).

"It became official when I addressed the Foothills student body," said Perdue, a former quarterback at Monte Vista High, Grossmont College and USIU (now Alliant International University). "I think this is the first time they have had a true football guy in charge of things.

Just putting the Knights through spring football drills seems to have Perdue fired up for the fall season.

"The kids are excited and learning a ton," Perdue said. "Our team is learning a new offensive system. We all are excited about it and progressing quite well. Defensively we play a 50 hero introduced to me by a great football coach by the name of GARY COOPER."

Perdue praised last year's head coach WAYNE CLARK for staying on board to help make things run smoothly. It appears to be a great set-up for all involved.

"Wayne Clark will handle about 99 percent of all the administrative stuff for me so I can coach the players," Perdue said.

Injuries hampered Foothills Christian a year ago when Perdue was on staff as the defensive coordinator. The key setback was losing do-it-all sophomore GARRETT CAMPBELL, who scored 11 TDs as the Knights quarterback in five games before an injury ended his season. The team finished 1-9.

Perdue said the Knights had only 15 healthy players by season's end.

"We have 16 returners back, and all epitomize the word heart," Perdue said.

Perdue is no stranger to coaching football, having served three seasons as offensive coordinator at Valhalla (1991-93). In 1994-95 he was Valhalla 's defensive coordinator. Prior to that, Perdue began his coaching career in 1978 as the quarterback coach for the Monte Vista freshman team. He also coached receivers and defensive ends at Bonita Vista from 1979-82. In addition Perdue was a varsity assistant coach at Santana in 1989 where he coached running backs for two years.

In his eight years as Valhalla Baseball coach, Perdue led the Norsemen to a 189-73-3 mark, which included three Grossmont South League championships and one SDCIF title.
---