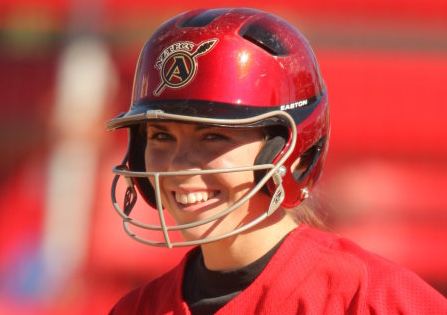 San Diego State freshman Lorena Klopp.
(Courtesy, SDSU media relations)
Collegiate debuts special for Klopp, Gentry
© East County Sports.com
LOS ANGELES (2-13-11/Revised 2-16-11) — Former Steele Canyon High standout LORENA KLOPP, who burst onto the scene with a CIF San Diego Section record for RBI with 60 as a freshman, is doing the same thing in her first season with San Diego State.
Klopp, a two-time All-CIF state selection with the Cougars, slugged a home run and drove in five runs, plus gained a pitching triumph, helping the Aztecs to a pair of victories Saturday (Feb. 12) in the season-opening Stacy Winsberg Memorial Tournament at UCLA.
The Aztecs (3-0), who are receiving votes in both the USA Today/NFCA and ESPN.com/USA Softball polls, run-ruled Utah State, 10-1, in five innings in the first game, then downed Central Florida, 5-1, in the nightcap.
In the opener against the Aggies (0-3), Klopp wrapped up a six-run, second inning for SDSU with a two-run homer over the center field fence. It was the second consecutive game that Klopp homered, also going deep in Friday's season debut triumph over North Dakota State.
Klopp (1-0) earned the win for the Aztecs, allowing one run on three hits and two walks over four innings. She struck out two Utah State batters.
In the second game, SDSU spotted the Knights a 1st-inning score, and then scored five unanswered runs. State loaded the bases with one out in the 3rd, then Klopp cleared them with a double to left field. She now has 6 RBI in her first three collegiate outings.
SDSU wraps up tournament play with games Sunday (Feb. 13) against Utah State (11:30 a.m.) and the host, top-ranked and defending national champion UCLA Bruins (2 p.m.).
Also special in Silver City
Meanwhile, former Christian High standout RICKI GENTRY opened her collegiate career by being named Western New Mexico University's student-athlete of the week for the period ending Feb. 13.
Gentry registered an on-base percentage of .500 during the Mustangs' appearance at the Desert Stinger Classic in Las Vegas. Included was a 3-for-3 outing against Lewis University, then Gentry belted home runs against Western Oregon and St. Edward's.
For the season, Gentry, the designated player, leads Western New Mexico (2-9) with a .450 batting average.
---
Best in the West, but the nation, too?
© East County Sports.com
TURLOCK (2-8-11) — A trio of former East County standouts – led by NAIA All-America pitcher BRENNA SANDBERG – were named to the all-tournament team after leading 8th-ranked Cal State San Marcos to the championship of the Best of the West Invitational held at Cal State Stanislaus.
Sandberg, a West Hills High product, was joined by Cougars infielders ALYSSA DRONENBURG (Helix) and ALEX MILLER (West Hills) on the all-tournament team.

Sandberg posted a 4-1 record during the event, posting a 1.35 earned-run average.
Dronenburg, one of the NAIA's top hitters last season, is off to a .563 start, with a home run and 9 RBI. Meanwhile, Miller is batting .471, with a pair of doubles and 5 RBI.
Cal State San Marcos (5-1) can make a dent in the national rankings this week, traveling to Hawai'i to meet reigning NCAA Division II national champion Hawai'i Pacific on Wednesday (Feb. 9), followed by contests with BYU Hawai'i and Chaminade. All three are scheduled as doubleheaders.
---
2010 SEASON
---
Danielle Balough

Sarah Seymour

Brenna Sandberg
NAIA All-America honors for trio
© East County Sports.com
KANSAS CITY, Mo. (7-31-10) — A trio of East County products earned berths on the NAIA All-America team, the association announced.

Gaining second-team berths are Lee (Tenn.) infielder DANIELLE BALOUGH (Santana) and Cal State San Marcos pitcher BRENNA SANDBERG (West Hills), while Dordt (Iowa) first baseman SARAH SEYMOUR (Christian) received an honorable mention citation.

Balough powered Lee to a remarkable 57-5 overall record, as the school advanced to within a game of the NAIA Elite Eight at the national finals. She batted .410 with 11 homers and 59 RBI for one of the most proficient offenses in NAIA history (403-121 advantage in runs; .351 team batting average).

Meanwhile, Johana Gomez, Balough's teammate for the Lady Flames, edged Sandberg for national pitcher of the year accolades. Gomez posted a 30-1 record while also batting .516 for Lee.

Sandberg pitched the Cougars to its first NAIA regional championship, also gaining a berth to the nationals. Just like Lee, CSUSM fell one game short of the Elite Eight after also posting a 2-1 record in pool play.

The junior pitcher led the NAIA in victories (38) and innings pitched (328 1/3) this season to become the first All-American in the Cougars' four-year history.
Sandberg went 38-12 with a 1.26 ERA and 318 strikeouts this season, tossing consecutive no-hitters in the team's first two postseason contests.
Seymour, a member of the 2007 All-East County team, led the Defenders with a .411 batting average. She led the ballclub in nearly every offensive category, including school records for home runs (9) and slugging percentage (.768), to go along with 6 triples, 46 hits and 35 RBI (second-most in school history).

Over the final 8 games of the year (including 4 conference tournament games), Seymour batted an even .500 (11-for-22) for Dordt.

For her efforts, Seymour was also tabbed the Great Plains Athletic Conference player of the year.
---
Laurie Lindow
(UTM photo)
Lindow completes career in style
© East County Sports.com
MARTIN, Tenn. (5-22-10) — Former Santana High catcher LAURIE LINDOW, a member of the 2004 and 2006 All-East County teams, called it a career after 17 seasons of softball following the elimination of her Tenn.-Martin Skyhawks from the Ohio Valley Conference Tournament.
Lindow, a 3-year starter, helped UTM post a solid 47-11 record this season before falling in the OVC championship game to Jacksonville State .
During the tournament awards ceremony, Lindow and two of her teammates were named to the OVC All-Tournament Team. It was Lindow's second such citation. She was also named to the regular-season All-OVC select as a first-team honoree, leading in conference in number of runners picked-off or caught attempting to steal.
Lindow batted a solid .287 this season, ranking among the UTM leaders in home runs (8) and RBI (39). Included was a .375 mark during the team's 11-game winning streak in March, then .333 over another 11-game stretch to complete the regular season.
For her UTM career, Lindow ranks in the school Top 10 in RBI.
She is majoring in forensic geology.
---
The 2009 East County Sports
Co-Players of the Year gain similar
freshman awards in college.

Jazmin Daigle
(CCU photo)

Amanda Carpenter
(Ball State photo)

Daigle named Frosh of the Year

© East County Sports.com
CONWAY, S.C. (5-15-10/revised 5-22-10) — Coastal Carolina University softball standout JAZMIN DAIGLE (Steele Canyon HS) took home one of the major awards given by the Big South Conference, named as the Division I circuit's Freshman of the Year.

Daigle also gained a second-team berth on the All-Big South team after ranking fourth in the Big South (tops among first-year players) with a .371 batting average.


Daigle ranks fourth in the Big South (tops among first-year players) with a .371 batting average.

Hitting in the third spot for the Chanticleers, the rookie leads her team in several offensive categories, including batting average, hits (59), doubles (9), RBI (28) and total bases (89).

Daigle registered a 14-game hitting streak during the season, hitting .420 during the span. She also tallied 16 multiple-hit games and seven multi-RBI performances during her freshman campaign, including a grand slam in her first collegiate game against USC Upstate.

Coastal Carolina will host the 2010 Big South Championship as the 6th seed against No. 3 Winthrop.

Carpenter ain't no apprentice

© East County Sports.com
AKRON, Ohio (5-15-10) — Ball State University left fielder AMANDA CARPENTER, a Santana High product, has been named to the All-Freshmen team for the Mid-American Conference, in results announced after balloting by conference coaches.

Carpenter ranks second on the Cardinals with six home runs, and owns the team's fifth-highest batting average with a .305 mark.

She is ranked No. 2 in the conference with 39 runs scored and 40 RBI. In conference play alone, Carpenter is batting at a .324 clip and is tied for first on the team with four home runs. Additionally, she ranks in the top-five in the MAC in three categories – runs scored, RBI and total bases.

At Santana, Carpenter established school and East County records for doubles in a season.
---
Panthers slugger Jayme Jarvis
(Chapman Univ. photo by David Rubene)


Anything but a lemon
Jarvis tabbed NCAA D-3 All-West Region

Courtesy, Chapman Media Relations
ORANGE (5-14-10) — Chapman University softball player JAYME JARVIS, a product of Steele Canyon High School, has been named to the Louisville Slugger/NFCA Division III All-West Region team.

The sophomore designated player earned first team honors in voting by the coaches panel, and was the lone Panthers fastpitch player represented among the region's best.

Jarvis had a breakthrough year in 2010 – her first as an everyday player – batting .282 and tying for the team lead with four home runs. She ranked third on the team with a .487 slugging percentage and finished with four doubles and 14 RBI in 28 starts for Chapman (16-20).

The slugger recorded a team-best 8-game hitting streak from March 10-22, during which she batted .450 (9-for-20) and raised her season average from .182 to .355.

On May 1, Jarvis blasted Chapman's first home run at its new home field at El Camino Real Park – a two-run shot to left-center field in a win over University of Dallas.

The Panthers' pair of 9-1 victories over Dallas placed an exclamation point on an equally festive day where Chapman and the City of Orange celebrated the official grand re-opening of El Camino Real Park, followed by a ceremony for five Panthers seniors playing in the final games of their careers.

Jarvis is the first Chapman softball player to earn All-Region honors since a trio of Panthers were named to the team in 2008.

Jarvis was a two-time All-East County left fielder for Steele Canyon, gaining first team honors as a senior in 2008, and second team honors as a junior in 2007.

Danielle (top) and Britti Balough, the
sisters for Lee Univ
women's softball.
(Lee U. photos)

A league of their own

© East County Sports.com
CLEVELAND, Tenn. (5-14-10) — "Playing with Fire," the slogan to market the Lee University athletic department, couldn't be any more appropriate for the Lady Flames women's fastpitch team. And the BALOUGH sisters of Santana High – junior infielder DANIELLE and sophomore pitcher BRITTY – are leading the way.

Lee enters the week ranked second nationally in the NAIA with a school record-tying 55 victories in its stellar 55-4 record. Included is a mark of 30-2 for the championship in the Southern States Athletic Conference, then the school swept to the title in conference tournament with a 10-2 decision over Shorter College in the finale.

With the crown, Lee gains the conference automatic bid to the NAIA National Championship, set for May 20-26 in Decatur, Ala.

Danielle owns a .419 batting average, including 10 homers and 57 RBI, ranking second among the Lady Flames in each category.

Britty is also the No. 2 pitcher for Lee, yet possesses a 15-2 record and a 1.82 earned-run average.

The school enters nationals riding a 12-game winning streak. Lee will meet Notre Dame of Ohio in its pool-play opener on May 20, then battle Savannah Arts (Ga.) (May 21), followed by Trevecca Nazarene (Tenn.) (May 22), which set a record with 68 home runs this season.

Meanwhile, Point Loma Nazarene (28-14) qualified for its 10th appearance at nationals, while Cal State San Marcos (38-14) is making its debut in just its fourth season of competiiton.

Shorter and Point Loma Nazarene were placed in the same pool along with Ottawa (Kan.) and Mid-America Nazarene (Kan ). CSU San Marcos plays in a pool with Union (Ky.), Mount Mercy (Iowa) and William Carey (Miss.).
---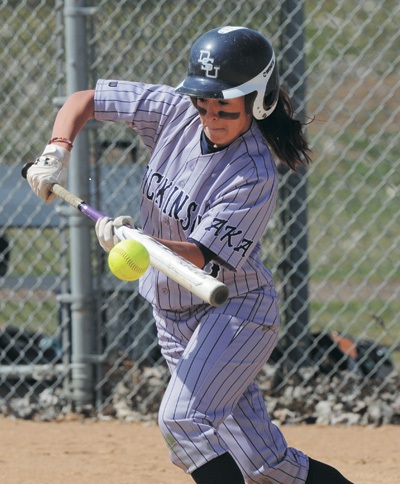 Dickinson St. (N.D.) sophomore outfielder Vanessa
Adame (Steele Canyon HS), shown bunting against Black Hills State, has been one of the many Blue Hawks softball players to show improvement during
the team's 18-game win streak. The Blue Hawks,
who won their fifth consecutive Dakota Athletic
Conference title last Sunday (May 9), open the
DAC Tournament on Saturday in Valley City, N.D.
(Photo by Dustin Monke, The Dickinson Press)
Escalante named All-SCIAC for third time
© East County Sports.com
EAGLE ROCK (5-10-10) — Former Grossmont High standout ALYSSA ESCALANTE capped her career at Occidental College with her third All-Southern Californian Intercollegiate Athletic Conference team selection.
Escalante, a senior who split time between catcher and designated player, was voted by the coaches to the second team for the third time in her four seasons with the Tigers. She also landed berths following her freshman and sophomore seasons.
She batted .333 this season, leading Oxy in totals hits (22), slugging percentage (.485 in SCIAC play) and total bases (32), including four doubles and a pair of home runs.
Occidental concluded the season with an 8-24 overall record, 5-19 in SCIAC games.
---
Sandberg, Dronenburg lead CSU San Marcos to NAIA nationals

Sandberg, 2 no-hitters; Dronenburg, .500 avg. in regional
Brenna Sandberg (top),
Alyssa Dronenberg
© East County Sports.com
HOUSTON (5-10-10) — West Hills High product BRENNA SANDBERG tossed a 5-hit shutout, while Helix High alum ALYSSA DRONENBURG batted 3-for-4 and scored three times, leading Cal State San Marcos to a 9-0 pasting of Simon Fraser (B.C.) in the title game of the NAIA regional for independent ballclubs.

The victory, the first regional championship in school history, gives the 5th-ranked Cougars (38-14) an automatic berth to the NAIA National Championships, slated to open May 20 in Decatur, Ala.

The Clan (38-14) came out of the challengers bracket and beat CSUSM, 5-4, to force a playback final. But Sandberg dominated, striking out six and allowing just five singles to the team from British Columbia.

During the tournament, Sandberg carried a stretch of 15 consecutive innings without allowing a basehit, tossing back-to-back no-hitters against Ohio Dominican and tournament host Houston-Victoria earlier in the double-elimination event.
Sandberg owns an NAIA-best record of 36-10.

Meanwhile, Dronenburg fueled a 5-run rally in the 1st inning with a hit. In the 4th, Dronenburg tripled and scored, then the sophomore singled and register her third run in the 6th.
In four tournament contests, Dronenburg led all hitters by batting .500 (5-for-10) and was walked four times.
---
Jessie Owens
(PLNU photo)

Owens lone frosh
on All-GSAC team

© East County Sports.com
POINT LOMA (4-30-10) — JESSIE OWENS, a former All-East County player for Christian and Santana high schools, continues to shine for 6th-ranked Point Loma Nazarene University.

Owens, who plays in the outfield for the Sea Lions (26-12), was the only freshman named to the All-Golden State Athletic Conference softball team. The listing of 18 players was voted on by GSAC coaches.

Owens leads all PNLU batters with a .347 batting average – the 9th-best in GSAC – starting in every contest for the Sea Lions this season.

The left-handed hitter (Owens is a righty when pitching) also leads the conference in stolen bases with 24, five more than second-standing AMANDA OMAHEN (Granite Hills), an Alpine resident who is the leading hitter (.326 average) for Vanguard University.

CSU San Marcos makes huge jump

© East County Sports.com
HOUSTON (4-28-10) — Earning its highest national ranking of the season, the No. 7 Cal State San Marcos women's softball team earned the top-seed in next week's NAIA regional for independent ballclubs. The 6-team, double-elimination event will be hosted by 21st-ranked University of Houston-Victoria.

The Coyotes (35-13) are led by pitcher BRENNA SANDBERG (West Hills) and power-hitter ALYSSA DRONENBURG (Helix).

Sandberg owns a 33-10 record and a 1.30 ERA, with her win total leading all of NAIA national softball. Among the junior right-hander's recent victories was a 7-4 verdict over top-ranked Cal Lutheran last Wednesday (Apr. 21) in Riverside.

Dronenburg owns a club-best .440 batting average and an even more impressive .888 slugging percentage, placing her 10th in the nation. Nearly half of the sophomores hits go for extra bases, including 16 home runs, plus 48 RBI.

One of her homers came in back-to-back fashion with teammate Ciera Ashman (Patrick Henry HS) in the win over Cal Baptist.

The Coyotes earned a first-round bye in the regional, meeting the winner between Ohio Dominican and Brithish Columbia. on Thurs., May 6. The other half of the draw features 2nd-seed Simon Fraser (B.C.), plus LSU-Alexandria and host UHV.

The event winner will gain an automatic berth to the NAIA Women's World Series, slated for May 20-26 in Decatur, Ala., although San Marcos seems a lock for an at-large berth.
---
Adame lifts Blue Hawks into DAC lead


© East County Sports.com
DICKINSON, N.D. (4-26-10) — Paced by some key hits by Steele Canyon High product VANESSA ADAME, Dickinson State University extended its winning streak to 10 games Sunday (Apr. 25) after sweeping its fifth straight Dakota Athletic Conference doubleheader.

Over the weekend, the Blue Hawks (24-9, 15-3 DAC) took four games from visiting Mayville State (N.D.). The ballclub now shares first place with Minot State (15-3) and Jamestown College (12-2) heading into the final week of the regular season.

Adame, the starting centerfielder who has batted 9th most of the season, took advantage of her promotion to the top of the batting order. The sophomore extended her hitting streak to nine consecutive games by going 6-for-13 with a pair of doubles and four RBI over the weekend, and is now batting an impressive .571 (16-for-28) during her hot streak, raising her season average to a club-leading .402 following a 1-for-10 slow start to the season.

Also on the Dickinson State roster is Grossmont College product CHARNEL ZETSCH, who is red-shirting this season.

Mtn. Empire alum leads NCAA in HRs

© East County Sports.com
RENO, Nev. (4-26-10) — The University of Hawaii is now nationally ranked (23rd and 25th in the both major women's fastpitch polls) after Wahine pitcher Stephanie Ricketts fired a perfect game at Nevada on Saturday (Apr. 24).

Mountain Empire High product KELLY MAJAM, the starting centerfielder, aided the effort by batting 2-for-3 with three runs scored and an RBI as the leadoff batter for first-place Hawai'i (39-11, 17-0 Western Athletic Conference).

Majam, a red-shirt freshman, is now batting .403 this season, leading all NCAA Division I batters with 25 home runs. When Majam hit her 24th homer back on Apr. 17 against Louisiana Tech (coached by former Women's Pro fastpitch MVP and Christian High product SARAH DAWSON), it broke the WAC single-season record.
---
Samantha Beasley
Beasley sets Aztecs 'K' record
© East County Sports.com
Sat., May 1
UNLV at
SDSU, 1 pm
Televised on
Cox Ch. 320
PROVO, Utah (4-26-10) — Former Steele Canyon High standout SAMANTHA BEASLEY struck out 11 BYU batters Friday (Apr. 23), lifting San Diego State to a 9-4 Mountain West Conference victory over the host Cougars.
With the effort, Beasley's career-long 9th consecutive victory, the junior set an Aztecs record for strikeouts in a single season with 277, two more than Christina Ross (2008). Beasley has now won 17 of her last 18 decisions for SDSU (27-11, 5-1 MWC).
In the same contest, SDSU senior Brittany Knudsen homered and drove in a career-high five runs, while becoming the all-time school leader in doubles.
---
Terese Diaz
Diaz throws no-hitter in Buffalo home opener
© East County Sports.com
BUFFALO, N.Y. (4-22-10) — One of the problems playing outdoor sports in the northeast is always the weather. So unlike their Southern California brethren, the University of Buffalo women's softball team didn't hold its home opener until Apr. 14. But it was memorable.
Former Helix High standout TERESE DIAZ established a school record with 16 strikeouts, throwing a no-hitter at St. Bonaventure in a 7-0 victory.
Diaz, a sophomore, smashed the old Bulls strikeout mark, which was just 12 since the school gained NCAA Division I status for the 2000 season, in tossing her first shutout of the season (third career).
In addition to her pitching, Diaz is tied for the club lead in home runs, and tied for second in triples in just 74 at bats.
---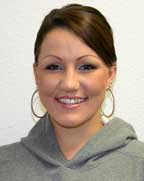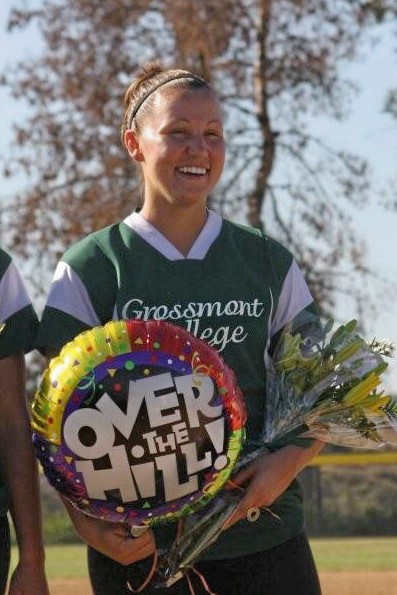 Ashley Lovelady
Three times a Lovelady
© East County Sports.com
CLAREMORE, Okla. (4-21-10) — While a pair of younger sisters were celebrating a championship with Grossmont College on Tuesday (Apr. 20), former Griffins standout ASHLEY LOVELADY is continuing to find success at Northwestern Oklahoma St., an NAIA school located in Alva, Okla.
The 2009 Player of the Year in the Pacific Coast Conference, Lovelady again paced Northwestern's Rangers to a road doubleheader split with Rogers State (Okla.).
In game one, Lovelady batted 2-for-6 in an 11-inning loss, but bounced back in the second contest by going 2-for-4 with two runs and a pair of RBI in a 4-1 triumph. The big blow was a 2-run homer to left field in the 3rd inning, raising her season batting average to .440 with seven homers.
A week earlier, Lovelady helped the Rangers mount a 6-game winning streak, capped by a personal-record performance against Oklahoma Baptist on Apr. 14.
In the doubleheader sweep, Lovelady batted 3-for-4 with a double and two runs scored in each contest. The first game included four RBI, as the centerfielder finished with six RBI on the day.
Lovelady played her high school ball at Mount Miguel and Grossmont high schools, gaining team MVP honors with the Foothillers as a senior in 2003, gaining a pair of All-East County second team berths,
She is majoring in business administration.
---
Balough sisters on 22-game win streak
© East County Sports.com
CLEVELAND, Tenn. — The final season of Point Loma Nazarene University softball finds the Sea Lions ranked third nationally in the NAIA. Above them: defending national champion Cal Baptist as a unanimous No. 1 at the top rung of the rankings, followed by Lee University (Tenn.), which features several East County products.
The Lady Flames (36-3) are currently riding a 22-game winning streak, aided by starters DANIELLE and BRITTY BALOUGH of Santana High.
The Flames lead the Southern States Athletic Conference by 4.5 games following Tuesday's (Apr. 6) doubleheader road sweep at Brenau University (Gainesville, Ga.), raising their conference mark to 19-1.
Brittany Balough (11-1) threw the complete game shutout, giving up just four hits and two walks, needing just 56 pitches to complete the game. She also earned a save in the first game.
Meanwhile, Danielle Balough posted a pair of RBI singles. The second baseman raised her batting average to .393, ranking second on the ballclub with 6 home runs.
Elsewhere, Cal State San Marcos (27-9) jumped seven spots to No. 16 in this week's poll.
---
CSU San Marcos pair leads DH sweep
© East County Sports.com
SAN MARCOS (3-30-10) — With an influx of players from San Diego County, both Cal State San Marcos and little Simpson College of Redding rank among the winningest NAIA teams in the west this season. The teams met in an important doubleheader with playoff implications on Monday (Mar. 29), heavily influenced by East County products.
Helix High alum ALYSSA DRONENBURG slugged a grand slam in the opener, while West Hills High product BRENNA SANDBERG struck out 14 over both contests, allowing just one earned run, as CSU San Marcos swept the twinbill, 8-1 and 2-1.
Dronenburg batted 2-for-4 including the slam, with four RBIs and a pair of runs scored.
Sandberg tossed a 2-hitter and a 5-hitter, running her record to 22-6 for the Cougars (23-9). Simpson fell to 25-12.
Notes — In Conway, S.C., former Steele Canyon standout JAZMIN DAIGLE batted 3-for-3 against St. John's, including a home run and three RBI, leading Coastal Carolina to a 15-2 victory. The Chanticleers, which went 2-2 at their own Coastal Softball Tournament, enter Big South Conference play with a 16-17 record.
---
Ball State Cardinals freshman outfielder Amanda Carpenter
(on left in group photo) during a break in the tournament.
(Courtesy, Ball State University)
Carpenter Named MAC Player of the Week
© East County Sports.com
MUNCIE, Ind. (3-20-10) — Former Santana High standout AMANDA CARPENTER is building a nice career at Ball State University.
The starting freshman outfielder for the Cardinals capped a big week by being named the Mid-America Conference player of the week for the period ending Mar. 14. It was the left-hander's first career citation for her playing during a two-week, spring break roadtrip to Clearwater, Fla.
Carpenter led the Cardinals by scoring in every game and recording six runs, six RBI and a slugging percentage of .824 during the Under Armour Invitational, hosted by the University of South Florida. She was also 2-for-2 in stolen bases and posted a .412 batting average in 17 at bats.
Her best day of the week was March 13 when the Cardinals faced Temple and Stony Brook. Against Temple, the rookie had two hits, including one triple, and a pair of runs scored. Her accuracy held against Stony Brook, going a perfect 3-for-3 including her second home run of the season, raising her batting average to .327 through 19 appearances.
Ball State (15-5) posted a perfect 5-0 record, with the middle win giving Cards coach Craig Nicholson his 100th career victory.
---
Beasley Named MWC Pitcher of the Week
Wins third conference award of the season
Courtesy, SDSU Media Relations
COLORADO SPRINGS, Colo. (3-12-10) — San Diego State junior SAMANTHA BEASLEY (Steele Canyon HS) has been named the Mountain West Conference Pitcher of the Week, the league announced Thursday (Mar. 11). It is the third weekly award for the righthander and the seventh of her career. MORE
The following week, Beasley topped former Helix High standout pitcher TERESE DIAZ, as the Aztecs (13-8) won their fifth straight victory after topping the University of Buffalo, 5-0, Wedesday (Mar. 10) at the SDSU Softball Stadium.
---
Chico State Wildcats sophomore first baseman Rachel Failla.
(Courtesy, Chico State University)
Failla tabbed Top Cat
© East County Sports.com
CHICO (2-24-10) — Sophomore RACHEL FAILLA, Chico State's top slugger from a year ago, is already providing the Wildcats with plenty of middle-of-the-lineup production in 2010.
Failla batted .364 over the weekend, collecting a pair of extra base hits – including her first home run of the year – and drove in four runs in Chico State 's four-game series against Cal State Monterey Bay. For her efforts, Failla is the first Chico State softball player this spring to be honored as Wildcat of the Week.
In Friday's (Feb. 19) doubleheader opener against the Otters, Failla went 2-for-4 with three RBI, including a run-scoring single and a two-run homer over the left field fence. In the second game, she got Chico State on the board with an RBI double, then singled to prolong a 4-run seventh inning as the 'Cats beat Monterey Bay, 5-1, to avoid a series sweep.
Failla's .333 batting average leads all Chico State batters, and she also tops the team's stat sheet in extra base hits (4), RBI (8) and slugging percentage (.556), tied for the team lead in doubles (3) and home runs (1), and is second in hits (9) and on-base percentage (.424).
---
Dronenburg among national leaders
© East County Sports.com
RIVERSIDE (2-21-10) — Former Helix High standout ALYSSA DRONENBURG will be listed among the leaders when the first set of NAIA national batting statistics are released shortly.
Entering Saturday's (Feb. 20) ballgame against top-ranked Cal Baptist at the Southern California Smash tournament, Dronenburg, the starting Cal State San Marcos first baseman, was batting an even .500 following a 2-for-2 outing earlier in the day against Holy Names. The sophomore also walked twice, including once with the bases loaded.
In the second game, undefeated Cal Baptist (15-0) held Dronenburg in check (0-for-3) to "only" lower her average to .455, but the Lancers again pitched around the slugger, also yielding another bases loaded walk.
Still, the RBI gives her 15 for the season, which should also rank among the nation's best. Dronenburg still sports an amazing 1.061 slugging percentage, while being walked in 10 times in 45 plate appearances.
San Marcos, ranked 20th in the NAIA last week, is off until next Saturday (Feb. 27) when they travel to Point Loma Nazarene. To attend the game, slated for the Navy Mine and Anti-Submarine Warfare Command (NMAWC) Field, located on the San Diego Bay side of the Point Loma peninsula, you must apply for security clearance by Monday HERE.
Bear it all — The senior year at Cal for former Santana High standout TAYLOR KELLY has opened strongly.
After dropping their opener to Texas A&M, the 11th-ranked Golden Bears have won six straight ballgames at the Kajikawa Classic in Tempe, Ariz., with Kelly sporting a .333 batting average. Included was a 3-for-3, three RBI performance against Illinois-Chicago on Friday (Feb. 19), which featured a 2-run homer.
---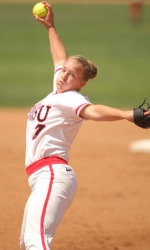 Sam Beasley
(SDSU photo)
Fastpitch Notebook: Beasley named MWC's best
Fast starts for Daigle, Failla
© East County Sports.com
COLORADO SPRINGS, Colo. (2-16-10) — San Diego State junior SAMANTHA BEASLEY (Steele Canyon HS) was named the pitcher of the week in the Mountain West Conference. It was her fifth career MWC citation.

Beasley, a 2009 all-MWC performer, registered four of the Aztecs' five victories to open the season at the Kajikawa Classic in Tempe, Ariz., last week, each against ballclubs receiving votes in both major national polls. Over 22 1/3 innings, she struck out 32 batters while posting a 0.31 earned-run average.

Included was three inning of hitless relief with six strikouts to stop Creighton in Thursday's opener, then a pair of Friday victories over NCAA Tournament teams Purdue and Kentucky.

Beasley wrapped up her stellar weekend on Saturday against Oregon, scattering three runs (one earned) on five hits and one walk over eight innings. She struck out 11 batters in SDSU's 4-3 come-from-behind victory in eight innings.

San Diego State, which is once again receiving votes in both the USA Today/NFCA and ESPN.com/USA Softball national polls, are featured in an ESPN.com article HERE.

A slammin' debut — Coastal Carolina freshman JAZMIN DAIGLE opened her collegiate career just about as good as one could. In the Chanticleers' opener at the Palmetto State Showdown in Columbia, S.C., Daigle belted a grand slam in a 2-for-3 outing to help down UNC-Upstate, 6-1.

The slam snapped a 1-1 tie, as Coastal Carolina eventually won in five innings due to snow.

Down 1-0, CCU tied the game on a hit batter to force in a run. Daigle then cleared the bases with her jack over the right-center field wall.

Chico and the women — The revamped Chico State women's fastpitch team, which suffered tremendous termoil earlier in the decade, including a brief suspension of the program, is off to its best start since 1985 after sweeping a doubleheader over the weekend from host UC San Diego, 2-0 and 7-6.
The combination of Jenna Wermer and RACHEL FAILLA (Santana) fueled the offense in the nightcap. With two outs in the 3rd inning, Wemers smacked a 2-run single, followed by an RBI single by Failla for a 3-0 lead. An inning later, Wermes and Failla again struck for consecutive run-scoring basehits.
Failla, the starting first baseman, is third among Chico State batters with a .313 batting average through six contests.
Last season, the Wildcats went 0-5 against UCSD, which bounced back to sweep Sunday's doubleheader in La Jolla.
A second attempt — Plans for a victorious coaching debut for first-year Christian Brothers University skipper KIMMI HAYDEN (Valhalla) went ruined when the Lady Buccaneers' home opener was snowed out. Things slipped another notch when CBU then dropped a doubleheader on the road to Central Baptist (Ark.), 6-5 and 5-0, to start the season Monday (Feb. 16) in Conway, Ark.
Christian Brothers will make-up its home opener later today (Wed., Feb. 18) against Union (Tenn.).
UPDATE: MEMPHIS — Christian Brothers University sophomore shortstop Alana Kramer belted a pair of two-run homers in the second game of Thursday (Feb. 18) afternoon's home-opening doubleheader against Union, helping the Lady Bucs win the second game, 5-4, after a 2-0 loss in the opener. The victory was the first career triumph for first-year head coach KIMMI HAYDEN.

---
Dronenburg's blasts, Sandberg's arm, propel CSU San Marcos in '10 openers
© East County Sports.com
SAN MARCOS (2-3-10) — Former Helix High standout ALYSSA DRONENBURG helped christen the new softball diamond at Cal State San Marcos by blasting a pair of home runs, powering the Cougars to a doubleheader sweep of Redlands on Saturday (Jan. 30).
CSUSM, behind Dronenburg's blasts, captured the opener, 6-1. Former West Hills standout BRENNA SANDBERG, a junior, then captured her second pitching victory of the day with a 4-3 decision in 8 innings in the debut of new Cougars coach Dave Williams, the former long-time skipper at Point Loma Nazarene.
Dronenburg smacked a 2-run homer down the left field line in the 1st to take a 2-1 lead, then went to right-center with a blast in the 3rd for a 6-1 advantage. The sophomore first baseball went 3-for-4 with four RBI. Meanwhile, Sandberg survived a 1st-inning home run to allow just a pair of singles the rest of the way.
In game two, Sandberg again got through a shaky opening inning, as San Marcos rallied with a run in the 6th and two in the 7th to forge the international tie-breaker. Included was a sacrifice fly for a run in the 6th by Ciera Ashman (Patrick Henry).
The winning run was set up when Dronenburg was walked for a third time, this one intentional, followed by an RBI single by senior second baseman Erica Coelho (Clairemont).
The Cougars returns to their new, on-campus diamond on Friday (Feb. 5), hosting Southern Oregon in a 1 p.m. doubleheader.
Notebook — For those interested in attending Point Loma Nazarene home games this season, be aware, you must give 10 days notice.
With the closure of the Sea Lions' old field (which was reclaimed by City of San Diego Parks & Recreation Dept.), the school could only find a nearby home field at the U.S. Navy's Mine and Anti-Submarine Warfare Command (NMAWC) Field, located on the San Diego Bay side of the Point Loma peninsula.
According to the PLNU website, "We need the names of every person that will be attending a game at the field, along with the make, model and license plate number of every vehicle that will be entering the base. In addition, we will need to know the event(s) and date(s) you will be attending. That information must be turned in 10 days prior to each attended event. All visitors must pass through a manned check point; please make sure to bring identification. Teams: It is very important to not only send us the information for the vehicles that your team will be arriving in, but your parents and fans must have their autos on the list as well. Please help us communicate this necessity with Navy security, to help avoid problems on game day."

Fans may register online HERE.
The Sea Lions feature a host of East County talent, including JESSIE OWENS (Christian/Santana) and ALYC KALAMAHA (Grossmont College) for head coach Cheryl Schaefer, who was recently inducted into the NAIA Hall of Fame.
Meanwhile, Owens' older sister, former San Diego State standout MELISSA OWENS, is in her first season as an assistant coach at Southwestern College.
---
2008-09 SCHOOL YEAR
---
Balough honored twice
© East County Sports.com
MONTGOMERY, Ala. (6-10-09) — Lee University second baseman DANIELLE BALOUGH (Santana HS) has been selected to the National Fastpitch Coaches Association (NFCA) All-Region team for the 2009 season.
Balough, a sophomore, hit .405 for the NAIA 16th-ranked Lady Flames this past year, socking three home runs and 16 doubles. She also scored 31 times and recorded 48 RBI, earning an All-Southern States Athletic Conference berth to lift Lee (39-14 overall) to a second-place finish in the SSAC Tournament.
Her sister, freshman BRITTANY BALOUGH, posted an 11-7 pitching record for the Lady Flames.
---
Hayden becomes youngest NCAA D-I coach
© East County Sports.com
MEMPHIS (5-20-09/UPDATED 5-29-09) — Former Valhalla High standout KIMMI HAYDEN, the 2005 East County player of the year, just became the youngest head coach in NCAA softball.
Kimmie Hayden

One week after graduating from the University of Memphis, where her career prematurely ended due to injury, Hayden, 21, has been named head coach at crosstown Christian Brothers University. Buccaneers athletics director Joe Nadicksbernd made the announcement.

After Hayden's injury, the Tigers were kind enough to keep the school's multi-record holder on scholarship. Meanwhile, while still attending classes, Hayden was picked up by CBU as an assistant coach, helping the young Division I program equal its school record for most victories in a season.

"The players on this year's team really like Kimmi," Nadicksbernd said. "I believe she is a perfect fit to be our new coach. She is extremely organized and is excited about this opportunity to coach college softball."

The San Diego native was a three-year starter at catcher for Memphis before suffering a career-ending shoulder injury. She graduated magna cum laude from the Sports Management program at Memphis, and she is enrolled in its graduate program,

Hayden replaces Donna Crone, who was CBU's head coach for 10 years before being promoted to Assistant Athletics Director / Compliance Coordinator.

Rising from the ashes
As the door to her playing career was closing, Hayden worked hard to close the process.

"Overcoming surgery may have been one of the hardest things I have had to endure in my career," Hayden recalled. "After my first shoulder surgery, I never thought I was going to be able to throw a ball again. I did my physical therapy in San Diego, but at that point, I was really just trying to get my range of motion back."

"Once I got back to Memphis, as usual the doctor and the training staff at the University of Memphis took very good care of me and got me ready for my sophomore season."

However, the problems in her shoulder continued to mount.

"I struggled at the beginning of my sophomore season, especially with my throwing because I basically had to learn how to throw again," she added. "But I worked very hard on it and ended up having a great season."

"But in my junior year, I dove for a ball, and I remember feeling something pop and had the most excruciating pain."

The anchor that tacked her labrum to the bone pulled out from her first surgery. A clean-up operation during the ensuing summer saw the doctor clean up the labrum, rotator cuff and re-tack the labrum back into place.

"However, my left shoulder was popping out of socket and because of the wear and tear from catching, a minor injury from my sophomore year, and over-compensating from two shoulder surgeries."

Soon, everyday activities were nearly impossible because of her left shoulder. The decision for a third surgery just six months later was "heart-breaking."

"That's when I received the sad news that my playing days were most likely over," pointed out Hayden. "This was news I had not expected and I became an even bigger fan of the training room, hoping I could continue playing if I worked hard enough."

"I spent a lot of my collegiate career in there, and I love the staff. The head athletic trainer, Amos Mansfield, was great to me; Amos and his training staff and Dr. Phillips took great care of me while at Memphis, and they still do. However, I came to accept the fact that my softball playing days were over."

Following 17 years excelling in softball, the chapter closed quickly.

"Believe me, leaving softball was one of the most heart-wrenching decisions I have made because I love the sport so much. But I truly believe in the saying that when one door closes, another one opens, and so I began a new phase of my life without sports."

"Or so I thought."

The fork in the road
One of the requirements for Hayden to graduate was to complete nine credit hours in an approved internship. A friend happened to be long-time friends with Crone, the head coach at Christian Brothers University, and offered to call Donna to find out if she had anything open for an internship.

"I met with coach Crone, who was not only the softball coach, but also the Senior Women's Administrator and Compliance Officer. She was in need of an assistant to help with compliance paperwork with my background, she thought I could be of assistance to her department."

Hayden registered for the 3-hour internship class and after weeks of working on compliance paperwork, Crone then asked if Hayden would be interested in doing the strength and conditioning coach with the softball team for the balnce of the fall term to fulfill the remaining required hours for the internship.

"She didn't need to ask me twice – this would be a way for me to still be involved in the sport," added Hayden, who jumped at the opportunity. "This for me was an opportunity of a lifetime; I was going into my second semester of my senior year and had the opportunity to coach a collegiate softball team in the same city I was attending college."

"This was not just an internship for me; this was the start of a new career path with my playing days over. Coaching was the next best thing."

As fate would have it, toward the end of the season, Crone received a grant from NCAA to become the Assistant Athletic Director for CBU, and she suggested for Hayden apply for the head coaching position.

"I knew at that point that because I was only 21, my age would be a factor with this position, but being given the opportunity to at least compete for the job was a huge honor in itself."

"I thought it would be a long shot on actually obtaining the position."

On May 19th, much to her surprise, Hayden was announced as the head coach.

"I am so appreciative of the opportunity Joe Nadicksbernd and Coach Crone have given me, and I am looking forward to a long career with this wonderful university." I love the atmosphere at CBU; my players, the Athletic Department, the students, and staff at this gorgeous campus have all made me feel so welcome. I think this is a great place for student-athletes and I am so proud to be a part of this institution and athletic program."
---
Kristen Medrud
(Loyola photos)

Medrud named first-team in Horizon League

© East County Sports.com
INDIANAPOLIS (5-7-09) — Four members of the Loyola University of Chicago softball team earned All-Horizon League honors, including a first-team berth for former Santana High standout KRISTEN MEDRUD.

It was the first honor for the junior first baseman, who was honored along with the rest of the all-star squad as a dinner prior to the Horizon League Tournament.

Medrud, who has seen the most extended playing time of her career this season, batted a team-best .358 (24 for 67) with three doubles, four home runs and 15 RBIs in Horizon League play to earn first-team honors.

Loyola's lone selection to the first team, Medrud has been on a tear in the last 12 games, batting .410 (16 for 39) with 10 RBIs. In that 12-game stretch, she has hit safely in 11 contests.
---
Medrud's second HR lifts Loyola
© East County Sports.com
CLEVELAND (4-14-09) — Former Santana High standout KRISTEN MEDRUD slugged a pair of home runs, including the game-winner in the 9th inning, powering Loyola University Chicago past host Cleveland State, 3-2, in a Horizon League ballgame Friday (Apr. 10).

Medrud batted 3-for-4 and scored all three Loyola runs, giving the Ramblers (20-12, 8-2 Horizon) their 20th victory of the season, just two short of their season total for 2008 with 18 contests remaining.

Medrud walloped her third home run of the season over the fence in right center in the 4th, extending the Ramblers' lead to 2-0. The host Vikings struck back immediately in the bottom half of the inning however, tying the contest on Amanda Houchin's two-run homer.
Neither team was able to generate much offense the rest of the way until Medrud stepped to the plate with one out in the top of the ninth and deposited Amanda Macneko's offering over the left field fence for the game-winner.

Medrud, a first baseman, is batting .250 this year, ranking among the leaders in every power category, including homers, RBI and slugging percentage.

Loyola advanced to within 1 1/2 games of Cleveland State, with Illinois-Chicago (7-1) the leader in a close Horizon pennant chase by percentage points.
---
Vanessa Adame

Kyrstin Gemar

Game Action Photos HERE
(Slideshow by Lenny Gemar)
Locals placed third at NAIA nationals
© East County Sports.com
DECATER, Ala. (5-20-09) — Dickinson State (S.D.), which features a pair of East County products in VANESSA ADAME (Steele Canyon) and KYRSTIN GEMAR (Grossmont College), finished where they started at the NAIA National Championships.
Ranked third in the nation entering the 32-team, double-elimination event, the Blue Hawks' season ended one game short of the championship, finishing third after falling to St. Gregory, 3-1, in the challenger bracket final.
St. Gregory, the 7th seed, received 10 more strikeouts from Sharon Bell to gain a title-round berth on Wednesday against top-rated Cal Baptist. Bell now has 78 strikeouts at the event, a new NAIA Tournament record.
Dickinson State went 6-2 at nationals, finishing the season with a 42-5 overall mark.
One of the victories at nationals featured a victory over Missouri Valley College, avenging an earlier loss on Mar. 20. Sara Jane Webster struck out 12, backed by a 2-run homer by Gemar.
---
Gemar, Adame, tabbed All-Conference

© East County Sports.com
DICKINSON, S.D. (5-6-09) — A pair of former East County standouts were named to the All-Dakota Athletic Conference team for their play in softball this season. Named to the first team are freshman outfielder VANESSA ADAME (Steele Canyon High) and junior designated player KRYSTIN GEMAR (Grossmont College), who both play for Dickinson State University.

Adame, who anchored the Blue Hawks outfield in center, batted .393 this season, ranking among the conference leaders with 53 basehits. Included were four triples and nine stolen bases.

Gemar ranked among the leaders in both average and power hitting. She batted .516 with seven home runs and 32 RBI, posting a stellar .952 slugging percentage.

Dickinson State (36-3) is ranked third nationally in the NAIA, downing Minot State, 9-0, to capture its fourth consecutive DAC Tournament crown.
---
Adame, Gemar, gain big win for No. 5 Dickinson State

© East County Sports.com
DICKINSON, N.D.. (3-31-09) — Former East County standouts VANESSA ADAME (Steele Canyon HS) and KYRSTIN GEMAR (Grossmont College) have lifted No. 5-ranked Dickinson State University to the top of the Dakota Athletic Conference standings after each registered key hits over the weekend.

In the final game in a 4-game series sweep of visiting Mayville State (N.D.), the Blue Hawks received a game-tying basehit by Adame in the bottom of the 7th inning. Gemar later recorded the game-winner in the 9th with a pinch-hit basehit in a 9-8 triumph to complete the sweep.

"Kyrstin is a big stick in our lineup and we're going to count on her for a lot of things," said head coach Guy Fridley. "We're just fortunate enough to have somebody like her to call upon to come off the bench and get a big hit."

Meanwhile, Adame batted 5-for-6 with three RBI in the contest. Both former East County players also went 2-for-3 in the first game of the Mar. 29 doubleheader, a 13-0 victory, as Blue Hawks pitcher Sara Jane Webster tossed a no-hitter.

Dickinson State sports a record 17-3 this season (4-0 DAC), including a 2-0 victory over Cal State San Marcos at the Tucson Invitational on Mar. 21.
---
Escalante gains SCIAC honors for Oxy
© East CountySports.com
EAGLE ROCK (5-19-09) — Former Grossmont High standout ALYSSA ESCALANTE, who currently starts for Occidental College, was voted to the All-Southern California Intercollegiate Athletic Conference team.
The coaches voted Escalante, a junior catcher, to the All-SCIAC second team.
Escalante started all 37 games for Oxy this season and finished with an overall .286 batting average. She hit at a .266 clip during conference action, handling every pitch from the Tigers pitching staff over the entire season.
Occidental (14-23) tied for the most wins in a season since 2000.
At Grossmont, Escalante made the 2006 All-East County second team.
---
Lindow, UTM, advances to meet Arizona in NCAAs
© East County Sports.com
JACKSONVILLE, Ala. (5-11-09) — Former Santana High standout LAURIE LINDOW was named to the all-tournament team, helping Tennessee-Martin capture its first-ever Ohio Valley Conference Tournament championship.
Laurie Lindow
(UTM photo)

The Skyhawks, the No. 4 seed in the tournament, became the first OVC team to come through the challenger's (loser's) bracket to take the crown, winning three games on the final day, including a victory over Southeast Missouri in the playback final held last Saturday (May 9).

UTM (35-21) advances to the NCAA Regional in Louisville, meeting No. 9 seed Arizona, an 8-time national champion. The other two teams in the regional include Purdue and the host Cardinals, with the double-elimination event slated for May 15-17 at Louisville 's Ulmer Stadium.

Lindow caught every pitch throughout the Ohio Valley event, which started on a down note with a 1-0 loss to Tennessee Tech. However, UTM captured its next five ballgames with victories over Moorehead State (5-0), Jacksonville State (2-0), an avenge win over T-Tech ) 4-2), then a finals sweep of Southwest Missouri (3-2 and 4-1).

Lindow, a junior majoring in forensic geology, batted a solid .556 over the first three contests of the tournament. Teammate Savannah Roberts then took over, hitting a pair of homer in the finale. The event MVP was Skyhawks pitcher Kara Harper.

For the season, Lindow is batting a solid .273, leading the team to a late-season 7-1 run to qualify for the playoffs, topping the ballclub in RBI during the stretch.

Lindow was a 4-year starter at Santana, helping the Sultans to the 2004 CIF Division III championship. She was a three-time All-East County selection, twice on the first team (2003, 2006).
---
Jesse Peterson
(CSUEB photo)
Peterson tabbed Cal-Pac's best
© East County Sports.com
HAYWARD (5-6-09) — Former Grossmont College standout JESSE PETERSON made a mighty impression on coaches in the California Pacific Conference. Depsite playing for a Cal State East Bay ballclub which posted a disappointing 13-25 overall record this season, Peterson was named co-winner of the Cal-Pac player of the year award. The announcement was made by commissioner Don Ott.
Peterson, the Pioneers' first baseman, ranked among the conference's leading hitters all season with a .312 average. She also shared pitchin duties, posting a 9-11 record with 136 strikeouts over 134 innings.
Peterson, a senior, shared the award with Valerie Brionez of Cal-Pac champ Holy Names University.
---
Griffins alum Peterson honored
© East County Sports.com
HAYWARD (4-12-09) — Cal State University East Bay senior Jesse Peterson, an alum of Grossmont College, was selected as the California Pacific Conference women's fastpitch pitcher of the week for the period from Mar. 30 thru Apr. 6.
Peterson struck out 23 batters in four games, helping the Pioneers move into third place in its final season in the Cal Pac (NAIA); the school joins the NCAA Division II California Collegiate Athletic Conference in 2009-10.
During the week, Peterson recorded hits and RBI in all six contests, batting a solid .529 (9-for-17). Her hitting streak reached nine games before finally ending on Apr. 10 against Bethany.
For the season, Peterson owns a 9-9 record with a 2.30 earned-run average. She is also the runaway CSU East Bay leader in batting with a .348 average; the next closest Pioneer is at .282. Not too bad for a player who never played varsity softball in high school; Peterson attended Helix High.
---
Mottola pitches GCAC Tournament shutout
© East County Sports.com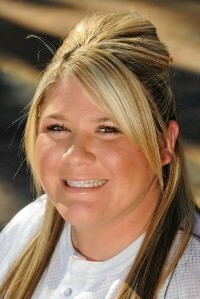 Ashley Mottola
(Belhaven photo)

ORANGE BEACH, Ala. (5-2-09) — Former Grossmont College standout ASHLEY MOTTOLA pitched a complete-game shutout for Belhaven College, propelling the Blazers into the championship round of the NAIA Gulf Coast Athletic Conference Tournament on Apr. 25.

Mottola, who posted a 13-7 record this season, finished with a 6-hitter in defeating Spring Hill College, 4-0. It was her second shutout of the season.

Belhaven went on to avenge an opening-round loss to University of Mobile, 4-2, but then fell in the tournament final, 12-2, to 5th-ranked William Carey University (40-6). Nevertheless, Belhaven finished the season with the most victories in school history with a 36-19 overall record.

Mottola, a junior from Dulzura who prepped at Santana High, recorded 70 strikeouts in 127 innings.
---
Dronenburg scores game-winner

© East County Sports.com
SAN MARCOS (4-19-09) — Former Helix High stanbout ALYSSA DRONENBURG scored a pair of runs, including the game-winner in extra innings, leading 25th-ranked Cal State San Marcos to a 2-1 triumph in 8 innings over 2nd-ranked Point Loma Nazarene in Saturday's (Apr. 18) non-conference doubleheader held at Mission Hills High School.



CSU San Marcos
Alyssa
Dronenburg

Brenna Sandberg

The Crusaders rebounded to take the second game, 2-1. Prior to the doubleheader, the teams completed a Febraury contest suspended by rain, with PLNU winning, 5-4, in 8 innings.

Dronrnburg scored in the 3rd, hustling home from second base on a 2-out line single by Elizabeth Bush. Point Loma Nazarene got even on an Alexandra Wilkinson homer in the 5th, but when the Sea Lions were unable to cash in their runner from second base during the international tie-breaker, the Coyotes did on a sacrifice bunt by Lauren Nelson then another basehit by Bush.

West Hills High product BRENNA SANDBERG pitched 5 1/3 innings of 4-hit ball, but reliever Ciera Ashman finally collected the victory.

For the contest, Dronenberg went 2-for-4. In game two, the designated hitter gained an RBI on a sacrifice fly. She leads all San Marcos batters with a .349 batting average, with team-highs of 8 homers and 31 RBI.

San Marcos is now 27-20 for the season.
---
CSU San Marcos receives East County boost
© East County Sports.com
TUCSON, Ariz. (3-27-09) — A pair of former East County softball standouts lifted Cal State San Marcos to a successful weekend at the Tucson Invitational. Included were Helix High alum ALYSSA DRONENBURG, the CIF Division I Player of the Year, and former West Hills High pitcher BRENNA SANDBERG.
Dronenburg, who was also a first-team All-San Diego CIF selection by the media last season, registered two strong games at the event last weekend (Mar. 20-21).
Against Trinity Christian, whe posted a perfect 4-for-4 with four RBI at the plate, including a walkoff, 3-run triple to invoke the run rule in an 8-0 triumph. She later went 2-for-4 with a pair of RBI in a 15-6 pasting of Mayville State.
Meanwhile, in a second game with Trinity Christian, Sandberg, a sophomore, tossed a 2-hit shutout in a complete-game effort. She struck out 7 without issuing a walk, as the Cougars extended their winning streak to five straight games.
Cal State San Marcos (20-14 overall) plays Friday (Mar. 27) at USD in a 4 p.m. doubleheader, then host Vanguard in a Saturday (Mar. 28) twinbill starting at noon.
Diaz Update - TERESE DIAZ, the former Helix High standout, currently ranks 5th in the nation in strikeouts among NCAA Division I freshmen. Overall, the University of Buffalo pitcher is tied for 22nd at 9.3 strikeouts per every 7 innings (thru games of Mar. 22) according to the most recent NCAA statistical update.
---
Seymour delivers Dordt

© East County Sports.com
SIOUX CITY, Iowa (4-9-09) — Former Christian High standout SARAH SEYMOUR delivered the game-winning hit Wednesday (Apr. 8), helping visiting Dordt College to a 7-4 triumph over Dakota State.

Sarah Seymour
(Dordt photo)

Coming up with the bases loaded, Seymour lined a basehit to center for the go-ahead run, but when the ball was misplayed, another runner came home for a 6-4 advantage.

The Defenders (13-17), which opened the season with a 6-17 mark, have now won seven straight contests thanks to Seymour – the school's longest win streak since 2002. It's also a nice turnaround for a program which went 6-31 prior to Seymour 's arrival. During the winning streak, Seymour is batting a cool .600 (15-for-25) with 7 runs and 9 RBI.

Seymour, a sophomore first baseman, leads the ballclub with a .361 batting average. The left-handed hitter also paces the team in home runs, triples and total bases, and is second in doubles and RBI.

Dordt currently is in 5th place in the 13-team Great Plains Athletic Conference (NAIA), just two full games behind front-running Morningside College (Iowa).

At Christian, Seymour was a 2-time team MVP, earning a 2007 first-team All-East County berth after batting .378 as a senior.

Failla has Chico winning

© East County Sports.com
TURLOCK — Former Santana High standout RACHEL FAILLA recently lifted Chico State to five consecutive victories at the Mizuno Tournament of Champions, held at Pedretti Park on Apr. 3-5.

Rachel Failla
(Chico St. photo)

Failla, a freshman first baseman for the Wildcats, batted a team-leading 368 (7-for-19) at the event, posting victories over Northwest Nazarene, Saint Martin's, Central Washington, Western Washington and Western Oregon. The Wildcats (16-29) fell to nationally-ranked Grand Canyon in the final tournament ballgame.

For the season, Failla has started in 41 of 45 games as one of seven freshmen playing for Chico State. She owns a current batting average of .258, leading the team in home runs and in fielding percentage.

Balough sisters to play
for first place in SSAC

© East County Sports.com
CLEVELAND, Tenn. (4-10-09) — The championship of the NAIA Southern States Athletic Conference will be on the line Tuesday (Apr. 14), when first-place Shorter College of Georgia comes to town to meet second-standing Lee University, which features former Santana High sister combination of DANIELLE and BRITTY BALOUGH.

Shorter, ranked 12th, leads Lee's 19th-ranked Flames (23-9) by one game entering the doubleheader, with both ballclubs riding hot streaks.

Danielle (left) and Britty Balough
(Lee University photos)

Shorter (27-9) recently established an NAIA narional record by going 45 consecutive innings without allowing a run. However, Lee has kept pace, winning 15-of-17 ballgames – including an 11-game win streak – to overcome an 8-7 start to the season.

Danielle Balough is batting a solid .387 to rank third on the ballclub, starting in 28 of the Flames' 32 outings. She rates second in total hits and doubles.

Meanwhile, Britty Balough, a freshman and the heir-apparent to starting pitcher Johana Gomez of Venezuela, is keeping up with her veteran teammate. Balough leads Lee in innings pitched, owning a 7-4 record and a 2.87 ERA, including eight complete games.

And when not pitching, she has contributed with the bat, to. Included was Thursday's (Apr. 9) doubleheader sweep at Brewton-Parker College Mount Vernon, Ga.). In the second game, Balough registered a pair of basehits worth three RBI, while also scoring twice.
---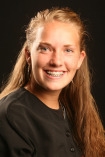 Samantha Beasley
(SDSU photos)

Beasley tabbed MWC pitcher of the week
Sophomore earns third honor of the season

© East County Sports.com
COLORADO SPRINGS, Colo. (4-8-09) — There is more than one pitcher earning recognition at San Diego State this season.

While baseball's STEPHEN STRASBURG is a leading candidate as the nation's top player with a long list of national and conference player of the week honors, Aztecs softball pitcher SAMANTHA BEASLEY is quickly catching up.

Beasley, a sophomore out of Steele Canyon HS, earned her third Mountain West Conference pitcher of the week citation. A righthander, Beasley went 2-0 in two appearances with a 0.50 ERA over 14 innings. She struck out 23 and allowed just two walks for an impressive 11.5 strikeout-to-walk ratio. Beasley gave up seven hits, five of them singles, and one run, allowing her opponents to hit .140.

On Wednesday (Apr. 8) at USD, Beasley tossed a 2-hit shutout, striking out 10 batters. Both Toreros hits were singles, with no runner advancing past second base.

Against UNLV in the MWC opener on Saturday, Beasley had 13 strikeouts – the second-most in her career – and walked none over seven innings. She allowed five hits, three of them to Marissa Nichols, and one run. Beasley got out of a major jam in the 5th inning with two runners in scoring position and one out by getting a popout and a strikeout on a 12-pitch at-bat.

On the season, Beasley is 12-9 with a 1.91 ERA over 139 innings, and leads the MWC in innings pitched, strikeouts (174), saves (4) and appearances (29, tied-first). She is striking out 8.76 batters per seven innings in 2009, the most in school history. With at least 14 games to go in the season, Beasley also ranks fourth in saves and opponents average (.196), sixth in strikeouts and tied for seventh in solo shutouts (since 1999) (5).

The Aztecs (25-13, 2-0 MWC) are receiving votes in both the USA Today/NFCA and the ESPN.com/USA Softball polls. SDSU had won seven straight games, and 20 of their last 25 contests.
---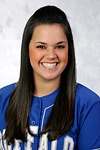 Terese Diaz
Kimmie Hayden
College Softball Notepad
© East County Sports.com
A series of notes on former East County softball players at 4-year schools:
Buffalo's Terese Diaz
BUFFALO, N.Y. (3-17-09) – Former Helix High standout TERESE DIAZ made her opening week in college a successful one. The Bulls freshman was a Mid-American Conference honorable mention selection for pitcher of the week honors after posting a 2-0 mark at the K-Club Classic at Kennesaw State.
The frosh right-hander picked up complete-game wins over Drexel and Memphis, striking out 19 in 16 innings of work. At the plate, she batted .286 and knocked in a pair of runs.
Memphis' Kimmie Hayden
MEMPHIS, Tenn. – The playing career for former Valhalla High standout KIMMIE HAYDEN may be over, but not her softball career. After leading the Tigers in batting (a .311 average – third-highest in school history) as a junior for the Tigers in 2008, surgeries on both shoulders ended her stint as a 3-year starting catcher.
However, while Memphis was kind enough to keep her on scholarship for her senior year – afterall, she set more than a dozen school records in three seasons with the Tigers – Hayden is now serving as an assistant coach at crosstown Christian Brothers University, an NCAA Division II program. The Lady Bucs are off to a 10-6 start, the school's best this decade.
Jodie Schmehr
Taylor Kelly

Seattle's Jodie Schmehr
LOS ANGELES – Former Valhalla High standout JODIE SCHMEHR helped advance Seattle University to the title game of last week's Marriott L.A. Westside Classic at Loyola Marymount's Smith Field.

Schmehr, the RedHawks' starting second baseman as a freshman, helped straighten Seattle's ship following a 2-6 start by winning a season-high 3 straight ballgames at the event. Included was a 2-game sweep of Utah Valley, as Schmehr scored three runs in the series, then she turned a key double play in the 6th inning during a victory over St. Mary's.

Although Seattle lost to host Loyola Marymount in the finale, the freshman still collected two of the Hawks' six hits.

Seattle will join St. Mary's and Loyola Marymount in the new Pacific Coast Softball Conference in 2010.

Cal's Taylor Kelly
HONOLULU – Former Santana High standout TAYLOR KELLY is helping Cal remain in the NCAA national rankings. The Golden Bears (21-4) are ranked 9th nationally after sweeping all four games at the Chevron Spring Fling Tournament, hosted by the University of Hawai'i on Mar. 11-14.

Serving as the starting shortstop, Kelly has started every game but one, posting a solid .264 batting average. Included was one of three 1st-inning home runs slugged by the Bears against Wisconsin at the tournament, her second of the season. Cal also defeated Memphis, St. John's and the host Rainbow Wahine.
---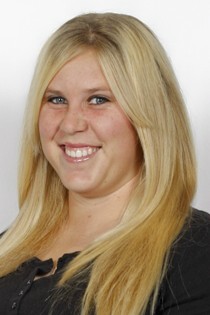 Cassidy Baggett

Frosh Baggett gains conference honor

© East County Sports.com
MARSHALL, Mo. (3-2-09) – In just her second week as a collegiate athlete, former West Hills High standout CASSIDY BAGGETT was named the Heart of America Conference athlete of the week for the period ending Sunday (Mar. 1) after leading Missouri Valley College to the championship of the Evangel University Early Bird Tournament.

Baggett, a freshman first baseman, batted a cool .714 in tournament victories over William Wood University, 9-5, and Rogers State, 4-3 in 8 innings. In the second game, the Vikings avenged a season-opening loss to the Hillcats in a battle of the two remaining undefeated teams in the tournament, as Baggett homered, then drove in the game-winning run in extra innings.

Baggett started the week with a power surge in a non-conference contest, pumping out a pair of home runs and accounting for all of her team's RBI in a 4-0 pasting of Ottawa University.

For the week, Baggett's hot hitting (7-for-10, 8 RBI, 1.700 slugging pct.) has lifted Missouri Valley's Vikings (7-5) to 5 straight victories after starting 2-5 out of the gate.

At West Hills, Baggett finished third among East County batters with a .457 average as a senior in 2008, gaining a first-team berth on the All-East County team.
---
<!–#include virtual="/main/ssi/back.html" –>