---
PRO MOTORSPORTS

BECCA WEBSTER
Red Bull's 'Rock Diva'
is a 6-time U.S.
National Champion
in Rock Crawling
for Team RockIt



At Santana HS, she

was a CIF titlist in

gymnastics & diving

PRO SOCCER
PRO SOFTBALL
PRO BASKETBALL
PRO VOLLEYBALL

HEATHER MOLZEN
Lemvig Basket club
Dameligean League
(Denmark, 09-10)


JENNIFER HOLDREN


AVP Pro Tour

PROFILE

ADVENTURER

Roz Savage

completed 3-year mission to row solo across the Pacific Ocean.

BLOG
Militia swamp Surge for WFA national title
© East County Sports.com
CHICAGO (8-2-14) — In compiling a perfect 11-0 record, the San Diego Surge semipro women's football team allowed a mere 68 points all season.
In Saturday's (Aug. 2) Women's Football Alliance national championship game, the Boston Militia did one better.
Boston collected 10 touchdowns in scoring 69 points, defeating the Surge, 69-34, in the title game held at Lane Stadium, located less than two miles from Wrigley Field. Three quick turnovers turned into 21 points to give the Militia the early advantage in win in a romp.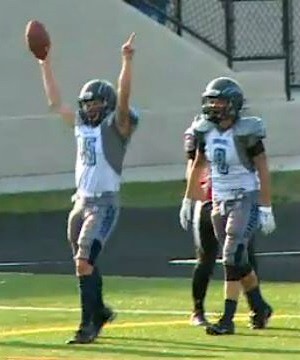 San Diego receiver Holly Peterson (left) celebrates
her 17-yard touchdown catch from quarterback
Melissa Gallegos. Boston took the WFA title game
with a 69-34 pasting of the Surge in Chicago.
(Screengrab, courtesy LiveStream media)
The crown was Boston's second in four seasons. The Militia also defeated the Surge for the 2011 title, 39-19, but San Diego quickly rebounded to take the 2012 WFA national banner
Early fumbles decided the contest in the first quarter.
Boston dropped the ball on the opening kickoff and its first play from scrimmage, but recovered each time. Meanwhile, San Diego lost three fumbles on its first four possessions, allowing the Militia to take leads of 14-0 and 28-7.
Boston then posted 40 points in the second half to pull away.
Surge quarterback Melissa Gallegos tossed a pair of touchdown passes, including a 17-yard strike to Holly Peterson.
Alexis Snyder opened the scoring for San Diego ith a 14-yard TD rush. Kaycee Clark later added a pair of scoring rushes.


Left: Surge running back Alexis Snyder (23) followed the block from Jessica Cable (63) for a 14-yard, first-quarter touchdown in the WFA title game. Right: Capitans for theSan Diego Surge include (l-r): Melissa Gallegos (3),
Deana Guidry (21), Ashley Moody (15), Knengi Martin (47), Jennifer White (5) and Jessica Cable (63).
---
Surge vault to WFA national final
© East County Sports.com
SANTEE (7-20-14) — A dramatic, 17-yard touchdown run by DEANA GUIDRY ignited a string of 40 unanswered points, lifting the unbeaten San Diego Surge (11-0) to the championship game of the Women's Football Alliance after downing the visiting Kansas City Titans, 59-14, in Saturday's (July 19) American Conference final at Santee Community Stadium.
Guidry, who would score three times on the night, was about to be pushed out of bounds near the goal line, but extended her arm and hit the pylon with her back to the end zone. She later added a 52-yard romp along the right sideline.
Guidry's first score ended a Kansas City threat. Down 19-0, the Titans scored twice to move within five points before Guidry turned around the momentum for good.
The victory vaulted the Surge into their third WFA Championship Game in four seasons. They will meet the Boston Militia, which claimed the National Conference crown by whipping the Chicago Force, 63-14.
The Surge and Militia will meet for the title on Aug. 2 at Chicago's Lane Stadium.
Another big play saw the Surge's Tiffany Humphrey block a Titans punt in the third quarter to set up a 25-yard TD romp by Kaycee Clark just two plays later, the Surge were able to punch their ticket to Chicago.
"It was like nobody wanted to block me, so I raced through the line and got to the ball," noted Humphrey. "Anything we needed to do to win, we did it."
The Surge lost the WFFA title game in 2011, then bounced back to win it all in 2012. Last season, they were upset in the Pacific Region final to the Central Cal War Angels, but they haven't lost since.
The Surge avenged the setback to the War Angels with a pair of victories by a composite 99-6 count to close the regular season.
Quarterback Melissa Gallegos used the short passing game to set up the Surge ground attack. However, she did connect on a 13-yard touchdown pass on the opening play of the second quarter for a 19-0 advantage.
For the second straight playoff contest, the Surge defense blanked the opponent in the second half.
After the blocked punt, Kansas City then elected not to punt six times in the second half to try to get back into the contest, yet failed on fourth down each time, including a sack by Surge linebacker Tracy Wong.
---
San Diego Surge

Seattle Majestics
Surge gain Pacific Region crown, advance to WFA Final Four

© East County Sports.com
KENT, Wash. (7-7-14) —The San Diego Surge women's semipro football earned yet another Pacific Region title in the Women's Football Alliance, rallying from a 20-16 halftime deficitto stun the Seattle Majestics, 36-20, at French Field. OTHER VIEWS

The unbeaten Surge (10-0) will host the Kansas City Titans on Sat., July 19 for the American Conference Championship at Santee Community Stadium (Santana High School). Kickoff has been moved to 7 p.m. in case of extreme heat, instead of the usual 5:30 p.m.

Kansas City advanced after blanking the Austin (Texas) Outlaws, 41-0, to run their composite postseason scoring ledger to 84-2.

In the National Conference, two traditional powers will meet in the final after the Chicago Force downed the Miami Fury, 66-8, while the Boston Militia survived a wild shootout with DC Divas, 72-56. Chicago will also host the WFA Championship finale no matter which teams advance.
---
Surge (9-0) out-glitter the Showgirlz
Next meets Seattle for Pacific championship

© East County Sports.com
SANTEE (6-22-14) — The San Diego Surge semipro women's football cteam raced to an easy win in their opening Women's Football Alliance playoff game, topping the visiting Las Vegas Showgirlz, 48-16, Saturday (June 21) at Santee Community Stadium.

With the victory, the unbeaten Surge (9-0) gain a road date with the Seattle Majestics, which upset the Central Cal War Angels, 13-12, at Golden West High in Visalia. The defending Pacific champions tried a field goal with 5:00 left, but the snap was fumbled.

Thus, the Surge will go on the road to meet the Northwest Division champions to decide the Pacific Region titlist and a berth to the WFA Final Four. The game is set for Sat., July 5, in Kent, Wash.
---
San Diego Surge receiver Kaycee Clark gets behind the secondary
of the Las Vegas Showgirls for a 48-yard touchdown in a 59-6 win.
(Photo by Nicole Kallis)
Michelle Galleglos, quarterback
of the San Diego Surge.
(Photo by Nicole Kallis)
Surge roll past the Showgirlz

By Nick Pellegrino
© East County Sports.com
SANTEE (4-6-24) — The San Diego Surge women's semipro football team, the 2012 national champions of the 71-team Women's Football Alliance, opened the 2014 season Saturday (Apr. 5) with an easy 59-6 conquest of the Las Vegas Showgirlz at Santee Community Stadium.

The Surge posted three touchdowns in the first eight minutes, racing to a 40-0 halftime cushion before a crowd of more than 300 spectators.

Quarterback Michelle Gallegos fired four scoring passes, while first-year running back Alexis Snyder raced 47 yards for a score on her first career carry.

Leading 6-0, Las Vegas' best chance of the first half ended on a goal-line stand at the Surge-2, thanks to a 4th-down stop by a pair of Surge veterans, nose guard Tanya Paaluhi and middle linebacker Knengi Martin

The Surge are on the road for the next two weeks, then return home for an Apr. 26 contest with the West Coast Lightning. SURGE WEBSITE
---
2013
Surge running back Cassey Brick rushes
for the first of her three touchdowns in
a 41-12 romp over the Pacific Warriors.
The Surge will host Las Vegas in a WFA
playoff opener on Saturday (June 15).
(Photo by Lisa Carey-Navarrete)
Surge football clinches
Pacific Division title
By Nick Pellegrino
© East County Sports.com
SANTEE (6-9-13) — Running bacl CASSEY BRICK, the hero in the 2012 Women's Football Alliance national championship game, raced for a pair early touchdowns, leading the San Diego Surge to an easy knockout of the Pacific Warriors of Torrance, 41-12, in Saturday's (June 8) regular-season finale at Santee Community Stadium.
Brick added a third touchdown of 19 yards in the third period, giving the Surge (7-1) a third consecutive Pacific Division crown.
Brick raced 10 yards on a sweep to finish a 69-yard scoring drive just 2:23 into the contest, then capped the first quarter with a 5-yard run on the first play after Surge defender CRYSTAL STOKES blocked a punt by the Warriors (4-4).
Capping the scoring was 18-year old JORDAINE SABLAN, a "Five-foot-and-a-half" running back who played soccer at Mira Mesa High. The native of Guam made four cuts in the secondary to allude defender en route to a breathe-taking 57-yard TD pass from AMANDA HORTON in the final minutes.
The Surge will host the Las Vegas Showgirls in next Saturday's 5:30 p.m. WFA playoff opener.
---
Surge claim WFA football crown
© East County Sports.com
PITTSBURGH (8-5-12) — The roots of full-contact women's football in the county date back to the San Diego Lobos from the mid-1970s. There have been others ballcluns since then, but until now, none could be called national champions.
Partaking in the first-ever Women's Football Alliance contest in a National Football League stadium, the East County based San Diego Surge completed a perfect season after nipping the Chicago Force, 40-36, in the WFA title game at Heinz Field. FINAL STATS
Holly Peterson returned the opening kickoff 82 yards for a San Diego touchdown,but Chicago bounced back to claim a 36-27 advantage. However, the Surge scored twice in the final 2:28, featuring a 66-yard punt runback by Cassey Brick with 1:49 remaining.
San Diego (12-0) then staved Chicago's final chance with a championship-clinching interception by CILENA MOSLEY at the Surge 6-yard line with 18 seconds remaining before a crowd of more than 2,300 spectators.
Brick was named the most valubale player of the final after the wide receiver also caught four balls for 120 yards and a pair of touchdowns. In all, Brick finished with four scores, also rushing four times for 29 yards and a TD.
Surge quarterback Melissa Gallegos threw for 261 yards and three touchdowns, including an 88-yard TD strike to JESSICA JAVELET, in the battle of unbeaten ballclubs. Javelet also led the Surge in total tackles on defense.
The Force finished at 11-1 overall.
The ballgame was broadcast on ESPN3 and hosted by the Pittsburgh Passion, founded by co-owner Franco Harris, the Hall of Fame Steelers running back. The WFA is a nation-wide, 62-team league of semipro, full-contact women's football teams.
MORE from ESPNW
---
Surge semipro women's football coming to Santee
National runners-up kickoffs season on April 21

By Nick Pellegrino
© East County Sports.com
SANTEE (4-5-12) — The San Diego Surge, the national runners-up in the 62-team Women's Football Association, is making a move and will play its 2012 spring schedule at Santee Community Stadium on the campus of Santana High School.



The Surge, which has played under others nicknames (Sunfire, Scorpions) over the past decade, posted 11 consecutive victories to capture the American Conference crown last season before falling in Dallas to the Boston Militia for the national title.

The season opener will be at home against the Silver State Legacy of Las Vegas on Sat.,Apr. 21. Kickoff is at 5:30 p.m.

The long-time quarterback for the Surge is Melissa Gallegos, who begins her 10th season with the Surge. Her favorite target is tight end Carmen Cruz, the leader in receptions, yardage and touchdowns.

"I feel very old for this sport -- I sometimes feel like Brett Favre," joked Gallegos, 32. "But we've got a lot of key players and a lot of experience, so we shouldn't have any problem to play for another championship."

In 2010, Gallegos was selected to represent Team USA at a world women's (American style) football event in Sweden, directing the Americans to the gold medal following a victory over Canada. Then last year, she led the Surge to an 11-0 mark and the American Conference crown after defeating the previously undefeated Dallas Diamonds, 48-20.

Last month, the Surge conducted a 2-day mini-camp in Gallegos' hometown of El Centro in preparation for the season. Practices are conducted twice weekly at Hourglass Field in Mira Mesa.

The veteran Surge squad features several East County products, including a pair of basketball standouts from their high school days.

Included are a pair of former East County players of the year in Kim Martin, who led Mount Miguel High to the first of its current stretch of 12 consecutive Grossmont Conference league titles in 2000-01; and Jessica Cable, the benchmark to the 2002-03 El Capitan team which went into double-overtime before falling in a memorable CIF Division II title game to Mount Miguel.

"A cousin of mine, Michelle Starks, plays for the team," said Martin, who is in her second season playing football. "When I came back from college, I saw some of their practices and decided I had to be competitive again and this was the way to go."

Martin, a power forward in her basketball days, is a slot receiver for the Surge.

"I always said I was too aggressive for basketball, so I felt football was a way to take my aggression out. Plus, in football, I can make better use of my height, so that's nice."

Cable enjoys the physicality of playing tackle football

"It's intense and I love the contact," noted Cable, a third-year right tackle who can play anywhere along the offensive line. "And it's nice to be in a team situation once again."

"It's awesome to be on this team. We all get along, we're all on the same page and we're all her for one goal. It's nice to be on a high-caliber team again."

Cable, who also starred at Grossmont College, would like nothing better than to make a repeat appearance in the WFA title game, but, of course, win it all.

"We're after it this year," she added. "We have more passion, more dedication, to get back there this year. It's a great environment."

Cable's basketball coach at El Capitan, Darin Curtis, is also an assistant coach for the running backs, along with being the public-address voice of the Surge.

Remaining Surge home games include: the Bay Area Bandits (May 19), the Arizona Assassins (June 9), and the Pacific Warriors (June 16). Playoff dates will follow.

Further information is available on the team website: www.sandiegosurge.com.
---
Washington State's Heather Molzen (El Capitan)
signs professional contract to play in Denmark.
(WSU courtesy photo)

2010-11 Molzen Update
The economic downturn has hit in Europe, too, forcing many teams to send their American import players home. However, Molizon was offered a position in the National League of Turkey, yet declined and is back home in Lakeside. Along with staying in shape playing basketball at a local fitness club, she is working with children suffering from autism.

Molzen signs pro contract with Danish club Lemvig

© East County Sports.com
PULLMAN, Wash. (7-29-09) — Former El Capitan High standout HEATHER MOLZEN, who just completed her senior year at Washington State, will continue her playing career after accepting an offer to play professionally in Denmark.

Molzen, who is currently spending time with her family in Lakeside, heads overseas on August 10 for the start of the Danish season, which runs from September through April. She signed a contract to play with Lemvig Basket, a basketball team in the Dameligaen League, the highest level of competition in Denmark.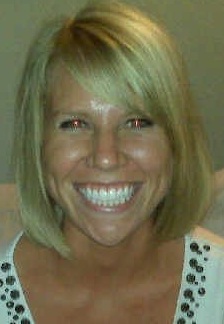 Heather Molzen

"We are proud of Heather's numerous accomplishments at WSU, both athletically as well as academically," said WSU head coach June Daugherty. "The opportunity to play basketball overseas is a credit to her talent and hard work."

Molzen was a four-year letterwinner with the Cougars, appearing in each of the team's 60 games over her last two seasons. She combined to make 56 starts her junior and senior years, and became the first player in school history to start 30 games in a season in 2007-08.

Molzen led the team in both rebounding average (6.0 per game) and total rebounds (179) as a senior, ranking 11th in the Pacific-10 Conference in the former. As a junior, Molzen led the Cougars in total rebounds (128; 4.3 per game), and finished second on the team in scoring (203 points; 6.8 per game).

Lemvig Basket, located in Lemvig, Denmark, recently completed its first season in the Dameligaen (8-14 record; 7th of 9 teams), missing the playoffs in its debut season by only one game.

"We signed Heather Molzen for the coming season because we want to make our team stronger on the inside, and at the same time keep the flexibility," Lemvig Basket chairman Rene Jakobsen said. "She is a perfect match, being able to fill in at different positions. We also feel that Heather will be a great role model for our younger players."

At El Capitan, Molzen was a three-time All-East County performer, once leading the region in both field goal shooting (61.5 percent) and blocks.

Molzen is the first local player to play pro ball in Northern Europe since former Santana standout center LESLIE ELLIS did so in Norway (Tromso AC) during the early 1990s.
---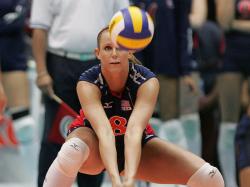 Katie Wilkins as a member of the USA National women's volleyball team.
(Courtesy, USA Volleyball)
Wilkins headed for '51st state'
© East County Sports.com
CUAYNABO, Puerto Rico (2-1-10) — Former Christian High standout KATIE WILKINS KIMMICH, the former CIF San Diego Section player of the year who went on to play for the U.S. National women's volleyball team, is continuing her professional career in the Puerto Rican Superliga, signing with the Mets de Guaynabo.

Kimmich, a former Lakeside resident who was recently married, is a 6-foot-4 outside hitter who was 2001-03 West Coast Conference player of the year for Pepperdine, also taking All-America honors all three seasons for the Waves. She also played for the Hungkuk Pink Spiders of the Korean volleyball league, plus two seasons on the pro beach circuit.

APRIL 2010 UPDATE: Despite strong play by Kimmich, the Mets finished last in the 10-team Superlga at 4-18. However, she suffered a career-ending knee injury, so now lives with her husband in Germany; he's in the U.S. Air Force.
---
Brown, Force, drop opener to NPF champion Bandits

© East County Sports.com
ELGIN, Ill. (6-4-09) — It was a less than auspicious debut for former Valhalla High/Georgia Tech standout SAVANNAH BROWN. In her debut with the Philadelphia Force, Brown's new team lost to defending Cowles Cup champion Chicago Bandits, 5-1, in Wednesday's (June 3) National Pro Fastpitchseason opener. The game was the first in a remarkable 10-game series – five in each city – between the ballclubs.

The Bandits pitching combination of Kristina Thorson and former U.S. Olympic star Jennie Finch combined for seven strikeouts and three walks respectively. The pair also yielded just one hit to the Force, an RBI double by Audrey Lafountain in the 3rd inning.

Leadoff hitter Stacy May paced Chicago with a pair of basehits.

Brown, who played for the Rockford (Ill.) Thunder last season, entered at catcher in the 5th inning, even though former Georgia Tech teammate Jessica Sallinger was the starting pitcher for the Force. Brown went 0-for-1.
---
Woznuk makes SoCal debut
© East County Sports.com
CARSON (5-31-09) — ANGIE WOZNUK, who played on all six levels of the U.S. National Soccer team program in her amateur career, made her Southern California debut as a professional on Saturday (May 30), but her St. Louis Athletica fell to the Los Angeles Sol, 2-0, at Home Depot Center.
Woznuk, a defender, was credited with one shot. but the Sol, owners of the best record (6-1-2) in Women's Professional Soccer, held a 16-8 advantage in shots. Included were goals by Camille Abily in the 35th minute and former San Diego Spirit (WUSA) striker Shannon Box in the 50th minute.
Woznuk, an El Cajon resident, started for NCAA women's soccer national champion University of Portland, then was drafted 15th overall in the WPS draft by St. Louis, which rests in the middle of the 7-team pack at 2-3-2 overall.
---
Woznuk opens Algarve Cup with goal
© East County Sports.com
LAGOS, Portugal (3-5-09) — El Cajon's ANGIE WOZNUK scored the tournament's first goal in the 2009 Algarve Cup, leading the United States past Denmark, 2-0, at Municipal Stadium. For Woznuk, a defender, it was her second career international goal.
The Algarve Cup, now in its 16th edition, is the world's most prestigious women's football (soccer) tournament behind only the Women's World Cup and the Olympics.
Update — Sweden won its third Algarve Cup by nipping defending champion USA in a penalty shootout after the teams played to a 1-1 draw in the final. Denmark finished in third place. Hope Solo, a teammate of Woznuk for the St. Louis Athletica, was tabbed the tournament's most outstanding player.
---
Angie Woznuk
Her US Soccer
Page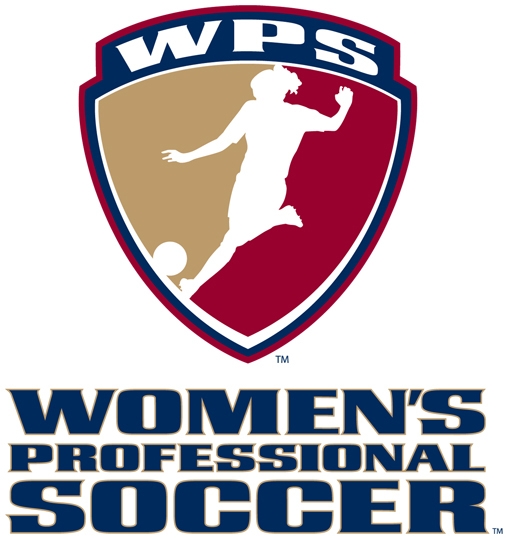 WPS opens Mar. 29th
El Cajon's Woznuk drafted in new women's pro soccer league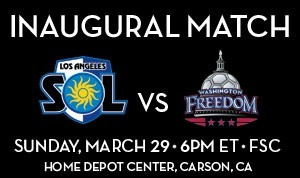 © East County Sports.com
ST. LOUIS (11-23-08) — ANGIE WOZNUK, the two-time Parade prep All-American soccer star from University of San Diego High, has been drafted by the St. Louis Athletica of the new Women's Professional Soccer (WPS) league, which debuts this April.
Woznuk, an El Cajon resident, was the first pick in the third round (15th overall) in the WPS general draft.
Woznuk's standout career included am NCAA national championship with the University of Portland. She also captured the FIFA U-19 World Championship for Team USA, winning the Silver Ball award at the second most valuable player and the Bronze Foot award as the tournament's third-leading scorer.
At USDHS, Woznuk was tabbed the Gatorade Californian state player of the year. Now 23, Woznuk joined the U.S. Women's National Team in 2005. The new league is the forerunner to the WUSA (Women's United Soccer Association), which included the San Diego Spirit.
In 2009, WPS franchises will be: Los Angeles Sol, St. Louis Athletica, FC Gold Pride (San Jose), Chicago Red Stars, Boston Breakers, Washington (D.C.) Freedom and Blue Sky FC (New York/New Jersey). Joining in 2010 will be teams in Atlanta, Dallas and Philadelphia.
---
NORSEMEN IN THE PROS

Valhalla High is the lone high school
in the nation with two alumni playing in
National Pro Fastpitch – Rockford Thunder rookie catcher Savannah Brown (left) and New England Riptide all-star second
baseman Carri Leto Martin. Brown was
recently traded to the Philadelphia Force.
Leto Martin declared free agent
after Riptide suspends operations
Valhalla alum might call it quits
© East County Sports.com
LOWELL, Mass. (2-6-09/Revised 2-9-09) – CARRI LETO MARTIN, a 3-time All-Star in National Pro Fastpitch, has been declared a free agent along with all of her teammates after the New England Riptide withdrew from the 2009 season due to economic duress. NPF commissioner Cheri Kempf made the announcement.
The second baseman is free to sign with any of the five remaining NPF franchises. Leto Martin could also rejoin the Riptide should the ballclub return for the 2010 season. A new schedule has been released to reflect this latest development.
However, Leto Martin may call it a career following her recent promotion on the Harvard University women's softball coaching staff.
"Because of my promotion to first assistant coach at Harvard – and the summer recruiting commitments that come along with it – I will not be playing in the league this year," Leto Martin exclusively told East County Sports.com.
In addition to her coaching responsibilites, Leto Martin plans to take classes toward her Master's degree this summer. With such a busy schedule, little time remains to play the game at the professional level.
Although Leto Martin did not officially close the door to her playing career, she added, "It was a good run."
It was also a nice run for the Riptide, one of the original six teams that joined the revamped Women's Pro Softball League in 2004 which changed names shortly thereafter to the current league known as National Pro Fastpitch.
"It is with a very heavy heart that we have made this decision," said Riptide owner Joe Adlman. "We would like to thank the community of Lowell, our sponsors, staff and especially our players for their support and contribution over the years."
Four other members of the Riptide (22-26 last season) were named to the 2008 All NPF team: pitcher Eileen Canney; first baseman, Lyndsey Angus; and outfielders Gina Carbonatto and Lisa Modglin. The franchise won the Cowles Cup championship in 2006.
Leto Martin captured a Cowles Cup in 2004 with the New York-New Jersey Juggernaut, then stayed with the franchise for two additional season after it moved and became the Philadelphia Force. She join the Riptide for the 2007 and 2008 campaigns.


2008 BIO – Carri Leto Martin, a fifth-year player and three time NPF All-Star, returns for her second year with the Riptide. Martin was part of the championship NY/NJ Juggernaut in 2004. She remained with the team during their move to Philadelphia where she had a breakout year. She led the team with a .307 batting average and a .371 on base percentage. This fine offensive year was capped off by being awarded the National Pro Fastpitch Defensive Player of the Year award. Martin continued her offensive onslaught with the Riptide in 2007, batting .296, second highest on the team. In 2002, Martin competed with the Team Smith Nationals which placed third at the prestigious Canada Cup. She ended her successful career at Northwestern University ranking in the top seven in ten different career offensive categories. Martin earned Northwestern Female Athlete of the Year honors in 2004 in addition to being a three time All-Big Ten selection.
---
<< Back