---
CIF SOUTHLAND REGIONAL — DIVISION II QUARTERFINALS
CIF Southland Regional - First Round: HB-Edison Chargers at West Hills Wolf Pack
Left: Pregame and First Half; Right: Halftime and Second Half
(Slideshows by Jeanne Royce)
Wolf Pack bolted from state playoffs
Huntington Beach-Edison rallies from 28-19 deficit

© East County Sports.com
SANTEE (3-11-09) — Fast start, sad finish.

That pretty much summed up West Hills' performance against visiting Huntington Beach Edison in Tuesday's (Mar. 10) CIF Southern California Regional Division II quarterfinal.

Supported by a near capacity crowd at West Hills, the Wolf Pack broke from the starting gate in fine fashion, taking a 14-5 first quarter lead. The Santee Five maintained that spread, 28-19, by the break.

West Hills (27-6), the Grossmont North League champion, faltered on offense over the final 16 minutes and thus were dealt a 53-41 loss by the Chargers from Huntington Beach.

After shooting 55 percent from the floor (12 for 22) in the opening half, the Wolf Pack clicked on only 3 for 14 attempts and totaled 13 points in the final two quarters. Turnovers, 19 of them, also stymied the Pack.

"We were on defense so much in the second half the girls just got tired," West Hills coach RYAN KINSER said. "It's tough to play defense when you aren't being rewarded at the offensive end. And you're not going to beat a SoCal playoff team by scoring 13 points in a half."

Edison (26-5) burned the Wolf Pack from the free-throw line, hitting 23 of 26 charity shots.

Hard nosed junior point guard MARILYN NADERHOFF tallied 12 points and 5 assists to pace West Hills. KIMMIE CLARK chipped in with 11 points and 4 rebounds, while AMBER DARBY came off the bench to deliver 6 points and 7 rebounds.

"That's been a problem all year long – inconsistent offense," Kinser said. "We've had a lead on everybody we've played – even the real good teams. Then our offense just stalls for a lot of different reasons. We have to fix it."

Despite the disappointing loss, Kinser was pleased with the overall season.

"We accomplished our goal which was to get to the (SDCIF) final and we did that," Kinser said. "Then we did even more than we thought we would and won it (beating Mount Miguel 46-44 in the title bout). This game tonight was just a bonus. We told the girls they can hold their heads high because they are SDCIF champions and nobody can take it away from them."

West Hills scoring: Marilyn Naderhoff 12 (5 ast), Kimmie Clark 11 (4 reb, 2 ast), Amber Darby 6 (7 reb), Mariah Bennett 4 (2 ast), Sherika Miller 3 (1 blk), Shelby Russo 2 (2 reb), Connie Hines 2 (4 reb), Corryn Kivett 1 (3 reb, 1 blk).

National-ranked Brea-Olinda
end season for Mount Miguel
No. 3 Ladycats too much for Matadors

© East County Sports.com
BREA (3-11-09) — It was not a surprising ending to an otherwise successful season for the Mount Miguel Matadors.

Brea-Olinda 67,
Mount Miguel 44

The Matadors (26-7), who lose only one senior to graduation, were no match for the Ladycats (30-2) in Tuesday's (Mar. 10) Division II CIF Southern California Regional. Ranked No. 3 nationally and No. 2 in the state by MaxPreps.com, Brea Olinda burst out to a 19-7 first quarter lead and led 36-21 by intermission.

"We made a little run at them, scoring the first seven points of the 3rd quarter to cut it to nine," Mount Miguel coach ROBBIE SANDOVAL said. "But Brea Olinda is too tall, too deep and generally just better than we are."

Brea Olinda outscored the Matadors in every quarter.

"When you make mistakes like missing layups against a team like that, you pay for it," Sandoval said. "There are very few second chances. We just didn't finish."

It was the 26th consecutive victory for Brea-Olinda. Mount Miguel lost for just the second time in its last 17 starts.

None of the Matadors was able to reach double scoring digits.

Mount Miguel scoring: Danielle Miller 9 (5 reb, 2 stl), Shay Young 9 (6 reb), Danesia Williamson 8 (4 reb, 3 ast, 4 stl), Dechae Evans 8 (7 reb, 2 stl, 2 blk), Shataera Anderson 4 (2 reb), Nicole Fountain 3 (3 reb, 2 ast, 2 stl), Myishia Watkins 3 (2 ast).
---
SOUTH REGIONAL, FIRST ROUND
DIVISION I
Cajon (San Bernardino) 64, Fairfax (L.A.) 39
Perris 62, La Costa Canyon 55
Chatsworth 66, Clovis West 62
Colony (Ontario) 65, Washington Prep 39
Troy (Fullerton) 50, Ayala (Chino) 44
Canyon Springs (Moreno Valley) 74, Poway 61
Stockdale (Bakersfield) 66, Taft (Woodland Hills) 46
Long Beach Poly 63, Santa Monica 35
DIVISION II
Mount Miguel 85, L.A. Roosevelt 45
Garces (Bakersfield) 55, L.A. Wilson 41
DIVISION III
No games scheduled
DIVISION IV
St. Joseph (Santa Maria) 68, LACES 30
DIVISION V
Sierra Canyon 75, Cuyama Valley 24
CIF SOUTH REGIONAL — DIVISION II, FIRST ROUND
Matadors are Rough & ready
© East County Sports.com
BOYLE HEIGHTS (3-10-09) — The Mount Miguel Matadors are still alive in the Southern California CIF Regional Playoffs. It took a play-in game on Monday night (Mar. 9) to clear the way for the Matadors to earn a berth in the final eight.
Facing the Roosevelt Rough Riders of East Los Angeles, the visiting Matadors motored to their second-highest scoring total of the season with an 85-45 victory. It was the third time this season that Mount Miguel has scored that many points, with 98 being its highest output in a Grossmont South League encounter against Monte Vista.
"We never should have had to play this game tonight," argued Mount Miguel coach ROBBIE SANDOVAL.
Roosevelt was making its first SoCal Regional appearance in 20 years and its fans had packed the gymnasium for the event. The Matadors spoiled the party, turning the Rough Riders into the Easy Riders with a second half scoring rush of 49-19.
Sophomore DANIELLE MILLER scored a career-high 23 points and blocked two shots to pace the Matadors (26-6). Freshman SHAY YOUNG added 19 points and 9 rebounds.
"I was concerned how we'd respond after losing the section championship game to West Hills," Sandoval said. "Miller and Young did a good job of picking us up."
Mount Miguel led only 18-16 after one quarter.
"We didn't settle in until the second quarter," said Sandoval, whose team led 36-26 by intermission. "We're looking forward to Brea Olinda now."
That will be one tall order for the Matadors, who face the Wildcats (29-2) – ranked No. 3 in the nation by MaxPreps.com – Tuesday (Mar. 10) in Orange County at 7 p.m.
The Wildcats have clawed their way to 25 consecutive victories, while the Matadors have won 12 of their last 13.
Mount Miguel scoring: Danielle Miller 23 (5 reb, 2 blk, 5 stl), Shay Young 19 (9 reb, 3 ast, 2 stl), Dechae Evans 14 (8 reb, 4 stl, 2 blk), Nicole Fountain 13 (7 reb, 2 ast, 5 stl), Danesia Williamson 8 (5 reb, 6 ast, 5 stl), Myishia Watkins 5 (2 reb, 6 ast, 3 stl), Shataera Anderson 4 (5 reb, 4 stl).
---
CIFSDS PLAYOFFS — DIVISION II CHAMPIONSHIP
Miller's 'walkoff' layin stuns
top-seeded Matadors, 46-44

© East County Sports.com
ALCALA PARK (3-7-09) — If you were forced to pick the most deserving player to be credited with a game-winning shot, West Hills High forward SHERIKA MILLER may just be the one.

The defensive dynamo of the Wolf Pack may actually be their best all-around – and least assuming ballplayer.

So when the ball fortunately landed in her hands in the closing moments of Friday's (Mar. 6) SDCIF Division II championship game, Miller did what she does best. She took the ball down the left-side of the lane for the layin as time expired, handing West Hills its first-ever girls basketball crown after stunning top-seeded Mount Miguel, 46-44, at USD's Jenny Craig Pavilion.

"I didn't even know much time was left on the clock or anything," Miller recalled. "I just started, drove in and shot it – and we won it!"

It came down to a do-or-die pass by Wolf Pack point guard MARILYN NADERHOFF.

Moments after the Matadors' DECHAE EVANS tied the final with a layin with 17.5 seconds left, a long pass was either going to Miller or be intercepted by Mount Miguel standout DANESIA WILLIAMSON.

"Danesia just missed it," added Miller of a pass which went just under the defender's hands. "From there, I just wanted to take the ball in and try to score."

West Hills coach RYAN KINSER credited Miller and Naderhoff with quick thinking under pressure.

"When Miller got that pass she understood what to do with it. And that was to attack the basket and put up a good shot and that's all you can ask," Kinser said.

Since the preseason, Mount Miguel had been the division's top-ranked ballclub, with various opponents rotating to assume a distant second. Even the selection of West Hills as the second-seed was controversial in some circles, with teams like Mt. Carmel believing they were more deserving.

However, West Hills (27-5) not only silenced the critics, it did so even more against a Matadors unit which lost just once all season to San Diego County ballclubs, forcing Mount Miguel to shoot from anywhere but near the basket.

The Pack also avenged a 51-40 loss at Mount Miguel during the regular season.

"Our kids fell in love with trying to shoot 3s and I don't know why," said Matadors coach ROBBIE SANDOVAL. "We talked about how the (outside) shooting wasn't going to be on in this (USD) gym, so you had to try to get to the basket."

High school teams, generally, are not used to shooting in arenas with vast backgrounds and larger court sizes similar to the one at USD. Thus, getting penetration is important.

"For some reason, they wanted to shoot 3s," added Sandoval, who could not recall his Matadors putting up sad-sack 2-for-19 shooting numbers in launches beyond the arc. "West Hills did a great job and all the credit goes to them."

The inside play of Miller and center AMBER DARBY (6 points, 8 rebounds) wreaked havoc on the Matadors. Both players blocked three shots each and caused several other shots to be re-directed.

No question Darby is an unsung player for the Wolf Pack.

"It was an amazing game all the way to the end when Sherika made that last shot," Darby said. "(Mount Miguel) is a physical team and I like to play teams like that. I like challenges."

Mount Miguel opened by shooting a mere 1-for-16 from the floor through the first period, allowing West Hills to open a 16-7 lead midway into the second quarter. Included was a stretch of 8:17 without a Matadors field goal.

But when Williamson hit three straight shots near the bucket to open the second half, the Matadors seemed back in form, with NICOLE FOUNTAIN accepting a Williamson inbounds pass to nail a trey for a 27-26 lead.

However, West Hills, unlike other Mount Miguel opponents this season, refused to fold.

CHAMPIONSHIP BOXSCORE
CIF DIVISION II CHAMPIONSHIP
AT JENNY CRAIG PAVILION, USD
WOLF PACK 46, MATADORS 44
WEST HILLS    FGS  3FG  FTS PF PTS REB AST STL BLK
04*S Miller   3-13 0-1  2-4  0   8   5   1   1   3
10*Clark      3-12 2-6  4-6  3  12   7   3   0   2
12 Hays       0-0  0-0  0-0  1   0   0   0   0   0
14 Russo      0-1  0-0  0-0  1   0   4   0   1   0
22*Kivett     1-3  0-0  2-2  4   4   3   0   0   0
23*Naderhoff  2-7  0-1  1-4  4   5   2   4   2   0
24 Hines      0-1  0-0  0-0  0   0   4   0   0   0
34*Bennett    5-12 0-2  1-2  1  11   6   0   0   0
44*Darby      3-5  0-0  0-0  2   6   8   0   1   3
team                                 7
TOTALS      17-54 2-10 10-18 16 46  46   8   5   8
             .315 .200  .556  DBR: 3  Turnovers:26
 
MOUNT MIGUEL  FGS  3FG  FTS PF PTS REB AST STL BLK
10*Williamson 6-19 0-9  5-7  1  17   6   5   3   0
13 Watkins    2-9  1-5  2-5  1   7   1   0   2   0
14*Young      0-1  0-0  2-2  1   2   5   0   0   1
22*Anderson   0-2  0-0  0-0  1   0   7   1   1   0
23*Evans      6-10 0-0  1-2  3  10  11   1   2   0
32*Fountain   2-9  1-5  0-0  3   5   4   2   7   0
42 D Miller   0-5  0-0  0-2  3   0   3   0   3   1
team                                 2
TOTALS      16-55 2-19 10-18 13 44  39   9  18   2
             .291 .105  .556  DBR: 4  Turnovers:18
KIMMIE CLARK, who scored a team-best 12 points, took a Naderhoff inbounds pass for a 3-point basket to open the fourth period to take a 38-36 lead, then a drive by MARIAH BENNETT gave the Pack a 4-point advantage.

Mount Miguel (25-6) would battle back to even the contest three times over the final 2:49. Included was a layin by Evans, then freshman SHAY YOUNG entered from off the bench to nail a pair of foul shots after Williamson's leg cramped for the second time and she had to leave the floor after being fouled with 1:04 left.

But West Hills (27-5) answered each time, capped by Miller's game-winner.

"I've never made a bigger shot than this one," Miller said. "And I'm happy I did it to make us winners. I couldn't ask for a better group of girls as teammates.

For the Matadors, Williamson posted a game-high 17 points and 5 assists, while Evans had 13 points on 6-for-10 shooting.

Both teams advance to the CIF Southland regional, which opens Tuesday.
---
CIF-SAN DIEGO SECTION PLAYOFFS
DIVISION I
Tue., Feb. 24
First Round
Fri., Feb. 27
Quarterfinals
Tue., Mar. 3
Semifinals
(1) Poway 60, Mira Mesa 34
Poway 71
Grossmont 38
Poway 64
San Pasqual 51
Grossmont 47, (8) Granite Hills 39
(5) San Pasqual 54, El Camino 31
San Pasqual 61
San Diego 53
(4) San Diego 70, Chula Vista 43
(3) La Costa Canyon 67, Morse 47
La Costa Canyon 64
Carlsbad 28
La Costa Canyon
df. Eastlake, by forfeit
(6) Carlsbad 74, Torrey Pines 64
(7) Patrick Henry 68, Escondido 47
Eastlake 66
Patrick Henry 50
(2) Eastlake 77, Rancho Bernardo 38
Eastlake forfeits for use
of ineligible player.

Final — La Costa Canyon 47, Poway 33
DIVISION II
Tue., Feb. 24
First Round
Fri., Feb. 27
Quarterfinals
Tue., Mar. 3
Semifinals
(1) Mount Miguel 85, San Ysidro 17
Mount Miguel 65
Scripps Ranch 34
Mount Miguel 49
Westview 39
(8) Scripps Ranch 64, Hilltop 49
(5) El Capitan 57, Oceanside 44
Westview 50
El Capitan 39
(4) Westview 49, El Cajon Valley 19
(3) Mt. Carmel 83, Serra 53
Mt. Carmel 79
Ramona 72
West Hills 51
Mt. Carmel 39
(6) Ramona 47, Steele Canyon 42
(7) Sweetwater 46, Helix 42
West Hills 60
Sweetwater 31
(2) West Hills 54, Orange Glen 28
Final — West Hills 46, Mount Miguel 44
DIVISION III
Tue., Feb. 24
First Round
Fri., Feb. 27
Quarterfinals
Tue., Mar. 3
Semifinals
(1) Cathedral Catholic 67, San Marcos 37
Cathedral Cath. 79
Valley Center 48
Canyon Crest 71
Cathedral 60
(8) Valley Center 55, Univeristy City 54
(5) Canyon Crest 60, Mission Bay 36
Canyon Crest 69
Santana 38
(4) Santana 69, El Centro-Central 53
(3) Montgomery 51, San Dieguito 40
Montgomery 49
Brawley 38
OLP 53
Montgomery 37
(6) Brawley 56, La Jolla 42
Mar Vista 74, (7) Kearny 55
OLP 73
Mar Vista 42
(2) Our Lady of Peace 70, Monte Vista 27
Final — Canyon Crest 56, Our Lady of Peace 51
DIVISION IV
Tue., Feb. 24
First Round
Fri., Feb. 27
Quarterfinals
Tue., Mar. 3
Semifinals
(1) The Bishop's — bye
The Bishop's 73
Francis Parker 27
The Bishop's 81
Santa Fe Chr. 38
(8) Francis Parker 27, Coronado 26
(5) Santa Fe Christian — bye
Santa Fe Chr. 60
Palo Verde Val. 37
(4) Palo Verde Valley — bye
(3) La Jolla Country Day — bye
LJCD 73
Imperial 26
Mater Dei 51
LJCD 44
(6) Imperial 80, Preuss 11
(7) Horizon 60, Olympian 30
Mater Dei 71
Horizon 41
(2) Mater Dei Catholic — bye
Final — The Bishop's 71, Mater Dei 63
DIVISION V
Tue., Feb. 24
First Round
Fri., Feb. 27
Quarterfinals
Tue., Mar. 3
Semifinals
(1) Christian Life — bye
Christian Life 57
Foothills Chr. 18
Christian Life 38
San Pasqual A. 27
(8) Foothills Christian 27, Esc. Adventist 18
Tri-City Christian 46, (5) St. Joseph 42
San Pasqual A. 35
Tri-City Chr. 34
(4) San Pasqual Academy — bye
(3) Calvin Christian — bye
Calvin Christian 53
Lutheran 24
Vincent Mem. 48
Calvin Chr. 45
Lutheran 52, (6) SD Jewish 39
(7) SD-Calvary Christian 50, Julian 26
Vincent Mem. 62
SD-Calvary Chr. 26
(2) Vincent Memorial — bye
Final — Christain Life 54, Vincent Memorial 29
---
CIFSDS PLAYOFFS — SEMIFINALS

Wolf Pack gain CIF title game berth
Eliminate 3-time titlist Mt. Carmel, 51-39

© East County Sports.com
SANTEE (3-4-09) — Mt. Carmel High was accustomed to playing for high stakes. After all, the Sundevils had won the San Diego CIF Division II girls basketball championship for three straight seasons. There will be no 4-peat for the Sundevils.

The West Hills Wolf Pack took care of that. Holding the visiting Sundevils scoreless for nearly seven minutes, the Wolf Pack posted a wire-to-wire 51-39 victory.

The victory vaults West Hills into the section's Division II championship bout against perennial power Mount Miguel (25-5) on Friday (Mar. 6) at Jenny Craig Pavilion at the University of San Diego. Tipoff for that one is 6 p.m.

Talk of that championship encounter was put on the back burner as the Wolf Pack celebrated its semifinal knockout of Mt. Carmel.

"Early we got a lot out of our press," said West Hills' second-year head coach, RYAN KINSER, who has guided the Pack to a school record 26 wins against just five losses. "It wasn't like we got a lot of points out of it, but it got us some turnovers and forced their tempo a little bit."

Clearly rattled by West Hills' intense pressure, Mt. Carmel (24-7) found itself down 13-2 after one quarter. The Wolf Pack built its lead to 19 points early in the 3rd quarter.

"Once they adjusted to our press we got out of it and locked down man-to-man," Kinser said. "We ran our offense really well in the first half, too. But they came out with some higher intensity in the 3rd quarter and didn't allow us to do much."

What the Wolf Pack did was certainly sufficient as they paraded to a 26-11 halftime lead. The Pack garnered that advantage by shooting 33 percent from the floor (9 of 27). That included four 3-pointers. West Hills did not attempt a single free throw in the first half.

Although the Sundevils fought back to within 39-32 early in the 4th quarter, the Wolf Pack went on a 12-3 scoring spree to thwart any comeback hopes Mt. Carmel was seeking.

"This is the farthest we've ever been," said West Hills junior KIMMIE CLARK, who led all scorers with 14 points, including a trio of 3-pointers. "That's why it's so exciting." She also dished 6 assists, snagged 6 rebounds and made 2 steals.

Point guard MARILYN NADERHOFF was superb as the Wolf Pack's floor general, chipping in with 9 points, 5 assists, 5 rebounds and 3 steals. She shared defensive game honors with MARIAH BENNETT, who helped shut down Mt. Carmel 's scoring ace Maggie Doremus (5 points).

For the record, this will mark West Hills' second appearance in a SDCIF section final. Playing in just their third varsity season, the Wolf Pack girls were throttled by Our Lady of Peace 61-38 in a SDCIF Division III final and then – despite owning less than 10 victories overall – were sentenced to face top-seeded Brea-Olinda in the first round of the Southern California Regionals. That, the Pack's only regional playoff game, was a one-sided disaster.

Win or lose, West Hills is guaranteed a trip to the SoCal Regionals. A victory over Mount Miguel would mean a home game. The Matadors breezed past the Pack in a Grossmont Conference crossover game 51-40 in January.

"We've gotten a lot better since then," Clark said.

West Hills scoring: Kimmie Clark 14 (6 reb, 6 ast, 2 stl), Marilyn Naderhoff 9 (5 reb, 5 ast, 3 stl), Sherika Miller 8 (6 reb, 2 stl), Corryn Kivett 8 (3 reb, 1 blk), Amber Darby 6 (11 reb), Mariah Bennett 4 (4 ast, 2 stl), Connie Hines 2 (2 stl), Shelby Russo (4 reb).
Williamson powers Mount Miguel
to 8th straight CIF title contest
Senior scores 25 to top Westview, 49-39
© East County Sports.com
SPRING VALLEY (3-4-09) — A long list of postseason awards will soon be bestowed on Mount Miguel High senior DANESIA WILLIAMSON. And for good reason.
Moments after Westview believed they moved back into contention during Tuesday's (Mar. 3) SDCIF Division II semifinals against the Matadors, Williamson demonstrated her vast abilities by simply taking over the contest. Her efforts eventually led to a 49-39 verdict over the Wolverines, gaining yet another championship game appearance.
Mount Miguel (25-5) will meet East County rival West Hills (26-5) in the title contest, slated for 6 p.m. Friday at Jenny Craig Pavilion at the University of San Diego. It will be the 8th straight trip to the final for head coach ROBBIE SANDOVAL, whose troops own four championship plaques.
With Williamson leading the way, title No. 5 may soon be in the offering after she shredded through the Wolverines defense with the ballgame on the line.
"Danesia had some real key baskets in the fourth quarter, and in the second quarter, too," said Sandoval.
After Westview moved to within 39-34 with 6:03 remaining, Williamson single-handedly took over the game on the next pair of possessions, simply motoring through the defense. Two drives to the basket and a pair of field goals later, Williamson left defenders wondering just who or what blew past them.
"She's a senior leader, she's going to college (on scholarship), and you could see why," added Sandoval.
Westview received a putback basket by Sara Matsumoto, but Williamson answered again.
Noticing the defense cheating and backing off slightly to prevent another dart through the lane, the senior pulled up and splashed a 3-point shot, pushing the lead back into double-digits. The 10-2 run gave the Matadors their biggest lead at 49-36, which Westview answered by raising the white flag and clearing the bench.
"Our intensity on defense was great. That's what kept them out of the game – when our offense is down, our defense steps up," said Williamson, the game's runaway scoring leader with 25 points. "I give a lot of credit to SHATAERA ANDERSON, who guarded their point guard and played excellent defense."
The contest became sloppy at times, but even during some tenuous moments, Mount Miguel was able to collect some scoring to slowly pull away. Meanwhile, Westview went through a 4-minute stretch getting shutout early in the second quarter, then the 10-2 run late in the contest.
"We thought we had a chance, but we couldn't pull through," said Wolverines sophomore guard Melissa Peng, one of several standout underclassmen for Westview. "We just couldn't make any shots when we really needed to."
Again, credit the Mount Miguel defense.
"The offense isn't always going to be there, but we stress defense all of the time and the kids played good defense tonight," added Sandoval. "It was a sloppy game with a lot of fouls called, so neither team could get into a rhythm which is why it wasn't a higher scoring game."
The Matadors' speed also led to an array of fouls, as Westview saw three players tagged with three fouls each by the half, neutralizing the Wolverines' depth advantage off the bench.
Meanwhile, the Matadors were able to challenge almost every Westview shot.
"I expected Westview to be a very, very good shooting team, but I guess the defense put on major pressure, so not that many of their shots would fall," said NICOLE FOUNTAIN of a Westview team which reached the SDCIF title game last season. "I know my shot was obviously off, but instead of getting frustrated, we did what we had to do on 'D.'"
With the triumph, Mount Miguel is guaranteed a berth to next week's CIF Southland regional.
"We're real happy to be playing in the (San Diego Section) final," added Fountain, who recorded 10 points while blocking three Westview shots. "And we'll be more than ready to be in the state playoffs. We need to redeem ourselves with the L.A. teams, so we're ready to show we're a lot better since the last time they saw us."
But first will be Friday's meeting with West Hills. The teams met back on Jan. 7 in a Grossmont Conference crossover contest, with the Matadors claiming a 51-40 decision in a contest they dominated early (39-19 lead).
"West Hills has some nice players who can play both offense and defense," noted Matadors freshman center SHAY YOUNG. "So we need to crash the boards and box out better."
For Westview, Taylor Suggs led the team with 8 points and 12 rebounds. Center Ally Crocker, who missed more than 9 minutes of the second half after collecting her fourth foul, finished with 7 points and 4 boards before fouling out, while Peng added 6 points, 6 assists and took-a-charge on defense.
Denise White, who took two charges to forge turnovers in the first quarter, opened the second period with a 14-foot set shot basket for an 18-16 lead.
However, Mount Miguel blanked Westview during an 8-0 run to grab the lead for keeps. The stretch included a Williamson steal for a breakaway, making both free throws after getting fouled, then another Williamson drive to the basket for a 3-point play.
Mount Miguel scoring: Danesia Williamson 25 (6 stl, 3 ast), Nicole Fountain 10 (4 reb, 3 blk, 2 stl), Myishia Watkins 5 (3 stl), Shay Young 5 (9 reb), Deshae Evans 3 (8 reb), Danielle Miller 1.
Westview scoring: Taylor Suggs 8 (12 reb), Ally Crocker 7, Melissa Peng 6 (6 ast), Denise White 5 (took 2 charges), Sara Matsumoto 5, Casey Lee 3, Kelly Haws 2, Michelle Yong 2, Katie Buell 1.


Mount Miguel's
8 Straight CIFSDS Title Game Appearances
Year

Div.

Final Score

2002
2003
2004
2005
2006
2007
2008

II
II
II
II
III
III
II

Orange Glen 52
Mount Miguel 55
Mount Miguel 58
Mount Miguel 53
Mt. Carmel 52
Mount Miguel 55
Cathedral Cathoilic 56

Mount Miguel 41
El Capitan 49 (2-OT)
Ramona 44
El Capitan 47
Mount Miguel 51
Cathedral Cathoilic 39
Mount Miguel 50

2009

II

Mount Miguel vs West Hills, at USD, 6 p.m. Friday
---
El Capitan senior Taylor Autry (4) scoops the ball
up for the layin in Friday's CIF quarterfinals. The
Vaqueros fell to 4th-seeded Westview, 50-39.
(Photo by Leslie Autry)
CIF Playoffs, Quarterfinals:
El Capitan Vaqueros at Westview Wolverines
(Slideshow by Leslie Autry)
CIFSDS PLAYOFFS — QUARTERFINALS
Following alarm, West Hills'
best-ever team goes on fire
© East County Sports.com
SANTEE (2-28-09) — Right now it's pretty obvious that this is the best girls basketball team in West Hills history. The Wolf Pack's 25-5 record is hands down the best and the West Santee bunch is one game short of reaching the San Diego CIF Division II finals for the first time.
Earning a date in the championship bout will be no simple chore, however, as the Pack must defeat three-time defending section champion Mt. Carmel (25-6) on Tuesday (Mar. 3) in Santee.
Visiting Sweetwater (19-10), which stunned the so-called experts by knocking off Helix 46-42 in Tuesday's (Feb. 24) opening round, got dusted in a jiffy by the Wolf Pack 60-31 in Friday's (Feb. 27) quarterfinals.
Once again it was victory by committee for West Hills which jumped in front 20-7 and was breezing 40-19 after three quarters. But before the Pack could put the Red Devils away for good, the fire alarm on the West Hills campus went of with 3:53 remaining.
The game was delayed about 30 minutes while the gym was cleared and the alarm turned off. However, the overhead lights continued to blink on and off "like a strobe light" and could not be stopped, so the game was finished with the lights blinking.
Junior guard MARIAH BENNETT paced the Wolf Pack with 13 points and 7 rebounds.
"We really wanted to win tonight," Bennett said. "It's the first time for West Hills girls basketball to be in the (SDCIF) semifinals. We were confused by the fire alarm. We just stretched and got ready to play. It was strange with the lights blinking off and on."
All-Stars are making a move

© East County Sports.com
SPRING VALLEY (3-2-09) — The annual East County All-Star basketball games for graduating seniors is making a move.

The 11th edition of the event between Grossmont North League stars against standouts from the Grossmont South League – with players from both local private schools mixed in – will now be hosted at Mount Miguel High School.

Both contests will be held on Fri., March 20, with the girls all-star contest slated for 5:30 p.m., followed by the boys all-star ballgame at 7:30 p.m. Included will be a shooting skills contest for both genders, while the boys will also showcase their abilities in a slam dunk exhibition.

Players and fans from all 13 East County high schools are invited. Admission is $6 for adults, $4 for students, with children 10-and-under gaining free access. The annual event is sponsored by East County Sports.com, with assistance from area coaches.
West Hills stormed to a 20-7 first quarter lead and was breezing 60-19 after three periods.
"We make sure everybody contributes in each game," said Bennett, noting that 10 members of the Pack contributed to the scoring attack. "I didn't realize I had 13 points tonight. I just want to win and I'll do whatever it takes to win. It will be nice to play in the semifinals on Tuesday night, especially in front of our home crowd. Tonight the support of the crowd was just awesome. It was packed."
MARILYN NADERHOFF and SHERIKA MILLER contributed 11 points and 4 rebounds apiece.
As a team West Hills recorded 19 steals with Naderhoff setting the pace with 5.
"We executed the game plan real well," said West Hills coach RYAN KINSER. "We played excellent defense early, were able to shoot down their penetration and 3-point game. We made some defensive adjustments at halftime and played superb defense in the 3rd quarter. We got excellent contributions up and down the lineup tonight."
West Hills scoring: Mariah Bennett 13 (7 reb, 2 ast), Marilyn Naderhoff 11 (4 reb, 3 ast, 5 stl), Sherika Miller 11 (4 reb, 4 stl), Corryn Kivett 8 (7 reb, 2 stl), Connie Hines 6 (6 reb, 2 stl), Kimmie Clark 3 (4 reb, 4 stl), Taylor Aguirre 3 (4 reb), Danielle Hays 2 (2 reb), Amber Darby 2 (7 reb), Shelby Russo (2 reb).
MOUNT MIGUEL 65, SCRIPPS RANCH 34 – Despite a sluggish start to Friday's (Feb. 27) SDCIF Division II quarterfinal encounter against visiting Scripps Ranch, the top-seeded Matadors wound up cruising past the Falcons. I
If Mount Miguel can get past No. 4 Westview (23-7) in Tuesday's (Mar. 3) semifinal in Spring Valley, the Matadors will qualify for their 7th straight section championship contest.
The Matadors have won four section championships and appeared in the Division II-III finals seven of the previous eight seasons during coach ROBBIE SANDOVAL's 9-year tenure.
Sandoval isn't looking that far ahead however. He wasn't pleased that the Matadors led Scripps Ranch (20-9) only 16-13 after one quarter.
"In the playoffs you can never take anybody lightly," said Mount Miguel senior guard DANESIA WILLIAMSON, who led the Matadors with 25 points, 9 steals and 7 assists. "That's what Coach Rob emphasized to us after the 1st quarter."
Mount Miguel (24-5) outscored the Falcons 32-11 in the middle two quarters.
"After that slow start we picked up our defensive intensity. I think we we
re a little over confident at the start, but we didn't panic. We just started playing our game, got a lot of steals and easy layups," Williamson said.
NICOLE FOUNTAIN, who scored only 2 points in Mount Miguel's playoff opener, was back on top of her game with 12 points, 6 rebounds, 4 steals and 4 assists against Scripps Ranch. Fountain and Williamson each hit a pair of 3-pointers.
Sophomore DANIELLE MILLER pitched in with 11 points, 6 rebounds and 3 blocks. Freshman SHAY YOUNG was a force on the boards for Mount Miguel, collecting 12 caroms.
"Shay Young did a really nice job on the defensive glass," noted Sandoval. "She and Fountain had really good defensive effort, and Miller had some key baskets when we needed them."
Sandoval was kind of surprised at how well Williamson played, considering she has been sick of late.
"This is the playoffs," Williamson said. "I just got over some kind of virus and I felt a little bit weak. But I'm a senior and I'm not gonna miss the best part of the season."
Mount Miguel scoring: Danesia Williamson 25 (4 reb, 7 ast, 9 stl), Nicole Fountain 12 (6 reb, 4 ast, 1 blk, 4 stl), Danielle Miller 11 (6 reb, 3 blk), Shataera Anderson 6 (2 reb, 4 stl), Dechae Evans 4 (5 reb), Shay Young 3 (12 reb, 2 ast, 2 blk, 2 stl), Myishia Watkins 2, Sherry Ellis 2.
EAST COUNTY CAREER SCORING
Ashley Duffy, El Capitan (2005-09)
| | | | | |
| --- | --- | --- | --- | --- |
| SEASON | GP | PTS | AVG | HG |
| FR 05-06 | 26 | 269 | 10.3 | 17 |
| SO 06-07 | 26 | 414 | 15.9 | 33 |
| JR 07-08 | 30 | 559 | 18.6 | 33 |
| SN 08-09 | 30 | 719 | 24.0 | 42 |
| CAREER | 112 | 1,961 | 17.5 | 42 |
The Duffy sisters – Allison (2,190 points) and Ashley (1,961) – are the first sister combination in CIFSDS history to score 4,000 career points (4,151). Allison Duffy shares the East County and Grossmont Conference record for career scoring with Jordan Franey of Santana.
WESTVIEW 50, EL CAPITAN 39 — Vaqueros senior ASHLEY DUFFY did everything possible to keep her team in striking distance during Friday's (Feb. 27) CIF quarterfinals in Rancho Penasquitos.
Duffy scored all of El Capitan's first-half points to stay within 24-19 of the 4th-seeded Wolverines. But when Duffy finally ran out of bullets in the fourth quarter, Westview pulled away by scoring the first 9 points of the period to advance to next week's Division II Final Four.
Duffy still finished with 27 points, concluding her career at 1,961 points. Although she fell just short in becoming the 16th player in San Diego Section history to reach the 2,000-point plateau, she still joins older sister ALLISON DUFFY as the region's most prolific sister tandem with 4,151 points.
"It feels good, but I'm not one to be into my points," noted Duffy, who's more concerned about winning than individual numbers.
Everything was going El Capitan's way to start the second half.
A collection of underclassmen, who looked a touch scared or intimidated in the first half, were in the flow as Duffy directed the ball around the court. The defense allowed just two baskets, one on a lucky putback off an air-ball, while the offense developed open shots in the third quarter.
Ultimately, the Vaqueros erased an 11-point deficit, capped by a steal by Duffy leading to a putback basket by MEGAN DRENNEN for a 33-32 lead with 1:34 left in the period.
A Westview hit a free throw to tie the contest entering the final period, but not without a price: Wolverines point guard Melissa Peng left the game with leg cramps, while center Ally Crocker (8 points, 11 rebounds) sat for nearly 5 minutes.
"People were a little nervous at the start – they knew this would be a big game, so they went back into some old habits," said Duffy. "But they stepped up later even though this was a tough game – they played hard and we got some momentum. But then Westview stepped up, too."
The deeper Wolverines bench contributed mightily.
Reserve center Kelly Haws gained position inside to accept an inbounds pass for an early layin in the first minute of the 4th quarter. Peng (team-high 13 points) returned and scored on an uncontested drive to the basket, then reserve guard Michelle Yong added a free throw.
And when Peng stole the ball – one of five costly El Capitan turnovers in the first four minutes of the period – for a breakaway layin, Westview had scored 10 straight points for a 42-33 advantage with 4:27 remaining.
"Sometimes we fall into a shell like a Hermit crab and are stagnant on offense, just standing around," said Vaqueros coach FRANK QUINONES.
In the first half, El Capitan answered with 11 straight points to get even at 17-all, capped by a dramatic 3-point play by Duffy. The senior stole the ball near mid-court and hard-dribbled to the basket, but when Westview 0Aassumed she would go in for the layin, Duffy pulled-up and hit a short jumper while the defenders crashed into her from behind.
"We play some good defense, but Duffy made some amazing shots," said Westview coach Bob McHeffey.
| | |
| --- | --- |
| Following the game, the family announced that senior forward TAYLOR AUTRY will play for Cal Lutheran University in Thousand Oaks next year. | |
Westview again took a 7-point lead, but part of El Cap's third-quarter rally came courtesy of senior TAYLOR AUTRY, who hit a pair of 3-point shots.
"We've got a bunch of sophomores and I'm extremely proud about the way they played," added Quinones. "It's been an enjoyable season – CIF records were broken, school records were made – I told each of them to be proud to be fortunate enough to play with (seniors) Ashley Duffy and Taylor Autry."
"It's been a great season and I'm not a bit disappointed."
Duffy finished with a double-double, also grabbing 10 rebounds while registering 7 steals. But she was 0-for-9 from the floor in the final period.
"Our main goal was to shut down Duffy, because she is an excellent ballplayer," said Peng. "Sara and Taylor (Suggs) guarded her mostly, but we always tried to have somebody help them out."
Westview advances to Tuesday's semifinals at top-seeded Mount Miguel.
El Capitan scoring: Ashley Duffy 27 (10 reb, 7 stl, 2 blk), Marissa Pitman 6 (4 reb), Amber Rel-Solia 2 (2 reb, 2 stl), Megan Drennen 2 (5 reb), Taylor Autry 2 (5 reb, 4 ast), Chelsey Kyle (3 reb).
POWAY 71, GROSSMONT 34 – The visiting Foothillers shot only 18 percent (10 of 57) and fell behind 25-4 against top-seeded Poway and never recovered in Friday's (Feb. 27) SDCIF Division I quarterfinal.
Fact is the Foothillers (17-10) were outscored in all four quarters by the Titans (28-2).
It was unanimous for Grossmont. No one had a hot hand from the field. TERRA MUSGROVE was 6-for-6 from the free throw line and wound up leading Grossmont with 12 points. She also had a team-best 6 rebounds and blocked 2 shots.
HEATHER SPRINGE added 11 points, doing the majority of her damage from the foul line where she connected on 6-of-7.
"Poway is the best team we played all season – they really rattled us," said Grossmont coach MEGAN LONG. "Their defense was just tremendous against us. When you shoot like we did you're not going to beat many teams."
It was a 21st straight victory for Poway, which set a school record for victories in a season. What is scary about the Titans is they began the game with a lineup of all underclassmen. Grossmont started three seniors.
There was no suspense in this game as the Titans had Grossmont reeling 18-2 with 2:32 left in the 1st quarter. Grossmont made only 1-of-11 field goal attempts in the opening period.
Long, in her first year as head coach at Grossmont, was pleased by the overall season.
"I'm really proud of this team," she said. "The girls played hard all season and never gave up once. They were a real pleasure to coach."
Grossmont scoring: Terra Musgrove 12 (6 reb, 2 blk), Heather Springe 11 (5 reb, 4 ast, 1 blk), Danielle Balderas 5 (4 reb, 3 stl), Frankie Treadwell 2 (2 reb), Carly Applegate 2 (5 reb, 1 blk), Chanel Putras 2 (2 reb, 3 stl).
CANYON CREST 69, SANTANA 38 – Unseeded Canyon Crest (16-11) might be the best team in the San Diego CIF Division III playoffs.
No doubt the No. 4 Santana Sultans are convinced, after the shellacking they absorbed from the visiting Ravens in Friday's (Feb. 27) quarterfinals.
"They are a pretty talented team," Santana coach JEFF BICKFORD lamented. "And we just didn't play our game. We missed too layups and made too many turnovers (25). You can't beat a team like Canyon Crest playing like we did."
The Sultans (19-10) led early 8-6 but quickly fell behind as the Ravens rolled on the first of their scoring streaks, this one a 12-2 run that put them in command.
An 11-0 Ravens' run at the end of the 3rd quarter staked Canyon Crest to a 45-27 advantage.
Canyon Crest's San Jose State-bound Alisha Eckberg burned Santana for a season-high 29 points and 10 rebounds. Meghan Brown added 15 points, 9 rebounds and 6 steals.
A free throw by JAMIE ELIAS pulled Santana to within 34-27 with four minutes left in the 3rd period. But the Sultans' offense stalled after that, as they did not score another basket until it was 50-30 early in the 4th quarter.
Elias connected on 6 of 16 shots from the field on her way to team-best 16 points. As a team though, Santana shot only 26 percent (14 of 53).
Santana scoring: Jamie Elias 16 (3 reb, 4 ast), Kaila Smith 8 (8 reb, 1 blk), Lauren Mueller 5 (5 reb, 3 stl), Amanda Grable 3 (2 reb), Kim Gross 2 (4 reb), Alyssa Padberg 2 (4 ast), Delia Files 2, Tawnya Proctor (3 reb).
---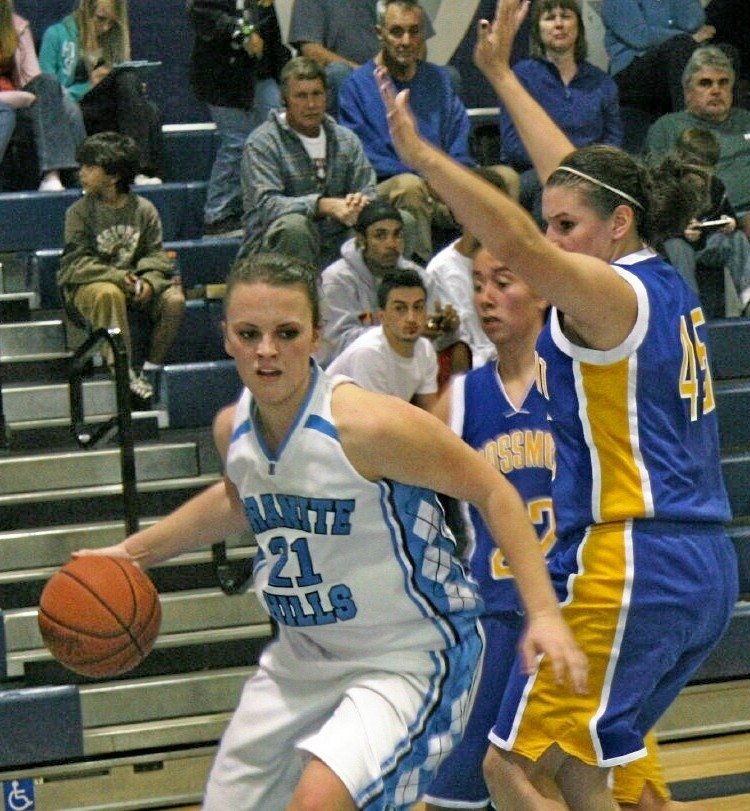 Top: Granite Hills' Monique Ybarra will the scoop
shot after driving past Grossmont guard Frankie
Treadwell. In background is Eagles forward Keji
Kubari. Bottom: Eagles center Lauren Bender
goes baseline around Grossmont's Tera Musgrove.
(Photos by Jeanne Royce)
CIF Playoffs, First Round
Grossmont Foothillers at Granite Hills Eagles
(Slideshow by Jeanne Royce)
CIFSDS PLAYOFFS— FIRST ROUND
Deeper Foothillers register rare road playoff win
© East County Sports.com
EL CAJON (2-25-09) — There are those who believe the expanded, 16-team fields for the CIF-San Diego Section basketball championships are simply too many, resulting in an array of blowouts and one-sided scores.
A look at Tuesday's (Feb. 24) first-round contests among the three large-school divisions finds 24 games, but only two upsets were secured by visiting teams.
However, if you're the Grossmont Foothillers, expansion is good.
Featuring a supporting cast which more than capably aided standout forward HEATHER SPRINGE and center TERRA MUSGROVE, the Hillers jumped quickly on Granite Hills to take a fast 7-0 lead, going practically wire-to-wire to take out the 8th-seeded Eagles, 47-39.
Grossmont (17-9) advances to Friday's Division I quarterfinals, meeting top-seeded Poway. The Titans, meeting one of those ballclubs many consider un-playoff worthy, destroyed Mira Mesa, 60-34.
While the top two players on each team battled back-and-forth, it was the Grossmont supporting cast which spelled the difference.
"Our team is very balanced," noted Springe, who produced a double-double with 14 points and 12 rebounds. "Me and Terra get a lot of the hype – I'm not even sure why – but our other three starters all can get off, too."
Among the trio is guard DANIELLE BALDERAS, who scored off of her 10 points in the first half to grab a 28-20 halftime lead. Point guard FRANKIE TREADWELL dished for 6 assists, while CHANEL PUTRAS recorded 11 points, including three 3-point goals, and registered three first-half assists to move the Hillers out in front.
Balderas and Putras took advantage of the Eagles' zone defense, each hitting a pair from beyond the arc in the first half.
"They were in a zone for a while," added Springe. "But they finally switched to man – I feel we shot them out of it."
Musgrove missed most of the second quarter due to fouls, but she dominated the middle in the second half when she grabbed 9 of her 10 rebounds to prevent an Eagles comeback. She also keyed the interior defense to prevent Granite Hills from scoring more than 20 points in both halves.
"We picked-up on some things which really helped us defensively, noted Musgrove, a senior who is ticketed to play for Oberlin College in Ohio next season. "We tried to prepare for every situation – just be aware and take care of the ball."
Musgrove battled inside against Eagles center LAUREN BENDER, who held both a height and jumping ability advantage. However, the defensive game plan proved effective.
"We adjusted who helped me cover Lauren when she went to her right, then we worked through screens on SABRINA (JIMENEZ) when they ran the pick-and-roll."
"We knew they had some other players who could make shots, but our focus was on Lauren and Sabrina and shutting them down."
Jimenez still finished with a game-high 20 points and a team-best 11 rebounds. Bender added 10 points, 10 boards and blocked 6 shots, but the rest of the Eagles were outscored by the "other three" Grossmont starters (Putras, Balderas and Treadwell) by a 26-9 count.
"Those three players work the hardest – they're just as important as me and Heather," added Musgrove. "They work so hard and without them, we really couldn't do anything."
"They're good defensively and they stepped up on offense. They're solid both ways."
Granite Hills actually came back from its early deficit to take a 12-11 lead through the first quarter after Grossmont was called for several fouls by help-side defenders.
"We focused doubling-down on Bender," noted Springe. "But we seemed to get called every time for a reach, so we had to adjust a little bit."
Despite a foul differential which reached 15-3 until the final minutes, poor Granite Hills shooting kept them down by 8-to-12 points over most of the second half.
"We were getting our looks, but we couldn't make our shots," said Jimenez.
The Eagles also were playing hurt. LAUREN KOBLISCHKE was lost due to a knee injury, Jimenez was again playing with a face mask to protect a broken nose, while guard SAMMY SILVA marked her return after missing several weeks.
Grossmont scoring: Heather Springe 14 (12 reb, 3 stl, 1 blk), Chanel Putras 11 (4 reb, 2 ast, 3 stl, 1 blk), Danielle Balderas 10 (4 reb, 2 ast, 8 stl, 1 blk), Terra Musgrove 7 (10 reb, 1 blk), Frankie Treadwell 2 (3 reb, 6 ast, 3 stl), Carly Applegate 1 (2 reb).
Granite Hills scoring: Sabrina Jimenez 20 (11 reb), Lauren Bender 10 (10 reb, 6 blk), Hailey Garner 6, Monqiue Ybarra 3 (6 reb), Jessica Harris (5 reb).
CIF Playoffs, First Round
Oceanside Pirates at El Capitan Vaqueros
(Slideshow by Leslie Autry)
EL CAPITAN 57, OCEANSIDE 44 – Despite turning the ball over 25 times in Tuesday's (Feb. 24) first round of the Division III SDCIF playoffs against visiting Oceanside, the Vaqueros once again realized the multiple talents of senior guard ASHLEY DUFFY.
Duffy, who came in averaging 24.2 points per game, scored only 14 points against the Pirates (14-15), but corralled a career-high 19 rebounds while dishing 8 assists and notching 5 steals to help El Capitan advance to the quarterfinals at No. 4 Westview on Friday night (Feb. 27).
"ASHLEY DUFFY and TAYLOR AUTRY are my two workhorses," said Vaqueros coach FRANK QUINONES. "We got a lot of fastbreaks from them. I thought we played a great game after coming off a not-great two weeks of basketball."
The performance of Autry, a 5-foot-9 senior, cannot be accurately assessed by her 6-point contribution. What counted more were her 9 rebounds, 7 assists and 2 steals.
MARISSA PITMAN, who was lost in a midseason scoring slump, is coming on strong at peak time. The 5-foot-6 junior nailed 4 three-pointers for 12 points, helping the Vaqueros survive Oceanside 's 32-22 second-half scoring advantage.
AMBER REL-SOLIA contributed 10 points and 4 rebounds for the Vaqueros (24-5).
"Amber came up huge for us," Quinones said. "She made a bucket at the end of the 3rd quarter which carried our momentum into the 4th quarter. Having MEGAN DRENNEN back (from injury) was nice. CHELSEY KYLE is playing great. Her defense has been awesome."
El Capitan scoring: Ashley Duffy 14 (19 reb, 8 ast, 5 stl), Marissa Pitman 12 (4 reb), Amber Rel-Solia 10 (4 reb), Chelsey Kyle 7, Taylor Autry 6 (9 reb, 7 ast, 2 stl), Megan Drennen 5 (6 reb, 2 stl), Emily Sutton 3 (5 reb, 2 ast),
SANTANA 69, EL CENTRO-CENTRAL 53 – The 4th-seeded Sultans sprinted to a 38-20 halftime lead over visiting El Centro Central Union in Tuesday's (Feb. 24) opening round of the Division III SDCIF playoffs.
For one of the few times this season the Sultans (19-9) received a somewhat balanced offensive attack.
Senior KAILA SMITH hit 9 of 17 shots from the field and 2 of 5 free throws to lead the Sultans with a season-high 20 points. Smith also had 11 rebounds for a solid double-double.
JAMIE ELIAS and ALYSSA PADBERG pitched in with 13 points apiece for Santana. Elias delivered 6 scoring passes while making 4 steals.
Junior DELIA FILES led Santana with 13 rebounds and 2 blocks.
"We reminded our girls at halftime that even though we had an 18-point lead they should remember that Central didn't drive this far to just give up," said Santana coach JEFF BICKFORD.
In the 2nd half the Spartans (9-18) actually outscored the Sultans 33-31.
"The big thing is we got a lot of points off our transition game," Bickford said.
Santana scoring: Kaila Smith 20 (11 reb, 2 ast, 1 blk), Jamie Elias 13 (2 reb, 6 ast, 4 stl), Alyssa Padberg 13 (4 reb, 4 ast, 2 stl), Lauren Mueller 8 (3 ast), Delia Files 6 (13 reb, 2 ast, 2 blk), Kim Gross 5 (6 reb), Marjie Panknin 2 (3 stl), Tawyna Proctor 2 (2 reb).
MOUNT MIGUEL 85, SAN YSIDRO 17 – Coach ROBBIE SANDOVAL's Matadors pride themselves on playing lock-down defense.
And that's what they did against visiting San Ysidro (9-18) in Tuesday's (Feb. 24) opening round of the SDCIF Division II playoffs.
The top-seeded Matadors held the Cougars to 2 field goals on the night while putting together two 30-point periods themselves. Mount Miguel led 32-3 after one quarter, and 79-9 after three periods.
"We pressed them into 40 turnovers," said Sandoval. "We got a lot of layups but we also shot well from the perimeter."
Mount Miguel landed 8 three-pointers – half of them by DANESIA WILLIAMSON, who rang up a game-high 27 points.
DANIELLE MILLER scored a career high 20 points for the Matadors, including a pair of treys in her totals.
Freshman SHAY YOUNG rolled a double-double of 10 points and 11 rebounds for the Matadors (23-5).
Mount Miguel scoring: Danesia Williamson 27 (6 ast, 7 stl), Danielle Miller 20 (2 reb, 3 ast, 4 stl), Myishia Watkins 12 (6 ast, 7 stl), Shay Young 10 (11 reb, 3 stl), Shataera Anderson 6 (3 reb, 2 stl), Dechae Evans 6 (3 reb, 2 stl), Nicole Fountain 2 (6 ast, 1 blk), Chantel Yell 2.
WEST HILLS 54, ORANGE GLEN 28 – Second-seeded West Hills made it clear in Tuesday night's (Feb. 24) first round of the Division II SDCIF playoffs that the Wolf Pack plans on being at USD for the section championships on March 6th.
The Wolf Pack (24-5) blanked visiting Orange Glen 12-0 in the 1st quarter and proceeded to outscore the Patriots (11-16) in each of the remaining three quarters.
Junior SHERIKA MILLER continues to establish herself as a force for the Wolf Pack. The 5-foot-11 Miller tallied a team-high 13 points for West Hills against Orange Glen.
West Hills (24-5) had 10 players contribute to the scoring.
"We played excellent defense in the 1st half," said West Hills coach RYAN KINSER. "We went a little flat in the 2nd half but it was nice to get everybody a lot of minutes in a playoff atmosphere."
West Hills scoring: Sherika Miller 13 (3 stl), Corryn Kivett 9 (4 reb), Amber Darby 7 (8 reb), Connie Hines 6 (2 reb, 5 stl), Marilyn Naderhoff 5 (4 reb, 4 stl), Kimmie Clark 4 (2 reb, 2 ast), Mariah Bennett 2 (2 reb), Shelby Russo 2 (3 reb, 4 ast), Danielle Hays 2, Brooke Spradlin 2 (2 reb), Jillian Brown 2.
RAMONA 47, STEELE CANYON 42 – Second-year Steele Canyon skipper PENNY SMITH didn't know whether he was angry or disappointed, May he was a little bit of both following Tuesday's (Feb. 24) first round of the San Diego CIF Division II playoff opener at Ramona.
After a sluggish start – trailing 5-4 after the first 8 minutes – the Cougars (19-8) took command before a boisterous Ramona crowd and maintained their lead into the 4th quarter.
The Cougars were plagued by foul problems throughout the evening. Coach Smith said "it seemed like our whole starting lineup was in foul trouble, especially the big girls G'KIA MYLES and SAMANTHA VERNON."
A quick glance at the free throw totals showed Ramona with the edge. The Bulldogs (20-8) converted 20 of 31 charity tosses while Steele Canyon was 12 of 19.
CHRISTINA WILLIAMS' 21 points paced the Cougars, who finished with a school record 19 wins in 27 decisions. The 5-foot-2 senior guard, who has scored 85 points in her last four games, connected on 8 of 15 shots from the field and 5 of 6 free throws at Ramona.
JANVIER BARBARIN didn't get her hands on the ball very often, as was the design of the Ramona defense. She was limited to only 4 shots from the field and totaled 6 points for the night. The 5-foot-8 junior did lead the Cougars with 11 rebounds and 2 blocks.
"Our girls deserved to win," Smith decided. "We led the game all the way to the end. We just had too many calls go against us in crucial situations."
Steele Canyon scoring: Christina Williams 21 (4 stl), Julianne Kolegraff 8 (2 reb), Janvier Barbarin 6 (11 reb, 2 stl, 2 blk), Jazmin Daigle 4 (2 reb), Samantha Vernon 2 (4 reb), Jessica Domby 1, G'kia Myles (3 reb).
SWEETWATER 46, HELIX 42 – It was a frustrating conclusion to the season for the visiting Helix Highlanders, who dribbled into South Bay with upset on their minds. The Scotties came close, but got confused with a shot clock snafu that proved to be pivotal in the outcome of Tuesday's (Feb. 24) first round playoff game in National City.
"This was an extremely hard loss to take, just a tough way to end the season," Helix coach TRINA HANSEN said.
Leading 43-42 with 26 seconds remaining, Sweetwater (19-10) retrieved a loose ball and called time out with 11 seconds showing on the shot clock.
"I planned our strategy thinking we'd still have time to comeback even if they took a shot," Hansen said. "But when we broke our huddle the officials decided the shot clock should be reset and that meant it would be turned off."
Actually, Hansen did not realize the officials had adjusted the clock until the final seconds were ticking off. That was a knock out blow.
"No one told us," Hansen said afterward. "Had I known the shot clock had been shut off, we would have fouled sooner."
Helix (16-13) did foul once Hansen was aware of what had transpired. Even so, Sweetwater's Janine Fuertes sank only one of two charity shots giving the Red Devils a two-point lead.
The Highlanders were given a shot at winning, but missed the front end of a one-and-one. Sweetwater grabbed the rebound and converted it into a victory-clinching layup as the buzzer went off.
Helix scoring: Sinoi Leasau 17 (7 reb), Kim Scott 14 (7 reb, 3 stl), Kristina Scott 9 (2 reb, 2 stl), Mariah Walker 2 (10 reb), Jacqueline Smith (2 reb).
WESTVIEW 49, EL CAJON VALLEY 19 – This wasn't a very pretty ending to an otherwise healthy season for the El Cajon Valley Braves in Tuesday's (Feb. 24) opening round of the SDCIF Division II playoffs in North County.
The hosting and No. 4 seeded Wolverines (22-7) limited the Braves (10-16) to a mere 7 points over the first three quarters and won with relative ease.
"I think we were a little bit nervous coming out," said Braves coach RANDY ROBINSON. "We weren't very aggressive. Westview is a real solid team that has played a lot of basketball. But it was a nice experience."
It was marked improvement for El Cajon Valley which was 8-20 a year ago.
"It's been a fun season and I'm very proud of the girls," Robinson said. "They have a good nucleus coming back."
El Cajon Valley scoring: Hazel Doe 4 (4 reb, 2 stl), Tericka Williams 4 (3 reb), Kaylani Faten 4 (2 reb), Samantha Julien 4 (2 reb, 2 ast), Jeena Esho 3 (2 stl).
OUR LADY OF PEACE 70, MONTE VISTA 27 – The seedings didn't lie in this one. Host Our Lady of Peace, the No. 2 seed in the SDCIF Division II playoffs, outscored Monte Vista across the board as the Pilots (25-5) breezed to a 39-12 halftime lead and never looked back.
Monte Vista, which won only two games a year ago, finished 8-20 this season.
"We made a lot of improvement, but we're still not where we want to be," Monarchs coach MIKE SKIBBE said.
Monte Vista scoring: Alexandra Ross 7, LiAiesha Brandon 5, Ruby Ross 4, Shamanique Boyd 5, Deanna Bembry 2, Opal Ross 4. No other statistics were provided.
---