WEEK 1 — Sept. 4-5
EAST COUNTY SCOREBOARD
Friday's Games
Otay Ranch 14
at Grossmont 16
Kearny 13
at Santana 52
University City 0
at El Capitan 32
El Cajon Valley 40
at Montgomery 24
Steele Canyon 7
at Cathedral 27
Point Loma 14
at Monte Vista 6
West Hills 28
at Patrick Henry 20
Morse 14,
at Mount Miguel 35
OLGC (Md.) 28
Valhalla 16
San Ysidro 0
at Granite Hills 31
Helix 23
at Rancho B.V. 19
Escondido Charter 69
at Foothills Christian 41
Saturday's Game
| | |
| --- | --- |
| Christian 21, Mar Vista 0 | Only game scheduled |
Mar Vista Mariners at Christian Patriots
(Slideshow by Mike Jones)
Patriots blank Mar Vista with
huge fourth-quarter, 21-0
© East County Sports.com
EL CAJON (9-6-09) — The period of development during summer passing league was lost at Christian High when the Patriots were forced to hand their starting berth at quarterback to a transfer sophomore who barely knew the team's playbook.
Fortunately, the defensive and special teams units of the Patriots were in mid-season form for Saturday's (Sept. 5) season opener.
Powered by a sack and forced fumble by BRETT HUFF which allowed GARRETT HEIN to race 15 yards for a fumble return touchdown. Christian scored all of the game's points in the fourth period to slide past visiting Mar Vista, 21-0, at Valley Stadium.
got
pix?

Send them to East County Sports
for the entire world to see. We
accept photos from anyone —
students, parents or pros.
EMAIL them to us in a 'zip' file.
"I didn't know I was going to be the starter (at quarterback) until two-a-days," said SHANE DILLON, who joined the school after spending his freshman year with Coastal League rival The Bishop's. "I worked hard and worked hard, then God blessed me with this opportunity. It all paid off."

The 6-foot-6, 175-pound Dillon completed eight of 16 passes for 57 yards in his debut. TYRONE SAULS made four receptions for 29 yards.

Huff – Christian's leading rusher with 62 yards on 14 carries – snapped the scoreless drought by rushing 7 yards off right tackle with 10:32 left in the contest. But it was his play at linebacker that secured the victory. He crashed through the line to sack the Mariners quarterback, forcing the fumble which led to Hein's victory-clinching score to make it 14-0 with 4:46 left.

"If we didn't have all the players we have, we would not have won the game," said Huff, a junior two-way starter. "We struggled a little bit, but stepped up at the end."

Sauls added a late score with 63 seconds to go on a 2-yard run, also to the right side.

While Christian had trouble scoring, the defense owned the Mar Vista offense, limiting the Mariners to less than 150 yards in total offense. Meanwhile, the Patriots special teams, paced by punter JOEL ALESI, maintained excellent field position all evening, averaging 50 yards on six punts.

"Our defense came out to play and were pretty solid -- they weren't able to run on us after we watched films and scouted them really well," said Alesi, the starting defensive end who registered punts of 61, 53, 55 and 44 yards. "We believe we can compete with teams like Francis Parker and Bishop's if we keep playing like this."

Alesi's punting forced Mar Vista into a hole of attempting to go 80-plus yards on almost every possession.

"It's great to have Joel," added Dillon. "He gave us great field position. It's tough to play from your own 5 or near the goal line, and he kept them back inside the 20 all night."

Meanwhile, the Christian offense continued to make strides throughout the contest, eventually wearing down the Mariners.

"We kept improving as the game went on -- in the first half, we just weren't moving the ball, which wasn't all Dillon's fault," said head coach MATT OLIVER. "The line wasn't hitting their blocks very well, but in the second half, we started moving the ball fairly effectively."

Oliver also praised Hein, Sauls, "who was an animal," and Huff for leading the defense.

Braves begin with a bang

© East County Sports.com
SAN YSIDRO (9-5-09) — Head coach DANNY GOODRICH realizes quality when he sees it but also realizes that El Cajon Valley's Braves do not have a whole lot of depth.

Thus in this season when the Braves christen their brand new Field Turf playing surface, Goodrich was hoping for a healthy beginning.

Things didn't start out so swift. As hopeful as Goodrich might be, he had to somewhat hold his breath in the first half as host Montgomery took a 10-0 lead in the second quarter of Friday's (Sept. 4) season-opening contest held at San Ysidro High stadium.

he Braves rebounded to score 28 points in the third quarter and continued on to a 40-24 victory over the South Bay preseason favorites.

JUNIOR VARSITY

WEEK ONE
Grossmont 10, Otay Ranch 7
Granite Hills 37, San Ysidro 0
Bonita Vista 21, Valhalla 7
Cathedral 20, Steele Canyon 0
El Capitan 43, University City 13
Santana 26, Kearny 0
Christian 7, Mar Vista 0
Morse 7, Mount Miguel 0
Point Loma 34, Monte Vista 6
Helix df. RBV, no score reported
Patrick Henry df. West Hills, no score reported
Only scores reported

FROSH

WEEK ONE
Helix 49, Rancho Buena Vista 6
University City 19, El Capitan 14
Valhalla 34, Bonita Vista 3
Otay Ranch 24, Grossmont 6
Granite Hills 20, Santana 6
Cathedral 28, Steele Canyon 3
Morse 14, Mount Miguel 6
Only scores reported

Quarterback ALEX HANN accounted for 380 total yards and 5 touchdowns in his varsity debut under center. The senior southpaw completed 22 of 41 passes for 310 yards and 4 touchdowns despite heavy pressure applied by the Aztecs. He also rushed for 70 yards on 15 carries, including a 34-yard scoring dash.

"Alex did a good job of eluding pressure," said Goodrich. "He probably got sacked six times, but we went a lot with our 5-Wide offense to get one-on-one coverage on Jackson, so it was worth it."

Three of Hann's scoring strikes went to ANTHONY JACKSON, who finished with five receptions for 108 yards. But that combination began in the 2nd quarter when the two hooked up for a 12-yard score, leaving the Braves down 10-6 at intermission.

The 3rd quarter was all about the Braves. Hann hurled scoring tosses to Jackson of 55 and 33 yards, and JUDE BERMUDES scored on a 17-yard run.

But the Braves' defense was not about to be overlooked as sophomore PATRICK JOHNSON intercepted a pass and returned it 58 yards in El Cajon Valley's 3rd quarter scoring burst for a touchdown.

Johnson also caught seven passes for 65 yards.

"He reminds me of those Waters kids that Grossmont has had," said Goodrich.

Jackson finished with 224 all-purpose yards.

"It was a sloppy game on both sides with a lot of holding calls, false starts and offsides," said Goodrich.

This was a marathon battle – a game that last 3 hours and 20 minutes.

"I know that our guys are exhausted since so many of them go both ways," Goodrich said. "But I sure can't complain about the outcome."

GROSSMONT 16, OTAY RANCH 14 – It wasn't quite déjà vu… it was more like one of those DVD movies where the producer offers the audience several different endings. Most viewers will watch all the choices.

Grossmont didn't like the choice it selected last year, but the Foothillers hit the jackpot in Friday night's (Sept. 4) season opener against visiting Otay Ranch.

The Foothillers left the South Bay two points short when a 40-yard field goal attempt on the final play missed the mark in last season's opener at Otay Ranch.

No doubt, coach RON MURPHY was thinking about how his kicking game could leave him short again when CHASE HOUSE's first PAT kick struck the left upright and fell to the ground, leaving the Foothillers down 14-6 at halftime.

However, some nifty work by the Grossmont defense kept the Foothillers' chance for a victory alive. With just under six minutes to play the Foothillers – trailing 14-13 – embarked on an 86-yard, 10-play clock-eating drive that positioned them with a 4th-and-goal at the 1-yard line with 7 seconds remaining.

House said he wasn't nervous as he walked onto the field to boot what would be a game-winning 18-yard field goal.

"I know we lost at Otay last year when we missed a longer kick in the final seconds (it wasn't House)," he said. "But I blocked all that out. I knew I was going to make this one and so did our whole team."

House may never have had a chance to redeem himself from a missed PAT if it hadn't been for DESEAN WATERS, who caught six passes for 118 yards, rushed for 96 yards on 20 carries and returned a punt 10 yards.

Waters was at his best with the game on the line, as was senior quarterback TYLER MUTTER.

Pinned down at their own 12-yard line as they began their winning drive, Mutter connected with Waters for a 51-yard completion. Outside of another Mutter-to-Waters 8-yard completion, Grossmont pounded the ball on the ground to advance into its game-winning position.

Waters accounted for 75 of the 86 yards on that drive, yet was denied a chance to score the winning touchdown on three straight carries from the 5-yard line that left the ball on the 1-yard line.

"Yeah I'm tired," said an exhausted Waters who rarely left the field. "But I'm just glad we pulled this one out."

Otay Ranch dominated the majority of the 1st half, taking a 14-0 lead. But penalties (8 for 89) dogged the Mustangs, wiping out a 90-yard punt return for a touchdown.

Linebacker CODY SOS put some sauce into the Grossmont huddle. He logged seven tackles, one interception and a fumble recovery that brought the Foothillers back to life.

After Sos gave the Foothillers possession at midfield, Mutter and Waters took over. The key play was a slant pass of 36 yards that led Waters to the endzone and the Foothillers to the scoreboard.

"It was a 'skinny post,'" Waters gasped of the scoring play that left the Foothillers only eight points down at halftime.

Grossmont kept the momentum on its side when Sos picked off an Otay Ranch pass and returned it 25 yards to the Mustangs' 20 early in the 3rd quarter. Three runs later Water scored, his last burst coming from a yard out. House kicked the PAT and suddenly it was anybody's ballgame.

It was an interesting game in that Otay Ranch outgained Grossmont 324 to 268. The turnovers were even at 3 and 3.

"I look at myself as being a leader," said Sos. "We wanted this game and we weren't about to let it get away."

HELIX 23, RANCHO BUENA VISTA 19 – Even a young Helix football team is pretty good. The Highlanders showed up with 19 new starters for Friday's (Sept. 4) season opener against North County Rancho Buena Vista.

Sure, the youthful Highlanders fell behind 19-10 in the 3rd quarter and could well have folded. That would have been understandable, considering their inexperience.

It didn't happen.

Sophomore running back CHRIS HUNTER made his varsity debut a memorable outing as he rushed for 146 yards and 2 touchdowns on 14 carries as the No. 5 ranked Highlanders pulled out a come-from-behind victory.

The 5-foot-10, 175-pound Hunter scored the winning touchdown on a 14-yard dash in the 4th quarter that culminated in a 5-play, 70-yard drive.

"If we make some throws and catches it might not have been so close," said Helix coach TROY STARR. "We're not that great right now but we'll take this win."

Starr was elated with the work of Hunter, who is rapidly becoming the Highlanders' go-to guy. He was also pleased by the work of quarterback JAKE REED, who completed half of his 24 passes for 161 yards.

"He was exceptional at times," Starr said of Reed. "He made some impressive throws during the game but also wasn't so great at other times."

Nevertheless they don't get a whole lot better than Reed, who scored on a 1-yard run, kicked a 22-yard field goal and converted 2-of-3 PATs.

Senior SEAN LINTON was the Highlanders leading receiver with 7 catches for 101 yards.

RAYMONT NAILON added 48 yards on seven carries for the Scotties.

CATHEDRAL CATHOLIC 27, STEELE CANYON 7 – Except for a brief sparkle at the beginning of Friday's (Sept. 4) season opener in Carmel Valley, the near-sellout crowd at Cathedral Catholic's Manchester Stadium sat in near silence for three full quarters.

Gaining Elevation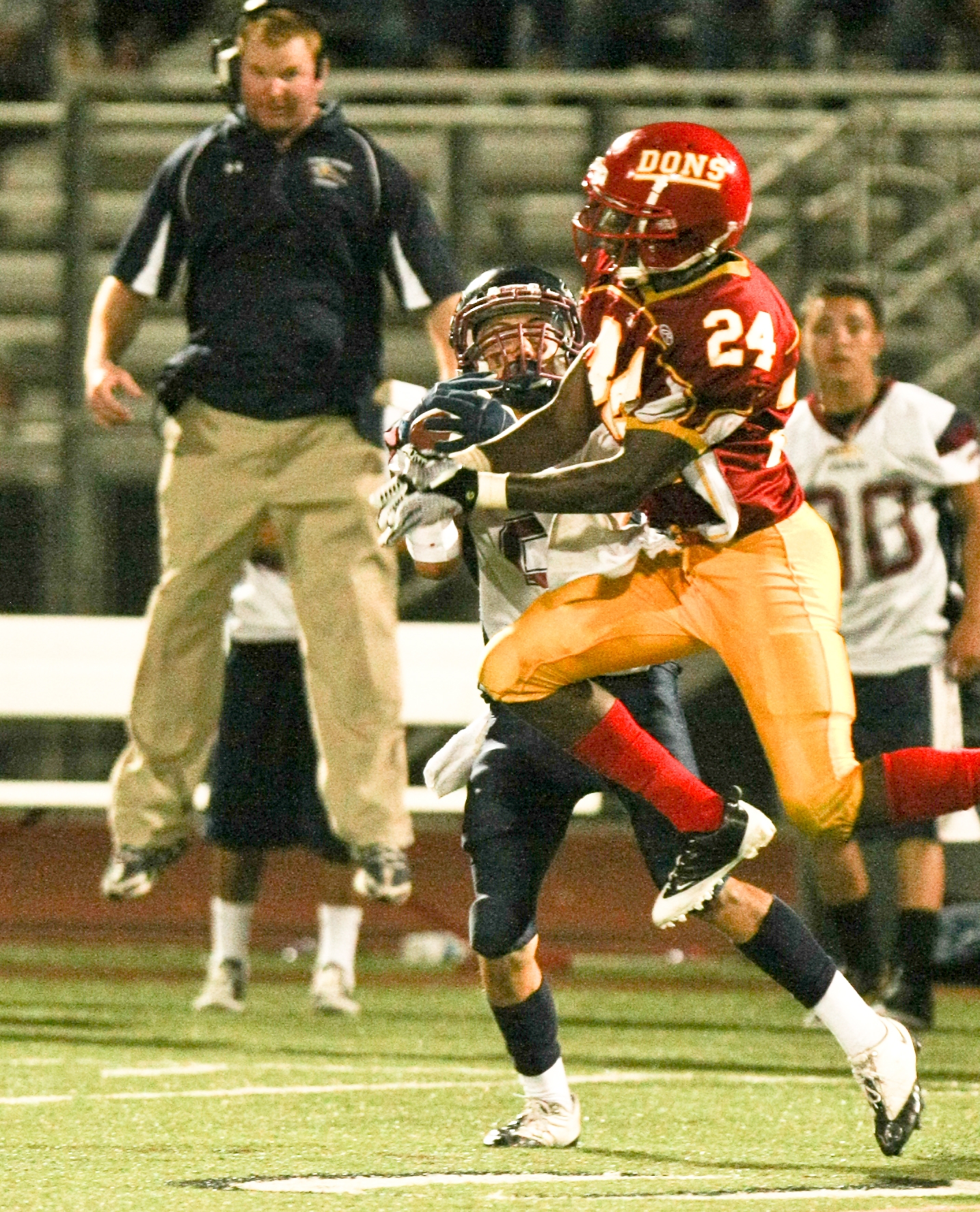 Forget the game action -- look at the height
reached by a Steele Canyon assistant coach
along the sidelines in the background (left)
(Photo by Bob Davis, CCHS)

Steele Canyon Cougars at Cathedral Dons
(Slideshow by Bob Davis, CCHS)

"Going into the half, Cathedral's crowd was in total shock," said Cougars defender MICHAEL WINTER. "It's 7-to-6 against an unranked Steele Canyon – and they're the defending state bowl game champs."

However, the 4th-ranked Dons rallied with three quick touchdowns over a 4:47 span early in the fourth quarter, extending their winning streak to 22 games over three seasons after avoiding the Cougars' upset bid.

"(Cathedral) came out and played a good second half," added Winter. "We're a young team without a lot of seniors, so I'm proud of our defense. It was just one small letdown in the fourth quarter and they built on it."

Cathedral altered its tactics in the second half, staying on the ground more by running behind senior tackle Alex Crosthwaite, who has committed to play for Cal.

After blocking for Tyler Gaffney, the 2008 CalHiSports' state player of the year who now is at Stanford after setting the CIF-SDS rushing record, Crosthwaite hopes to do the same for Jonny Martin, Gaffney's replacement as the Dons' premiere ball-carrier.

Martin rushed for 171 yards and four touchdowns on 23 carries. Included was a 37-yarder on the second play of the contest for a brief rise from the Dons' faithful, which was offset by a 27-yard scamper by Steele Canyon's ALEX PERLIN late in the first quarter for a 7-6 lead.

Perlin paced the Cougars with 94 yards on 13 carries, while JAKE WRAGG collected 57 yards on 11 sorties. BRANDON WATSON only had two touches yet mustered 21 yards rushing. REECE DALE averaged seven yards on two carries for the Cougars, who saw their passing game sputter all night.

The Cougars' defense maintained the advantage for two full quarters, powered by Winter and HUNTER SALLEE, two of just a handful of seniors who start for the Cougars.

"We were working hard, but they made more plays on offense than we did." noted Sallee. "Their blockers stepped it up and we couldn't force a turnover."

Winter, who plays what the team calls a "hybrid" position closely related to a strong safety, reached double digits in tackles, while Winter plugged holes to limit Martin for three periods.

However, Martin cashed in from the Cougars 5 on the first play of the fourth quarter to reclaim the lead, then added a 5-yarder to the right side just 3:23 later.

Cathedral closed the scoring after Brien Moynihan returned an interception 35 yards, setting up Martin for his final score -- a 10-yarder -- just two plays later.

Meanwhile, Steele Canyon was limited to just 27 yards in the second half, consistently pinned back due to three kickoff touchbacks by the Dons.

"It was just frustrating the way it ended because I feel we played three quarters of pretty good football, but the mistakes piled up in the fourth quarter," said Cougars head coach RON BOEHMKE. "We know where we have to be and these are the guys we have to beat if we want to be CIF champs."

"Our kids saw how they play, so we should come out of this game confident should we get a chance to play them again."

The daunting schedule should prepare the Cougars for Top 10 league opponents in No. 4 Helix and No. 8 Valhalla.

"We take on the best games and play the best teams, so this will get us ready for the (West Hills) Wolf Pack next week," noted Sallee.

Added Winter, "We have a tough Grossmont South League schedule, so we play the best to get ready for it. We don't get a lot of respect so we need to earn everything."

GRANITE HILLS 31, SAN YSIDRO 0 – Granite Hills snapped a 6-game losing streak from a year ago in Friday night's (Sept. 4) opener and made it look easy.

The Eagles buzzed out to a 24-0 halftime lead and then cruised to its first shutout victory in a 24-game streak dating back to 2006.

"I was really excited by the defensive play of BRENDAN NAGER," said Granite Hills coach RANDY DeWITT. "He had an impressive interception and 20-yard return for us."

Of course, the Eagles offense gave their defensive comrades plenty of room to work with when they scored 17 points in the 2nd quarter to take a 24-0 halftime lead.

"I felt the kids after their off-season workout and early practices really came out and played hard tonight," said DeWitt. "We are really ready to play. We controlled both sides of the line of scrimmage and we were really explosive off the ball."

Senior quarterback TYLER JOWORSKI was in "economy mode," yet completed 7 of 11 passes for 63 yards, including scoring strikes of 24 yards to NATE HUFF and 10 to BRIAN CARROLL.

Junior CORY LOCKMAN, who came on in relief of Joworski in his varsity debut, was 2-for-2 for 17 yards, including a 13-yard scoring pass to JOE CRESTIK in the 4th quarter.

Returning all-league kicker TYLER STRICKLAND was 4-for-4 on PATs and also booted a 37-yard field goal.

Granite Hills rushed for 170 yards on 25 carries. FREDDY HALTON led the way with 58 yards and a touchdown on 7 carries, while FRANTZ LAROQUE chipped in with 51 yards on 10 carries. Lockman scrambled for 30 yards on two carries.

Huff was the Eagles' top receiver with four catches for 30 yards.

EL CAPITAN 32, UNIVERSITY CITY 0 – El Capitan coach RON BURNER doesn't want to think about what the final score could have been in Friday night's (Sept. 4) opener against visiting University City.

All of the Vaqueros' points came in the 1st half, led by running back MATT BURKETT, who found the endzone on runs of 11 and 2 yards. Burkett totaled 61 yards on only six carries, but no doubt could have inflated his totals had Burner left him in the lopsided game beyond the first series of the 3rd quarter.

"He's our go-to guy this year," Burner said of Burkett. "He's made a lot of progress this season in that he runs harder and is more physical."

Senior quarterback MARK SCHARFENBERG, who missed most of the preseason drills due to a bout with meningitis, had a solid start to the season. He completed 14 of 23 passes for 123 yards and 2 touchdowns. Scharfenberg served up scoring passes of 10 yards to TYLER MASON and 3 yards to BRANDON SANCHEZ.

Yet the story of the El Capitan Vaqueros centers around its defensive unit. Against hapless University City the Vaqueros limited the Centurions to five first downs. In 11 series University City punted six times, surrendered two safeties and turned the ball over on downs.

"I told you our defense was pretty good," Burner said.

The coach highlighted the play of BUBBA PROUTY, JT WILDES, DANIEL WADE and COLE DAVIDSON.

"Our defense set up our offense all game long," Burner added. "We kept a lot of pressure on their quarterback.

Wildes recorded a safety when he tackled the punter in the endzone. Davidson also scored two points for the defense when he blocked a punt out of the endzone.

"Our defense is for real," Burner said. "But we're going to find out just how good we are when we take on Ramona next week."

MOUNT MIGUEL PHOTOS

See the school's new field

HERE

MOUNT MIGUEL 35, MORSE 14 – In the first regular season game between these longtime neighborhood schools, the charged-up Matadors raced to a 21-0 halftime lead and never looked back.

Morse Tigers at Mount Miguel Matadors
(Slideshow by Ed Piper)

The only time these teams actually locked horns during their nearly five decades of existence was in a crucial postseason encounter in 1987. The Matadors were undefeated going into that game at 11-0 and fell to the Tigers 12-7.

That's the last time Mount Miguel won a Grossmont League championship. But the Matadors showed in Friday's (Sept. 4) opener that they are clearly geared up to make a run for the Grossmont South title this season. The Matadors bullied the Tigers all night.

DERALL HUNTER, who rushed for 217 yards on 21 carries, scored on runs of 2, 3 and 79 yards to pace the Matadors.

Quarterback AJ STANFORD, who generated 192 yards total offense, gave the Matadors a 7-0 lead on a 19-yard scamper. DERRICK DUNN closed the scoring with a 2-yard run in the 4th quarter.

While Stanford was clicking on 8 of 13 passes for 114 yards, BRAYNT MITCHELL was reeling in five aerials for 87 yards.

Even so, this game belonged to the Mount Miguel defense.

"We had them locked down all night," said senior linebacker KHAALID ABDULLAH. "They put together one drive on the first series of the 2nd half and then scored again on the final play of the game. We were in control and there was no doubt about it."

Another defensive standout for Mount Miguel included senior MONTEL WILLIAMS, a 6-foot-2, 335-pound nose guard.

"He was the man in the middle," Abdullah said. "They couldn't get through or around him."

Abdullah also praised teammates MALCOLM JOHNSON, MALCOLM JACKSON, IZZIE GONZALEZ, SAOFAGIA MAULUPE, linebackers JORDAN GENTNER, RAMON FOSTER and DIANTE LEE.

"This is a sweet win for us because it's the first win on our new (2nd year old) turf field," Abdullah said.

WEST HILLS 28, PATRICK HENRY 20 – It was a bittersweet season-opening victory Friday night (Sept. 4) for the visiting West Hills Wolf Pack. Just the fact that the Pack snapped a two-game losing streak against the Patriots from a year ago should have been enough to make West Hills coach CASEY ASH happy.

The "price tag" for that victory was a little bit steep, to Ash's way of thinking. Even before the Pack took its first snap at Patrick Henry, it lost senior free safety DANNY EISENBARTH to a knee injury for the season as West Hills conducted its first practice the night before on its new, blue artificial turf.

Things got worse for West Hills at Patrick Henry as the first half came to a close. They lost all purpose performer ALAN PARKS to a knee injury. Although not predicted to be as devastating as Eisenbarth's, Parks will be out indefinitely.

"It's been a pretty rough week," Ash said. "We've suffered two crucial injuries. I feel bad for Parks and Eisenbarth."

On the upside West Hills leaped out to a 15-0 first quarter lead on the second play of the game. Quarterback GARY ISAACSON connected with DONTE ADDISON for a 72-yard touchdown. Parks ran across the 2-point conversion to make it 8-0.

West Hills called on its other quarterback ADRIAN MARAZITI, who drove the team downfield and flipped a 5-yard scoring pass to ADAM COYLE. STEVEN ARMSTRONG kicked the first of his two PATs to make it 15-0.

Prior to his injury Parks darted 8 yards for a score and Armstrong added the extra point kick to make it 22-7.

After the loss of Parks, West Hills' offense was limited to a pair of Armstrong field goals – one from 37 yards and one from 25.

Senior NICK McDANIEL paced the Pack in rushing with 66 yards on 13 carries. Maraziti connected on half of his 14 passes for 80 yards.

SANTANA 52, KEARNY 13 – Santana coach DAVE GROSS didn't know what to expect from the visiting Kearny Komets Friday night (Sept. 4) after watching them in a preseason scrimmage last week. His Sultans diminished the worry right away by taking a 38-0 halftime lead.

Kearny Komets at Santana Sultans
(Slideshow by Scott Seidel)

Santana rolled up 420 total yards and could have easily had more.

Gross got what he expected from veteran quarterback ZACH BREIDT, who completed 15 of 21 passes for 238 yards and 4 touchdowns. The junior signal caller delivered scoring strikes of 15 and 12 yards to JOHN BURKE and hooked up with JOSH BRENNER for a 61-yard touchdown.

Seven Sultans receivers shared in Breidt's completions. Burke led the way with four catches for 38 yards, while Brenner (68 yards), JUNIOR NUNEZ (51 yards) and JORGE MARRON (38 yards, 1 TD) caught two passes apiece.

The focus of Kearny 's defense was on sophomore tight end T.D. GROSS, who was limited to three catches for 18 yards.

Coach Gross wasn't surprised that the Komets were glued on denying his son, but he was pleased that six other Sultans caught passes.

The story is similar in Santana's running game. This is a team that began with no varsity experience other than Breidt in the backfield. Senior TYLER PETTY gave the Sultans a lift with 102 yards, including a 32-yard touchdown on just 11 carries. Sophomore SPENCER LOVE also put a positive foot forward in the running game, finishing with 58 yards on seven carries.

Junior JAYLEN FLEER scooped up a Kearny fumble and rambled 38 yards for a TD, giving Santana a 14-0 advantage after one quarter.

OUR LADY OF GOOD COUNSEL (Md.) 28, VALHALLA 16 – Valhalla battled a hard-nosed football team Friday night (Sept. 4) as Our Lady of Good Counsel, the No. 2 ranked team in the Washington D.C. metro area, traveled 3,000 miles to Rancho San Diego.

Norseman senior quarterback PETE THOMAS, who has committed to Arizona State, connected on 24 of 41 passes for 202 yards and a touchdown.

The visiting Falcons, who returned eight starters from last season's 11-1 team, are included among the top defensive secondary's in the nation. And they taught Thomas a thing or two. The 6-foot-4, 220-pound Valhalla marksman was intercepted three times, which is somewhat stunning considering he was picked off only five times in 360 attempts a year ago.

Good Counsel got on the scoreboard first when junior quarterback Zach Dancel followed his center for a 1-yard touchdown with 3:36 left in the 1st quarter.

Thomas duplicated that feat with 5:21 remaining in the first half to knot the score 7-7 at halftime.

After the Falcons' lone TD drive in the first quarter, Valhalla's defense, led by senior defensive end SHANE PENNIX, senior linebacker GREG GOULDING and junior safety DILLON TALIA, shut down the powerhouse running game for the rest of the half, limiting the visitors to 114 yards before intermission.

Midway through the 3rd quarter, Valhalla took the lead 10-7 on Thomas' 36-yard field goal, which is the 14th of his career.

On the ensuing kickoff, the Norsemen almost converted an onside kick, but the ball rolled out of bounds at the Falcons' 40-yard line, giving Good Counsel excellent field position. The Maryland based lads took advantage of this good fortune, moving the ball quickly to the Valhalla 42-yard line in two plays.

On the next attempt, Pennix stuffed the ball-carrier for a 7-yard loss, setting up a 3rd-and-13 situation near midfield, clearly shifting the momentum back to the Norsemen. A late flag, however, squelched Valhalla 's enthusiasm, resulting in a 15-yard penalty and a first down for the Falcons at the Norsemen's 30. Fullback Michael Noottoli powered his way into the endzone for a 24 yard go-ahead TD, putting the Falcons on top 13-10 with 1:23 remaining in the 3rd stanza.

The Falcons' defense put intense pressure on quarterback Thomas all night long. As the 3rd quarter was drawing to a close, Thomas was picked off by safety Al Thompson, who returned it to the Valhalla 10.

On the next play, TYLER ZALICH, converted to defense this season, recovered a Good Counsel fumble at the Valhalla 9-yard line, ping ponging momentum back to the Norsemen. Two plays later, defensive tackle Joe Rosenblatt put up his big mitts and intercepted Thomas at the Norsemen 15 and waltzed into the endzone. Following a 2-point pass play, Good Counsel extended its lead to 21-10, with 11:56 left in the game.

The game got out of reach when the visitors scored another touchdown on a 29-yard scamper by sophomore Wes Brown, with 5:03 remaining in the contest.

Thomas led the Norsemen offense on a final march down the field, finding sophomore JEVON HASTEN open for a 13-yard gain to the 1-yard line. With four seconds left, Thomas hooked up with slotback ANDY LOPEZ for a 1-yard TD pass.

ESCONDIDO CHARTER 69, FOOTHILLS CHRISTIAN 41 – The Knights of Foothills Christian were taken by surprise in Friday night's (Sept. 4) opener at Junior Seau Field in La Mesa.

The visiting White Tigers of Escondido Charter had a little more bite in their attack, and Foothills Christian coach STEVE PERDUE had a pretty good idea why.

"Escondido Charter was coached by Ed Burke, the legendary former coach of Torrey Pines," Perdue said. "We sure didn't anticipate that. They were bigger, faster, stronger than us."

The Knights already had enough problems heading into the game with the loss of senior linebacker CALEB GARDNER, who broke his wrist in practice this week.

Foothills Christian also lost junior offensive lineman RAMSEY WALLACH, who suffered a concussion in the game and was taken by ambulance to Alvarado Hospital for X-rays.

It seems like no matter who the Knights collide with there's no stopping senior GARRETT CAMPBELL. He rushed for 178 yards and 4 touchdowns on 18 carries. He also converted 3-of-4 PAT kicks for a 27-point night.

The versatile Campbell also completed 18-of-30 passes for 257 yards and two touchdowns. Both scoring strikes went to ZAC CUMMINGS.

Foothills Christian was not allowed to play a full game due to problem with the lights.

"The lights are pre-programmed to shut off at 10 p.m. so we didn't get to finish the game," said Perdue. "The lights went off with 7½ minutes left in the 4th quarter."

Perdue mentioned that he is going to try to get all the Knights home games moved up to 6:30.

POINT LOMA 14, MONTE VISTA 6 – It was a long opening night for the Monarchs, who were limited to 38 yards in 28 plays against visiting Point Loma in a non-league opener for both teams Friday night (Sept. 4).

The majority of Monte Vista's meager offense was generated by senior running back KENNETH TRIBBLE, who rushed for 47 yards on 10 carries.

Point Loma kept the pressure on quarterback SHERVIN IRANIHA, who finished with a minus-22 yards on seven carries. He was sacked five times. Iraniha was 0-for-5 passing.

One of the few highlights for Monte Vista was MAURICE PAYNE's 93-yard kickoff return for a touchdown which was too little, too late in the 4th quarter.

Defensively, however, Monte Vista turned in a solid effort all evening.

"Middle linebacker GILBERT BATES had several tackles and an interception, and linebacker MATT PARRIS had a number of big tackles and two sacks," said Monarchs coach PAGE CULVER.

Culver noted the first Point Loma touchdown came in the 1st quarter after a muffed punt at the Monte Vista 5-yard line.

Point Loma's second touchdown, which came in the 4th quarter, "was a result of blown coverage on the tight end."

"Defensively we played well enough to win," said Culver. "We need to get better with our blocking. We didn't move the ball well at all."
---
CIF-SAN DIEGO SECTION
TOP 20 PREP FOOTBALL RANKINGS
North County Times'
Sportswriters/Sportscasters Poll
2009 PRESEASON POLL
(First-place votes in parenthesis)
Rank/Team

Record

Points

LW

1. Oceanside (17)
2. La Costa Canyon(2)
3. Escondido
4. Helix
5. Vista
6. Eastlake
7. Cathedral
8. Valhalla
9. Valley Center
10. Carlsbad

12-0-1
11-2-0
10-3-0
10-2-1
—
9-3-0
13-0-0
11-2-0
11-2-0
—

187
157
123
118
95
89
85
64
27
24

2
3
6
4
15
6
1
7
5
13

11. Scripps Ranch
12. Torrey Pines
13. Mission Hills
14. Ramona
15. St. Augustine
16. Francis Parker
17. Madison
18. Lincoln
19. El Camino
tie. Mission Bay


—
—
—
8-2-1
—
—
12-1-0
—
—
—

20
14
13
12
7
6
5
4
3
3

15
—
12
10
—
11
9
—
—
—
Others receiving votes: El Capitan (1).

For 2009, 19 sportswriters, sportscasters and CIF representatives from throughout the county vote in the weekly poll. This year's panel includes: John Maffei, Terry Monahan, Tom Sheridan, Matt Null, Rick Hoff, Tom Saxe (North County Times), Alan Kidd (Hall of Champions), Nick Pellegrino (East County Sports.com), Steve Dolan and Rick Hill (East County), Rick Willis (KUSI TV), John Kentera, Mark Chlebowski,
Ted Mendenhall, Bob Petinak (XX Sports radio 1090), Bruce Ward (San Diego City Schools), Jeff Kortz (kbcsports.net), Craig Elsten (619sports.net) and Dave Axelson (Coronado Journal).

PREDICTIONS — Fearless Forecaster
Vaqueros claim to stress ground game

© East County Sports.com
LAKESIDE (9-3-09) — In the last two seasons, the El Capitan Vaqueros have used their potent passing game to bombard University City by a composite score of 106-20. In Friday's (Sept. 4) rematch to open the 2009 campaign, that shouldn't be the case.

This year's El Capitan unit will no doubt be much more conservative. The bulk of the offensive load will fall on the shoulders of senior running back MATT BURKETT rather than a pass-happy quarterback.

"I know people may think this sounds a little odd for our team, but we'll probably run the ball more than half the time," said Vaqueros coach RON BURNER.

Not that senior signal-caller MARK SCHARFENBERG isn't capable of connecting through the air.

"I can see Scharfenberg getting his confidence back," said Burner of the 6-foot-2, 200-pound senior who is recovering from spinal meningitis. "He's gaining a lot of his weight back and he made a couple of nice runs (in a scrimmage) against Lincoln ."

El Capitan is not short of pass receivers. The best of the lot is 6-foot-4, 235-pound junior tight end ROBERT CRAIGHEAD, clearly a Division I prospect. Senior slot BRANDON SANCHEZ is also a proven receiver with 29 catches for 558 yards and 4 TDs as a junior.

All of that talk about the offense is probably secondary to El Capitan 's greatest strength, which is defense.

"I know it's been awhile since people have talked about our defense," Burner noted. "But we have a lot of experience on that side."

The leaders of the Vaqueros' tackling unit are Grossmont North League Defensive Player of the Year senior DOMENIC "Bubba" PROUTY, corner ANTHONY LIMA, linebacker DANIEL WADE, tackle ALLEN THOMAS, Craighead and senior linebacker DILLON SCHLOTTER.

Linebackers J.T. WILDES, DAKOTA FURR and tackle JAKE BURTON are others that give the Vaqueros additional muscle on the defensive side.

For starters this should be a good one for the Vaqueros... El Capitan 26-7.

No. 18 POINT LOMA at MONTE VISTA, 7: Opening games such as this should be considered a tossup, and this one is. Although the Monarchs should be considered the underdogs, they certainly are capable of pulling an upset.

No surprise there considering the Pointers escaped last year with a 29-26 victory when a Monte Vista onside kick attempt backfired with 1:25 remaining.

The outcome of this year's rematch should be decided on the run. The Monarchs are banking their hopes on converted quarterback MAURICE PAYNE.

"We have a lot of skill guys – guys like Payne – and we need to get the ball in their hands," said Monte Vista coach PAGE CULVER. "So that's why we moved him to running back."

That leaves the quarterbacking chores to junior SHERVIN IRANIHA. Two-way starters KENNETH TRIBBLE and SHAMAR BARNES will also share in the running game.

"Offensively, we're ahead of where we were last year," Culver said. "Defensively, we're a little bit behind."

If Monte Vista's defense the least bit porous, Point Loma's Leslie Rogers is sure to take advantage. He burned the Monarchs for 290 yards and 3 touchdowns on 24 carries as a junior.

However, he's coming off a season-ending injury so Pointers' coach Mike Hastings isn't sure what to expect from the 6-2, 190-pounds Rogers . One thing is certain – the University of Arizona has already offered Rogers a scholarship.

'Nuf said... Monte Vista 21-19.

OUR LADY of GOOD COUNSEL (Maryland) at No. 12 VALHALLA, 7: This classic cross-country battle with the Falcons of Olney, Md., should be something to see. Anybody who has ever seen a STEVE SUTTON football team should know he loves the forward pass.

Sutton's Norsemen are no exception. Not when he has one of the nation's top passers in PETE THOMAS at the controls.

Our Lady of Good Counsel, which finished 11-1 a year ago, returns eight defensive starters, including three defensive backs which should make Thomas work for every yard.

"We've exchanged films but I'm not exactly sure what to expect," Sutton said.

Valhalla , which was 11-2 a year ago, defeated Westview in a scrimmage under game-like conditions in last week's Kickoff Classic, 35-28.

"We would have killed them if we had kept our first team in the entire time," Sutton said, "But that wasn't the purpose of the scrimmage."

Rivals.com rates OLGC No. 53 in the nation, for whatever that's worth... Valhalla 34-30.

No. 5 HELIX at No. 19 RANCHO BUENA VISTA , 7: Second-year Helix head coach TROY STARR isn't doing cartwheels over the fact that his team is ranked No. 5 in the county.

Not that Starr is even concerned about where his Highlanders are ranked in the preseason. His focus is on knocking the Longhorns on their collective hides.

In last week's scrimmage against Fallbrook, Starr was less than elated.

"We did some things well but we still need a lot of work," he said. "We're not a good football team right now but I think we can become one with a little more work."

On the positive side Starr was pleased with the work of junior quarterback JAKE REED and sophomore running back CHRIS HUNTER.

"Reed looked pretty good but he had a lot of balls dropped on him," Starr said.

Rancho Buena Vista defensively dominated Santa Fe Christian, Castle Park and Orange Glen in its preseason scrimmage.

Helix has not lost in two previous meetings against the Longhorn, including a 41-7 victory last season. It won't be that lopsided this time around, but give the edge to the Highlanders... Helix 27-14.

MORSE at MOUNT MIGUEL, 7: Get your track shoes out for this one. But there will be differences when these teams open the season Friday (Sept. 4) night in Spring Valley.

The visiting Tigers will attack the Matadors out of a Wing-T formation.

"They certainly have the speed to break some long ones," said Matadors coach TOM KARLO. "So it's up to our defense to contain them, not let them get outside."

The key to the Mount Miguel defense is senior linebacker KHAALID ABDULLAH, who is moving from the defensive line.

"I think it's just a more effective position for him, where he can use his athletic abilities," Karlo said.

Linebacker JORDAN GENTNER should also contribute on the defensive side, where he led the team in tackles a year ago.

Offensively Mount Miguel should be explosive. Senior DERALL HUNTER, who skipped the preseason scrimmage is eager to roll up some yardage against the Tigers. Sophomore DERRICK DUNN also would like to get a few hand-offs like he did in a Kickoff Classic against Calexico where he collected 123 yards on 11 carries.

"Our whole team is anxious to start the season," Karlo said. "But we know that Morse will probably be a bigger challenge than we expected."... Mount Miguel 28-26.

Blue Bayou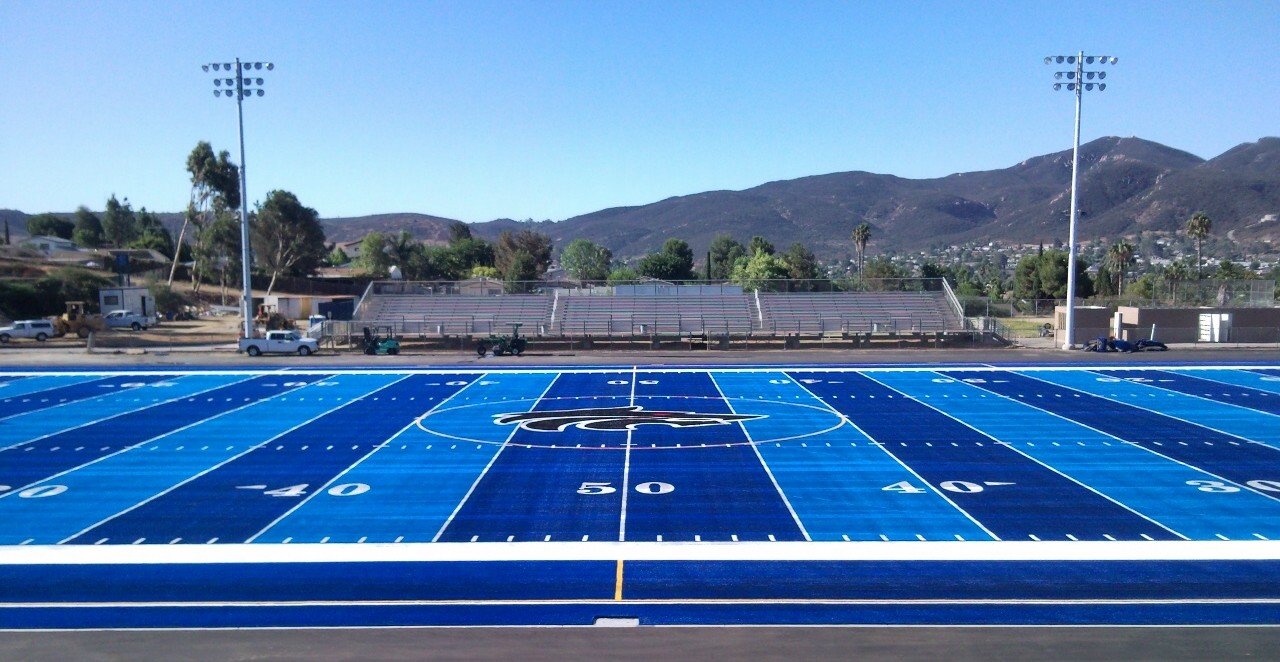 The final pair of East County high schools still playing football on grass – West Hills and El Cajon Valley – will join all the others and battle on artificial surfaces this year, featuring this wild, double-blue colored gridiron for the West Hills Wolf Pack. Also, Steele Canyon and Granite Hills recently completed the installation of all-weather running tracks around its fields.
(West Hills High School courtesy photo)
CLICK PHOTO TO ENLARGE

WEST HILLS at PATRICK HENRY, 7: Seems like these teams should be in the same league considering they've played three times in the last two years. The Patriots won both meetings a year ago – 24-12 in the regular season opener and 28-20 in the first round of the playoffs.

West Hills' versatile speedster ALAN PARKS is a scoring threat every time he touches the ball. He averaged better than 9 yards per tote last season.

"We got banged up a little bit in our scrimmage," said Wolf Pack coach CASEY ASH, after West Hills sparred with La Jolla , Bonita Vista and Crawford. "Nothing too serious, but a couple of guys will have to sit this one out."

ADRIAN MARAZITI and Helix transfer GARY ISAACSON were ticketed to share the quarterback duties, but not so much this game. Isaacson will be needed more to help a dinged up pass receiving corps.

"This is a game we should learn a lot about ourselves," Ash said.

Our choice is a mild upset... West Hills 14-13.

STEELE CANYON at No. 4 CATHEDRAL CATHOLIC, 7: Talk about tall assignments… Coach RON BOEHMKE'S Steele Canyon Cougars open the season against the defending Division II state champions, who have won 21 games in a row. That is the fourth-longest winning streak in the CIF San Diego Section history.

Despite having its proven skill position players wiped out by graduation, Cathedral remains solid up front. Alex Crosthwaite, a 6-foot-5, 310-pound tackle who has committed to Cal Berkeley, is the anchor of the offensive wall.

Jumbo linemen have always been a Steele Canyon strength. However, the Cougars probably lost their best blocker in LEVI WRANGEL (6-2, 310) to a broken ankle.

"No question, that hurt us," Boehmke said.

What the Cougars do have on their side is excellent team speed led by senior track sprinter ALEX PERLIN (1,723 all-purpose yards, 14 TDs). Junior JAKE WRAGG is capable of rolling up big numbers as well.

For one of the few times in Steele Canyon 's brief history, they should be able to throw the football, with junior quarterback BRAD BOEHMKE at the helm. Track sprinters CODY SIMPSON and JOSEPH CISNEROS will provide excellent targets. Kicker MATT BRUDER should make an impact as well.

The Dons have beaten the Cougars in three of four meetings and do not figure to stumble this time... Cathedral Catholic 24-10.

EL CAJON VALLEY vs. MONTGOMERY at SAN YSIDRO, 7: One of the most improved teams in East County could be the Braves, who have some bigger linemen than they've had in recent years. On top of that four starters return on the offensive front, including seniors BRYANT QUINONEZ (6-1, 250) and JIM CATLETT (6-4, 230).

Senior ALEX HANN takes over at quarterback in what has been one of the county's top passing offenses. While Hann will certainly not be afraid to put the ball up, he will be the best running QB since ABRAHAM MUHEIZE (2005).

Senior ANTHONY JACKSON will spearhead the running game when it comes to power, while sophomore PATRICK JOHNSON gives the Braves excellent speed.

The key to the season will come when JOHNNY BULLOCK (6-3, 185) – a transfer from Lincoln – gains eligibility. Once the Braves have Johnson and Bullock running at full speed they'll be hard to catch.

Montgomery is the favorite in the South Bay League, returning 13 starters from last year's 5-5 team. The Aztecs' strength will be on defense although they believe they can throw the ball as well.

Since El Cajon Valley scrimmaged Morse and its Wing-T offense it's difficult to predict how they'll match up against Montgomery 's spread offense. This is a pivotal game for both teams, which are traditionally not powerhouses... Montgomery 22-20.

SAN YSIDRO at GRANITE HILLS, 7: The Eagles have suffered some key losses during the preseason workouts, but should be muscled enough to tame the Cougars.

Entering the season with a six-game losing streak carrying over from last year's 1-9 finish, coach RANDY DeWITT believes his Eagles are eager and ready to begin the season with a victory. He bases his confidence on Granite Hills' performance against No. 10 ranked Poway in a preseason scrimmage last week.

"We moved the ball consistently against Poway and I felt good about that," DeWitt said. "I like our team because we have some leaders. We're meshing very well right now. Our schedule is designed where every week our opponents will get tougher."

Returning senior TYLER JOWORSKI and junior CORY LOCKMAN will share the quarterback chores. JOE CARDONA, who is seeking an appointment to the Naval Academy , along with 6-foot-3, 270-pound junior JESSE SHEARD bolster a bigger and stronger offensive line for the Eagles.

Big-time free safety BRIAN CARROLL is the main cog on defense.

TYLER STRICKLAND is ranked with the best kickers in East County and that could prove key in close games... Granite Hills 24-8

KEARNY at SANTANA, 7: On paper the game should be so basic for Santana. A simple game of pitch and catch, with junior quarterback ZACH BREIDT chucking to 6-foot-2, 212-pound sophomore tight end T.D. GROSS.

The problem with that is any defensive coordinator worth his salt realizes that's the connection that must be short-circuited to send the Sultans flailing.

"We're still trying to develop some receivers and running backs," Santana coach DAVE GROSS said. "We used five different running backs and at least that many receivers in our scrimmage against Monte Vista and Bishop. We saw some good things so now we know a little bit more what some of our kids can do."

During Gross's 10-year reign Santana has lived by the passing game. That might not be the case on a weekly basis this season.

"Against teams like Kearny , which has game-breaker speed, we might find ourselves in the rare role of trying to eat up the clock," Gross noted. " Kearny runs a lot of stuff that they haven't done in the past. They throw quick passes out of the shotgun and show a lot of spread and single back stuff. They're real aggressive on defense – it seems like they blitz on every down."

Santana blew the Komets out 42-12 a year ago, but it will be nothing like that this time... Kearny 25-21.

OTAY RANCH at GROSSMONT, 7: Widespread illness has been stalking the Foothillers this week, which could result in a Friday night (Sept. 4) disaster in a season opener against visiting Otay Ranch.

"I'd like to think we'll have everybody back," said Grossmont coach RON MURPHY. "It really hurt losing to Otay last year on the final play of the game when we missed that 40-yard field goal."

No doubt the Foothillers want to avenge that last-second setback. Granted, Otay Ranch lost a lot of starters from last year's team but is bolstered by a 10-0 junior varsity squad.

It boils down to Grossmont's health and Otay Ranch's experience... Otay Ranch 20-17.

ESCONDIDO CHARTER vs. FOOTHILLS CHRISTIAN, at Seau Field 7: This one will be a shootout. A dozen starters return for the White Tigers, including running back Joseph Kanahele. He should have room to move since Escondido Charter has some size up front.

Yet, the nod should go to the Knights, led by do-it-all quarterback GARRETT CAMPBELL... Foothills 32-21.

Sat., Sept 5
Non-League
CHRISTIAN vs. MAR VISTA, at Granite Hills, 7: Neither team was overly impressive in its preseason scrimmage. The highlight point for the Patriots was the kicking of MICHAEL GRUBER, who booted a 58-yard field goal then fell just short on a 60-yarder which smacked the crossbar.

The Patriots are not short of standouts, including junior TYRONE SAULS (LB-TE) and senior offensive lineman MATT KNIGHT (6-2, 240). Defense may be the strong suit.

Despite losing senior linebacker STEPHEN PITTS to a high ankle sprain for at least four weeks, and entering the campaign without an experienced quarterback the Patriots should have enough firepower to submerge the visiting Mariners for the 6th time in 10 meetings... Christian 27-12.
---
No more prep football gamecasts on Channel 4-SD

© East County Sports.com
SAN DIEGO (9-1-09) — While KUSI-Channel 9 continues to toot its horn to promote a high school football comedy-highlights show, other media outlets are dropping out.

The latest to abandon the high school ship is Channel 4 San Diego, which for the last three seasons has carried a "game of the week."

"As much as it pains us, there will be no prep football on Channel 4 this year," said prep football director JASON BOTT, a resident of East County. "This is my baby. It personally really hurts me. It's not officially dead forever – the future is still up in the air."

Bottom line is money. According to station director Dennis Morgigno, the goal of Channel 4 was to break even, not to get rich. The situation has gotten worse than that, as all involved have lost money.

The station will continue to carry the CIF San Diego Section championship quadrupleheader from Qualcomm Stadium.

"The games were the victim of a couple of things," Morgigno told The North County Times. "First and foremost was not finding an audience. Because we couldn't find an audience, we couldn't find sponsors."
---
WEEK 0
EXHIBITIONS — CIF KICKOFF CLASSIC
Saturday, August 29 — At Valhalla


Catholic Central 19,
Foothills Christian 12

Knights quarterback Garret Campbell (left) receives strong pass protection as he looks deep downfield. Campbell rushed for one touchdown and returned the second-half kickoff 98 yards for another score, but Foothills fell late to the visitors from Lethbridge, Alberta.

(By Rod Villa, iCrew Photos)

ADDITIONAL PHOTOS

HERE
Mount Miguel 37,
Calexico 0

Matadors running back Derrick Dunn (6) powered a ground game which steam-rolled over the visitors from the Imperial Valey. In addition to five TD's by the Mount Miguel offense, the defense also blocked a punt to score a safety while posting a shutout of the Bulldogs.

(By Rod Villa, iCrew Photos)

ADDITIONAL PHOTOS

HERE
The above photos and slideshows courtesy of iCrew Photos from Hilltop High School.
If you or your school would like to participate, contact East County Sports.com HERE
Valhalla 35,
Westview 28

The defense of the Norsemen made several key second-half stops to preserve the lead to defeat the visiting Wolverines during the annual CIF Kickoff Classic, hosted by Valhalla.

(Photos by Ed Piper)
ADDITIONAL PHOTOS BELOW
---
2009 East County Composite Football Schedule
UPDATED: Sept. 1st
EXHIBITIONS
Sat., Aug 29
CIF Kickoff Classic, At Valhalla
Foothills Christian vs. Cathedral Central (Lethbridge, Alberta), 2:30
Mount Miguel vs. Calexico, 5
Valhalla vs. Westview, 7:30

WEEK ONE
Non-League
Fri., Sept. 4
Kearny at Santana, 7
Morse at Mount Miguel, 7
Otay Ranch at Grossmont, 7
Our Lady of Good Counsel (Olney, Md.) at Valhalla, 7
Point Loma at Monte Vista, 7
San Ysidro at Granite Hills, 7
University City at El Capitan, 7
Escondido Charter vs. Foothills Christian, at Seau Field, 7
El Cajon Valley vs. Montgomery, at San Ysidro, 7
Helix at Rancho Buena Vista, 7
Steele Canyon at Cathedral Catholic, 7
West Hills at Patrick Henry, 7
Sat., Sept. 5
Mar Vista vs. Christian, at Valhalla, 7

WEEK TWO
Non-League
Fri., Sept. 11
Monte Vista at El Cajon Valley, 7
Grossmont at Valhalla, 7
Steele Canyon at West Hills, 7
Mira Mesa at Helix, 7
Santana vs. Christian, at Granite Hills, 7
Granite Hills at Olympian, 7
El Capitan at Ramona, 7:30
Bye – Mount Miguel
Sat., Sept. 12
Foothills Christian at Las Vegas-Mountain View Christian, 2

WEEK THREE
Fri., Sept. 18
Non-League
El Capitan at Point Loma, 3
Granite Hills at El Cajon Valley, 7
Castle Park at Grossmont, 7
Cathedral at Helix, 7
Christian at Olympian, 7
Hoover vs. Foothills Christian, at Seau Field, 7
Imperial at Santana, 7
Montgomery at Valhalla, 7
West Hills at Mount Miguel, 7
Sat., Sept. 19
Monte Vista at Santa Fe Christian, 2

* Homecoming

WEEK FOUR
Non-League
Fri., Sept. 25
Mount Miguel at Serra, 6:30
Clairemont at West Hills, 7
Eastlake at Steele Canyon, 7
Morse at El Capitan, 7
Otay Ranch at Helix, 7
Sweetwater vs. Christian, at Granite Hills, 7
Monte Vista at Lincoln, 7
Santana at El Centro-Central, 7
Valhalla at Ramona, 7:30
Sat., Sept. 26
Grossmont at Santa Fe Christian, 2:30
Bye – Granite Hills, Foothills Christian

WEEK FIVE
Fri., Oct. 2
Non-League
El Cajon Valley at Helix, 7
El Capitan at Monte Vista, 7
El Centro-Central at Granite Hills, 7
Grossmont at Mount Miguel, 7
Santana at Steele Canyon, 7
West Hills at Valhalla, 7
Southern League
Foothills Christian at Midway Baptist, 7
Sat., Oct. 3
Non-League
Otay Ranch vs. Christian, at Granite Hills, 7

WEEK SIX
Fri., Oct. 9
Non-League
Christian at El Cajon Valley, 7
Mount Miguel at El Capitan, 7
Steele Canyon at Grossmont, 7
Madison at Santana, 7
Granite Hills at West Hills, 7
Southern League
CV-Calvary Christian vs. Foothills Christian, at Seau Field, 7
Bye – Monte Vista, Valhalla

WEEK SEVEN
Fri., Oct. 16
Coastal League
Christian at Horizon, 3
Grossmont North League
El Capitan at Santana, 7
El Cajon Valley at West Hills, 7
Grossmont South League
Helix at Monte Vista, 7
Mount Miguel at Valhalla, 7
Steele Canyon at Granite Hills, 7
Southern League
Foothills Christian at Borrego Springs, 7
Bye – Grossmont


WEEK EIGHT
Fri., Oct. 23
Grossmont North League
Grossmont at El Capitan, 7
Santana at West Hills, 7
Grossmont South League
Valhalla at Monte Vista, 7
Helix at Steele Canyon, 7
Granite Hills at Mount Miguel, 7
Southern League
San Pasqual Acad. vs. Foothills Christian, at Seau Field, 7
Non-League
Compton at El Cajon Valley, 7
Sat., Oct. 24
Coastal League
Christian at Santa Fe Christian, 2
Bye – El Cajon Valley

WEEK NINE
Thur., Oct. 29
Southern League
Foothills Christian at SD Jewish Acad., 3:30
Fri., Oct. 30
Grossmont North League
El Capitan at *El Cajon Valley, 6:30
Santana at *Grossmont, 7
Grossmont South League
Helix at Valhalla, 7
Monte Vista at *Granite Hills, 7
Mount Miguel at *Steele Canyon, 7
Bye – West Hills, Christian

WEEK TEN
Fri., Nov. 6
Grossmont North League
Grossmont at El Cajon Valley, 6:30
West Hills at *El Capitan, 7
Grossmont South League
Granite Hills at *Helix, 7
Monte Vista at Mount Miguel, 7
Valhalla at Steele Canyon, 7
Southern League
Foothills Christian at Calvin Christian, 7
Sat., Nov. 7
Coastal League
The Bishop's vs. *Christian at Granite Hills, 7
Bye - Santana

WEEK ELEVEN
Fri., Nov. 13
Coastal League
Francis Parker vs. Christian, at Valhalla, 7
Grossmont North League
El Cajon Valley at *Santana, 7
West Hills at Grossmont, 7
Grossmont South League
Mount Miguel at Helix, 7
Steele Canyon at Monte Vista, 7
Valhalla at Granite Hills, 7
Southern League
Julian vs. Foothills Christian, at Seau Field, 7
Bye – El Capitan
---
CIFSDS' 7th annual Kickoff Classic
Fri., Aug. 28, At Ramona — Olympian vs. Imperial, 5:30; Rancho Bernardo at Ramona, 8.
Sat., Aug. 29, At Valhalla — Foothills Christian vs. Catholic Central (Alberta), 2:30; Mount Miguel vs. Calexico, 5; Westview at Valhalla, 7:30.
Valhalla's 'Pistol Pete' Thomas chooses ASU
© East County Sports.com
EL CAJON (7-2-09) — Valhalla High coach STEVE SUTTON has tagged his nationally renowned quarterback PETE THOMAS with the moniker "Pistol Pete."
No one is actually sure why the veteran Norseman coach has chosen to hang that handle on his premier passer, but Thomas was firing bullets with pinpoint accuracy during his junior season during Sutton's second year at calling the plays.
"Coach has done a lot to make us a better football team in his two years here," Thomas said. "It starts with getting up at 5:30 in the morning all summer, lifting weights and playing in as many passing tournaments as we can."
Coming off his junior season when he passed for 3,159 yards and 28 touchdowns on 246-of-360 accuracy, Thomas attracted college scouts by the dozens. He was offered recruiting trips by the handfuls, but made actual official visits to Boston College, Maryland, Northwestern, Colorado State and Arizona State. He also was accepted at Harvard where only academic scholarships apply.
On top of that, Thomas and his family toured the country last summer, visiting colleges showing interest in the 6-foot-5, 210 pound quarterback.
"When we weighed all the pros and cons it always came back to Arizona State as the best fit for me," said Thomas.
Thus, Thomas recently made a verbal commitment to Arizona State . He will enroll at the Tempe , Ariz. university in time for the 2010 season.
Three factors led to Thomas's final decision.
No. 1: "I guess the biggest thing is they run a pro style offense similar to what we do at Valhalla only a lot more sophisticated," he said.
No. 2: "They play in the Pac-10 which is something I've always wanted to do."
No. 3: "ASU is a lot closer to home than many of the others, which isn't a big deal, but it does allow my parents a chance to attend more games."
College football's elite institutions have been in pursuit of Thomas for more than a year. At the top of the list is USC.
"They approached me, but never made any firm offers," Thomas said. Same is true with several schools of that caliber.
"I'm happy with my decision," Thomas said. "I have family living out there and that made it a more comfortable fit."
Playing for Arizona State's father-son coaching tandem of Dennis and Bryce Erickson is another plus in Thomas' eyes. The young recruit finds Xs and Os on the Sun Devils' drawing board as magnetic.
"Coach Dennis has won two national college championships and coached in the NFL," Thomas said. "He definitely knows how to develop quarterbacks."
With his future planned, Thomas believes he can take a clearer focus on his final season. Valhalla fell one victory short of claiming the San Diego CIF Division III championship, falling in the final, 49-13, to Cathedral Catholic.
"We plan to have a better finish this year, Thomas said.
Thomas will graduate next January.
"I'll be able to get to Tempe early enough to compete for the starting job as a true freshman," he said.
---
CIF-SAN DIEGO SECTION
PREP FOOTBALL RANKINGS
Sportswriters/Sportscasters Poll
FINAL 2008 POLL
(First-place votes in parenthesis)
Rank/Team

Record

Points

LW

1. Cathedral (12)
2. Oceanside (9)
3. La Costa Canyon
4. Helix
5. Valley Center
6. Escondido
7. Valhalla
8. Eastlake
9. Madison
10. Ramona


13-0-0
12-0-1
11-2-0
10-2-1
11-2-0
10-3-0
11-2-0
9-3-0
12-1-0
8-2-1

201
198
166
139
124
103
54
49
37
22

1
2
4
3
7
8
9
8
—
5
Honorable Mention: Francis Parker (21), Mission Hills (12), Carlsbad (9), Poway (7), Vista (4), Scripps Ranch (4).
For 2008, 21 sportswriters, sportscasters and CIF representatives from throughout the county vote in the weekly poll. This year's panel includes: John Maffei, Terry Monahan, Rick Hoff, Scott Bair, Matt Null (North County Times), Alan Kidd and Tom Shanahan (Hall of Champions), Nick Pellegrno (East County Sports.com), Steve Dolan (East County), Rick Willis (KUSI-TV), Rick Hill, Matt Gulbransen (KOGO Radio), John Kentera. Mark Chlebowski, Ted Mendenall, Bob Petinak (XX Sports Radio 1090), Jason Bott (Channel 4), Dave Axelson (Coronado Eagle Journal), Todd Salkuwski and Jeff Kortz (KBCSports) and Bruce Ward (CIF).