SDSU Aztecs: Season to Remember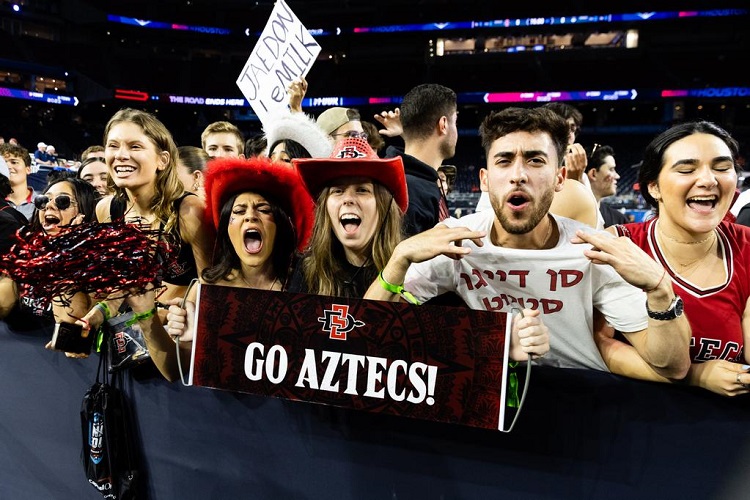 Courtesy, goaztecs.com
2022-23 LOCAL COVERAGE / SDSU Men's Basketball
https://twitter.com/i/status/1643088924615786496

From staff and wire report
HOUSTON – In one of the top national sporting events involving a San Diego based team, the San Diego State men's basketball teamdid what they usually do.
The Aztecs trailed in the second half, then inched their way back into the contest. However, instead of winning, SDSU eventually fell to UConn, 76-59, for the NCAA Division I men's basketball championship game, held Monday (Apr.3) at NRG Stadium.
Despite the setback, East County Sports.com publisher Ramon Scott declared the feat of reaching the Final Four and then the national final as one of the greatest accomplishments inlocal sports history:
Depending on your age, there are other rvrnts:
Padres: 1998 World Series appearance
Chargers: 1963 American Football League championship (named a better team than the '63 NFL champion Chicago Bears by Sports Illustrated magazine
Aztecs: 1974 NCAA Division I men's volleyball national championship (the chool's only D-1 crown; there were some D-II titles prior to World War I
Other titles include:
UC Dsn Diego: Various D-2 and D-3 national crowns in a avriety of sports
San Diego Christina College: a men's basketball and women's volleyball title in the NCCAA (National Christian College Athletic Association)
 SDSU (1987) and USD (1992) posted national finals appearances in men's soccer within a 5-year period (but both lost, 2-0)
Numerous G.L.A.S.S. sports title from the San Diego Sockers (indoor soccer), San Diego Gulls (minor league hockey), San Diego Bus (team tennis),and others.
Still, this one may mean more, not only because of recency or the increase of population, the Aztecs caught the imagination of the community.
So when SDSU trimmed a double-digiit deficient to five pointds with less than five minutes remaining, fans believed the dream cvould come true — and sports books in Vegas were going crazy about not only SDSU covering the 7-point spread but many amoneyline victory.
Thus, with a salute to former head coach steve Fisher for turning the program arond and into a regular postseason entrant, kudos to current head coach Brian Dutcher for a true season to remember.
Links
Compiled by ECS Senior writer Nick Pellegrino
287 total views, 3 views today