Williams' eight treys get Patriots rolling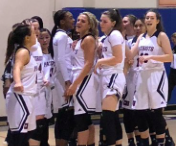 Christian girls during a time out during the second half on Friday night.
EAST COUNTY PREP GIRLS BASKETBALL
By Adam Paul
EastCountySports.com
CENTRAL LEAGUE
CHRISTIAN 67, MADISON 28
EL CAJON – Things early on for the Christian Patriots were a little closer than they would have liked as Crawford was able to hang around in the first quarter as the Patriots would only lead 18-13.
However, in the second quarter, the Patriots turned things up a notch behind Kristin Williams and her 10 points and limiting the Colts on the offensive end as they outscored them 15-3 to lead 33-16 at intermission.
#5 Kristin Williams w/the three…28-16 PATS…1:34 left in 1st half!!! pic.twitter.com/j9amOV4fmw

— CUSSDPatriots (@CUSSDPatriots) January 13, 2018
More of the same in the second half for the Patriots as they charged out behind 11 points by Williams as she drilled a trio of three-pointers to pounce on the Colts 23-9 to lead 56-25.
1 of 3 three pointers in a row for Kristin Williams in the 3rd Period w/5:27 left in 3rd!!! pic.twitter.com/AygxyF3FCG

— CUSSDPatriots (@CUSSDPatriots) January 13, 2018
Williams on the night for the Patriots poured in a team-high 32 points including nailing 8 3-pointers while Simone James contributed 17 points. Other scorers for the Patriots included Jazmine Crawford and her 8 points off the bench.
#5 Kristin Williams with another 3!!! That is her eighth 3 of the game!!! 59-25!!! pic.twitter.com/37WGrlixpr

— CUSSDPatriots (@CUSSDPatriots) January 13, 2018
Hannah Richardson despite only scoring 2 points on the night really hustled and played hard and was a big factor in the defensive effort.
With the victory, the Patriots improve to 3-0 in league play and 11-5 overall and will next take on a tough Santa Fe Christian squad that is ranked No. 4 in the County and No. 3 in Division I with a 10-2 record.
The contest against Santa Fe Christian will definitely be a test for the Patriots as they try and establish themselves as a top team in the County.
The special non-league contest is part of an MLK All-Day Showcase and will be the main event at 8:30 pm on Saturday, January 13th at the Ryan Center on the campus of Christian High School.