Breakthrough win for RedHawks
2023 EAST COUNTY PREP FOOTBALL
By Nick Pellegrino
ECS Senior staff writer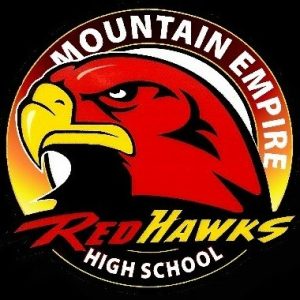 SOUTH ENCANTO — Mountain Empire placekicker kicker Adan Rivera redeemed himself with a 21-yard field goal early in the fourth quarter lifting the RedHawks to their initial victory of the season by nipping Mabel O'Farrell Charter, 9-7, at "The Falcons Nest" field, located just a half-mile west from Morse High School.
Rivera hooked a potential, game-tying PAT attempt in the final minute of the second quarter. However, with the verdict on the line, the senior was strong and true with his go-ahead boot of 21 yards to capture the contest between winless programs.
Mountain Empire (1-6 overall, 1-1 Pacific League) has now both won and lost a 2-point decision in league play, standing one-half game behind co-front-running The Rock and Maranatha Christian.
The Rock nipped Tri-City Christian, 28-27, while Maranatha captured last week's league opener, 22-20, while
Speaking of close encounters, SD-Southwest defeated both Mountain Empire and O'Farrell this season, by near identical scores of 20-7 and 22-7, which meant the RedHawks were supposed to win by two points — and they did!
The Hawks' game-winning kick came in sharp contrast to the schools' first meeting when O'Farrell began it's football program in 2018. The Falcons has been shutout all season, but a RedHawks fumble in their own red zone set-up a potential field goal after the Falcons were shutout in seven straight contests.
However Mountain Empire blocked the short 24-yar  attempt to perverse  the shutout triumph.
This year's deciding field goal was set up by RedHawks outside linebacker Christian Rose following his second fumble recovery of the ballgaame, allowing the defense to close out the victory with more than 40 unanswered minutes of shutout football.
"I kind of messed up on mt PAT and I needed to calm down," Rivera admitted. "But I We played hard and had a lot of faith in each other."
Rivera  noterd how the "scrappy defense kept the team in the game.
"They were breaking their backs for us, he added.
There were many others to receive credit, too.
"We made some early mistakes, but the defense came on and won this one for us," said head coach Bernard Vann. "When we play consistently like this afternoon, we can win in this league."
There were plenty of stoppers on defense that received credit.
"There was mu buddy, Phoenix (Tanic) at linebacker, and a bunch of others," said defensive end, the contest's leading tackler. "We really cleaned up our game. Our outside linebackers really contained, and our corners really stepped up this week."
The lone RedHawks touchdown came on a 2-yard plunge by sophomore Isaac Gonzalez, a running back who plays in the defensive secondary.
"Our defense was overcame some adversity after missed the kick — they were really standing tall," said quarterback Corey Vann. "Hopefully, we can take this momentum to win league, then into the playoffs."
This was the opener of a 3-game road swing for the RedHawks. They will close the regular season with a Senior Night contest against The Rock on Sat., Oct. 21, with a special 5 p.m. kickoff.
The Saturday Night Special will also note the 60th anniversary of the school's first-ever winning season of 1963.
The Warriors elevated from 8-man to 11-an football this season after capturing the Surf League in 2022.
O"Farrell (0-6, 0-1) now owns a composite mar of 1-41; the Falcons lost their first 18 straight, defeated La Habra Whittier Christian, (24-12 inn 2021) and now have dropped 23 straight.