Singer retires again from coaching
Updated: October 22, 2020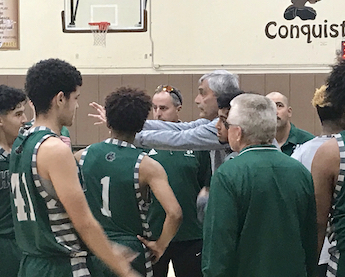 Special to ECS
Leaving a footprint unseen in Grossmont Conference history, Helix High basketball coach John Singer announced his immediate retirement Wednesday due to health concerns.
A part of the Highlanders athletics family for more than a half-century, Singer is often dubbed "a high school teammate of Bill Walton," yet placed his own mark as one of California's most successful coaches in a 39-year career on the Scotties' bench for the boys' program.
Singer also guided the girls' team for a period at Helix, boosting him among the combined sports listings for all-time victories according to records compiled by CalHiSports.com.
The numbers are indeed daunting: 741 boys basketball wins (second all-time in the CIF-San Diego Section to El Camino's Ray Johnson), 200 girls basketball victories.
He owns a total of five section championships (2002, '05, '07, '17), including four with the boys — featuring a triumph over Johnson for the 2005 crown — in eight title game appearances. The lone girls banner came in 1980 in the famous 41-40 decision over Fritz Ziegenfuss' Patrick Henry Patriots.
In addition, Singer captured 19 boys league crowns. In the 21st Century, he won 20 or more games 10 times (twice over 30), with just one sub-.500 season.
A developer of talent, Singer never fielded a CIF player of the year over the decades — Helix' only such award winners were Walton  (1970), the future Hall of Fame inductee, and Wilbert Olinde (1973).
There was also Floyd North, who split his time between Helix and St. Augustine, one of just 19 players to score more than 2,000 points over his prep career (1998-2001).
Still, Singer mentored a list of outstanding performers, including a pair of CIFSDS Division I players of the year Lance Hurdle (2005), who later played professionally overseas, and David Jefferson (2007).
His brash, demanding style empowered his players to always give 100 percent — or take a seat on the bench. Yet, one would be hard-pressed to find a former player who didn't love playing for him. Singer also faced off-court challenges in recent years, leading to his resignation.
According to the San Diego Union-Tribune, Singer battled prostate and bladder cancer from 2008 to 2017, eventually having both organs removed.
Long-time assistant coach Joe Hernandez will temporarily take over, but a new appointment has yet to be announced. Athletics director Damon Chase said the position will be posted.
HELIX HISTORY
Playing with Walton, Singer was a reserve forward for head coach Gordon Nash (259-69 record in 11 seasons, ending in 1978), reaching three consecutive CIF title games, claiming the championship in 1969 and 1970. LINK: 
https://www.partletonsports.com/155292/
Nash succeeded Bob "The Watchman" Speidel, who led Helix to its first CIFSDS title in 1964 in the first title-game battle between schools from the city and the county. Speidel also won it all in 1966.
Speidel was at the forefront of basketball coaches in the early years of the San Diego Section.  He guided Helix to championships… in the pre-Bill Walton era. A basketball lifer, Speidel had several other stops along the way and never left the game," according to San Diego Sports History.com. LINK:
https://www.partletonsports.com/atch/