DIII: Southwest Eagles soar to championship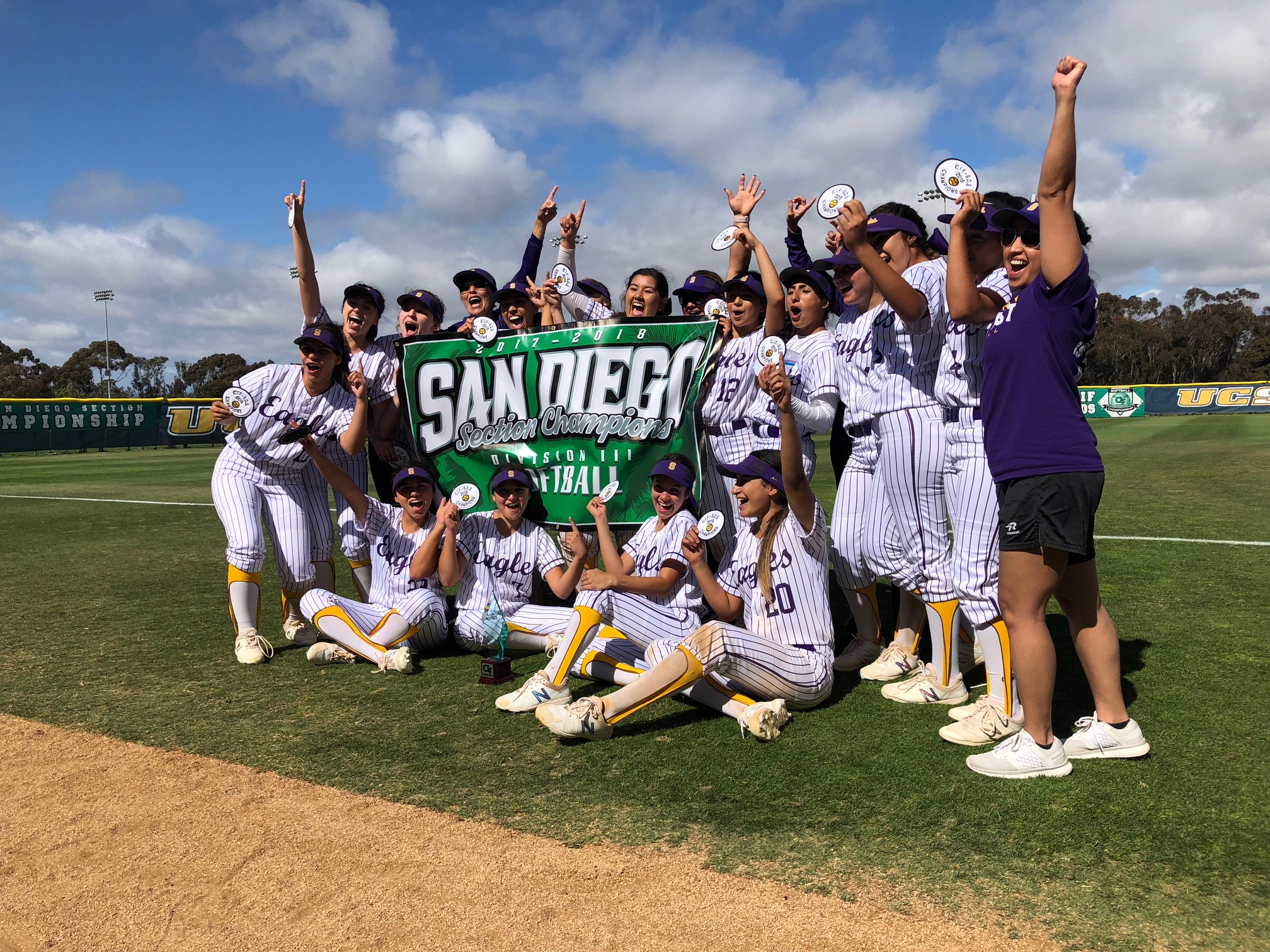 Southwest EC Celebrates CIF Division III Title / Photo Courtesy of Don Demars Photography
2018 EAST COUNTY PREP SOFTBALL
By Adam Paul
EastCountySports.com
SAN DIEGO CIF CHAMPIONSHIP
DIVISION III
UC SAN DIEGO
#1 SOUTHWEST EC 8, #9 EL CAPITAN 0
Two three-run innings were what the Eagles of Southwest (El Centro) High used to claim their first ever San Diego Section softball championship.
With the game still scoreless in the bottom of the third inning and one out Adriana Molina laced a single to left which scored Ariana Izaguirre to make it 1-0, Iliana Manzano followed with a double which brought home Sadriena Rodrigues to make it 2-0 and finally Molina scored on a wild pitch to give the Eagles a 3-0 lead.
Southwest El Centro (27-6) tacked on another run in the fourth inning an RBI single by Izaguirre to make it 4-0.
The eagles thought they had struck again in the bottom of the fifth when they pushed across a couple of runs to make it 7-0 but they had batted out of order and thus the runs came off the board.
However, in the bottom of the sixth, the Eagles did strike with three runs with a couple of singles that scored runs and also an error that led to another run.
El Capitan (20-11-1) had their opportunities to put together some runs in the first couple of innings as Bailey Olaveson singled in the second inning, she would advance to third on a single by Allyson Von Yokes who stole second. Unfortunately, that would be the farthest they would advance.
A couple of base hits in the third inning by Katie Hicks and Alexa Williams but nothing more as Rodriguez was able to get out of the inning for the Eagles.
Unfortunately, the Vaqueros would run out of magic as this time around they were not able to repeat the performances from Thursday. On Thursday the Vaqueros down to their final out staved off elimination by putting together a string of hits that led to scoring six runs en route to a 7-6 victory over Mission Hills and then go on to come from behind once again as they beat Central Union 5-4.
With the win, the Eagles claimed their first ever CIF San Diego Section Softball championship.
For the Vaqueros, Katy Hicks went 2-for-3, Allyson Von Yokes also went 2-for-3, Alexa Williams and Bailey Olaveson each went 1-for-3.