CIFSDS Volleyball: Vaqueros, Scotties advance to semis
Updated: October 29, 2023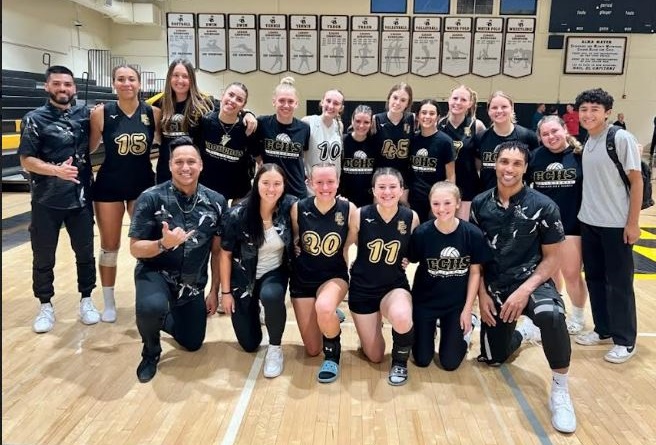 2023 EAST COUNTY GIRLS PREP VOLLEYBALL
CIF-SAN DIEGO SECTION CHAMPIONSHIPS
From staff and wire reports
LAKESIDE – The El Capitan Vaqueros handed the La Jolla Vikings one of their largest postseason losses over the past decade, as the top-seeded Vaqueros blasted in Vikings in a three-set sweep on Saturday (Oct. 27) at Foster Gym.
El Capitan (26-7 overall) dominated from the start to claim a 25-18, 25-18, 25-14 decision.
The last time La Jolla suffered a bigger sweep in a defeat came against Scripps Ranch in 2018 — the same season the Vaq Attack started its current streak of six straight Grossmont Hills League championships.
"Today's match with La Jolla was super fun," explaimed El Cap head coach Brennan Wong-Pau. "We were able to solidify our passing, allowing our offense to be very terminal."
"At the helm at the setting position was Ruby Ennis, who was able to diversify our offense and place out hitters in good positions."
However, it was the defense which humbled La Jolla's spikers in not allowing the visitors to ever obtain 20 points in any set.
"I have to give our defense credit — We were able to transition a lot of our digs into good sets into kills," added Wong-Pau.
El Capitan advances to its second straight CIFSDS semifinals, hosting upstart Del Norte on Wed., Nov. 1, starting at 7 p.m.
Wong-Paul requests for students and the community to attend and fill the bleachers. Please note: tickets must be purchased online in advance.
Despite winning in a sweep, some of the Vaqueros noted the match was a lot more difficult in playing a traditional county power.
"La Jolla is very scrappy," said Vaqueros standout Madison Triplett, who already owns an in-pocket scholarship to UC Santa Barbara. "We were able to pull it our in three only because we had some great rallies which we they always all seemed to end with us winning the point."
"We played some of our best volleyball of the season. It was fun oi play and everyone played for each other and stayed together."
In the other Division I match, the No. 5 seed Nighthawks surprised fourth-seeded Carlsbad, posting major decisions in the first two sets to capture the quarterfinal-round match in four sets, 35-15, 25-12, 23-25,
The other half of the bracket will find No. 2 Francis Parker faced another side that also advance in upset fashion after No. 6 Poway has defeated a pair of home teams in both Bonita Vista and Rancho Bernardo. 25-22.
Division II
HELIX 3, UNIVERSITY CITY 0
LA MESA – The top-seeded Helix Highlanders gained a berth to next Tuesday's final four by conquering the University City Centurions, 3-0, Friday (Oct. 27) in the CIFSDS Division II quarterfinals held at Caledonia Gymnasium. The start time is currently slated for 7 p.m.
The Scotties will next face Our Lady of Peace after the second-seeded Pilots survived a five-set thriller against Scripps Ranch.