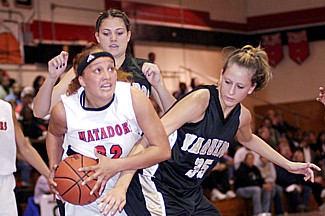 Jerica Williams (left)
(ECS.com file photo)
Williams transfer
from UCLA to SDSU
© East County Sports.com
SAN DIEGO (8-16-07) -- JERICA WILLIAMS, the CIF-San Diego Section player of the year as a junior for Mount Miguel High in the 2004-05 season, announced she will transfer from UCLA and become eligible to play at San Diego State for the 2008-09 women's basketball season.
Williams, a 5-8 shooting guard who helped the Matadors to three consecutive Division II championships, will begin classes at Montezuma Mesa later this month. She will have three seasons of eligibility with the Aztecs.
"Jerica is a terrific long-range shooter, and, as both an athlete and a teammate, is an extremely competitive person," Aztecs coach BETH BURNS said. "She will have a year to work on her game, and will hit the ground running in 2008."
Williams joins a host of other county talent to join Burns' roster since the coach returned to SDSU. Included is former El Capitan center ALLISON DUFFY, who shares the honor as the Grossmont Conference all-time leading scorer, plus two other San Diego Hall of Champions' players of the year in Paris Johnson (San Diego HS) and Tamika Lipford (The Bishop's).
Williams averaged 18.8 points, 8.9 rebounds and 5.0 steals per outing to earn CIF player of the year laurels as a junior, also gaining a first-team all-state Division II pick and a second-team all-state honoree overall in 2005.
As a senior in 2006, she helped Mount Miguel edge into the final state rankings, averaging 14.8 points for one of the top defensive ballclubs (34.9 points allowed average) in California. Williams also rated second in foul shooting behind Duffy, helping Mount Miguel to the CIF state quarterfinals.
A two-time team captain, she received first-team all-CIF honors her final two years and was a three-time first-team selection in the Grossmont South League. In addition, Williams is a three-time All-East County selection, including a pair of first-team berths.
"I'm excited about being an Aztec and coming back home to play in front of my family and the San Diego community," Williams said. "I've been familiar with Coach Burns since I was in the ninth grade and I admire how passionate she is about the game and the coaching staff's ability to develop players."
Williams intends to major in communications with a minor in sociology.
"I couldn't be more excited to add Jerica Williams at shooting guard to complement our inside tandem of Paris Johnson at 6-4 and Allison Duffy at 6-2," Burns added. "County-wide, we trust that all basketball fans will be eager to follow the development of these three great San Diego prep stars."
---
'Moose' recognized for summer accomplishments
© East County Sports.com
HARRISONBURG, Va. (8-10-07) — The Wood Bat League's Harrisonburg Turks have recognized individual player accomplishments for the 2007 season.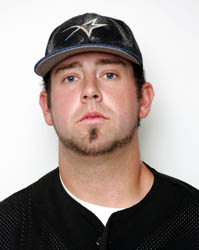 David Dennis
The Most Valuable Player Award went to Valhalla High alum DAVID DENNIS, the junior first baseman from Oklahoma City University. Dennis posted a .305 batting average in 151 at bats, with 46 hits, 13 doubles, 4 home runs, and 23 RBI.
For the past two summers, Dennis has been a very important member of the Turks baseball program. He earned respect with his performance on the field and found his way into the hearts of Turk fans with his big teddy bear personality off the field. During his two summers in Harrisonburg, he inspired and taught area Little Leaguers while he worked the Turks baseball camps and gave individual lessons.
Given the nicknam, "Moose" during his stay in Harrisonburg, you could hear a"Moose horn" sound at his every at bat as fans raised their hands to make their "Moose antlers" while they cheered Dennis on at Veterans Memorial Stadium.
---
Dennis tops in Sooner land

© East County Sports.com
BETHANY, Okla. – Oklahoma City University will be the top seed in this week's Sooner Athletic Conference baseball tournament, with much of the credit courtesy of former Valhalla High standout DAVID DENNIS.

The junior first baseman batted 5-for-9 with a pair of homers, powering the NAIA nationally 4th-ranked Stars to a doubleheader sweep of Southern Nazarene. For his effort, which included five RBI, Dennis was named the SAC player of the week. Dennis is now batting .383 this season, with 11 homers and 52 RBI in 50 contests.

Oklahoma City will return to Southern Nazarene's Cypert Athletics Complex for the tournament, as the top-seeded Stars (45-9, 18-2 SAC) meet Northwestern Okla. State in the tournament opener at 9 a.m. (CT).

A performer in the San Diego County Senior Showcase all-star game after graduating from Valhalla, the three-time All-Grossmont South League selection registered exactly 100 career RBI with the Norsemen, then was an All-Pacific Coast Conference honoree with San Diego City College.

Dennis was tabbed All-East County following his senior year in 2002.
---
Well-traveled Helix grad
takes UC San Diego
basketball reins
© East County Sports.com
SAN DIEGO (6-15-07) — Former Helix High basketball all-leaguer CHRIS CARLSON has been named coach of the UC San Diego men's basketball team.
Carlson is the 11th head men's basketball coach in the 42-year history of the Tritons program and only the third to lead the program at the NCAA Division II level.
"I strongly believe in the mission of the University and this athletic department, as well as the type of student-athlete that UCSD attracts," Carlson said. "The potential and promise that exists here is something unique and special, and I am looking forward to building upon the recent successes of the program. I also want to thank Ben Howland, who has been instrumental in my development as a coach and person, for his trust and guidance throughout the many years in which we have worked together."
Carlson, 37, comes to UCSD after spending the previous four seasons as the Director of Basketball Operations at UCLA under head coach Ben Howland. At UCLA he was responsible for the day-to-day operations of the program and serves as a liaison to the athletic administration and other school officials. Carlson additionally assisted in scheduling and recruiting and helped the Bruin program to back-to-back Final Four appearances over the last two seasons.
Prior to assuming his duties at UCLA, Carlson served in the same capacity for two years (2002-03) at the University of Pittsburgh. Carlson, a San Diego native, joined the Pittsburgh staff in the summer of 2001 and has extensive experience as an administrator and coach. Before joining his program at Pittsburgh , Carlson was on Howland's coaching staff at Northern Arizona for one season in 1998-99. He remained at NAU for two more years (1999-2001), after Howland's departure, where he worked with the Lumberjacks' post players, along with recruiting and scheduling.
"We are very excited to have Chris join our staff and lead our men's basketball program," said UCSD athletic director Earl Edwards. "He comes from a winning tradition and brings a tremendous amount of knowledge to us from his vast experiences at the Division-I level. I have no doubt that he will take this program to new heights."
Carlson is a 1993 graduate of UC Santa Barbara with a bachelor's degree in history.
He also spent four seasons as an assistant basketball coach for the Gauchos.
---

A.J. Griffin
Griffin gains second FAA honor
© East County Sports.com
OMAHA , Neb. (6-11-07) -- University of San Diego right-handed pitcher A.J. GRIFFIN, a product of Grossmont High School, continues to reap in a host of postseason honors, gaining his second Freshman All-America award, this time from PingBaseball.com.
Last week, he took a similar honor, topping the list of all relievers on the Louisville Slugger Frosh All-America squad from CollegeiateBaseball.com, the same outlet which also tabbed San Diego State's STEPHEN STRASBURG (West Hills HS).
Serving as the Toreros' primary closer, Griffin was a first team West Coast Conference pick, posting a 6-1 record and a 2.63 ERA as he appeared in 34 appearances. Griffin fanned 63 batters and walked 18, finishing with 11 saves, the second-best single-season total in USD history.
Griffin was impressive in almost all of his appearances this season, including a 5-inning performance against USC on Feb. 10. The freshman allowed two runs on five hits, while striking out five in helping lead USD to a victory over the Trojans.
Griffin was also impressive in his longest outing of the season, a 6-inning effort against San Diego State, holding the Aztecs at bay by allowing one run on one hit while striking out a career-high seven batters, helping USD to its seventh consecutive win over its crosstown rivals.
---
Stephen
Strasburg
Aztecs' Strasburg Named Freshman All-American
Courtesy, San Diego State Univ.
SAN DIEGO (6-7-07) -- San Diego State pitcher Stephen Strasburg has been named a 2007 Louisville Slugger Freshman All-American by Collegiate Baseball magazine. He was one of five relief pitchers nationwide named by the publication on its annual squad of first-year Division I college players.

Strasburg, a product of West Hills High, emerged as one of the top closers in the Mountain West Conference in his first season of collegiate ball, earning co-Freshman of the Year honors and second-team all-MWC accolades.

The freshman right-hander finished the 2007 campaign with seven saves and a 2.43 earned run average. His save total was second-best in the conference and tied for the seventh-most in a season by an SDSU pitcher. Among his save victims this past season were NCAA Tournament participants UCLA, Michigan and University of San Diego.

Strasburg averaged well over a strikeout an inning with 47 Ks in his 37 innings of work over 25 appearances and opponents hit just .141 against him. He was named Mountain West Conference Pitcher of the Week on April 8 after picking up a win and a save in two games against New Mexico on April 5-6.

He is currently playing summer ball with the Torrington Twisters of the New England Collegiate Baseball League.
EAST COUNTY BASEBALL PRODUCTS
CURRENTLY PLAYING AT FOUR-YEAR SCHOOLS
EAST COUNTY WOMEN'S FASTPITCH PRODUCTS
CURRENTLY PLAYING AT FOUR-YEAR SCHOOLS
Is there someone missing? Let us know by email HERE.
---
Tristan Phillips
Phillips advances
to D-III World Series
© East County Sports.com
ORANGE (5-21-07) — Sophomore third baseman TRISTAN PHILLIPS (Grossmont High) and his Chapman University baseball teammates have earned a berth in the NCAA Division III World Series, May 25-29 in Appleton, Wis.
Chapman (40-6) had to come from behind to earn its ticket to the finals by sweeping a pair from Pacific Lutheran, 10-7 and 1-0 on Saturday (May 19), to win the NCAA Division III West Region championship. It marks the third time the Panthers — the No. 2-ranked team in the country — have captured three straight regional flags.
Pairings for the Division III World Series will be determined later this week.
---
Homecoming for Hillers grad Tristan Phillips

© East County Sports.com
ORANGE (4-28-07) -- Former Grossmont High standout TRISTAN PHILLIPS picked a perfect time to gain more playing time for nationally 2nd-ranked Chapman University.

Gaining a start at third base earlier in the week, Phillips stroked a go-ahead RBI double, leading the Panthers to an important 6-2 victory over Pomona-Pitzer at Hart Park.

The contest was a possible NCAA Division III playoff preview, as both schools are among the leaders in the West Region. Chapman, an independent, now boasts a 31-5 overall record, while Pomona-Pitzer's Sage Hens (27-10, 14-5) are co-leaders of the SCIAC with La Verne.

Phillips break into the starting lineup coincides with the Panthers only San Diego County appearance this season, coming south this Sunday (Apr. 29) to meet Cal State San Marcos. The 1 p.m. contest will be played at Mission Bay High School.

Phillips, a sophomore, is batting .333 in spot action this season, often entering as a late-inning replacement in two-thirds of Chapman's games behind All-America candidate Kurt Yacko (.402 average). Word is Yacko will concentrate on pitching more next season and his offensive contributions will come as a designated hitter, thus opening the third base job for Philips.

Phillips' power numbers include a .455 slugging percentage, easily making the former All-East County and All-CIF standout the Panthers' starter for the future.

Chapman is seeking a third consecutive NCAA West Region championship.
---
Alyssa Parker
Parker gains Ivy League laurels
© East County Sports.com
HANOVER, N.H. (5-17-07) -- Former Monte Vista High standout ALYSSA PARKER capped the best season in Dartmouth College women's fastpitch history by being named to the All-Ivy League first team.
The freshman, a utility player who was stationed mainly at first base, topped all first-year players with a .306 batting average, helping the Big Green to their first-ever winning record in Ivy competition at 11-9 (16-24 overall).
Parker collected 34 hits and 15 runs, leading the team in home runs with six and RBIs with 24. Parker was crucial in Dartmouth 's wins over league foes Brown, Yale and Harvard, while blasting a two-run home run to give the Big Green a 9-6 victory over Boston College.
In the final series of the season against travel partner Harvard, Parker collected four hits with two runs and four RBIs as Dartmouth finished second to the Crimson in the North Division.
At Monte Vista, Parker twice was named to the All-East County team, including a first-team berth and an All-CIF Division III berth last season, earning three letters in softball and volleyball. She was also an All-Academic performer, serving as the California Scholastic Federation vice-president.
---
Kyle Johnson
Johnson honored in Northwest
© East County Sports.com
NEWBERG, Ore. (5-14-07) -- Former Steele Canyon High standout KYLE JOHNSON was named Northwest Conference (NCAA Division III) pitcher of the week after shutting down nationally 2nd-ranked Chapman University.
Pitching for George Fox University, Johnson shut down the Panthers with five solid innings of shutout relief, allowing just three hits with a walk while striking out three, lowering his season statistics to an ERA of 1.89 and an opponent's batting average of just .169.
Johnson is part of a strong bullpen by committee for the Bruins, which entered the 3-game series with a 30-6 overall record after opening the season with a 19-1 mark. The team finished second in the Northwest Conference after winning or sharing the previous five consecutive conference titles.
George Fox returns to Hart Field in Orange for the NCAA Division III West Regional, opening the double-elimination event Wednesday (May 15) at 9:30 a.m. against Texas-Dallas. All Bruins playoff games can be heard online from KFOX Radio HERE.
---
Alyssa Escalante
(Courtesy, Occidental College)
Excellence for Escalante
© East County Sports.com
EAGLE ROCK (5-8-07) -- Former Grossmont High standout ALYSSA ESCALANTE recently completed her freshman season at Occidental College, and – as the starting catcher – was named to the All-Southern California Intercollegiate Athletic Conference second team.
Despite the difficulties of a 3-33 campaign (3-21 SCIAC), Escalante received notice from conference softball coaches, batting a club-leading .360 while starting behind the plate in every Eagles ballgame this season. She also led the ballclub in hits, doubles, slugging percentage and strikeout percentage, going down on strikes just four times all season.
With the Foothillers, Escalante served mainly as the designated player, earning second-team berths on both the All-East County and All-Grosmsont North League squads, as Grossmont captured the GNL crown in 2006, her senior year.
---
Savannah Brown
(Rob Skinner, Georgia Tech A.A.)
© East County Sports.com
GAINESVILLE , Fla. (5-20-07) -- The record-breaking season for Georgia Tech catcher SAVANNAH BROWN (Valhalla High) came to an end Saturday (May 19), when the 15th-ranked Yellowjackets were eliminated from the NCAA Division I regionals by No. 18 Texas, 4-2.
Brown, a junior, went 1-for-3 with an RBI for the Ramblin' Wreck, giving her an Atlantic Coast Conference single-season RBI record of 76. She also slugged 20 homers, ranking her sixth in the nation, tied with Tech teammate Brittany Barnes.
Entering the event, Brown was one of five Jackets named to the All-Region Team. She gained a first-team berth after being named to the second-team in 2006.
---
Savannah is scorching Atlanta
Slugger sets ACC RBI record
© East County Sports.com
ATLANTA (5-8-07) -- Former Valhalla High standout SAVANNAH BROWN established a new Atlantic Coast Conference record by driving in her 73rd run of the season, powering her Georgia Tech Yellowjackets to Monday's (May 7) 4-1 victory over Mercer at Glenn Field.
Brown accomplished the feat when she bombed a 2-run homer in the 5th inning, her 20th of the season, giving the 19th-ranked Rambling Wreck (50-13) their 16th consecutive victory to close the regular season. Brown eclipsed the mark of 72, set last season by teammate Whitney Haller.
Along with Brown's individual mark, Georgia Tech established school marks for runs, hits, homers, RBI and total bases.
Despite the records, the Jackets finished the regular season in third place, one full game behind Virginia Tech, as the ACC elected not to re-schedule several contests which were rained out. Thus, Tech will be seeded third and will meet No. 6 Maryland (32-24, 8-12 ACC) in the opening ballgame of the ACC Championships, to be held at Florida State, May 10-12. Thursday's first pitch is slated for 7 a.m. PT, and is available on pay-per-view on ACCSelect.com.
Brown ranks 11th in the ACC with a .339 batting average, leading the conference in RBI at 1.16 per contest, while ranking second in home runs, as Georgia Tech is expected to receive an at-large bid for its seventh consecutive NCAA Championship.
The junior, the 2004 East County Player of the Year with the Norsemen, is majoring in biology. She just celebrated her 21st birthday on Apr. 18.
---
Savannah Brown
(Courtesy, Georgia Tech)
Brown powers GA Tech into Top 25
Catcher named ACC Player of the Week

© East County Sports.com
ATLANTA (4-10-07) -- Former Valhalla High standout SAVANNAH BROWN, who has helped Georgia Tech into the national rankings with her power hitting and defense, has been tabbed Atlanta Coast Conference player of the week for the period ending Apr. 8th.

Brown, the starting catcher for the 24th-ranked Yellowjackets, paced the Rambling Wreck to a 4-1 record last week, including an ACC series victory over Florida State.

Over the weekend, Brown walked twice in the opener in a tough loss, but led the Jackets to victory in the nightcap in style by slamming a school-record three home runs, driving in six runs in a 9-1 victory in six innings.

In the final game of the series, she finished 1-for-3, getting robbed at the fence in right field to prevent her from her second hit of the game as the Rambling Wreck took the series, 7-6.

Earlier in the week, Brown slammed a three-run home run against Furman to drive in the game's first runs, going 2-for-4, to lead Tech to a 5-0 win. In the nightcap, she finished 2-for-4 in an 8-1 rout of the Lady Paladins.

Brown finished the week with an impressive 1.333 slugging percentage, four home runs, nine runs batted in, and a .533 batting average. She provided the game-winning RBI in two of the four wins, while not striking out all week.

It was the second career ACC weekly award for Brown, who is now fourth all-time in Tech history with 29 career home runs. MORE HERE from the Yellowjackets website.

Elsewhere, San Diego State's MELISSA OWENS (Christian High) struck out a career-high 12 batters, but left with no-decision after the Aztecs fell to visiting Utah, 1-0 in 10 innings, on Saturday (Apr. 7). Story HERE
---
Jill Timmer

Timmer on own Field of Dreams

© East County Sports.com
ESTHERVILLE, Iowa (4-30-07) -- Former Grossmont High infielder JILL TIMMER is helping Iowa Lakes Community College into the NJCAA national rankings. Not only is the freshman handling things defensively, she is batting .384 with 13 doubles and five homers for the Lakers.

"Jill did miss about seven games with an elbow injury, but since then, she's been in the lineup every day since the start of March and is one of our leaders in RBIs, doubles and homers," said head coach MIKE BOSCH, who's team is now 32-11 after posting a 57-8 mark in 2006.

Timmer was an honorable mention selection in the Grossmont North League in 2006 following an injury-plagued season, but the third baseman's play for the San Diego Legacy club program got her noticed by Bosch over the summer.

Iowa Lakes, which started the season ranked 9th, are currently listed among those receiving votes in the NJCAA Division II poll, with the regional tournament coming up May 4-6 in nearby Fort Dodge, Iowa.
---
Mara Thornton
Thornton now pitching for the Braves

© East County Sports.com
PEMBROKE , N.C. (4-28-08) -- A three-time All-East County honoree, former West Hills High standout MARA THORNTON made the switch and is now pitching for the Braves.

That is, the Braves of North Carolina-Pembroke, an NCAA Division II program that plays in the Peach Belt Athletic Conference. The rebuilding program lists only two seniors, thus Thornton has gained the opportunity to quickly get her feet wet at the next level, starting in just over half ot UNCP's ballgames.

Although her pitching record (7-15) hasn't been as stellar as when she gained four All-Grossmont North League berths for West Hills, her bat is as solid as ever at .297. But the young Braves (22-32) seem to growing, recently completing a 6-game winning streak to open April, with Thornton throwing a pair of complete games for the victories.

Thornton is majoring in Criminal Law and hopes to become a lawyer specializing in Native American affairs.
---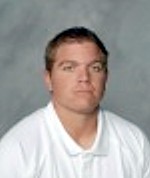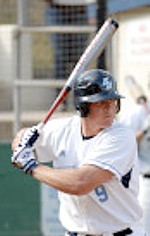 Jordan Abruzzo
Abruzzo sets USD record,
second mark to follow
© East County Sports.com
ALCALA PARK (4-17-07) -- Former El Capitan High standout JORDAN ABRUZZO was the runaway winner of West Coast Conference player of the week honors after establishing a USD career record while moving to the threshold of another.
In a three-game sweep of Portland over the weekend, Abruzzo pounded the pitching of the visiting Pilots, capped by a perfect 5-for-5 outing in Sunday's (Apr. 15) 10-2 rout. He also drove in a run -- one of six RBI in the series -- giving Abruzzo the Toreros school record with 197, eclipsing the old mark of 195 held by Joe Lima.
Abuzzo can also overtake Kevin Reese (1997-2000) for the career mark for basehits, sitting two shy of the USD mark of 279. He can claim the record in Tuesday's (Apr. 17) contest against San Diego State at Tony Gwynn Stadium. First pitch is slated for 6 p.m.
For the week, Abruzzo batted 10-for-16 (.625) with two doubles, two home runs and six RBI -- a 1.125 slugging percentage. On the season, Abruzzo is hitting .329 with 57 hits, nine doubles, one triple, eight home runs and a WCC-leading 48 RBI.
USD (record) is now ranked 18th in the nation according to the latest Collegiate Baseball rankings. The other major polls list the Toreros 19th (Baseball America) and 22nd (Rivals.com).
A draft selection by the Boston Red Sox last summer, Abruzzo owns a standout career. After garnering All-East County , All-CIF and All-State honors for the Vaqueros in 2003, he earned Freshmen All-America honors in his first season at the Alcala Park campus.
---
Stephen Strasburg
Strasburg honored for UNM series
© East County Sports.com
COLORADO SPRINGS, Colo.(4-10-07) -- Former West Hills High standout STEPHEN STRASBURG was named the Mountain West Conference pitcher of the week after leading San Diego State to a pair of victories over New Mexico last week.
Strasburg, a freshman, collected his conference-leading fifth save in Thursday's series opener, then pitched out of two late jams to gain Friday's triumph -- his first collegiate victory -- in extra innings against the Lobos.
Over his last 14 relief appearances covering 19.1 innings, Strasburg has allowed just one earned run on five hits. He has walked five (two intentionally) and has recorded 23 strikeouts. Opponents are hitting a mere .133 against the right-hander this season.
The former Wolf Pack starter established school marks for ERA (1.68) and shutouts, earning All-Grossmont North League honors while also named the West Hills Scholar-Athlete of the year for 2006.
---
Justin Baum

Baum into the swing of things
Leads Big West Conference at .402

© East County Sports.com
STOCKTON (4-10-07) -- Although team success has been lacking, you couldn't tell by the way former Grossmont High standout JUSTIN BAUM is swinging the bat. Baum, a starting left-side infielder for the University of the Pacific, completed the week as the leading batter in the Big West Conference with a lofty .402 average.

Included was a sharp 7-for-14 performance in last week's home series with UC Davis, featuring a homer, three RBI and three runs for the Tigers (8-25-1). Baum also tops the Big West in on-base percentage (.500) and walks, plus rates in the Top 10 in almost every conference offensive category.

Following a stellar career with the Grossmont Foothillers, including an All-East County berth, Baum was selected to a pair of Freshman All-America teams after slugging a single-season record 17 home runs with Pacific in 2005. Last season, he added 12 more homers, making him the Pacific career leader with 29 blasts.

The junior has seven additional home runs this season, while ranking as one of the conference's top defenders, sharing starting duties as shortstop and third base.
---
Melissa Owens (Courtesy GoAztecs.com)
SDSU's Owens named MWC Pitcher of the Week
Sophomore earns second weekly award this season

Courtesy, Mountain West Conference
COLORADO SPRINGS, Colo. (3-28-07) -- San Diego State sophomore MELISSA OWENS (Christian High) has been named the Mountain West Conference Pitcher of the Week after leading SDSU to a 3-1 record last week. The weekly award is her second this season and third of her career.

A right-hander, Owens went 1-0 last week with a 0.44 ERA. She struck out 20 batters and walked four over 16 innings, while limiting her opponents to a .123 batting average.

Owens tossed a three-hit shutout in SDSU's 1-0 win over No. 20 Georgia Tech in the second game of a doubleheader on Wednesday. The three hits, all singles, came against a team who came into the day with a .333 team batting average and 42 home runs.

Owens finished the game with eight strikeouts and just one walk. MORE HERE.
---
Jordan Franey
(Courtesy, www.UCSBgauchos.com)
Franey homecoming in WNIT at USD

© East County Sports.com
SANTA BARBARA (3-13-07) -- The youngest from a family of athletes who all excelled at both the high school and college level, former Santana High standout JORDAN FRANEY grew up knowing the drill. Simply place a microphone in front of her and allow the engaging starting forward for the UC Santa Barbara Gauchos women's basketball team to go.

Following a heartbreak loss to UC Riverside in the Big West Conference final, Franey's team missed qualifying for the NCAA Championships, instead coming back to her hometown to meet the University of San Diego in Thursday's (Mar. 15) opening round of the Women's National Invitation Tournament.

Here are portions on a recent interview with Big West Freshman of the Year:

ECS.com: Many athletes need to take the red-shirt year to make the adjustments to college, especially when moving away from home. However, for you it seemed to be seamless, capping the season with such an honor from Big West coaches.

Franey: It was such a huge honor to be named the Big West Freshman of the Year. It was a dream I had from the very day I committed to UCSB. It hasn't been a walk in the park to say the least, but it's nice to see that benefits really do outweigh the costs. Whatever my team needed me to do -- knock down some shots or dive for every loose ball -- I wanted to give everything I could to them.

The transition to college is unbelievable and so much more intense then I ever imagined. I thought that if I could handle coach (WADE) VICKERY and his regimen, I could handle anything, but college is just a whole new level. The adjustment period seemed never-ending and for someone who had been successful for a long time to come in and have every weakness exposed, it was tough.

Our schedule was one of the toughest in the country, and we had opportunities to close out games against big time programs, but we just didn't quite get over the hump. I grew up real fast. The excuse of "just being a freshman" wasnt valid for me at any point, especially coming in and starting right away. I already feel so old, after just one season.

ECS.com: Under head coach Mark French, Santa Barbara advances to postseason play for the 12th straight season. Although this was only your first Big West final, the program must be feeling it right now after falling in the Big West final for the second straight season and settling for a WNIT berth.

Franey: The loss to Riverside was heartbreaking for all of us. I have been up here since August, receiving only a couple days off at Christmas and to see our whole season come crashing down in 3 minutes was unbelievable.

We faced adversity a lot this season, and I live and die by the quote, "all will shine in due time," but I guess it just wasn't our turn yet. But it's more disappointing then you can imagine spending basically every hour of your life planning for the Big Dance, and then to get it taken away...it hurts.

ECS.com: There must be some consolation after finding out that your first playoff appearance will be here in your hometown.

Franey: I found out from one of my assistant coaches Monday night (Mar. 12) about our game at USD -- I had such mixed feelings.

I felt guilty for being ecstatic to play in front of my beloved hometown when I knew in the back of my mind that I would have given anything to get to the Big Dance. But then again I realized that when life gives you lemons, you make lemonade, and there is nowhere else I would want to make lemonade than in front of my family and friends in San Diego . No matter where I go, East County is my home, and I'm proud of where I come from. It's the blue collar mentality that I was taught that has gotten me this far.

The first person I called was Coach Vickery. No, it's not the NCAA tourney, but it's another opportunity for my team to come out and prove that we are legit and it's a bridge into our '07-08 season. If we're going out, we're not going to go out without a fight..... and that I can guarantee.

ECS.com: Franey then needed to leave. It was 1 a.m. and a replay of the Big West final was about to air on Fox Sports Net-Prime Ticket (not available in San Diego ).

Franey: It's going to hurt, but I have to watch it and learn from it.
Note: The tip-off for Thursday's game at Jenny Craig Pavilion is at 7 p.m. For further information, visit USD's website HERE.

---
Franey earns Big West honor
© East County Sports.com
SANTA BARBARA (3-8-07) — Santana High alum and current UC Santa Barbara standout JORDAN FRANEY, who earned 2006 San Diego CIF Player of the Yearand All-East County Player of Year honors as a senior, was named the Big West Conference Freshman of the Year after earning a spot on the all-freshman squad.
The 6-foot forward shined from behind the three-point arc, ranking seventh in the conference in three-point shooting percentage (.333) and eighth in three-pointers made (39 of 117).
Playing in all 29 of Santa Barbara 's contests – starting 17 – for the Gauchos (17-12), Franey pulled down 115 rebounds, while dishing out 52 assists. She also nailed 55 of 70 free throws (.786 pct). Franey is the first UCSB freshman to take home the honor since Kristen Mann in 2002.
The youngest of six siblings, Franey, also known as "J. Fray," said her most memorable moment in sports was being named the 2006 San Diego Union-Tribune Female Athlete of the Year alongside La Costa Canyon's Chase Budinger, who took the male honors and has gone onto to start at Arizona.
After finishing second in the Big West Conference standings, the Gauchos begin their quest for a 10th Big West Tournament title in the last 11 years on Friday (Mar. 9) in the semifinal round against an opponent yet to be determined. Tip-off is slated for approximately 2:30 p.m. in the Anaheim Convention Center.
---
Baseball Names in the News
Fresh starts for Coulter, Ochoa
© East County Sports.com
EL CAJON (2-8-07) -- A pair of former All-East County and All-Grossmont North League baseball players -- CLAY COULTER and OSCAR OCHOA -- have landed on their feet after transferring from their original colleges of choice.
Bears catcher Clay Coulter
(Courtesy, Missouri State Univ.)
Coulter, an All-East County first-team catcher in 2003, batted.436 to help West Hills High gain its first ever league pennant. He then joined San Diego State out of high school, but now is finding success for Missouri State.
With the Bears, Coulter was a second-team All-Missouri Valley Conference catcher in 2006, batting .380 with seven home runs.
For 2007, Missouri State is predicted to finish in third place behind Evansville and Wichita State in a coaches poll, with Coulter on the MVC watch list as a preseason first-team all-conference selection.
Ochoa, an outfielder-pitcher who graduated from El Cajon Valley High in 2002, now calls Patten University in Alameda as home. Patten is an NAIA independent school in its second season of baseball.
Ochoa, a member of the All-East County second team as a senior, batted .393 for the Braves, then played for Southwestern College in the 2005 season before joining the start-up Bay Area program.
With the Lions, Ochoa switched positions and started at first base with occasional stints as a left-handed pitcher, including a start in Patten's first-ever game since reinstituting the program following a 5-year absence. The Lions went 7-32 in 2006, with Ochoa returning to the outfield in 2007.
Born in Tepic, Nayarit, Mexico, Ochoa is majoring in Organizational Management.
---
George Cunningham (Courtesy, USI)
Cunningham clinches 700th victory

© East County Sports.com
EVANSVILLE, Ind. (2-7-07) -- Former Steele Canyon High standout GEORGE CUNNINGHAM nailed the game's final free throws in the closing seconds, allowing 12th-ranked University of Southern Indiana to earn the 700th victory in the history of the program on Homecoming, defeating Missouri-Rolla, 98-80, Saturday (Feb. 3) afternoon at the USI Physical Activities Center.

The 700th victory comes on the heels of USI reaching 20-or-more wins for the 15th straight season on Thursday. USI has averaged 18.9 victories during its rich 37-year history.

With Cunningham, the Screaming Eagles are 21-3 overall, with two of the setbacks coming in overtime. The 6-foot-7 center played four games last season before an injury forced him to red-shirt the remainder of the season. Coming back slowly this season, Cunningham had played in 14 of the team's 24 ballgames, shooting more than 54 percent from the floor.

Cunningham lettered in basketball and water polo at Steele Canyon , averaging 16.4 points and 12.6 rebounds per game on the hardwood. The Cougars went 30-2 during his senior season under the direction of former University of Evansville standout Brad Leaf, now the head coach at Foothills Christian, who was recently named to the Purple Aces' all-time team.
---
Jordan Abruzzo
(Courtesy, USD Toreros)
Abruzzo beats No. 4 Texas with game-winning, upper deck blast
© East County Sports.com
ROUND ROCK, Texas (2-6-07) -- Former El Capitan standout JORDAN ABRUZZO slugged a two-run homer into the upper deck of Dell Diamond, powering the University of San Diego to Sunday's (Feb. 4) 4-1 triumph over 4th-ranked Texas. The victory allowed the Toreros to take the series, 2-1, now defeating the Longhorns in five of the teams' last six meetings.
Abruzzo's smash came in the 7th off Texas starter James Russell, leading USD back from an early 1-0 deficit.
With the series victory, USD leaped back into the national rankings, checking in at No. 17 in the latest Baseball America top-25 poll and No. 18 in the Collegiate Baseball top-30 poll.
"This is a huge accomplishment for this group on the heels of what happened last year," said head coach Rich Hill. "This is something this group can take with them for the rest of their lives, and hopefully we will just continue to get better from here."
Abruzzo later led off the 9th with the single, scoring on a two-run homer by Shane Buschini.
"Coach Hill told me to just take a rip at the ball, and all I was waiting for was a fastball," said Abruzzo. "Once I saw the ball was a bit inside, I was able to get a good barrel on it and it just straightened out enough to stay fair."

Toreros (5-1) complete their roadtrip with a pair of games at USC, on Feb. 9-10, then host the Trojans on Feb. 11 at 1 p.m. at Cunningham Stadium to open an 8-game homestand.
USD features several other East County products, including freshman pitcher A.J.GRIFFIN (Grossmont HS), junior utility player JUSTIN SNYDER (El Capitan), freshman pitcher-infielder STEVE WINNICK (Christian), and Dallas Baptist transfer first baseman DANIEL MAGNESS (Christian).
---
Brigayle Iglehart,
CSUDH guard

Marla Mason,
UCSD guard
Iglehart meets 25th-ranked UCSD
© East County Sports.com
LA JOLLA (1-29-07) -- Former Grossmont College standout BRIGAYLE IGLEHART will mark her return to San Diego on Tue., Feb. 6, when her CSU-Dominguez Hills Toros come to town to meet 25th-ranked UC San Diego in an CCAC women's basketball game. Tip-off is set for 5:30 p.m. at The RIMAC Center, closing a difficult 5-game roadtrip for CSUDH.

Iglehart currently leads the Toros (10-5 overall, 7-3 CCAC) in conference scoring at more than 11 points per contest, shooting almost 50 percent from the floor. The junior also leads the team in assists and steals in conference action.

Iglehart, who prepped at University City High, was a first-team All-Pacific Coast Conference selection for Grossmont last season. The guard out of University City High School averaged 16.5 points, 4.7 assists and 8.2 rebounds, registered a rare quadruple-double in PCC play against Southwestern (17 points, 11 rebounds, 10 assists, and 10 steals).

When the Toros come to town, Iglehart will play against former Griffins teammate MARLA MASON, who is a reserve for the Tritons. Mason, a guard from Chula Vista High, averaged 5.9 points, 2.7 assists, 2.6 steals, and 3.7 rebounds for Grossmont.

Iglehart's cousin is Drew Gooden, a 4-year NBA pro out of Kansas who now starts for the Cleveland Cavaliers.
---
NCAA Division II Football Semis
© East County Sports.com
MARYSVILLE, Mo. (12-11-06) -- Former Grossmont College standout QUINTIN WOMACK will play for the NCAA Division II championship after his Northeast Missouri State Beaccats scored a huge 33-3 triumph over Bloomsburg on Sunday (Dec. 10). The No.2 ranked Bearcats meet top-seeded Grand Valley State in a rematch from last year. More details HERE and HERE.
---
Matt Barbour
SCIAC Defensive
Player of the Year

The Barbour of Pomona

© East County Sports.com
POMONA (12-5-06) -- Former Grossmont High standout MATT BARBOUR who recently concluded his playing career at Pomona-Pitzer, was honored as the SCIAC (Southern California Intercollegiate Athletic Conference) Defensive Player of the Year.

Although the Sage Hens finished with a disappointing 3-6 record, Barbour led the conference in both tackles and interceptions. The senior will graduate this spring with a degree in Biology, and plans to further his studies in New Zealand as a finalist for a Fulbright scholarship.

Barbour registered 44 solo tackles (10 for losses to lead the Hens) and 44 assists this past season, plus five interceptions, besting his younger brother -- sophomore TYLER BARBOUR -- who had three picks and was third on the team in tackles.

Established in 1946, the Fulbright Program is sponsored by the U.S. Department of State, aiming to increase mutual understanding between the peoples of the United States and other countries, through the exchange of persons, knowledge, and skills.
---
Dan Zeidman hits this massive 82-yarder.
(Courtesy, Idaho State Univ.)
Zeidman hits the books with massive 82-yard punt

© East County Sports.com
POCATELLO , Idaho (11-5-06) -- It might be a long season for the Idaho State football team with its 2-7 record. However, the term "long" brings on different connotations when talking about punting and the efforts of former Steele Canyon and Grossmont College standout DAN ZEIDMAN.

On Saturday (Nov. 4) against Sacramento State, Zeidman posted a game for the ages with a massive punting outing for the Bengals, including a series of boots measuring 82, 56, 53, and 51 yards. Zeidman also had a 62-yard punt called back by penalty.

Zeidman's average was 56 yards per kick (50.0 net average), and his 82-yarder was the longest in history of Idaho State's Holt Arena. The punt also tied for the 18th longest in NCAA I-AA history, and it tied for the second-longest in Big Sky Conference history.

The prior Idaho State mark was 80 yards, set in 1970, and tied in 2002.

The effort topped his previous best back on Oct. 1, 2005, when Zeidman averaged 52.5 gross yards in a game against 12th-ranked Montana State. He finished the year ranked 21st nationally in punting.

Zeidman was recruited out of Grossmont College, where he was tabbed All-Foothill Conference as both a punter and placekicker.

At Steele Canyon, he was an All-Grossmont South League and All-East County selection, playing in the Alex Spanos All-Star Game. With the Cougars, he once kicked three field goals in a half, measuring 42, 42 and 49 yards.

Notes -- Sacramento State won the contest, 22-14, with former Grossmont College Griffins MATT GAUGHEN (guard) and FRANCISCO CRUZ (tackle) starting on the left side of the Hornets offensive line. On defense, DALLAS MAUGA is the starter at nose guard, as Sac State (4-5, 4-3 Big Sky) limited Idaho State to just 209 yards in total offense.
---
Clinton Snyder
(Courtesy, Stanford)
Synder leads Stanford defense vs. Irish

© East County Sports.com
SOUTH BEND, Ind. -- Former CIF-San Diego Section defensive player of the year CLINTON SNYDER (Monte Vista High) made a major impact on the Stanford football program last spring.

A red-shirt freshman in 2005, the linebacker not only leaped on the depth chart to land a starting job, Snyder now leads the entire Cardinal defense in tackles heading into Saturday's (Oct. 7) nationally televised contest (KNSD cable 7/chl. 39) with No. 12 Notre Dame. Kickoff is at 11:30 a.m.

Synder, now listed at 6-foot-4, 230 pounds, shares the team lead with 38 tackles, but has more solo stops, for sixth place in the entire Pac-10 Conference. He also had an interception against San Jose State, then forced a pair of Navy fumbles, finishing with double-digit tackling totals in consecutive games, including a career-high 11 (nine solo) to sink the Midshipmen. He later added 10 tackles vs. Washington State.

Snyder's collegiate debut was a good one, too. He started against No. 20 Oregon (Sept. 2), contributing six tackles (three solo, three assists). He is one of three players who were true freshmen at Stanford (0-5) who are making an impact. The Cardinal will attempt to snap a four-game losing skid against the Irish while Notre Dame will be looking for its sixth straight win over Stanford.
---
Carrie Schmidt

Schmidt wins Big 12 opener for Texas

© East County Sports.com
LUBBOCK, Texas (10-3-06) -- Two-time SDCIF champion CARRIE SCHMIDT (Grossmont High) is continuing her successful soccer career at the University of Texas. The four-year starting midfielder scored both goals for the Longhorns in their Big 12 Conference opener, whipping host Texas Tech, 2-0, on Sept. 22 at Fuller Stadium.

Schmidt, who is better known as a solid ball-winner as a defensive midfielder, is coming on strong on offense, too. She collected her goals in the second half against the Red Raiders, scoring off assists by teammates Amy Burlingham and sophomore JILL GILBEAU (Patrick Henry HS). It was Schmidt's first collegiate multi-goal performance.

Texas (now 8-3-1 overall, 2-1-1 Big 12) is now ranked 11th in the country.

At the 53:09 mark, Schmidt opened the scoring off a Burlingham cross in front of the net. Burlingham dribbled down the endline and served the ball to Schmidt, who threw her body at the ball and forced a score.

In the second goal-scoring drive, Gilbeau served a long and high ball to Schmidt, who charged down the field to the far post and headed the ball over the goalkeeper's head at 74:22.

"The thing with Carrie is that, every time we need a goal, she scores," said Texas head coach Chris Petrucelli. "All of her goals have been very important."

Schmidt's four points (two per score) moves her second among Texas scoring leaders this season in points with 10, trailing only junior Kelsey Carpenter, who has 15.

Following SDCIF titles in 2000 and 2003 with the Foothillers, Schmidt was named to the Big 12 All-Newcomer team, becoming a full-time starter as a sophomore following a stint on the U.S. National Under-19 squad. She is majoring in kinesiology.
University of Texas senior midfielder Carrie Schmidt (3). (UT courtesy photos)
---
Mauga scores twice to snap Hornets' skid
© East County Sports.com
CHENEY, Wash. (10-2-06) -- Former Grossmont College standout RAINBOW MAUGA became the first Sacramento State player to both rush and catch a pass for a touchdown in the same game in four years, powering the Hornets to a 21-20 triumph over host Eastern Washington at Woodward Field.
Rainbow Mauga

The come-from-behind victory was marked by three long Sac State scoring drives, as Hornets junior Ryan Hastie capped the rally with a 1-yard touchdown with 1:46 remaining for Saturday's (Sept. 30) game-winning score.

The win improved the Hornets to 1-3 on the season and 1-1 in Big Sky Conference games. The victory also snapped the team's 19-game road losing streak and gave the squad its first win after trailing following three quarters since 2002.

Mauga scored early in the second half on a 1-yard run to cap an 80-yard drive, but the Eagles (1-4, 1-1) led 20-7 following a 5-yard rush from Toke Kefu on the first play of the fourth quarter. However, Mauga capped a 17-play, 95-yard drive and collected a 4-yard pass from quarterback Marcel Marquez with 3:36 remaining.

The Sac State defense forced Eastern Washington to punt on a 3-and-out with 2:42 remaining, then drove 81 yards for the winning score.

EWU had one last shot, but its final drive ended on an interception by freshman Craig King at the Hornets-22.
---
Grossmont 6-pack making mark at Sac State
© East County Sports.com
SACRAMENTO (9-28-06) -- Featuring six players from Grossmont College, Sacramento State will attempt to get into the win column Saturday (Sept. 30), when the Hornets travel to Cheney, Wash., to play Eastern Washington . The contest will be displayed on Big Sky Conference TV (www.bigskytv.org.), which is available on the Internet, starting at 2:05 p.m.
Dallas Mauga

Matt Gaughen

Jeremiah Mareko

Rainbow Mauga

Lamont Butler

Francisco Cruz
The Hornets (0-3), playing one of the most difficult 1-AA football schedules on the West Coast, are coming off a 59-14 loss to 5th-ranked Montana . Earlier, they fell to Division I Boise State (45-0) and barely fell to 3rd-ranked Cal Poly (17-10)

The following are short capsules on the six Griffins alums playing for Sacramento State:

Dallas Mauga -- Has started all three games at nose tackle. Currently has 10 tackles through three games. Recorded his first career sack at Montana.

Jeremiah Mareko -- Has played in all three games, and started one, at tight end. Also plays on special teams.

Matt Gaughen -- Was slowed by an ankle injury prior to the season. Has played in all three games and started at Montana at left guard.

Rainbow Mauga - -Started the first two games at fullback and has seen action in all three. Has been used exclusively as a blocking back and does not have a carry.

Lamont Butler -- A reserve linebacker who has played in all three games. Also sees time on special teams.

Francisco Cruz -- Is currently listed as the backup at right tackle.
---
Reilly Murphy

Murphy gives Sycamores a charge

© East County Sports.com
WEST LAFAYETTE, Ind. (9-3-06) -- Although he failed to match the efforts of Montana State and Richmond -- NCAA I-AA schools which defeated their major-college opponents over the weekend -- former Grossmont College quarterback REILLY MURPHY sure put a charge in Indiana State's bid to upset Purdue.

Murphy completed 23-of-36 passes for 235 yards and helped put 35 points on the scoreboard, but the Sycamores' defense failed to match the effort as the host Boilermakers pulled away for a 60-35 triumph at Rose-Ade Stadium.

Indiana State's 35 points were the most by the Sycamores in a road season opener since a 32-0 road victory over Eastern Illinois in 1966. Ironically, Purdue honored its 1966 Rose Bowl Championship squad at halftime of Saturday's (Sept. 2) contest.

Offense was not a problem for the Sycamores against the Boilermakers, amassing 387 yards of total offense, balancing the attack with 152 yards on the ground opposed to Murphy's 235 yards through the air, including a touchdown.

Other Fomer Griffins -- DERRELL HUTSONA, the 2005 California community college co-Offensive Player of the year, returned a kickoff for 24 yards, but Washington State fell on the road to No. 4 Auburn, 40-14... MICHAEL OMAR collected one reception for 13 yards, helping Massachusetts stop visiting Colgate, 28-7.
---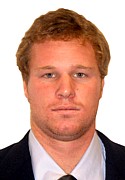 Westrick video

highlights

HERE

Westrick could assist upset bid over Illini

© East County Sports.com
CHAMPAIGN, Ill. (8-30-06) -- A chief complaint about major-college football teams is the line-up of cupcake and lower-division opponents on their early-season schedules. However, for former El Capitan High and Grossmont College linebacker MATT WESTRICK, the timing may be perfect to spawn an upset in such a situation.

Over the summer, Westrick accepted a full-ride scholarship at Eastern Illinois University, the defending Ohio Valley Conference champions, which lost a pair of starting linebackers off its 9-3 (8-0 OVC) team.

The Division I-AA Panthers still return 16 starters from a team ranked 14th in the preseason polls and featuring six players on various preseason All-America lists. And EIU gets to play the most important team in their home state to open the season.

For the first time in the program's 105-year history, the Panthers will tangle with the University of Illinois, a school located just 60 miles from Eastern Illinois' main campus in Charleston. And the rising Panthers may have a real chance to win at 69,000-seat Memorial Stadium because life has been tough for the Fightin' Illini of late, going winless in all eight Big Ten Conference contests last season en route to a dismal 2-9 campaign.

Westrick is listed as the backup at weak-side linebacker, but with strong pass defending skills, will see playing time in third-down situations. In 2005, Westrick was a first-team, All-Foothill Conference performer, and was selected Defensive Player of the Game in a 42-10 Southern California Bowl victory over Glendale, registering a game-high 11 tackles, plus a sack and forcing a fumble.
---
Powell, Otah high on Colorado
© East County Sports.com
SILVER CITY, N.M. (8-30-06) -- Former Grossmont College teammates SAM POWELL and RAJIVE OTAH enjoyed their first game together for their new team, as Fort Lewis College of Durango, Colo., downed host Western New Mexico, 23-7, last Saturday (Aug. 26) in the teams' season opener.
Powell registered one of five interceptions for the Skyhawks, which play in the NCAA Division II Rocky Mountain Athletic Conference. Meanwhile, Otah saw some action at running back, as teammate Justin Matherson carried the load en route to a school-record 249 rushing yards. [GAME STORY: The Durango Herald].
Otah moved to Four Corners Country after transferring from Liberty University in Lynchburg, Va. Following Liberty's 1-10 season, the Flames coaching staff was dismissed. However, Ft. Lewis Skyhawks coaches were prepared with an offer to Otah, who became just the third 1,000-yard rushing back for Grossmont College in 2004.
Powell was an All-San Diego CIF and All-East County defender in 2002 for Helix, a team which featured what many consider the greatest backfield in San Diego County history with Reggie Bush and Alex Smith, among others.
Fort Lewis (1-0) will venture to California for its next assignment, traveling to San Luis Obispo to meet Cal Poly this Saturday night.
---
Wes Davis

Cougars' Davis ready for prime time TV© East County Sports.com
CHESTNUT HILL, Ma. (8-25-06) -- Steele Canyon High graduate WES DAVIS was expected to red shirt his first year at Boston College.

However, a trio of season-ending injuries to his Boston College teammates elevated Davis importance to immediate need. Make that urgent need.

No longer is Davis considered a redshirt. The 6-foot-1, 205-pound head-banger is expected to make an impact in the Eagles' season opener when Boston College kicks off the 2006 season at Central Michigan on Thursday (Aug. 31) in a game to be televised by ESPN2 (Cox Channel 28) at 4 p.m. PDT.

Davis earned his mettle in an intra-scrimmage last week when he made 10 tackles for the Eagles' second team defense against Boston College's No. 1 offense.

Standing out is nothing new to Davis. He garnered first team All-San Diego CIF honors in 2004 and 2005, captured East County Defensive Player of the Year accolades as a senior defensive back, and was a two-time All-East County first-team selection. He twice earned All-Grossmont South League first-team honors and gained 2004 Underclassman All-State accolades from CalHiSports.com.

Davis, who also lent a hand as a receiver on offense, led the Cougars to the 2005 Grossmont South League title for coach RON BOEHMKE, making seven interceptions and registering 112 return yards. Davis recorded seven picks for 94 yards in 2004 and returned one interception for a touchdown. He also made 17 catches for 436 yards and four touchdowns as a junior.
---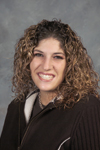 Lindsey Allen --from San Jose
to Beijing '08?
Allen gains roster spot on Israeli fastpitch team

© East County Sports.com
WAYNE, N.J. (6-27-06) -- A whirlwind weekend of tryouts has forced Helix High School and Grossmont College product LINDSEY ALLEN to extend her East Coast trip and changed her short-term plans for the future.

Not only did Allen become one of 15 American women to gain a berth on the Israel National Softball team, the team will play its first ballgame tonight when they bus to Lowell, Mass., to battle the New England Riptide of National Pro Fastpitch.

Allen was among 24 players with both a collegiate and Jewish background who were officially invited to last week's tryout camp at William Paterson University. At first, only 10 berths were to be awarded, but the depth and quality was so great that head coach Hallie Cohen increased the roster by 50 percent, including Allen, a power-hitting first baseman.

"There may still be another cut late in the year, but I am so excited to have made it this far," said Allen, who served as an assistant coach for Grossmont High this past season after graduating with a degree in public relations from San Jose State. "There were some great players who were there."

Should the team develop quickly enough, the Israeli National Team could participate in the World Championships (Aug. 27-Sept. 5) in Beijing, the first test event in any sport by the Chinese for the 2008 Beijing Olympic Games.

Following a nationwide search for qualifying athletes, Allen recorded a video and received her tryout invitation. With her berth on the team, the left-hander receives a 3-year contract lasting through the Beijing Games.


Olympic dream could touch Allen

© East County Sports.com
WAYNE, N.J. (5-31-06) -- Through a series of emails and other communiqués, the thoughts of an Olympic dream recently fell in the lap of former Helix High and Grossmont College standout LINDSEY ALLEN.

A year removed from ending her collegiate career at San Jose State, Allen returned home and spent this past season as a junior varsity coach for Grossmont High. Then her former Bay Area coach contacted her.

"There was an email from my old coach," recalled Allen. "There was a coach in New Jersey who was looking for players with a Jewish background, so they asked me to make a video -- I shot it right here at Grossmont (High) -- and to send it in."

Demonstrating the moves that made her an All-State performer with Grossmont College, Allen has officially been invited to tryout for the Israel Olympic Softball team, a program which has played internationally for just four years. The team recently named William Paterson University's Hallie Cohen, one of the nation's most successful NCAA Division III coaches, to direct the ballclub.

"She saw my video and invited me to tryout," said Allen, a power-hitting first baseman, who will head to the WPU campus for two days of tryouts on June 24-25. "Actually, it's a pretty exciting opportunity."

Cohen is currently choosing a team that will consist of 17 players. Ten players will be from the United States of Jewish descent, while the other seven will be Israeli born, working to develop a softball team that will qualify for the 2008 Summer Olympics in Beijing, China.

Should Allen make the cut, her life will instantly turn upside-down, traveling immediately to Surrey, British Columbia, for the Canadian Cup (July 3-9), then to Irvine for the USA Cup (July 12-16) tournament. The roster spot is also worth a 3-year contract.

"It would be an experience of a lifetime, so just to get a chance to tryout is truly exciting -- I'm going in with an open mind," added Allen, 23. "I feel like players here in California are spoiled with so many great fields to play on, so it would be an experience to play at other facilities all-around the world."

The left-handed hitter was known for her high slugging percentage, and for a nifty glove at first base -- "I'd like to think I can stretch and 'pick' with the best of them."

The international summer season concludes with the World Championships (Aug. 27-Sept. 5), which will also be held in Beijing as a prelude to the 2008 Games.

In the Olympic movement and many other international competitions, athletes can qualify for their current country of citizenship, or that of their parents or grandparents. For example, San Diego Padres catcher Mike Piazza qualified to play for Italy at the World Baseball Classic last March, since his grandparents were born in that country.
---
<< Back