Knights make trek, return with win in 8-man debut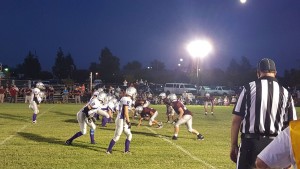 EastCountySports.com staff report
WILDOMAR – Foothills Christian may have spent the summer getting acclimated to the nuances of eight-man football, but when the Knights' season-opening game at Faith Baptist Academy, of Wildomar, got underway Friday night, it was like old times for the high-scoring FCHS offense.
A touchdown by DANIEL HOFFMAN got the Knights out to a quick lead, then following an interception and 20 yard return by ELI HALE, Hoffman scored his second early touchdown to give FCHS a 16-0 lead.
The Knights scored again to make it 30-22.
Hoffman scored his third touchdown of the game to give Foothills a 36-22 lead. Hoffman was 8-for-14 passing for 92 yards and had 16 carries for 173 yards and three TDs.