Griffins overwhelm Southwestern in payback opener
Tammy Ryan/TRyan Photography
2015 GROSSMONT COLLEGE FOOTBALL
By Bill Dickens
© East County Sports.com

EL CAJON (09-06-15) — Few players at Mashin-Roth Field for Saturday's (Sept. 5) season opener know more about Grossmont College's rivalry with South Bay opponent Southwestern College than wide receiver SERGIO BAILEY.
"I'll bet that I'm the only guy on the field today that can say they're 2-0 in this series," said Bailey, who played at Southwestern as a freshman in last year's Jaguars' lop-sided victory over the Griffins.
Bailey has since transferred to Grossmont and made a major impact in the Griffins' 52-10 payback victory over the Jaguars.
Bailey caught touchdown passes of 17-yards from MICHAEL CARRILLO and 23-yards from TOMMY PISTONE, staking the Griffins to a 14-3 lead in the middle of the second quarter.
"I'm really happy here – love the atmosphere here at Grossmont," said Bailey, who led the Griffins with 5 receptions for 67 yards. "The school programs are great, the coaches are excellent… can't ask for anything more."
Bailey was pleased to make an immediate contribution as he accounted for two of Grossmont's seven touchdowns.
"Our quarterbacks just happened to see me in the clear, and what happened after that, happened," he said. "It was all good."
Three Grossmont passers completed 31 of 45 aerials for 436 yards and 5 scores. They were sacked only twice all day.
Playing less than half the game, Pistone completed 14 of 24 for 220 yards and a pair of scores. Returning starter Carrillo completed 16 of 20 for 183 yards and 2 scores. He also rushed for 38 yards on 5 carries.
"Most of the guys we have this year are sophomores," said Carrillo, who passed for 2,387 and 10 touchdowns as a freshman. "It makes a difference. I feel more comfortable, more confident and understand the game better than I have in the past. Of course it's nice to have a quality group of receivers like we do."
Sophomore slot back CHRISTIAN BROOKS caught 4 passes for 29 yards but was more effective with his passing arm. He executed a flea flicker 32-yard touchdown pass to ANDRE PRICE that hoisted the Griffins' lead to 35-3 early in the third quarter.
"We practice the flea flicker every day in practice," Brooks said. "We were just waiting for a chance to use it in a game.
"We are a very confident football team right now but we have to stay humble," he added.
Price cashed in 2 catches for 43 yards and 2 touchdowns.
Grossmont utilized 13 receivers. ADRIAN TOLBERT reeled in 3 passes for 58 yards including a 26-yard TD strike from Pistone in the Griffins' 21-point second quarter.
Tight end LEVI BOYD (6-5, 240) amazed the crowd of more than 800 with 4 catches for 91 yards. It was after he caught the ball where Boyd dazzled the fans by bowling over several Southwestern defenders on each reception.
"They went to me a lot with passes in the first half," said Boyd. "But I was more involved in blocking schemes in the second half. I don't care how we get it done, I just want to win and that's all that matters.
Not to be overlooked was the Grossmont defense, which smothered the Jaguars.
"Our defense is phenomenal," said Griffins head coach MIKE JORDAN.
Secondary coach BRETT HUDSON agreed. "We were flying around back there and provided pretty decent coverage every time they went to the air," he said.
Hudson credited AIRRIC PARKER for "being the glue of our secondary. He's a man of motion and keeps our guys moving on every play."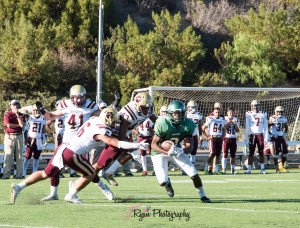 Other standouts in the Grossmont pass defense included DAVAUGHN MURRAY, DERRELL WHITAKER, TYNEIL COOPER and MAURICE CARNELL. Murray and Cooper had interceptions. JOE GORDON and CLAY CROMWELL recovered fumbles.
"All of us in the secondary are hungry for the ball," said Whitaker who had 4 tackles including one for a loss. "Our secondary is way better than last year. If you look at us now, when the ball is in the air you usually see two guys around the receiver. We probably have four Division I guys in the defensive backfield."
RUEBEN LEASAU and NICK GALATIS each logged 6 tackles.
Grossmont outgained the Jaguars 595-181 yards, and the Griffins did so while emptying the bench.
Griffins kicker/punter JORDAN REECE was 7-for-7 on PATs and connected on a 35-yard field goal.
A bad snap by the Griffins early in the game gave the Jaguars a first-and-goal at the 3. Although the score doesn't indicate it, it was a huge momentum switch. The Jaguars tried three running plays but could only reach the 1-yard line and had to settle for a 20-yard field goal by Omar Hernandez, giving Southwestern a 3-0 lead.
Grossmont scored 52 unanswered points after that before Southwestern's number three quarterback, Luke Napolitano, scored on a 3-yard junket with 7:08 remaining.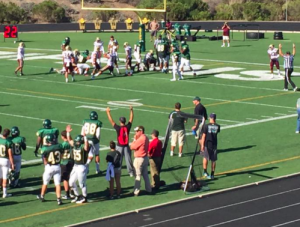 SCORING
1
2
3
4
FINAL
Southwestern (0-1)
 3 
0 
0 
7 
10 
Grossmont (1-0)
 7 
21 
14 
10 
52 
Grossmont College | Mashin-Roth
PRD
TIME
SCORING SUMMARY
SOUTHWESTERN – GROSSMONT
1
10:46
Southwestern – Omar Hernandez 20 yd field goal.
Drive: 4 plays, 1 yards in 1:42.
3 – 0
1
04:59
Grossmont – Sergio Bailey 17 yd pass from M. Carrillo. (Jordan Reece kick is good).
Drive: 1 plays, 17 yards in 0:06.
3 – 7
2
08:27
Grossmont – Sergio Bailey 23 yd pass from Tommy Pistone. (Jordan Reece kick is good).
Drive: 8 plays, 43 yards in 3:41.
3 – 14
2
07:52
Grossmont – Adrian Tolbert 26 yd pass from Tommy Pistone. (Jordan Reece kick is good).
Drive: 1 plays, 26 yards in 0:06.
3 – 21
2
02:52
Grossmont – Thomas McDonald 1 yd run. (Jordan Reece kick is good).
Drive: 7 plays, 79 yards in 2:43.
3 – 28
3
10:11
Grossmont – Andre Price 33 yd pass from C. Brooks. (Jordan Reece kick is good).
Drive: 9 plays, 83 yards in 3:29.
3 – 35
3
04:00
Grossmont – Andre Price 10 yd pass from M. Carrillo. (Jordan Reece kick is good).
Drive: 8 plays, 83 yards in 3:58.
3 – 42
4
14:09
Grossmont – Nehemiah Brown 14 yd run. (Jordan Reece kick is good).
Drive: 5 plays, 64 yards in 2:57.
3 – 49
4
12:00
Grossmont – Jordan Reece 35 yd field goal.
3 – 52
4
07:08
Southwestern – Luke Napolitano 3 yd run. (Omar Hernandez kick is good).
Drive: 5 plays, 51 yards in 1:46.
10 – 52
SOUTHWESTERN
STATISTICS
GROSSMONT
10
FIRST DOWNS
33
6
3
1
Passing
Rushing
Penalty
19
12
2
8% (1 of 12)
THIRD DOWN EFFICIENCY
36% (5 of 14)
0% (0 of 1)
FOURTH DOWN EFFICIENCY
67% (2 of 3)
181
TOTAL OFFENSE
595
56
3.2
Total Offensive Plays
Average gain per play
87
6.8
139
NET YARDS PASSING
436
18-32
4.3
1-11
2
Completions-Attempts
Net yards per pass play
Sacked: Number-Yards
Had intercepted
31-45
9.7
2-20
0
42
NET YARDS RUSHING
159
24
1.8
Rushing Attempts
Average gain per rush
42
3.8
8-300
PUNTS: Number-Yards
4-179
37.5
Average
44.8
189
TOTAL RETURN YARDS
7
0 0
8-189
0 0
Punt Returns: Number-Yards
Kickoff Returns: Number-Yards
Interception Returns: Number-Yards
2-7
0 0
2-0
8-62
PENALTIES: Number-Yards
13-108
2-2
FUMBLES: Number-Lost
2-2
2-20
SACKS: Number-Yards
1-11
0 0
INTERCEPTIONS: Number-Yards
2-0
21:13
TIME OF POSSESSION
38:47
Southwestern

Grossmont

| KICKOFF RETURNS | NO | YDS | AVG | LG | TD |
| --- | --- | --- | --- | --- | --- |

| PUNT RETURNS | NO | YDS | AVG | LG | TD |
| --- | --- | --- | --- | --- | --- |

| INTERCEPTION RETURNS | NO | YDS | AVG | LG | TD |
| --- | --- | --- | --- | --- | --- |
OTHER INFORMATION
Location: Grossmont College
Stadium: Mashin-Roth
Attendance: 800
Scorekeeper: Hilemon
SOUTHERN CALIFORNIA FOOTBALL ASSOCIATION
            NON-LEAGUE
Grossmont 52, Southwestern 10
Allan Hancock 67, Santa Ana 21
Antelope Valley 34, Mt. San Jacinto 0
Canyons 42, Mt. San Antonio 19
Cerritos 26, Saddleback 20
Chaffey 41, Orange Coast 16
El Camino 31, Pasadena 23
Glendale 35, East Los Angeles 31
Golden West 48, Los Angeles Harbor 22
Long Beach 43, Moorpark 16
Los Angeles Southwest 38, Compton 0
Palomar 24, Citrus 14
Riverside 33, Bakersfield 14
San Bernardino Valley 45, Santa Barbara 34
San Diego Mesa 33, Los Angeles Valley 27
Santa Monica 68, Desert 25
Ventura 31, Fullerton 0
Victor Valley 48, West Los Angeles 15