Hawks fall in five-game GSAC-opening thriller against Hope
Updated: September 8, 2015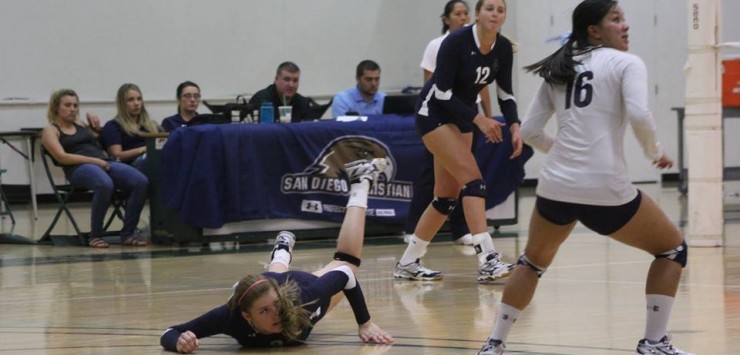 San Diego Christian

Hope International University
25-23,25-27,23-25,25-21,18-20
Special to EastCountySports.com
SANTEE – The GSAC match between Hope International and San Diego Christian went to the fifth and deciding set. The 5-set thriller even went extras into the fifth as the Royals needed 20 points to take the match over the Hawks Tuesday night.
The two teams were opening up GSAC play. The Royals improve to 2-5 overall and 1-0 in conference. The Hawks fall to 5-2 on the season on 0-1 in the GSAC.
The Hawks opened the match with a come from behind victory. Trailing 20-18,  SDC went on a 7-3 run as an Alli Beezer kill cemented the 25th point of the set. Set 1 had 12 ties and seven lead changes.
Set 2 and 3 went to the Royals, but not without drama and suspense. Trailing 21-20, SDC scored four straight points to face set point thanks to a block assist from Alexa Lambert and Molly Witzmann. But HIU scored the next five points to face their own set point. The Hawks would tie it at 25-25 before the Royals scored the next two and seal the set win.
In set 3, the Hawks trailed for the majority of the set. SDC held a brief 7-6 lead before the Royals took over and led or was tied throughout.
Set 4 saw the Hawks draw even with HIU. Haskell tallied a kill to give SDC the lead at 8-7 before HIU 6-2 run to take a 13-10 lead. The two teams battled in the set as the Hawks used a 5-3 run to sneak by and force a fifth set.
Just like the previous four, Set 5 was another back and forth occasion. With 11 tied scores and four lead changes, The Hawks had their best opportunity leading 16-15, with one point to go. Juliana Gutknecht tallied a kill to make the game even at 15-15 as an attack error by a Royals player gave SDC the 16th point. But the Hawks couldn't close the door as HIU secured Set 5 for the victory.
Beezer led SDC with 24 kills. Gutknecht was next with 20 as no other Hawks player tallied double digits. Reigning GSAC Setter of the Week put up 56 assists in the five sets. Witzmann contributed seven blocks.
The Hawks will travel to Costa Mesa on Thursday to take on No. 8 Vanguard with a 7:30 p.m. start time.
VOLLEYBALL – 
WED, SEP. 9, 2015 AT 12:05 AM 
Final
1
2
3
4
5
F
Hope International (2-5, 1-0 GSAC)
 23
 27
 25
 21
 20
 3
San Diego Christian (5-2, 0-1 GSAC)
 25
 25
 23
 25
 18
 2
Santee, CA
| Hope International | Indv. Leaders | San Diego Christian |
| --- | --- | --- |
| #13 KIPP, Conley – 21 | Kills | #12 BEEZER, Alli – 24 |
| #13 KIPP, Conley – 5 | Blocks | #10 WITZMANN, Molly – 7 |
| #1 IVORY, Tiffany – 34 | Digs | #16 ESTRADA, Aleka – 21 |
| #10 DERIEG, Mikayla – 2 | Aces | 2 Players (#8,#13) – 2 |
| Hope International | Team Statistics | San Diego Christian |
| --- | --- | --- |
| .170 | Hitting %: | .174 |
| 9.0 | Blocks: | 11.0 |
| 76 | Digs: | 66 |
| 5 | Aces: | 6 |