Braves' new era motto: Any time, any place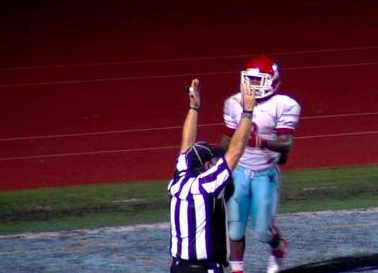 By Bill Dickens
© East County Sports.com
EL CAJON (9-19-15) — The surprising El Cajon Valley Braves rallied from a 28-13 deficit to upend visiting Kearny 34-28 in overtime.
Originally scheduled for Kearny, electrical problems there caused the game to be moved to the home of the Braves. How much of a boost the switch of venue helped is difficult to say.
Five-foot-8, 190-pound senior running back NATHAN McCULLOUGH scored 5 touchdowns, including a 23-yard run in overtime to allow the Braves to improve to 2-1.
McCullough, East County's leading rusher, bolted for 290 yards against the Komets. CHARLES SMITH rushed for 44 yards on 10 carries and returned an interception 35 yards.
"Kearny put eight guys in the box about 90 percent of the time," Braves coach PARRIS PISIONA noted. "But our offensive line gave McCullough an opening and he took it."
A 30-yard burst by McCullough, coupled with a 2-point conversion run by TYSON SMITH with less than a minute to play, sent the game into overtime.
McCullough's escorts consisted of a wall of blockers, including tackle MUHAMAD TAHIR, guard LUIS MORALES, center ANDREW KANA, tackle JEREMIAH VALDES and guard TYLER PANNEL.
Six-foot-6 defensive end RONNIE READUS knocked down three passes and was solid on both sides of the ball.
"This is good for our kids, knowing that we can fight back," said Pisiona. "We're happy where we are, but we're very far away from where we want to be."