Foothillers hand Centurions just second loss in 10 games
Tuesday, Sept. 22
Grossmont 11, University City 9 – The Foothillers improved to 2-2, while the Centurions lost for the second time this season to fall to 8-2.
Jacob Niskey scored one of his seven goals late in the fourth quarter to lift the Foothillers.
Other scores
Granite Hills 10, Steele Canyon 5
Valhalla 17, Mt. Carmel 5
Mater Dei 11, El Capitan 7
Otay Ranch 11, West Hills 8
Sept. 19
Monte Vista 12, San Ysidro 10 – The Monarchs edged San Ysidro (0-10).
Sept. 17
Monarch-Highlander Tournament
At Helix
Helix 13, Mission Hills 12
Scripps Ranch 19, Helix 5
At Monte Vista
El Camino 11, Monte Vista 4
Bonita Vista 12, Monte Vista 4
Nonleague
Valhalla 19, La Costa Canyon 11. Goals: A. Higginson (V) 8.
Sept. 16
Nonleague
Classical 15, Monte Vista 11
Sept. 15
Nonleague
Eastlake 13, Valhalla 10.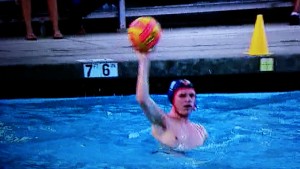 Norsemen open Grossmont play with win over rival Eagles
EastCountySports.com staff report
EL CAJON – Brandon Persky put back a blocked shot in the fourth period, as Valhalla won at home over Granite Hills, 13-8, on Tuesday afternoon.
Eagles' senior two-meter Walker McKay slammed down a goal in the third quarter for Granite Hills on an entry pass from junior Travis Way to keep the Eagles in the game.
Other score: Grossmont 17, Monte Vista 6
Sept. 9
Carlsbad 13, Grossmont 6
Poway Invitational
Saturday's games
University City 12, Valhalla 10 – The Norsemen earned fourth place at the 30-team Poway Invitational after falling to the Centurions. Valhalla (3-2) hosts Granite Hills on Tuesday at 5:30 p.m.
Granite Hills 11, Valley Center 6 – In the seventh-place game on Saturday, Granite Hills jumped out to a 4-1 lead, but the Jags were able to keep pace in the second, as the Eagles led 8-5 at halftime.
Granite took a 10-5 lead heading into the fourth, then both teams scored a goal in the fourth.
The Eagles put up a strong defense against the VC shooting opportunities.
Westview 11, Granite Hills 7 – The Eagles fell in the championship round game at Bishop's.
Torrey Pines 18, Valhalla 6 – The Norsemen tailed 10-4 at halftime.
Thursday's games
Canyon Crest 7, Helix 6 – Wes Babbitt had three goals for the Highlanders, including a score with three seconds left in the first half to give Helix a 4-3 lead at intermission.
Granite Hills 9, San Pasqual 7
Friday's games
Poway Invitational
Valhalla 9, Granite Hills 5 – Senior Brandon Persky led Valhalla with four goals.
Valhalla 11, La Jolla Country Day 2 – Persky has four goals for Valhalla.
Valhalla 7, Canyon Crest 3 – Persky had two goals for Valhalla
Granite Hills 9, San Pasqual 7