FEARLESS FORECASTER WEEK FIVE
2015 FEARLESS FORECASTER
Week 5
By Bill Dickens
© EastCountySports.com
SAN DIEGO (9-24-15) — The Granite Hills Eagles figure to take on the host Hoover Cardinals on the run in a non-league game Friday night (Sept. 25) at 6:30 p.m.
The Cardinals (2-1) count on Demontauz Gray, who has rushed for 583 yards and 10 touchdowns on 48 carries to pave the way.
That should be a good match-up considering Granite Hills coach KELLAN COBBS believes defense is the Eagles' strong point.
"It should be a fast game because both teams like to run," he said. "Hoover will come at us in a single-Wing.
Granite Hills looks to linemen DYLAN GARCIA, DAVE JOHNSTON, the BURTON brothers – JACOB and WILLIAM and NOAH JOUBERT to form a stout defensive wall.
"Our linemen have done a great job of keeping the other team off our linebackers," Cobbs noted.
That's been good news for 'backers KELLEN GAEIR, RILEY REYES and SID RODRIGUEZ. The Granite Hills secondary of JJ GAEIR, ELYJAH PALOMERA and GUSTAVO GUTIERREZ will probably be used more on run support, although Hoover's veteran coach Jerry Ralph has been known to set records with the passing game.
These teams split a pair of games last season with the Eagles winning 24-21 during the regular season, only to be eliminated in the playoffs by Hoover 21-13.
This will be a cliffhanger but give the nod to . . . Granite Hills 28-25.
SANTANA (3-1) at SAN DIEGO (1-3) — Led by senior quarterback FRANKIE GUTIERREZ, who has accounted for 1,117 yards and 18 touchdowns, the visiting Sultans figure to steamroll San Diego in a non-league encounter Friday night (Sept. 25) in Balboa Stadium at 6:30.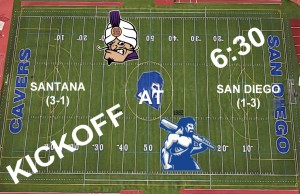 The Sultans record-breaking offense is averaging 48 points per game against a San Diego unit that has played a soft schedule.
Running back BOBBY WALLACE and wide receiver ADAM CHILDRESS have scored 5 touchdowns apiece.
"We can't take San Diego for granted," said Sultans coach TIM ESTES. "They have some skill guys that are capable of making the big play."
Santana's interior line anchored by 6-foot-2, 270-pound senior center JAKE "Big Cat" KITTEN has provided Gutierrez with plenty of time to maneuver.
Lining up next to Kitten are tackles DYLAN BROWN, MATT WHITCOMB, guards TRENT FORSTER and ADAM BARGO.
"We've had really nice protection," Estes emphasized. "Our guys have worked hard in the off-season and it's paying off now."
Santana has scored more that 41 points in four of its five games, including breaking the 50-point barrier twice . . . Santana 42-14.
VALHALLA (2-1) at PATRICK HENRY (2-2) – The Norsemen will face a challenge few before them have had to look at this season.
Henry's 6-foot-5, 205-pound wide receiver Dezmon Patmon, who is being recruited nationwide, has recovered from an early season injury in time to confront Valhalla in Friday's (Sept. 25) action at 6:30 p.m.
Patmon opened the season with 5 catches, 1 touchdown and a 2-point conversion in a loss to Granite Hills.
"We're gonna have our hands full with that guy," said Valhalla coach CHARLES BUSSEY. "I know for a fact that every team in the Pac-12 is recruiting him."
In addition to Patmon, the Patriots' quarterback John Demos will shower the Norsemen with passes to Dominick Silvels (14-348 yds, 5 TDs) and Kreig Corkhill (14-137, 4 TDs).
The Norsemen, who have allowed only 8 points and 134 yards per game on defense, are up to the challenge.
Valhalla will count on corners DANTE CARNESSALE, JORDAN ELLIS and BRANDON FULLER, as well as safeties JJ MEIER and ANTHONY PORTILLO.
Valhalla registered 5 sacks in their previous game in a 47-0 victory over Mar Vista. The Mariners totaled only 3 total yards and never crossed the 50-yard line.
Quarterback PHILLIP NASEH has completed 40 of 70 passes for 458 yards and 4 touchdowns to pace the Norsemen offense.
All things considered, the nod goes to . . . Valhalla 26-13.
LINCOLN (2-2) at GROSSMONT (3-0) – It's been 26 years since the last time these two teams collided. The Hornets won the overtime bout 31-25 in the 1989 playoffs as the officials missed a call that would have allowed the Foothillers to win the game.
That knocked the Foothillers out of the playoffs and spoiled their undefeated season.
Of course, most of the players on this team weren't even born yet. Those facts are only in the history books.
The Foothillers are looking for their 4th straight win, having toppled Morse 34-15, edged Otay Ranch 28-27 and knocked off Hilltop 34-13.
Lincoln, which began the season with 60-0 victories over Serra and 20-16 over Carlsbad, and has since lost to Point Loma 21-0 and to Olympian 43-20, will travel to Grossmont for a non-league game on Friday (Sept. 25) at 7 p.m.
The Foothillers will look to running backs JAKE HARR (36-273, 2 TDs) and KHALEED DAVIS (26.6 yd avg., 5 TDs) to lead the charge.
Quarterbacks HUNTER GAINES (485 yds, 6 TDs) and JARED REDFIELD (291 yds, 3 TDs) will loft the aerial games.
Wide receivers KYLE PINEDA averages 17.6 yards per catch and 2 touchdowns, while DOMONIQUE GUEVARA is averaging 29.5 yards per catch and has 2 touchdowns.
So obviously the Foothillers are a longball threat . . . Grossmont 37-13.
STEELE CANYON (2-2) at OTAY RANCH (2-2) – Maybe Otay Ranch should be in the Grossmont Conference, considering the Mustangs will be facing their third East County foe in four starts on Friday night (Sept. 25) when they host Steele Canyon at 7 p.m.
The Mustangs have previously beaten Valhalla 14-7 and Mount Miguel 28-0, but fell to Grossmont 28-27 and St. Augustine 41-14.
The Cougars will welcome back three defensive starters who watched from the sidelines in last week's 29-24 victory over Rancho Buena Vista.
"We were fortunate to win that game," said Steele Canyon coach SCOTT LONGERBONE.
Returning to the starting defensive line are CARTER KENNEDY, DAVID PANGELINAN, and JAKE CITRINITI to stabilize the trenches.
Not to be overlooked is free safety NY JOHNSON, who recorded a dozen tackles against RBV.
"(The Mustangs) fly around on defense and they're big everywhere," Longerbone said. "One thing that catches your eye is they look really good in their uniforms."
The Cougars claimed a 38-16 victory over the Mustangs last year and are certainly capable of repeating this time around  . . . Steele Canyon 26-21.
MOUNT MIGUEL (2-2) at SERRA (0-4) – This is a blowout in the making for the visiting Matadors, who are seeking their 3rd win in five starts Friday night (Sept. 25) at 6:30 at winless Serra.
The Matadors will count on the one-two rushing punch of ANTHONY GILMORE (44-207, 3 TDs) and ANTOINE HAMILTON (32-195, 3 TDs) to turn the game into a runaway.
If the Matadors elect to go to the air, quarterback BENNY VALADEZ (42-61, 603 yds, 5 TDs) is certainly capable of doing so.
Mount Miguel's defense is led by CAMERON HANSON (40 tackles), DURAN MILLER (35 tackles, 3 sacks) and KIKO BORJA (35 tackles).
This one could get ugly, but that doesn't strike fear in the Matadors . . . Mount Miguel 42-6.
IMPERIAL (0-4) at CHRISTIAN (2-1) – The Patriots are producing 34 points per game and should have no problem taming the visiting Tigers of Imperial in Friday's (Sept. 25) non-league game at 7 p.m.
Patriots quarterback DAVID TODD JEREMIAH should have a field day. He's completed 41 of 69 passes for 707 yards and 9 touchdowns.
Running back ADRIAN PETTY has rushed for 284 yards and 2 touchdowns on 47 carries, and totaled 466 all-purpose yards.
Considering the fact that Imperial is 0-4, give the edge to . . . Christian 38-14.
VALLEY CENTER (2-2) at *WEST HILLS (2-2) – Homecoming will draw a large crowd Friday night (Sept. 25) at West Hills as the Wolf Pack bids to push its record over the .500 mark. Kickoff is 7 p.m.
SPENCER MOYER is the Pack's trigger man, having completed 42 of 99 passes for 536 yards and 6 touchdowns. He has also scrambled for 45 carries for 307 yards and 3 touchdowns.
Wide receivers TAJ BROOMFIELD has caught 17 passes for 183 yards and 2 TDs, while TYLER SEPULVEDA has reeled in 7 passes for 142 yards and 2 scores. Sepulveda also has one interception for a score.
West Hills upended ValleyCenter 34-20 last year and are certainly capable of repeating that performance this year . . . West Hills 27-24.
SD-SOUTHWEST (0-4) at EL CAJON VALLEY (2-1) – The numbers speak for themselves in Friday's (Sept. 25) encounter on the Braves field at 7 p.m.
There is no way that San Diego Southwest can find an answer to shut down East County's leading rusher NATHAN McCULLOUGH, who has rushed for 651 yards on 70 carries for 9 touchdowns for the Braves.
No question this will be a lop-sided result . . . El Cajon Valley 42-12.
CRAWFORD (3-1) at MONTE VISTA (0-4) – The Monarchs hope to get on the scoreboard against the Colts.
That in itself may be a challenge, considering Monte Vista has scored just 33 points while allowing 172 points.
Although Monte Vista lost 37-26 to Hoover in the opener proved that the Monarchs can find the endzone. If they can do that, they can buck the Colts out of the saddle.
If not . . . Crawford 21-7.
LUTHERAN (1-2) at MOUNTAIN EMPIRE (0-4) – Red Hawks quarterback VICTOR PARRA has completed 37 of 74 yards for 550 yards and 3 touchdowns. He has also rushed for 2 touchdowns.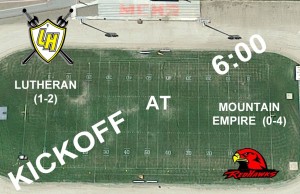 The Hawks ground game gobbler is JAMES WILL, who has stormed for 489 yards and 3 touchdowns on 76 carries.
Obviously a porous defense has been the problem.
Hoping to rebound against the Knights Friday (Sept. 25) at 6 p.m. in Red Hawks Stadium, give the edge to . . . Mountain Empire 21-20.
Fearless Forecaster:
Season: 28-15 (.683)
Last week: 8-2 (.800)
HELIX & EL CAPITAN – Bye