Hawks' Estrada named GSAC defender of week
Updated: September 29, 2015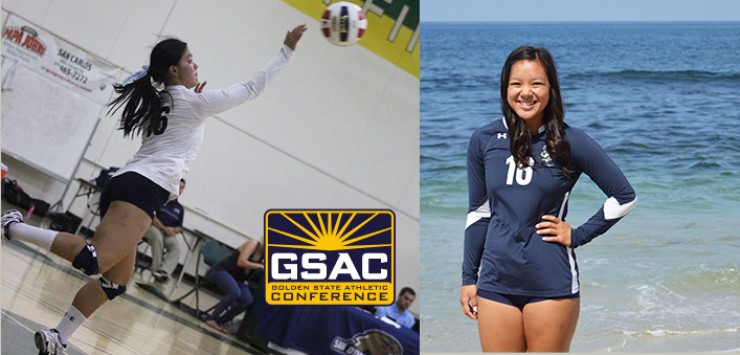 Special to EastCountySports.com 
SANTEE (MON, SEP. 28) – Senior libero Aleka Estrada was named the GSAC Defender of the Week announced by the conference Monday.
Estrada helped the Hawks go 2-1 on the week to improve their overall record to 7-6 and gain their first two GSAC wins of the season.
She tallied 53 digs and five aces in the three games. Estrada tallied 26 digs in the sweep over Menlo this past Saturday.
For the season, she has a total of 161 digs, good for sixth in the GSAC.

San Diego Christian

(1) Biola University
No. 1 Biola Fights off Hawks
Special to EastCountySports.com
SANTEE – Facing their toughest match all year, the SDC Women's Volleyball team performed admirably in a GSAC match against No. 1 Biola University on Tuesday.
The Eagles won in straight sets but not without scare, defeating the Hawks 25-18, 25-19, 25-16.
With the loss, SDC falls to 7-7 overall and 2-5 in GSAC play. Biola improves to a spotless 15-0 on the season and 7-0 in conference.
Charged with the adrenaline from home crowd, the Hawks opened to a modest 3-1 lead and led all the way until 10-9. Biola then took the lead for the first time at 11-10 and didn't look back leading by as much as seven. The Hawks got it within four but the Eagles survived to claim the first.
Biola rode their momentum with the set win to streak out to a 5-0 lead to start off in Set 2. The Hawks would make a slight comeback as they scored 11 of the next 17 points to bring the deficit to within one at 12-11 in favor of Biola. SDC tied the score at 13-13 but again the Eagles broke away. BU tallied the last three points in the set for a 2-0 set lead.
Molly Witzmann accounted for the first two points in Set 3 in favor of the Hawks. She tallied a kill for the first point and was joined by Alli Beezer for a block to make it 2-0.  Biola found another answer, turning out a 7-0 lead to lead by five. Trailing 9-4, the Hawks again made things interesting with a 4-0 run to bring the score within one. Juliana Gutknecht tallied two of the four points with kills. Bevan Haskell's kill for the eighth point erupted the crowd, making it a game. But then, like they have been doing all night, the Eagles answered the wave of points from the Hawks to secure the win.
Gutknecht ended with a team-high eight kills. Beezer followed closely with seven. Ashlyn Riding finished with 27 assists and Witzmann registered four blocks.
The Hawks looks to get back in the win column as they host Arizona Christian on Saturday starting at 2 p.m. at the Boys and Girls Club.
VOLLEYBALL – 
TUE, SEP. 29, 2015 AT 10:40 PM 
Final
1
2
3
F
Biola (15-0, 7-0 GSAC)
25
25
25
3
San Diego Christian (7-7, 2-5 GSAC)
18
19
16
0
Santee, CA
| Biola | Indv. Leaders | San Diego Christian |
| --- | --- | --- |
| #7 MASON, Alyssa – 11 | Kills | #8 GUTKNECHT, Juliana – 8 |
| 2 Players (#7,#22) – 3 | Blocks | #10 WITZMANN, Molly – 4 |
| 2 Players (#5,#12) – 10 | Digs | #16 ESTRADA, Aleka – 5 |
| #5 VAN GROUW, Tess – 3 | Aces | #8 GUTKNECHT, Juliana – 1 |
| Biola | Team Statistics | San Diego Christian |
| --- | --- | --- |
| .314 | Hitting %: | .129 |
| 7.0 | Blocks: | 7.0 |
| 33 | Digs: | 20 |
| 7 | Aces: | 1 |