Reyes puts crowning touch on Eagles' win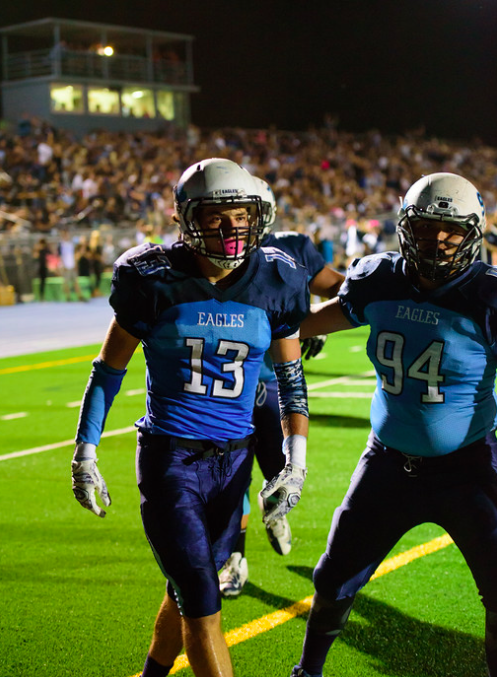 Granite Hills' Riley Reyes (13) / Charles Scott Photography photo
By Jim Lindgren
© East County Sports.com
EL CAJON (10-3-15) — If voting for homecoming king would have been held after Granite Hills' 10-7 nail-biting victory over El Capitan, RILEY REYES would be a shoe-in for the honor.
Before scoring the Eagles' only touchdown on Friday night (10-2-15) at Valley Stadium, Reyes twice stripped the ball away from Vaqueros rushers, causing fumbles that were recovered by JACOB BURTON and KELLEN GAEIR, respectively. 
The first came on the first play of the game and gave the Eagles the ball at the El Capitan 31-yard line. Three plays later, the Eagles missed a 45-yard field-goal attempt, but the stage for a dominating night of defense was set.
Reyes' second forced fumble early in the second quarter led to a 36-yard field goal by BRYCE STRICKLAND and a lead the Eagles (4-1) would never relinquish – though the Vaqueros (2-3) came oh-so close in the waning moments of the game.
Shortly after Reyes scored on his first carry, on an 8-yard jet sweep around right end with 2:50 to play in the second quarter, the senior captain took part in the halftime festivities as one of four princes in the homecoming court. (The king is slated to be announced at Saturday night's dance, several hours after Riley takes the Scholastic Aptitude Test for college entrance.)
Late in the game, Reyes and the Eagles defense twice kept El Capitan from scoring after the visitors had the ball just inches from the goal line.
"I'm drained," Reyes confessed after the tense final finish. "I think I bit some of my fingers off in that one.
"The one-inch line twice? And we stopped them. That was amazing."
Having produced very little offense in the first three quarters and trailing 10-0, El Capitan came to life in the final frame.
The Vaqueros' AMADEU SANTOS recovered a fumble after a quarterback hit. El Capitan then drove 42 yards in four plays with STEVEN HOSAKA getting the final 7 on a nifty TD scamper to make it 10-7 with 8:33 left.
Three plays later, the Vaqueros' CHANCE COLSON intercepted a pass at the Eagles' 30-yard line and returned it nine yards to give El Cap the first of its two golden opportunities to win.
An 18-yard keeper by quarterback PHOENIX CATES put the ball at the 1-yard line. A carry by CONNOR ROOSA officially gained nothing, but the ball was placed inches from the end-zone stripe. On second-and-goal, Cates attempted a QB sneak behind center DOMINICK SALAZAR, but the ball popped loose and into the end zone where MASHAL WASIMI recovered it for a touchback with 4:00 to play.
Granite Hills advanced only 3 yards in three plays and a bad snap on fourth down led to a 7-yard punt by Strickland, who showed poise just to get the kick away. That gave El Cap the ball at the 30-yard line with 2:05 left.
Hosaka then reeled off gains of 12 and 17 yards to give El Cap a first-and-goal at the 2-yard line. Hosaka then gained a yard, missing the end zone by inches. On second down, Hosaka was met in the backfield by – who else? – Reyes for a 1-yard loss.
After a timeout with 0:27 left, Cates threw incomplete on third down, and the Vaqueros sent on their kicking team for a potential game-tying 19-yard field-goal attempt.
Potential being the key word, Granite Hills rushed hard and quick and appeared to hurry RUBEN GUZMAN, who also appeared to pull his head up and the kick wobbled woefully short of the crossbar.
Burton, Reyes and DYLAN GARCIA were among those who nearly blocked the kick.
"I told Jake and Dillon – two of our seniors – they have to control the 'A' gap and fire off," Granite Hills coach KELLAN COBBS said. "They did a great job. I think that pressure might have forced (Guzman) to rush it a little bit."
Said Burton, "We got some really good push and with Riley flying through like he did, I think he (Guzman) felt the pressure."
Granite Hills needed only one kneel down to snap its three-game losing streak to El Capitan. Since their first meeting in 1960, Granite Hills now holds a 26-22 advantage.
El Capitan coach RON BURNER said that he felt Cates had scored before fumbling on the QB sneak, but last year's San Diego Section Coach of the Year accepted his fate humbly. "It is what it is," he said. "We're down there twice. We should score."
Indicative of the type of game this was, there were only 11 plays that gained more than 10 yards. Many more than that went for negative yardage as both defenses turned in stellar performances.
El Capitan actually won the yardage battle, gaining 183 total yards. Led by Hosaka's 106 yards on 17 carries, the Vaqueros gained 152 on the ground but only 31 passing. JONATHAN SUMMERS had four carries for 22 yards before leaving in the second quarter with an ankle injury.
Granite Hills netted only 154 total yards – 102 rushing with LYNDON FRANKLIN gaining 69 yards on 15 carries before going down in the fourth quarter with what was thought to be a broken right collarbone.
The leading receiver of the game – in both catches and yards – was Granite Hills' JARROD WEISHAN with three receptions for 20 yards.
Franklin had the game's longest gain, a 31-yard rush. Next was the punter Strickland, who raced 28 yards on a fake punt that helped set up the Eagles' first score. Strickland's ensuing field goal was his East County-leading sixth of the season.
The longest pass play of the game was a leaping 16-yard grab by Burton from FRANKIE LUCATUORTO. El Cap's longest pass gain was a 13-yarder from Cates to AUSTIN FINCH.
"Defense really stepped up," Cobbs said. "They've been carrying us all year.
"We have a long way to go on the offensive side of the ball, but I think our defense is one of the best in the county."
El Capitan had beaten the Eagles three straight years, but this is a very different Vaqueros team that lost a couple tons of seniors from last year's 14-1 squad. The Vaqueros began this season with zero players who had scored a varsity touchdown. They only have six TDs in five games this season.
Reyes' third touchdown of the year capped the longest drive of the game, a 63-yarder in seven plays. From the 8-yard line, Reyes lined up in the left slot, slid behind the line and took a handoff from JACOB SIEGFRIED before following some good blocks around right end and into the end zone.
"That's like our bread-and-butter play," he said. "I had such awesome blocking in front of me, I had to make it happen."
In addition to Reyes' two forced fumbles, the Eagles got a pair of sacks from KEVIN CONNELLY and one from Weishan. THOMAS YOUMOG also recovered an offensive fumble for the Eagles.
El Capitan opens Grossmont Hills League play next Friday against visiting Grossmont (5-0).
Granite Hills travels to Hilltop (2-3) for a non-league contest before opening Grossmont Valley League play.