Streaky Griffins silenced in fourth by Comets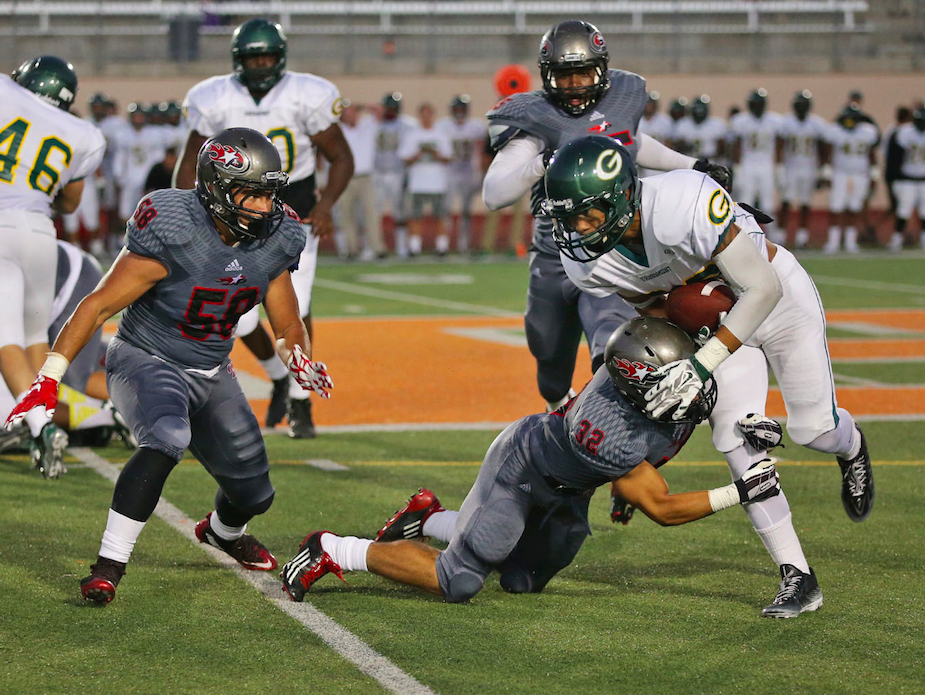 THOMAS MCDONALD CARRIES FOR GROSSMONT SATURDAY NIGHT / HUGH COX PHOTO
2015 GROSSMONT COLLEGE FOOTBALL
By Bill Dickens
© EastCountySports.com
ESCONDIDO (10-04-15) — After a fast start in which the Griffins averaged more than 50 points per game in their first two outings, they hit a streak of inconsistency, suffering three straight losses.
Their latest Southern Conference setback came Saturday night (Oct. 3) against Palomar 43-24 at Chick Embrey Field.
Grossmont (2-3, 0-2) has been shut out in six of its last eight quarters. In a 17-7 loss to Golden West (Sept. 26) the Griffins' lone score came in the final period.
It was even more frustrating for the Griffins at Palomar, where they scored all of their points in the third quarter to lead 24-22 heading into the fourth period.

Grossmont scored 21 consecutive points in less than three minutes in the third quarter to lead 21-13.
A Palomar 4-yard TD pass from Austin Early to Wayne Gannon closed the Griffins advantage to 21-19. Early finished by hitting 30 of 47 passes for 408 yards and 3 touchdowns.
Four minutes later the Griffins closed out their scoring on a 25-yard field goal by JORDAN REECE.
After that it was all Palomar (3-2, 1-1).
When the Griffins were clicking on that lucrative stretch in the third quarter, running back NEHEMIAH BROWN scored on runs of 24 and 6 yards.
Grossmont broke into the scoring column earlier in the period when KURTIS BROOKS returned a blocked punt for 15 yards and a touchdown.
Palomar bullied the Grossmont defense for 33 first downs for 559 yards.
On the flip side, the Griffins had 257 total yards.
Quarterback MICHAEL CARRILLO was sacked five times and completed only 14 of 38 passes for 223 yards.
SERGIO BAILEY (4 for 61 yards) and CHRISTIAN BROOKS (4 for 54) led the receiving corps.
All-American prospect NICK GALATIS was all over the field, racking up 18 tackles – 13 solo – one sack and one fumble recovery. AIRRIC PARKER chipped in with 8 tackles – 7 of them solo.
KALEB HARSTVEDT made 7 stops, with one sack and a fumble recovery.
Grossmont College vs. Palomar College at Escondido, CA
10/3/2015 at 6:00 PM

Grossmont

 


24

Palomar

 


43
SCORING
1
2
3
4
FINAL
Grossmont (2-3, 0-1)
 0
 0
 24
 0
 24
Palomar (3-2, 1-0)
 3
 10
 9
 21
 43
Escondido, CA | Chick Embrey Field
PRD
TIME
SCORING SUMMARY
GROSSMONT – PALOMAR
1
00:18
Palomar – Reggie Wilson 30 yd field goal.
Drive: 11 plays, 48 yards in 5:14.
0 – 3
2
10:28
Palomar – Daviante Sayles 2 yd run. (Reggie Wilson kick is good).
Drive: 9 plays, 61 yards in 3:40.
0 – 10
2
00:52
Palomar – Reggie Wilson 40 yd field goal.
Drive: 7 plays, 34 yards in 0:39.
0 – 13
3
13:05
Grossmont – Punt blocked, returned 15 by Kurtis Brooks for TD. (Jordan Reece kick is good).
7 – 13
3
11:57
Grossmont – Nehemiah Brown 24 yd run. (Jordan Reece kick is good).
Drive: 1 plays, 24 yards in 0:07.
14 – 13
3
10:55
Grossmont – Nehemiah Brown 6 yd run. (Jordan Reece kick is good).
Drive: 3 plays, 54 yards in 0:59.
21 – 13
3
07:29
Palomar – Wayne Ganan 4 yd pass from Austin Early. (2pt conversion pass by Austin Early failed).
Drive: 6 plays, 75 yards in 3:19.
21 – 19
3
03:37
Grossmont – Jordan Reece 25 yd field goal.
Drive: 7 plays, 16 yards in 2:14.
24 – 19
3
00:06
Palomar – Reggie Wilson 34 yd field goal.
Drive: 11 plays, 61 yards in 3:27.
24 – 22
4
11:59
Palomar – Robert Ursua 7 yd pass from Austin Early. (2pt conversion pass by LaMont Chaney is good).
Drive: 6 plays, 77 yards in 2:43.
24 – 30
4
09:47
Palomar – Wayne Ganan 39 yd pass from Austin Early. (2pt conversion rush by Daviante Sayles failed).
Drive: 3 plays, 62 yards in 1:14.
24 – 36
4
03:51
Palomar – Daviante Sayles 3 yd run. (Reggie Wilson kick is good).
Drive: 7 plays, 50 yards in 2:31.
24 – 43
GROSSMONT
STATISTICS
PALOMAR
11
FIRST DOWNS
33
7
2
2
Passing
Rushing
Penalty
19
8
6
7% (1 of 14)
THIRD DOWN EFFICIENCY
44% (8 of 18)
0% (0 of 2)
FOURTH DOWN EFFICIENCY
0% (0 of 2)
223
NET YARDS PASSING
408
14-39
5.7
3-24
0
Completions-Attempts
Net yards per pass play
Sacked: Number-Yards
Had intercepted
30-47
8.7
5-29
0
34
NET YARDS RUSHING
151
22
1.5
Rushing Attempts
Average gain per rush
47
3.2
9-320
PUNTS: Number-Yards
3-52
35.6
Average
17.3
226
TOTAL RETURN YARDS
75
2-40
9-186
0 0
Punt Returns: Number-Yards
Kickoff Returns: Number-Yards
Interception Returns: Number-Yards
5–2
4-77
0 0
13-112
PENALTIES: Number-Yards
7-70
2-0
FUMBLES: Number-Lost
6-2
5-29
SACKS: Number-Yards
3-24
0 0
INTERCEPTIONS: Number-Yards
0 0
21:12
TIME OF POSSESSION
38:48
Grossmont

Palomar

| INTERCEPTION RETURNS | NO | YDS | AVG | LG | TD |
| --- | --- | --- | --- | --- | --- |

| INTERCEPTION RETURNS | NO | YDS | AVG | LG | TD |
| --- | --- | --- | --- | --- | --- |
OTHER INFORMATION
Location: Escondido, CA
Stadium: Chick Embrey Field