Hawks avenge early season loss with sweep of La Sierra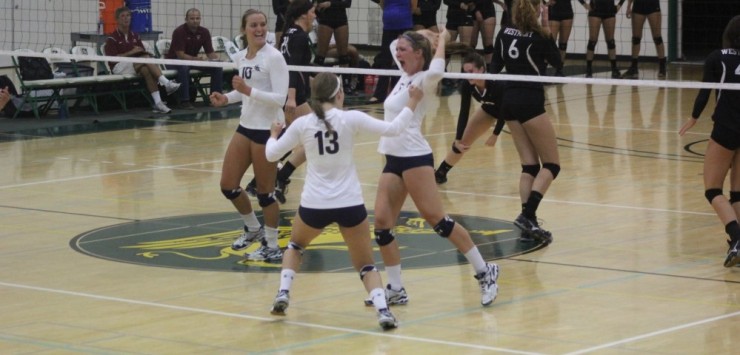 San Diego Christian

La Sierra University
Special to EastCountySports.com
SANTEE – The San Diego Christian volleyball team avenged an earlier loss this season with a sweep of La Sierra Tuesday night, 25-21, 25-22, 25-19.
With the win, the Hawks improve to 9-7 on the season while the Golden Eagles drop to 5-4.
La Sierra defeated the Hawks 3-1 back on Sept. 22.
Set 1 was a seesaw battle, seeing the score tied 10 times. The Hawks got the better end of it taking the 21-20 lead and finishing out the set. Alexa Lambert tallied a kill to give SDC a 23-21 lead before a service ace from Molly Witzmann and an attacking error from the Golden Eagles gave the Hawks the set win.
Set 2 was just the same, close throughout seeing many lead changes and ties. Juliana Gutknecht gave the Hawks a 21-20 lead with a kill. Alli Beezer followed suit with a kill of her own as SDC held off the late charge from La Sierra. A service error by LSU and a Lambert kill gave the Hawks the last two points as they were the first to 25.
The Hawks looked to seal the sweep early firing off to a 7-2 lead early on in Set 3. The Golden Eagles showed no quit and eventually tied the set at 13-13. Ashlyn Riding earned the 14th point of the set for the Hawks giving them the lead for good. SDC scored the last four points of the set.
Gutknecht led the Hawks with 11 kills followed by Lambert's and Beezer's eight. Riding averaged just over 10 assists per set finishing with 31. Witzmann totaled eight blocks on the night, two solos and six block assists.
SDC will travel to San Dimas, CA to take on Life Providence College on Friday. Start time is scheduled for 7 p.m.
VOLLEYBALL – 
TUE, OCT. 6, 2015 AT 11:15 PM 
Final
1
2
3
F
La Sierra (5-4)
 21
 22
 19
 0
San Diego Christian (8-7)
 25
 25
 25
 3
Santee, CA
| La Sierra | Indv. Leaders | San Diego Christian |
| --- | --- | --- |
| #15 LATUHOI, Abby – 8 | Kills | #8 GUTKNECHT, Juliana – 11 |
| 2 Players (#1,#15) – 2 | Blocks | #10 WITZMANN, Molly – 8 |
| #2 MORGAN, Emily – 9 | Digs | #8 GUTKNECHT, Juliana – 10 |
| 2 Players (#13,#2) – 2 | Aces | #9 SORCE, Morgan – 3 |
| La Sierra | Team Statistics | San Diego Christian |
| --- | --- | --- |
| .106 | Hitting %: | .237 |
| 3.0 | Blocks: | 13.0 |
| 36 | Digs: | 41 |
| 5 | Aces: | 6 |