Cougars control clock, get to party early
Updated: October 24, 2015
By James McHugh
© East County Sports.com
SPRING VALLEY (10-23-15) — It was Homecoming night for the Steele Canyon Cougars on Friday (Oct. 23) and El Capitan was in town trying to steal the show. The Vaqueros had a tough night getting things going offensively though and Steele Canyon got to celebrate on and off the field with a 20-3 victory on their special night.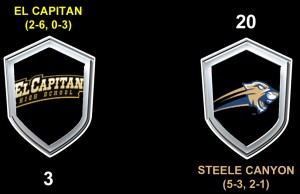 While THOMAS FISHBURNE was leading the Steele Canyon offense at quarterback, ALEXANDER RAYA was putting on a kicking clinic for all in attendance, connecting on field goals from 38 and 33 yards in the first half.
The lone first half touchdown for either team came after a roughing the passer call against El Capitan kept a Cougar drive alive late in the second quarter. With 5:18 remaining Fishburne scrambled to the El Cap sideline and attempted to find ANTHONY HOWARD on a third and nine pass. Despite an excellent effort from Howard the pass fell short. Unfortunately for the Vaqueros, Fishburne took one for the team and was awarded 15 yards on the play.
Five plays later Fishburne connected with JAKE CITRINITTI for a 24-yard touchdown. The second of Raya's two first half field goals came with under 20 seconds to play in the half.
El Capitan's lone first half score was partially the result of a poor Steele Canyon punt which allowed the Vaqueros to start the drive at the Cougar's 38-yard line. A five play drive led to a CODY MATTISON 33-yard field goal for the Vaqueros for a 3-0 lead at that point. It's the first time El Capitan had scored in three weeks.
At halftime, Howard added a little glitz to his night as he was crowned Steele Canyon's 2015 Homecoming King.
El Capitan had a small reprieve to start the second half as Raya finally sailed a kick wide for Steele Canyon, but the Vaquero offense continued to sputter. Steele Canyon limited PHOENIX CATES to 6-16 passing for just 32 yards and picked off the Vaquero quarterback three times on the night.
Steele Canyon didn't post monster numbers on the offensive end themselves, but where they really controlled the game was on the clock. Coach SCOTT LONGERBONE'S club limited El Capitan to one third quarter possession despite no Cougar rusher eclipsing 45 yards on the ground. Through the air the Cougars were effective but Fishburne needed just four pass attempts after the half to close out the win.
No Cougar receiver caught more than three passes and MIKEL OLIVER's 40-yards receiving came on just two second half catches to lead Steele Canyon in yardage. El Capitan managed only four second half possessions resulting in two punts and two interceptions.
The Cougars now turn their attention to their biggest rival in next week's matchup with a previously red-hot Valhalla club who won't be at all merciful coming off a 28-point stomping at the hands of Helix.
El Capitan, which has been shut out three times this season, is hoping to manage just their second on-field win when they host Mount Miguel. The Vaqueros received a forfeit win from Mater Dei.