Despite tumult, Highlanders turn away Norse challenge
Helix takes a the lead 7-0 #helixvsvalhalla QB @GoldenBoii07 takes it 75 yards for a huge gain 1/2 pic.twitter.com/pBUGvbAbz8

— SDFNL Magazine (@SDFNLMagazine) October 24, 2015
By Jim Lindgren
© East County Sports.com
EL CAJON (10-24-15) — Helix quarterback MICHAEL AUSTIN said he and his teammates learned that coach TROY STARR would not be joining them for Friday night's (Oct. 23) game against Valhalla just before boarding the bus for a first-place battle with the host Norsemen.
That Starr would miss the game was a personal decision; his wife, TANA, needing hospitalization earlier in the day for an unknown illness. Two days prior, Starr had announced that he would be resigning as head coach at the end of the season for family reasons.
Against Valhalla, Starr would have been proud to watch his charges romp to a 42-14 victory to take sole possession of first place in the Grossmont Hills League.
"It was difficult," Helix tailback NATHEN STINSON said of playing without Starr on the sideline. "We just tried to come out and play our best."
Stinson certainly did his part. The 5-foot-6, 175-pound senior scored on runs of 56, 59 and 16 yards to lead the Highlanders (6-1, 3-0) over Valhalla (6-2, 2-1). Stinson finished with 220 rushing yards on 24 carries to give him 915 yards and 19 touchdowns on the season.
"That speed, it's tough," Valhalla coach CHARLES BUSSEY said. "We'd stop him. We'd stop him again. Then he's gone. You just can't catch that kid."
Bussey also pointed out that Valhalla's longest touchdown allowed this season was from 31 yards in a 14-7 loss to Otay Ranch to start the season. The Norsemen came in having allowed only six touchdowns and 44 points in their first six games.
Helix scored six touchdowns and 42 points while piling up 386 total yards, including 310 rushing yards.
Meanwhile, the Highlanders' defense allowed only four first downs – all in the first half – and stopped Valhalla's rushing attack for minus-10 yards. Valhalla managed only 120 total yards. Four of its five second-half possessions were of the three-and-out variety. The other was an interception by the Highlanders' SCOTTIE YOUNG.
"We just couldn't do much in the second half," Bussey said. "Offense made some plays for us in the first half. Second half, their defense really stepped up. We couldn't get anything going."
Starr, 52, is 77-17-1 in 7-plus seasons at Helix, including a state championship in 2011. Including 14 years at Woodland Hills Taft, he owns a 216-53-2 record as a head coach. Tana Starr is a biology teacher at Helix.
Helix Executive Director MIKE LEWIS served as head coach with offensive coordinator JIM COOK taking over play-calling duties. Lewis was head coach at West Hills for one season, going 2-8 in 1991.
Helix is ranked No. 2 in the San Diego Section and No. 13 in the state with the only blemish being a 23-19 loss to Scottsdale (Ariz.) Chaparral in the season opener. The Scotties have outscored their opponents 292-78 with at least 37 points in each of a six-game winning streak.
Helix has now beaten Valhalla seven straight times and improved to 8-1 against the Norsemen during the Starr regime. The Highlanders own a 36-4-2 overall mark against Valhalla, which opened in 1975.
Still, things were a bit dicey at halftime as the Norsemen drove 75 yards in five plays to pull within 21-14 with 1:50 to play in the first half. On the drive, PHILLIP NASEH hit JORDAN ELLIS on a 49-yard pass before tossing 26 yards to CONNOR CHAMBERLAIN for the touchdown.
Valhalla stats in the game with a TD from @naseh_phillip to Conner Chaimberland 21-14 #helixvsvalhalla pic.twitter.com/SBzlwRjO2o

— SDFNL Magazine (@SDFNLMagazine) October 24, 2015
Helix took charge early after intermission, driving 70 yards in eight plays to go up 28-14 on its first possession of the second half as ZEKE NOA hauled in a 28-yard touchdown pass from Austin.
TD pass from @HelixScotties to Zeke Noah making it 28-14 #helixvsvalhalla pic.twitter.com/bQjrBD3TIf — SDFNL Magazine (@SDFNLMagazine) October 24, 2015
The Highlanders then made it 35-14 on its second drive, going 69 yards in eight plays with Stinson scoring his third touchdown on a 16-yard scamper off left tackle.
Helix @calimadenate makes it 35-14 #helixvsvalhalla pic.twitter.com/pzW8RKS0ef

— SDFNL Magazine (@SDFNLMagazine) October 24, 2015
Backup tailback CURTIS HOLMES finished the scoring with an 8-yard TD run in the fourth quarter, capping a 7-play, 64-yard drive aided by an unsportsmanlike penalty against Valhalla before a fourth-down play. Austin staked Helix to a 7-0 lead at 5:10 of the first quarter. First, he had a 74-yard keeper run to the 4-yard line. He then threw three yards to MEKHI STEVENSON before keeping on a 1-yard TD run. A minute later, following an interception by NICK SOLIZ, Stinson sprinted around right end and down the sideline for a 56-yard touchdown to make it 14-0.  
A 65 yard scamper by @calimadenate puts Helix up 14-0 1st qtr #helixvsvalhalla pic.twitter.com/SZKwBWB4dJ — SDFNL Magazine (@SDFNLMagazine) October 24, 2015
Valhalla got an interception by DANTE CARNESSALE off a tipped pass by ANTHONY PORTILLO, and Carnessale returned it 18 yards to the 7-yard line.
Next play, Naseh found JOSH McNISH-HEIDER all alone in the end zone for a 7-yard scoring toss with 1:38 to play in the first quarter.
Valhalla keeps it close after Dante Coneseli pick and a TD to Josh Hyder 14-7 #helixvsvalhalla pic.twitter.com/KCzjXO88L4

— SDFNL Magazine (@SDFNLMagazine) October 24, 2015
After sacks by MASON VINYARD and BLAYKE DE LA ROSA forced Valhalla to punt early in the second quarter, Stinson scored on a 59-yard sprint remarkably similar to his first touchdown.
"It was the same play (call)," Stinson said. "The blocks were there, and I just took off."
Austin, who missed last week's 59-14 win over Mount Miguel with a sore shoulder, was 7-of-15 for 76 yards and a touchdown. He was intercepted twice, the second by Ellis on Austin's last attempt of the game. Young had four catches for 27 yards, Stevenson two for 21.
The Scotties' offensive line was again impressive as DE'RON SMITH, NICK WRIGHT, De La Rosa, MARIO BERNAL and SEFA TAUANUU paved the way for Stinson and Austin.
Naseh, averaging 147 yards per game, threw for 130 on 13-of-26 passing with two touchdowns and two interceptions. Among his eight targets, Chamberlain had three catches for 37 yards and a TD, and Ellis caught one ball for 49 yards.
De La Rosa had a pair of sacks along with one each from Vinyard and KENDALL HAIASY. Vinyard also had a blocked punt.
For Valhalla, DANIEL BENDER and LUCAS WALZ each posted a sack. LOGAN BAKER recovered a fumble at the Helix 37-yard line just before halftime, but the Norsemen could muster only six yards.
"We told our kids at halftime, no matter what happens, this game does not define our season," Bussey said. "What we do from here on out defines our season."
From here on out starts with an away game against Steele Canyon next week, followed by a home game against Grossmont to end the regular season. Valhalla entered the game No. 2 in the Division II playoff power rankings, but No. 1 Westview also lost on Friday. No. 3 Granite Hills could move up to the top spot.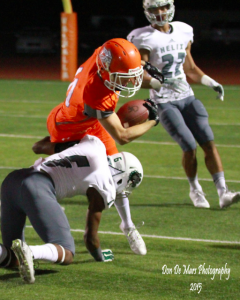 Helix is No. 1 in the Division I power rankings, meaning the Highlanders almost assuredly will play in the Open Division playoffs like last year when they lost to Oceanside 20-13 in the title game. Helix plays at Grossmont next week and finishes with defending league champ El Capitan.