Not much, but some movement in Top 10 poll
Updated: October 26, 2015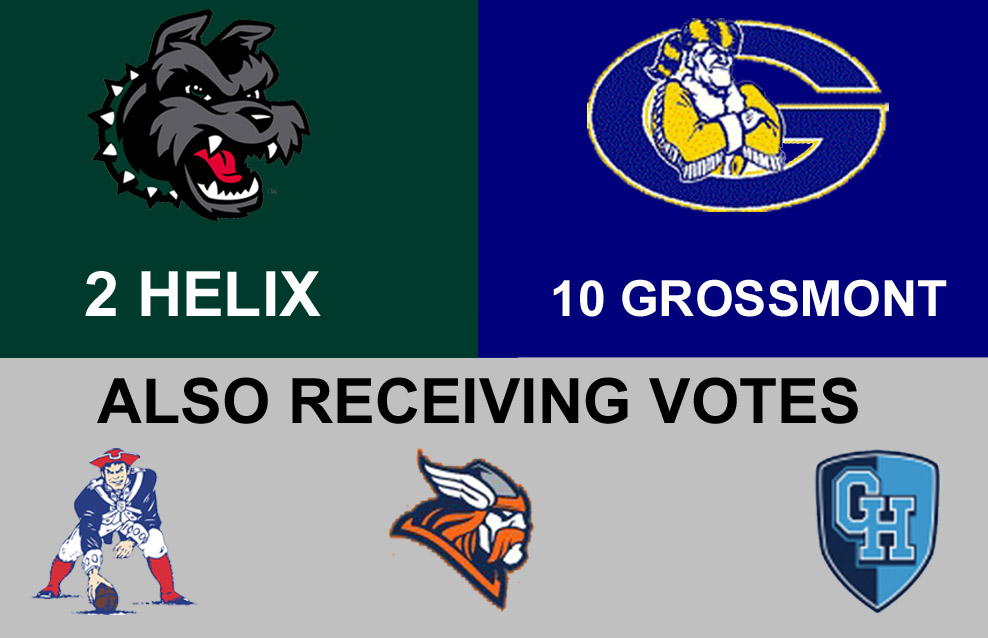 By Chris Davis
© East County Sports.com
LA MESA (10-26-15) — While HELIX picked up a first place vote in the week ten version of the San Diego Union-Tribune sportswriters/sportscasters prep football poll, the gaps have actually grown lower on the poll.
There has not been any movement in the top two spots since they took their respective spots five weeks ago.  MISSION HILLS one of only three undefeated teams in the CIFSDS (MISSION BAY, VINCENT MEMORIAL) retains its spot atop the poll.  Helix picked up a first place vote (five), but lost an overall point.  SAINT AUGUSTINE is in third place for the third consecutive week.  The Saints who defeated CATHEDRAL CATHOLIC in the "Holy Bowl" this past week, took a couple of steps closer to the top two as they now trail the Highlanders by 22 points (26 last week).
Fourth place changed hands this week as LA COSTA CANYON jumped two spots.  The problem for LCC, is that they are 52 points behind St. Augustine.  Then there is the 34 point gap to WESTVIEW who dropped a spot after falling to the team that jumped them LCC.
Starting the second group of five is RANCHO BERNARDO which is nine points out of fifth.  MADISON is ten points behind the Broncos as they moved up a spot this week.  Also moving up is the Buccaneers of Mission Bay.  The Bucs are 38 points behind the Warhawks.  That will be cleared up the next week when the two face off at Mission Bay.  After losing the "Holy Bowl" Cathedral dropped four spots to ninth.  And staying pat in tenth is the East Counties second entrant, GROSSMONT.
Others receiving votes include CARLSBAD, SAN MARCOS, BONITA VISTA, MATER DEI CATHOLIC, CHRISTIAN, VALHALLA, GRANITE HILLS, EL CAMINO.  The two new entries are MIRA MESA and EASTLAKE.
Dropping out of the poll completely include OCEANSIDE, POWAY and UNIVERSITY CITY.
Games that include teams from the East County this week include a massive game between 2 Helix and 10 Grossmont as they renew their battle for the Musket.  RV Christian will travel to HOOVER in an attempt to clinch the City League title outright.  RV Valhalla will travel to backyard rival STEELE CANYON and in the Valley League, RV Granite Hills will host EL CAJON VALLEY.
SAN DIEGO UNION-TRIBUNE SPORTSWRITERS/SPORTSCASTERS PREP FOOTBALL POLL
Rank/Team/Record/Points/Last Week
First-place votes in parenthesis
Mission Hills (19) / 8-0 / 234 / 1
Helix (5) / 6-1 / 218 / 2
St. Augustine / 6-2 / 196 / 3
La Costa Canyon / 6- 2 / 144 / 6
Westview / 7-1 / 110 / 4
Rancho Bernardo / 6-2 / 101 / 7
Madison / 6-2 / 91 / 8
Mission Bay / 8-0 / 53 / 9
Cathedral Catholic / 4-4 / 52 / 5
Grossmont / 7-1 / 40 / 10
Others receiving votes: Carlsbad (28 points, 5-3),  San Marcos (15 points, 6-2), Bonita Vista (13 points, 6-2),  Mater Dei Catholic (10 points, 7-1, includes forfeit loss), Christian (3 points, 6-2),  Valhalla (3 points, 6-2), Granite Hills (2 points, 7-1), El Camino (1 point, 5-3),  Mira Mesa (1 point, 6-2), Eastlake (1 point, 4-5).
24 sportswriters, sportscasters and CIF representatives from throughout the county vote in the weekly poll. This year's panel includes: John Maffei (San Diego Union-Tribune), Steve Brand, Terry Monahan, Don Norcross, Jim Lindgren, Tom Saxe and Rick Hoff (San Diego Union-Tribune stringers), Michael Bower (Pomerado News), Bill Dickens and Chris Davis (EastCountySports.com), Steve Dolan (Mountain Country 107.9-FM), John Kentera, Ted Mendenhall and Bob Petinak (The Mighty 1090), Rick Willis and Brandon Stone (KUSI-TV),  Rick Smith (Partletonsports.com), Jerry Schniepp and John Labeta  (CIF San Diego Section office), Bodie DeSilva (sandiegopreps.com), Drew Smith (sdcoastalsports.com), Lisa Lane (San Diego Preps Insider), Raymond Brown (sdfootball.net), R. Pena, C. Smith and M. Allen (MBASports-SDFNL Magazine).