FEARLESS FORECASTER WEEK TEN
TRyan Photography photo
2015 FEARLESS FORECASTER
Week 10
By Bill Dickens
© East County Sports.com
SANTEE (10-29-15) — Football within the Santee city limits comes to a head this season when the Santana Sultans and the West Hills Wolf Pack teams collide for the annual Santee Mayor's Cup on Friday (Oct. 30) at West Hills in a Grossmont Valley League contest. Kickoff is at 7 p.m.
Players and fans have bantered monikers on social media between the two schools, including "The School by the Dump" and the "Battle for the Bridge" among others.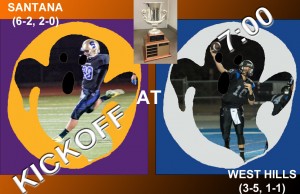 "Playing for the Mayor's Cup is definitely we look forward to every year," said Santana coach TIM ESTES, whose Sultans (6-2, 2-0) are in the running for the Grossmont Valley League title.
In addition to all the hoopla, the Sultans have their eyes on capturing the GVL crown. That means knocking off the Wolf Pack (3-5, 1-1) and clipping Granite Hills next week.
Obviously that will be no small challenge.
"At this point Santana is our focus. We can't look ahead," said Wolf Pack coach CASEY ASH. "It was great for us to have a bye week," he added. "If we win it keeps us in position to make the playoffs."
West Hills' offense focuses on quarterback SPENCER MOYER (96-204, 1158, 12 TDs passing; he also has 93-519, 5 TDs rushing). He's one of the best double threats in East County.
"He's a big, physical runner and a pinpoint passer," said Ash of Moyer. "He's a very bright kid who is being recruited by Ivy League schools and UC Davis among others."
Moyer's chief targets include TAJ BROOMFIELD (27 receptions for 322 yards and 4 TDs) and TYLER SEPULVEDA (26-383, 3 TDs).
Santana can throw the ball as well as anybody with quarterback FRANKIE GUTIERREZ, who has clicked on 88-135 for 1433 yards and 16 TDs.
ADAM CHILDRESS has reeled in 28 receptions for 506 yards and 7 touchdowns, while AIDAN RASMUSSON has pulled in 26 passes for 446 yards and 4 touchdowns for the Sultans.
A year ago West Hills buried the Sultans 53-11. That won't happen this time . . . Santana 28-24.
VALHALLA (6-2, 2-1) at STEELE CANYON (5-3, 2-1), 7 – In a battle for second place in the Grossmont Hills League, the host Cougars of Steele Canyon hope to claim the Jamacha Helmet in Friday's (Oct. 30) showdown with the Valhalla Norsemen.
Among all the rivalries, this one is true to the symbolic spirit although there is an actual helmet trophy, which Valhalla claimed with a 28-24 victory a year ago. The two teams have split the last six meetings.
"We've got to get back on the winning track," said Valhalla coach CHARLES BUSSEY, whose Norsemen lost to Helix a week ago.
He figures it will be no soft touch to face off against the Cougars.
Valhalla is a defensive statistics machine with 32 turnovers, 31 sacks, 18 interceptions, 11 fumble recoveries and 3 blocked punts.
"Our defense has carried us all year," Bussey said.
Steele Canyon coach SCOTT LONGERBONE noted that the bulk of the players on these two teams are Hillsdale Middle School graduates.
"It's about 50-50 between kids going to Steele Canyon and kids going to Valhalla, which makes for a sweet rivalry," Longerbone said.
The key factor for Steele Canyon's attack is the Cougars have created 14 more turnovers than their opponents.
"That's huge," said Longerbone.
One of the top defensive players in East County is DANIEL BENDER of Valhalla. He has 45 solo stops, 30 tackles for loss, 6 sacks and 2 fumble recoveries.
Linebacker LOGAN BAKER has 48 solo stops, 35 tackles for loss, an interception and 9 sacks to spearhead the Norsemen defense.
For Steele Canyon THOMAS FISHBURNE has been on target with 69 completions on 154 attempts for 900 yards and 5 touchdowns.
"He's really improved over the season," Longerbone said. "He can only get better."
PIERRE ALEXANDER has carried 78 times for 475 yards and 7 touchdowns for the Cougars.
These two teams each hope to present the Jamacha Helmet to their student body . . . Valhalla 21-17.
HELIX (6-1, 3-0) at GROSSMONT (7-1, 2-1), 7 – When it comes to rivalries, that means both teams claim victories over the years.
However, the long term symbolic battle for the East County Musket has belonged almost exclusively to the Helix Highlanders since 1991 over rival Grossmont.
Bottom line is the Highlanders have won 18 straight. The last time the Foothillers prevailed was in 1991 when Grossmont knocked off Helix 28-14.
"We don't talk about the musket all that much," said Grossmont coach TOM KARLO. "It's insignificant at this time.
"Yet it's a symbolic representative that goes to the winner," he added. "We need to put together a win or two to make it a rivalry. For now, both of our teams are in the Open Division and should get a good position in the playoffs. I'm proud of that."
Karlo admits playing Helix will be a major league challenge for his 7-1 Foothillers.
"We're playing the best team in the county and that's the kind of challenge we like to have," he said. "We have to be able to play at our absolute best to meet this challenge."
Helix coach TROY STARR was unavailable for comment, however for the Highlanders it's the same old story.
Running back NATHEN STINSON (102-915, 19 TDs) and quarterback MICHAEL AUSTIN (8-65-104, 870 yds, 8 TDs) along with receivers MEKHI STEVENSON (19-453, 6 TDs) and SCOTTIE YOUNG (19-244, 1 TD) help lead the Highlanders' offense.
A horde of Highlanders celebrate the defense.
Grossmont's versatile standout JAKE HARR has bolted for 723 yards and 4 touchdowns on 105 carries. He's also reeled in 25 passes for 292 yards and a score.
HUNTER GAINES is the Grossmont Conference leading passer, clicking on 83 of 162 passes for 1741 yards and 19 touchdowns.
He hooks up with the No. 1 Grossmont Conference receiver KHALEED DAVIS with 40 receptions 757 yards and an East County best 13 touchdowns.
Grossmont's defense is led by linebackers JOSH McFAUL and NATE TIAPULA, who have combined for 161 tackles.
It would be hard to argue with tradition . . .  Helix 35-17.
CHRISTIAN (6-2, 3-0) at HOOVER (2-6, 0-2), 6:30 – Christian hopes to close out the City League season with a victory Friday (Oct. 30) at Hoover to claim its third straight outright possession of a league championship.
The last two seasons the Patriots captured the Central League crown.
Offensive coordinator and assistant head coach DAVID BEEZER reports that the Patriots will play their final two games at full strength. They close the regular season hosting Scripps Ranch in a non-league affair.
"Winning this league is a step up," said Beezer. "The teams are faster and more physical than those in the Central League. I figured this was a greater challenge for us, and it was."
Christian will look to shut down one of the top ball carriers in the county in Hoover's Demontauz Gray, who has rushed for 1501 yards and 18 TDs in 154 carries.
"Hoover is better than their record shows," Beezer said.
Their losses have come to La Costa Canyon, Granite Hills, Scripps Ranch, Point Loma, Patrick Henry and Serra. They edged Monte Vista 37-26 and blew out Francis Parker 36-0.
One of the big pluses for Christian is having running back ADRIAN PETTY back at full strength. The senior speedster has gained 598 yards and 5 touchdowns on 100 carries.
"Petty missed three weeks of practices with first a hamstring then an ankle injury," Beezer said. "To have him back is a boost for us."
Quarterback DAVID TODD JEREMIAH has completed 124 of 210 passes for 2030 yards and 20 touchdowns.
His top receiver has been NICK SEXTON, who leads East County with 44 catches for 1007 yards and 9 touchdowns.
THEO GOODWIN is right behind him with 40 receptions for 585 yards and 6 touchdowns.
The last time Christian faced off against Hoover was in the 2014 Division III San Diego CIF championship game, which the Patriots won 31-9. Look for a repeat performance . . . Christian 31-14.
EL CAJON VALLEY (5-3, 1-2) at GRANITE HILLS (7-1, 2-0), 7 – In the annual battle for the Madison Cup (formerly known as the Golden Feather), the host Granite Hills Eagles are closing in on the Grossmont Valley League championship.
The Eagles have posted seven straight victories over their Madison Avenue rivals, the El Cajon Valley Braves, winning 14 of the last 15 games.
If Granite Hills can down the Braves and knock off Santana next week, the Eagles will secure its first league championship since 1988.
"This game is crucial because we need it to stay in contention for the league title," said Granite Hills coach KELLAN COBBS. "We can't just sit here and think about Santana."
On the flip side, El Cajon Valley would like to play spoiler.
The Braves will be no easy mark for the Eagles as they boast a solid group of individual talent led by East County rushing leader NATHEN McCULLOUGH (146-1302, 15 TD).
The SMITH brothers – slotback TYSON and quarterback CHARLES – will give El Cajon Valley offensive punch.
The bottom line here is whether Granite Hills can block the Braves out of the box.
"Our big guys have been going down for various reasons," said El Cajon Valley coach PARRIS PISIONA. "It's been a real grind for them to get us this far since so many of them go both ways."
"I think we've gotten to a certain point – I'm not blaming the kids – where we've had kids drop off," he added. "But we're trying to stay healthy for these last two weeks and then try to muscle up another ounce of effort for the playoffs."
El Cajon Valley plans to bring up players from its 6-2 freshman squad to help bolster the ranks.
"I think the fact that we played a competitive non-league schedule is really helping us at this point," Cobb said.
Granite Hills, a defensive team by trade, counts on linebackers KELLEN GAIER and RILEY REYES, along with defensive ends NOAH JOUBERT and JACOB BURTON and safety CAMERON ROJAS to help slam the door on the Braves.
For the Braves to come away with a victory would be a long shot . . . Granite Hills  42-16.
MOUNT MIGUEL (3-5, 0-3) at *EL CAPITAN (2-6, 0-3), 7 – In what has been a long season for El Capitan veteran coach RON BURNER and his Vaqueros could enjoy a victorious session Friday night (Oct. 30) when the Lakeside school celebrates Homecoming in a Grossmont Hills League contest.
This one's about escaping the GHL cellar for the Vaqueros and the visiting Mount Miguel Matadors, each of which are seeking their first league victory.
"We've been playing as a M.A.S.H. unit all year," said Burner, who guided the Vaqueros to the Southern California championship a year ago. "Our defense has kept us in games but they eventually get tired. Offensively it's been piecework and patchwork, which has made it hard for us to be cohesive."
Despite the woeful season, in his 11 seasons that he has coached at El Capitan,  Burner has guided the Vaqueros to a 75-50-2 record. He's on the verge of cracking the top 10 East County coaching winners of all time.
Ironically he's hot on the heels of Helix's TROY STARR, who has posted 78 wins and Grossmont's TOM KARLO, who has garnered 77 victories.
Mount Miguel coach SHAUN McDADE figures his Matadors need to win at least one of their final two games to qualify for the Division II playoffs.
"Our immediate focus, however, is El Capitan," he said. "They play great defense. Their linebackers are all over the place and you never know where one of their guys is going to come from."
The Vaqueros have scored only 3 points in their last three games.
"There's nobody that we play that's a weak sister," said Burner.
Defense has been a strength for Mount Miguel as well. The Matadors look to a veteran offensive line led by center ANGEL CARRILLO, guard SHEAN ENGLISH and tackle TREVON ALLEN. Carrillo and Allen are two-year starters.
Quarterback BENNY VALADEZ and running backs ANTOINE HAMILTON and ANTHONY GILMORE might prove to be too much for El Capitan's defense . . . Mount Miguel 17-13.
CRAWFORD (6-2, 2-0) at MOUNTAIN EMPIRE (3-6, 1-2), 6 – Host Mountain Empire will have to find a way to lasso the Crawford Colts' running game, which features Eric McDuffy (98-748, 8 TD), Raymond Gabriel (79-548, 6 TD) and Sharif Sharif (45-368, 5 TD) in Friday's (Oct. 30) Manzanita League encounter.
The Red Hawks will look to middle linebacker BLAKE JARRELL, East County's leading tackler with 92 stops and 2 fumble recoveries to put the brakes on Crawford.
The Colts have posted consecutive shutouts over San Diego-Southwest (60-0), Holtville (28-0) and Calipatria (40-0) . . . Crawford 32-14.
MONTE VISTA – Bye
Fearless Forecaster:
Season: 60-25 (.701)
Last week: 6-1 (.857)