Eastern talents make it official at NLI signing at Hall
2015 EAST COUNTY NATIONAL LETTERS OF INTENT
By Bill Dickens
© EastCountySports.com

EL CAJON (11-12-15) — Four-year starter KYLE STOWERS of Christian High has signed a National Letter of Intent with prestigious Stanford University to play baseball for the Cardinal beginning with the 2017 season.
"I'm excited to finally make it official," said Stowers, a 6-foot-3, 200-pound southpaw pitcher-outfielder who had made a verbal commitment in October of this year. "I never really felt too much pressure on the field, I just played the game."
As a junior Stowers batted .407 (35-for-86) with 14 extra base hits, including 6 home runs and 31 RBI.
"They are looking at me to be a hitter and an outfielder," Stowers said. "I'll pitch a little bit too."
Stowers pitched sparingly as a junior, posting a 1-0 record, 2.50 ERA and 12 strikeouts in 14 innings.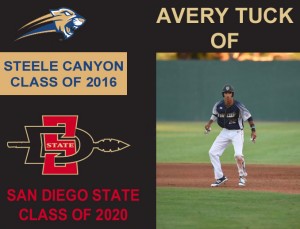 Other East County baseball players signing:
—  AVERY TUCK didn't light up the scoreboard during his junior season at Steele Canyon, but did well enough as a right-handed fireballer and a long ball, left-hand hitting outfielder to land a scholarship to San Diego State.
He batted .286 with 3 home runs and 11 RBI for the Cougars last season.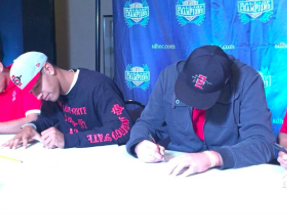 He regained his footing while participating in the Area Code games in Long Beach and the 13th Annual All-American Classic in Petco Park. He continued to sparkle in the National Showcase in Fort Myers, Fla.
"I've seen guys I've played with and against, and I wanted to surprise people," said the 6-foot-5, 195-pound Tuck upon his signing with the Aztecs. "I had a rough season in high school last year, but I was dealing with some stuff."
Regarded as a stealth centerfielder running under the radar, Tuck is excellent at chasing down fly balls. He can also cover the bases with his 6.88 speed in the 60-yard dash. He might be the unsung hero of the June 2016 draft.
— El Capitan catcher MYLES EMMERSON and pitcher-third baseman TRISTAN DUNCAN have signed National Letters of Intent on Wednesday (Nov. 11) at the San Diego Hall of Champions.
Emmerson, a first team All-East County selection as a junior, who batted .422 (43-of-102), has signed with Cal Poly-San Luis Obispo in time for the Mustangs' 2017 season.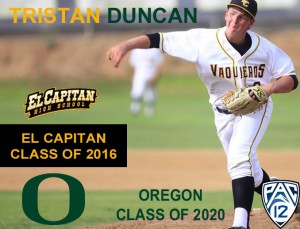 His battery-mate Duncan, meanwhile, has inked a pact with Oregon of the Pac-12. Duncan, a right-hander, is coming off a sparkling junior pitching season with a 6-3 record, 2.45 ERA and 4 complete games in 65 2/3 innings. He also played third base and may see some action at that position with the Ducks.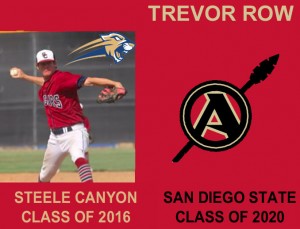 —  San Diego State is obviously intrigued by tall pitchers. They had success with Steele Canyon's MIKE CEDEROTH in the past, and hope to find similar success with the Cougars 6-foot-7, 200-pound TREVOR ROW who signed a National Letter of Intent with the Aztecs on Wednesday (Nov. 11).
— First baseman DILLON SHRUM of Granite Hills has signed a National Letter of Intent to the University of Nevada-Reno.
He batted .317 in the regular season and came on strong with key hits in the playoffs for the Eagles.
Softball signing:
— JESSIE LaPIERRE of Granite Hills, a second team All-East County pick and second team All-Grossmont Valley League selection, has signed a National Letter of Intent with Cal State-Northridge.
She batted .370 with 2 home runs, 12 runs scored and 21 RBI.
Football commitments waiting in the wings:
— Granite Hills tight end-defensive end JACOB BURTON (6-5, 270) has given a verbal commitment to the University of Arizona, which is known for its recruiting of San Diego County large linemen.
— Another East County giant, Helix tight end-defense lineman MASON VINYARD, has verbally committed to Washington State University.