Griffins open campaign tonight at Riverside Tournament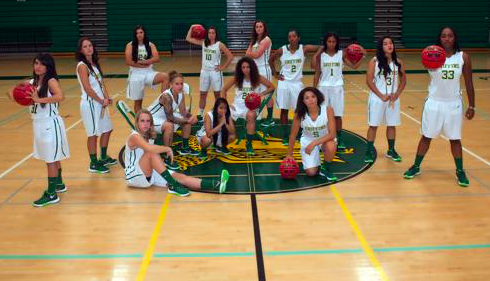 2015-16 GROSSMONT COLLEGE WOMEN'S BASKETBALL
By Bill Dickens
© EastCountySports.com
EL CAJON (11-13-15) — Six players return from last year's 11-16 Grossmont College women's basketball team that opens the season Friday (Nov. 13) in the Riverside Tournament.
The Griffins will tip off against Bakersfield at 5 p.m. in the opening night of the eight-team tournament.
Also competing in the event are Cerritos, Solano, El Camino, Santa Ana, Glendale and host Riverside.
The championship game is slated for Sunday at 4 p.m.
Grossmont is coming off a fourth-place finish in the Pacific Coast Athletic Conference at 8-6. Palomar was the runaway champions at 13-1 (26-4 overall) a year ago. Mt. San Jacinto was 12-2, 24-6, while San Diego City was 9-5, 13-13.
The top returning performer for Grossmont is JAZMINE BRADLEY (Monte Vista). The 5-foot-8 sophomore averaged 7.6 points, and 4.2 rebounds per outing.
Grossmont opens the home season on Friday (Nov. 20) hosting Mt. San Antonio at 6 p.m.
---
2015 – 16 Roster
2015-16 Schedule
| | | | | | | | |
| --- | --- | --- | --- | --- | --- | --- | --- |
| Overall | Pct. | Conf. | Pct. | Streak | Home | Away | Neutral |
| 0-0 | .000 | 0-0 | .000 | – | 0-0 | 0-0 | 0-0 |
Date
Opponent
Result
Time/Status
Links
Nov. 13
vs. Bakersfield @ Riverside City College
5:00 PM PST
Riverside City College Tournament
Nov. 14
vs. TBA @ Riverside City College
TBA
Riverside City College Tournament
Nov. 15
vs. TBA @ Riverside City College
TBA
Riverside City College Tournament
Nov. 20
Mt. San Antonio
6:00 PM PST
Nov. 24
at Citrus
5:00 PM PST
Dec. 4
vs. Santa Monica @ Cypress College Invitational
4:00 PM PST
Dec. 5
vs. TBA @ Cypress College
TBA
Cypress College Tournament
Dec. 6
vs. TBA @ Cypress College
TBA
Cypress College Tournament
Dec. 10
vs. Rio Hondo @ Irvine Valley College
6:00 PM PST
Irvine Valley College Tournament
Dec. 11
vs. TBA @ Irvine Valley College
TBA
Irvine Valley College Tournament
Dec. 12
vs. TBA @ Irvine Valley College
TBA
Irvine Valley College Tournament
Dec. 28
TBA
TBA
Grossmont College Tournament
Dec. 29
TBA
TBA
Grossmont College Tournament
Dec. 30
TBA
TBA
Grossmont College Tournament
Jan. 6
Imperial Valley *
5:00 PM PST
Jan. 8
MiraCosta *
6:00 PM PST
Jan. 13
at San Diego Mesa *
5:00 PM PST
Jan. 15
Southwestern *
5:00 PM PST
Jan. 20
at Mt. San Jacinto *
5:00 PM PST
Jan. 22
Palomar *
6:00 PM PST
Jan. 27
at San Diego *
5:00 PM PST
Jan. 29
at Imperial Valley *
5:00 PM PST
Feb. 3
at MiraCosta *
5:00 PM PST
Feb. 5
San Diego Mesa *
7:00 PM PST
Feb. 10
at Southwestern *
5:00 PM PST
Feb. 12
Mt. San Jacinto *
6:00 PM PST
Feb. 17
at Palomar *
7:00 PM PST
Feb. 19
San Diego *
6:00 PM PST