Keys brings home major haul with three TDs against CSU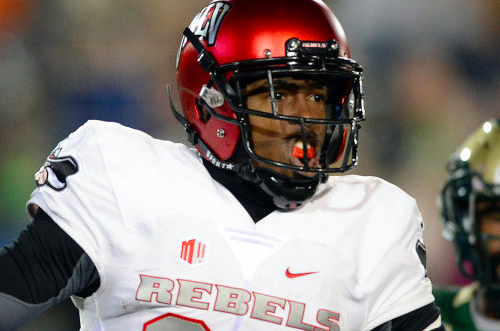 UNLV WR KENDALL KEYS, FROM HELIX, SCORED THREE TOUCHDOWNS AGAINST COLORADO STATE ON SATURDAY
2015  4-YEAR COLLEGE FOOTBALL STANDOUTS
By Bill Dickens
© East County Sports.com
EL CAJON (11-15-15) — The former Helix family duo of KENDALL KEYS and KENNY KEYS made a major impact in a Mountain West Conference encounter for UNLV against Colorado State in Fort Collins on Saturday (Nov. 14).
Sophomore wide receiver Kendall caught three touchdown passes and finished with six receptions for 87 yards as UNLV fell to the Rams 49-35. Senior defensive back Kenny chalked up 8 tackles – 4 of them solo – and also forced a fumble in the setback.
— In a televised Pac-12 contest on Saturday Arizona State University corner KWEISHI BROWN came up big as the Sun Devils came from behind to beat Washington 27-17.
Brown, a former Valhalla High and Grossmont College performer, racked up 8 tackles – 7 of them solos – and also logged a key interception return that helped extend a 20-17 advantage for ASU.
For the 10 game season he has 35 tackles – 33 of them solo – and 2 interceptions to go along with 7 pass breakups.
— Mount Miguel product CORY LITTLETON, a 6-foot-3, 227-pound senior defensive end collected 8 tackles and a sack in the University of Washington's loss to ASU.
— Colorado Mesa's M&M boys – receiver VIRNEL MOON (left, El Cajon Valley) and nose guard WILLIAM MILO (Helix) – helped the Mavericks pound out a 9-2 record with hopes for an NCAA Division II playoff berth.
Moon caught 9 passes for 125 yards and a touchdown, and also returned a kickoff 44 yards to help the Mavericks nip Western State Colorado University in Grand Junction. For the season Moon has garnered 35 pass receptions for 682 yards.
Milo, a 5-10, 290-pound sophomore rocked the Western State Mountaineers for 8 tackles – 2 of them solos and 2 for losses. For the season he had 61 tackles, 30 of them coming in the last two games.
— IAN SEAU, a former Grossmont College standout, had his hands full in a 37-34 overtime victory over San Jose State. The 6-3, 250 pound University of Nevada senior defensive end had 4 tackles – 2 solos – and a sack for the Wolf Pack. The 7-4 Wolf Pack has become bowl eligible.
— San Jose State cornerback JIMMY PRUITT, a 6-3, 200 pound nugget out of Helix, logged 4 tackles and a pass breakup in the Spartans loss to Nevada.
— Valhalla graduate HANSELL WILSON, a senior at San Jose State, caught 4 passes for 49 yards in the loss to Nevada.
— University of San Diego standout ANTHONY LAWRENCE, a redshirt freshman out of Grossmont High, completed 15 of 28 passes for 151 yards and a touchdown in the Toreros' 35-10 knockout of Davidson College (N.C.).
— Kicker DANIEL McMANUS, a West Hills graduate attending USD, was 5-for-5 on PAT kicks against the Davidson Wildcats.
— Helix product JALEN DAVIS is sticking his nose into the Utah State defense. The 5-10, 178 pound sophomore corner had 7 tackles – 6 of them solo – and a pass breakup as the Aggies fell to the Air Force Academy 35-28.
— JABRION BURNSIDE, a 5-11, 218 pound freshman out of Helix, led Azusa Pacific with a touchdown on a fumble recover in the first quarter to make it 7-7, and finished with 8 tackles in a 38-77 victory over Simon Fraser of British Columbia, Canada.
— Western New Mexico fullback NINO LaRUSSA, a West Hills graduate, known more for his blocking, scored on a 1-yard run in the Mustangs 59-21 romp over Black Hills State.
— Western New Mexico kicker JOSH McINTIRE, another West Hills alum, averaged 44.7 per punt and booted a 50-yard field goal in a 59-21 blowout of Black Hills State.