FEARLESS FORECASTER SDCIF QUARTERFINALS
Updated: November 19, 2015
Jake Harr stretches for yardage in a game earlier this season. / Ramon Scott photo
2015 FEARLESS FORECASTER
SDCIF Playoffs – Quarterfinals
By Bill Dickens
© East County Sports.com

EL CAJON (11-19-15) — This is the finest playoff lineup that East County has had in a long time. Although they don't keep records for such things, Friday's (Nov. 20), San Diego CIF quarterfinal lineup is probably one of the best for the Inland's record books. All five of the 7 p.m. matchups are worthy of attending.
(7) STEELE CANYON (7-4) at (2) GROSSMONT (7-3), 7 – In a regular season Grossmont Hills League encounter between the two, the winning 13-yard touchdown came with less than 10 seconds to play, when the Cougars' THOMAS FISHBURNE spotted PIERRE ALEXANDER near the goal line.
Fishburne let sail a perfect pass to Alexander, who back-dived into the end zone to give Steele Canyon a 39-36 victory over the Foothillers.
More of the same should be expected when these teams collide in Friday's (Nov. 20) Division I quarterfinal at Jack Mashin Stadium.
"It's nice to get a second chance after getting a week off to rest," said Steele Canyon coach SCOTT LONGERBONE. "Obviously our teams know each other.
"This is the first group I've had all four years – freshmen through seniors." He added. "I love this team."
The word "team" is definitely the Cougars' motto.
Sophomore quarterback Fishburne has completed 94 of 211 passes and 9 touchdowns.
Alexander has caught 16 passes for 191 yards and 3 touchdowns, in addition to rushing for 656 yards and 11 touchdowns on 110 carries.
MALCOLM ANDERS, the most physical rusher of the Steele Canyon backfield, has pounded his way for 599 yards and 4 touchdowns on 144 carries.
On the defensive side WAYNE BARELA has logged 41 tackles, recovered 2 fumbles and intercepted a pass. MIKEL OLIVER has 4 sacks, and speedy NY JOHNSON has 46 tackles.
Grossmont coach TOM KARLO and the Foothillers haven't forgotten the last second defeat at the hands of the Cougars, and believe they have the firepower to turn things around in the playoffs.
"There is no easy road to the playoffs," Karlo said. "We need to make three or four more plays if we expect to pull one out this time. We're locked in what we believe our goal is to be."
Grossmont Conference passing leader HUNTER GAINES has completed 124 of 221 passes for 2104 yards and 22 touchdowns. He'll be taking the snaps for the Foothillers against the Cougars.
"When you're playing a team like Steele Canyon you need to be creative," Karlo said.
The center of the Grossmont offense is receiver KHALEED DAVIS, who has collected 57 passes for 916 yards and 13 touchdowns. He ties the school record held by J.T. BARNES for TD passes received. He also has returned 9 punts for 257 yards and 2 touchdowns.
Hard-nosed JAKE HARR has bulled his way for 765 yards and 4 TDs on 131 carries. He's also caught 28 passes for 294 yards and a score.
It's difficult to measure rematches, but the bid here is . . . Grossmont 28-27.
(8) CHRISTIAN (8-3) at (1) VALHALLA (8-2), 7 – The Christian High Patriots aim to prove that they can run with the big boys as they face off against host Valhalla in Friday's (Nov. 20) San Diego Section CIF Division II quarterfinals.
The Patriots, who won the Division III San Diego Section CIF championships the last two seasons, are averaging 36.2 points while surrendering 11.9 markers in 11 games this season.
The workhorse of the Patriots' crew is ADRIAN PETTY, who has been dogged by injuries, rushed for 1046 yards and 12 TDs on 158 carries. He is eyeballing a scholarship to San Jose State University.
The Patriots are primarily an offensive passing unit led by East County-leading quarterback DAVID TODD JEREMIAH, who has completed 158 of 267 passes for 2628 yards and 26 touchdowns.
His top target is East County-leading receiver NICK SEXTON who has collected 62 passes for 1334 yards and 13 touchdowns.
"We're just happy to still be playing," Patriots offensive coordinator DAVID BEEZER said. "We want to keep our family together at least one more week."
Valhalla is producing 29.6 points on the offensive side while allowing only 11 points per game defensively.
"When I see Sexton on film," said Norsemen coach CHARLES BUSSEY, "is he catches the hitch pass and turns it into big plays."
Valhalla runs a no-huddle offense, but defense is the Norsemen's strength.
"Our defense has been there all year long for us," said Bussey. "All that considered, I told our kids Christian has won two straight championships. They're used to winning. We need to focus to go out and beat a championship team.
"I think we have the best line from both sides of the ball," the coach said. "I feel like if we can corral Petty on the inside it will work to our advantage."
Six-foot-5, 220-pound defensive end DANIEL BENDER has 98 tackles, 9 sacks, one fumble recovery and one interception.
Outside linebacker LOGAN BAKER has 98 tackles, 9 sacks, one fumble recovery and an interception, while TREY SCHIMKE has turned in 53 tackles, 6 sacks, one fumble recovery and 3 interceptions.
CADE BAKER has 6 sacks, 4 fumble recoveries and 3 interceptions for the Norsemen.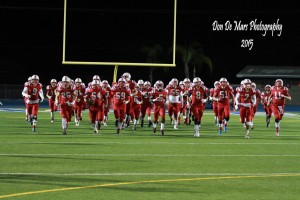 "We're not a zone read team. We run a pro-style offense, which is something Valhalla hasn't seen," said Beezer. "Most of the teams they've faced operate out of the shotgun, and that's been rare against the teams we've faced.
"This is kinda like a prize fight for us," he added. "We haven't played our best football yet and we hope we peak at the right time." . . .  Valhalla 28-24.
(8) MADISON (8-2) at (1) HELIX (8-1), 7 – Although Madison was ranked 4th in the San Diego County media poll compared to the No. 2 spot for Helix at the close of the regular seasoon, Friday's (Nov. 20) Open Division of the San Diego CIF quarterfinal doesn't figure to be all that close.
Fact is, the Highlanders have practically steamrollered every team they have faced. Seven of their games have concluded with a running clock.
Helix is averaging 408 points in nine games, averaging 45.3 ppg.
On the defensive side, where Helix has made heavy substitutions during the final two quarters, the Highlanders are allowing 101 points, 11.2 ppg.
"We had a lot of young guys play in the second half of the games," noted Helix coach TROY STARR. "That's why I don't object all that much to having a running clock."
Despite limited playing time, NATHEN STINSON, who has committed to Northern Arizona University, rushed for 1110 yards and 23 touchdowns while packing the rock 121 times.
Quarterback MICHAEL AUSTIN, who is mulling over his collegiate future considering the Naval Academy and San Luis Obispo among others, has passed for 86 of 130 for 1266 yards and 14 touchdowns.
He has also scrambed for 316 yards and 6 scores on 57 carries.
MEKHI STEVENSON, the Highlanders' leading receiver, has caught 23 passes for 558 yards and 8 touchdowns.
On the defensive side Helix has been a gang-tackling bunch sparked by linebacker ZEKE NOA (71 tackles, 7 sacks 1 FR) and MASON VINYARD (6-5, 225) – a commit to Washington State – figure in the charge. Linebackers TYLER CLANTON (43 tackles, 1 sack) and JIHAD WOODS  add to the supporting cast.
"These are two teams that have had a lot of blowout wins," Starr said. "It's a matter of who is going to find the answer." . . . Helix 37-13.

(7) SANTANA (7-4) at (2) UNIVERSITY CITY (8-2), 7 – This San Diego CIF quarterfinal Division IV Friday (Nov. 20) has the makings of a shootout.
The visiting Sultans tote in a 33.5 scoring average against a University City team that is producing 33 ppg.
Santana has won the previous two meetings against the Centurions in 2004 and 2005, but will find this contest no gimmee.
"I think we can run the ball on them," said Santana coach TIM ESTES.
The Sultans coach makes that prediction despite the presence of UC linebacker Grant Ruthenberg, who ranks among the county leaders with 146 tackles, 100 of which were solo. He also has recorded 3 sacks, forced 6 fumbles and intercepted a pass. He is the hub of the Centurions' defense.
The Sultans are led by quarterback FRANKIE GUTIERREZ, who has completed 132 of 206 passes for 2096 yards and 22 touchdowns. He has also rushed 105 times for 400 yards and 14 touchdowns.
"He runs around in the pocket extremely well and he's able to throw on the run," noted Estes of the 3.9 gpa student.
His top target is ADAM CHILDRESS, a 4.3 gpa student, who has reeled in 46 passes for 743 yards and 10 touchdowns.
BOBBY WALLACE leads the Sultans' ground game with 1193 yards and 14 touchdowns on 191 carries.
"Bobby's running has taken some of the pressure off Frankie – opened up our passing game," Estes said.
Center JAKE "BIG CAT" KITTEN hopes to claw a hole in the University City defensive wall to spring a hole for Wallace and Gutierrez.
Linebacker MATT HOMAN heads up the Sultans' defense with 95 tackles, 10 sacks and 3 fumble recoveries.
Odds are this game will be a wide open affair . . . Santana 35-28.
(6) OTAY RANCH (6-5) at (3) GRANITE HILLS (9-1), 7 – Coach KELLAN COBBS of Granite Hills probably didn't have much trouble procuring film on Otay Ranch, since the Mustangs tangled with four Grossmont Conference teams during the regular season.
The Eagles will take their turn when they play host to Otay Ranch in Friday's (Nov. 20) quarterfinals of the San Diego CIF Division II playoffs.
Otay Ranch is 2-2 against the East County crews, having beaten Valhalla and Mount Miguel, and losing to Steele Canyon and Grossmont.
"This is a matchup between two similar teams," Cobbs noted. "They run power, toss, boot and play action. We've seen a lot of teams using their style, so our defense has had a good look at it."
The Eagles will count on shifty running back THOMAS YOUMOG, who has rushed for 983 and 14 touchdowns on 124 carries.
Cobbs pointed out that 5-foot-7, 160-pound senior scatback Youmog has rushed for 750 yards and 10 touchdowns in the last four games.
"He gets lost behind our big offensive line," Cobbs said. "He sneaks up on the opposing defense and then breaks free."
Quarterback JACOB SIEGFRIED has rushed for 423 yards on 59 carries for 5 touchdowns.
"He's added another element to our offense because of his ability to run the ball," Cobbs said.
Siegfried has also complete 44 of 84 passes for 535 yards and 5 touchdowns.
Granite Hill's strength is on the defensive side. Strong safety RILEY REYES is the leader of that crew with 69 tackles and 2 interceptions. Inside linebacker KELLEN GAEIR has logged 81 tackles and recovered 2 fumbles.
Arizona bound 6-5, 260-pound defensive tackle JACOB BURTON anchors the front line, having chalked up 42 tackles, 5 sacks and 1 fumble recovery.
Otay Ranch's starting quarterback Oscar Limon accounted for 17 touchdowns before breaking his foot in the final game of the regular season.
What impact will that make? . . .  Granite Hills 20-8.
Fearless Forecaster: SDCIF – Quarterfinals
Season: 78-27 (.743)
Last week: 6-0 (1.00)