Norsemen take first punch, then knock out Patriots
Updated: November 21, 2015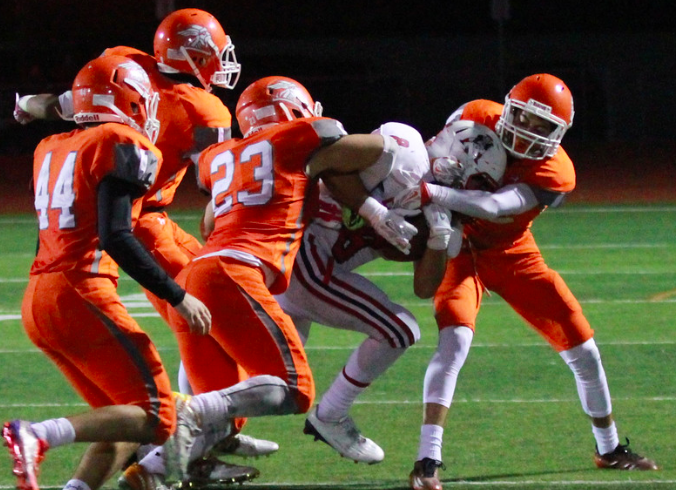 Valhalla wraps up Christian during the San Diego CIF quarterfinals Friday night. / Don De Mars Photography
By Bill Dickens
© EastCountySports.com
EL CAJON (11-21-15) — Things started out with a bang for Christian High as Patriots' senior running back ADRIAN PETTY darted 80 yards for a touchdown on the first snap of the game in Friday's (Nov. 20) quarterfinal of the San Diego Section CIF Division II playoffs.
Petty would finish the night with 129 yards on 17 carries. The majority of those markers came in the first half as he would leave early in the second half with a concussion.
Christian tacked on a 37-yard field goal by NATE CAZARES to close the first quarter with a 10-7 lead. After that the game belonged to Valhalla.
The Norsemen scored 41 unanswered points after that to lock up a 48-17 victory over the Patriots.
Valhalla (9-2) will advance to the Division II semifinals on Friday (Nov. 27) by hosting Mt. Carmel (8-3). Christian, the two-time Division III champions, finished the season 8-4.
RAHSHAUN SHARPE didn't run wild but made the most of 31 yards, scoring on touchdown junkets of 2, 1 and 17 yards for Valhalla.
But his efforts were only part of the show. JEROME JOHNSON garnered 96 yards and 2 touchdowns on a dozen carries for the Norsemen.
"After Petty got that first long one, I told our team 'It's time to eat – time for us to go after them," said Johnson. "I was just following my blocks. One thing I'd like to do is give a shout-out to our offensive line. They make it happen."
Valhalla coach CHARLES BUSSEY praised the Norsemen's offense, which generated 204 yards rushing and 154 yards passing.
"Overall that's the best offensive game we've played all year," he said. "Christian burned us with traps for both of their touchdowns."
Bussey was referring to Petty's opening sprint and fullback JOEY MORONES' 2-yard plunge into the endzone in the final seconds of the game.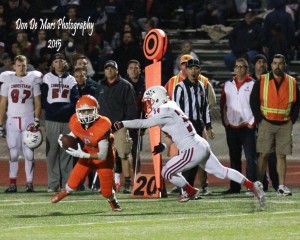 Valhalla quarterback PHILLIP NASEH was 9 of 10 passing for 154 yards and 2 TDs. He patterns himself after New England quarterback Tom Brady, a sixth round draft pick who was basically overlooked in the draft.
"I think people sleep on me, they underrate me much like they did Brady coming out of the draft," Naseh said. "We have an explosive offense and a lot of guys that can make plays."
Naseh's top play was a 41-yard spiral to BRANDON FULLER to the 1-yard line, which led to a 1-yard TD plunge by Sharpe late in the second quarter, breaking the game open at 27-10. It was a matter of pitch and catch.
"Christian was playing man-to-man coverage," Naseh said of his long pass. "I knew I had it when I went over the top."
Naseh, who is a 4.1 gpa student, is looking at Ivy League schools and USD for his future, threw only one incomplete pass all night.
"I can't worry about that right now," he said. "We have a championship to win."
Defensively Valhalla's Law Firm Defense logged 6 sacks, 14 tackles for loss and 2 interceptions.
Senior linebacker LOGAN BAKER had 14 tackles (4 for loss) and 2 sacks.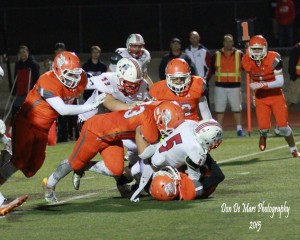 "We were pretty angry after Petty burned us on the first play," he said. "They were pretty high after that play, so it was up to our defense to turn things around."
Defensive tackle DANIEL BENDER, one of the top players at his craft, recorded 2 sacks and 3 tackles for loss.
"We wanted to bring pressure that they don't normally see at the Division II level," he said. "We made them focus on our nose guard – forced them to use two players to block him. That cleared the way for our linebackers."
Bender noted that Valhalla's defense has been overlooked all season.
"Sure, we're underrated," he said. "But we managed to prove to every team we've played that we're better than people think."
JOSH McNISH-HEIDER logged 5 tackles for loss and a sack, while CADE BAKER had 9 tackles (3 for loss) and a sack.
JORDAN ELLIS had an interception with a 55-yard return, and ANTHONY PORTILLO also had an interception.
Sophomore TY SCHIMKE up from JV for the playoffs, had 4 tackles in limited duty.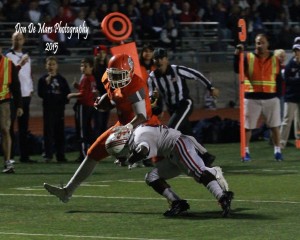 For Christian, Cazares made 8 tackles, a 37-yard field goal and 2 PATs, while MICHAEL TOBIASON notched 6 tackles.
"At some point you have reached your cap," said Christian offensive coordinator DAVID BEEZER. "But for us, this is our limit. We were the best of the winners moving up from Division V to Division II. I'm proud of our kids, we had a great year. Even though we didn't play in that division I believe we were the best team in Division III.