Patriots earn Small Schools hardware with 5-straight wins
Updated: December 6, 2015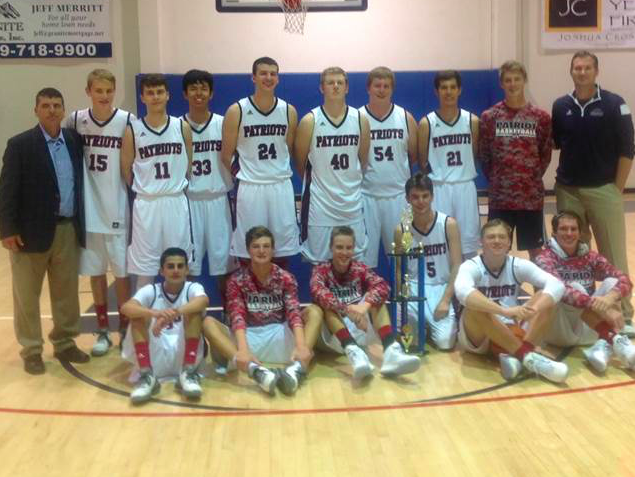 2015-16 EAST COUNTY PREP BOYS BASKETBALL
By Bill Dickens
© East County Sports.com
EL CAJON (12-6-15) — Championship trophies were passed out for the first time this season Saturday (Dec. 5) as the Christian High Patriots rolled to five straight victories to capture the San Diego Small Schools Tournament hardware at the Ryan Athletic Center.
TRAVIS BALLARD buried 18 points and collected 11 rebounds to propel the Patriots past Health Sciences 58-33 in the championship game.
A 6-foot-4 senior forward, Ballard has been a force through the early stretch of the season, averaging 21.4 points and 10 rebounds per game for the Patriots (5-0).
Christian broke the game open in the second half with a 34-14 scoring spread.
LAYNE LARSEN contributed 10 points as did JOEY VRSICH.
KYLE STOWERS dished 7 assists for the Patriots.
Christian:  Travis Ballard 18 (11 reb, 1 ast, 1 stl, 1 blk), Layne Larsen 10 (1 reb, 1 stl), Joey Vrzich 10 (5 reb, 1 ast, 3 stl), Jacob Sandusky 7 (2 reb, 1 ast, 1 stl), Kyle Stowers 4 (3 reb, 7 ast), Garrett Nielsen 4 (5 reb), Domanic Safarta (5 reb, 1 ast), Jack Mason (2 reb), Dominic Bristol (2 stl).
WEST HILLS 76, SANTA FE CHRISTIAN 58 – Four West Hills shooters reached double digits in Saturday's (Dec. 5) Horsman Automotive Tournament in a 76-58 victory against visiting Santa Fe Christian in Santee.
BRYCE PARSONS rolled a double-double of 19 points and 11 rebounds to guide the Wolf Pack to its third straight win.
MARQUELL COOL was just the opposite as he contributed 18 points, while CAMERON BARRY added 14 markers and 9 assists.
KYLE RUIZ completed the roundup with 14 point and 4 steals of his own.
West Hills:  Bryce Parsons 19 (11 reb, 3 ast, 2 stl), Marquell Cool 18 (3 reb, 1 ast), Cameron Barry 14 (1 reb, 9 ast, 4 stl, 1 blk), Kyle Ruiz 14 (2 reb, 2 ast, 4 stl), D'Ante Hill 6 (1 reb), Chris Moyer 3 (2 reb, 4 ast, 2 stl, 2 blk), Miguel Nava 2 (3 reb, 1 blk), Caesar Curet (3 reb, 2 stl).
MOUNT MIGUEL 78, CASTLE PARK 44 – The high-scoring Mount Miguel Matadors drilled holes in the Castle Park defense in Saturday's (Dec. 5) 78-44 romp over the Trojans in the Baron-Matador Classic at Mount Miguel.
DARIAN NORWOOD turned a double-double of 22 points and 11 rebounds, while TREVON ALLEN dropped in 17 points and cleared 10 balls off the glass for the 3-0 Matadors.
Mount Miguel was 14-for-24 from the free throw line and gobbled up 39 rebounds.
TRANNELL HUDSON found the range with 13 points and MARQUIS NEAL tossed in a dozen more.
"We played superior defense tonight but we still have a lot of work ahead," said Mount Miguel coach JAY ROWLETT.
Mount Miguel:   Darian Norwood 22 (11 reb, 1 ast, 2 stl), Trevon Allen 17 (10 reb. 3 ast. 3 stl), Trannell Hudson 13 (4 reb), Marquis Neal 12 (5 reb, 3 stl), Taj Tucker 6 (6 (2 reb, 6 ast, 3 stl), Justice Chima 3 (5 reb, 1 stl), Andre Cox 2 (3 ast, 2 stl), Raymond Lucas (2 reb).
SANTANA 74, SD-SOUTHWEST 46 – The Santana Sultans hosted the San Diego  Southwest Raiders in a matinee contest of the Game On Challenge Saturday (Dec. 5) and were able to for the second day in a row win in convincing fashion 74-46.
Although the first quarter was only an eight point advantage for the Sultans at 20-11, they would take control in the second quarter to extend their lead to 39-21 at the break.
On their way to what ended up being a running clock win, the Sultans had five players score in double digits led by DAULTON BARRY and his 13 points. The others were TRENT BAUGH who had 11 points, NOAH NUNEZ chipping in with 10, ANTHONY ROMERO who tossed in 10 points and FRANKIE GUTIERREZ who also had 10 points.
It would be in the third quarter when the Sultans really put things out of reach as they scored a season high 29 points to lead 68-35.  For the game the Sultans as a team grabbed 33 boards and dished out 25 assists on the night.
Santana: Daulton Barry 13 (9 ast, 3 reb, 2 stl), Trent Baugh 11 (6 ast, 6 reb, 4 stl), Frankie Gutierrez 10 (5 asst, 2 stl), Anthony Romero 10 (4 reb, 2 stl, 1 blk), Noah Nunez 10 (7 reb, 1 stl), John Bobof 7 (4 reb, 1 ast, 1 stl), Cooper Mendoza 7 (1 reb, 2 ast, 5 stl), Sage Hicks 4 (4 reb, 2 ast, 4 stl), Dylan Brown 2 (2 reb), Trent Forster (1 reb).
— ADAM PAUL
MORSE 60, STEELE CANYON 51 – Only three players return to the Steele Canyon varsity huddle this season, thus sledding has been a little bit rugged for the Cougars (1-2) thus far.
Coach DEREK STEPHENS believes that things will smooth out down the road.
MARCUS WHITE, a transfer from Helix, popped in a game high 19 points in Saturday's (Dec. 5) Granite Hills Eagle Invitational loss to Morse.
TYLER SMITH pitched in 14 points for the Cougars.
"Our football kids are still trying to find their basketball legs," said Stephens. "That only takes time."
Steele Canyon:  Marcus White 19, Tyler Smith 14, Nick Hodge 8, Thomas Fishburne 6, Javon Nutter 2, Jalen Syles 2.
BISHOP'S 55, EL CAJON VALLEY 47 – El Cajon Valley's 6-foot-7 post RONNE READUS turned in a career night in the Braves Game On Challenge against The Bishop's School in La Jolla Saturday (Dec. 5).
Readus finished with an electric triple-double which included 21 points, 26 rebounds and 10 blocks.
"We were down 26 points at the start of the fourth quarter and came storming back led by Readus," said El Cajon Valley coach SCOTTY JAMES. "Bishop led us 42-18 at the start of the fourth. It was pretty remarkable really. Ronne had an amazing game. He fouled out with about four minutes in the last quarter. He really sparked the comeback."
"We should not have lost by the big scores that we have in the last few games," James said.
El Cajon Valley:  Ronne Readus 21 (26 reb, 10 blk), Hussein Al-anezi 8 (2 reb), Ahmad Sulyman 6 (3 reb), Hasan Alhasan 4 (1 reb), Jeremiah Davis 4 (4 reb), Stokes 4 (5 reb).
KEARNY 89, MONTE VISTA 47 – The Monarchs of Monte Vista got 19 points and 9 rebounds from BO RANKIN but wound up playing chase with Kearny for most of the Hilltop Tournament game Saturday (Dec. 5) in Chula Vista.
SHAI STEVENSON added 8 points, 12 rebounds, and 5 assists in a losing efforts for the Monarchs, who trailed 63-23 after three quarters.
"We didn't play defense tonight," said Monarchs coach MIKE TULLY. "Our transition defense was just not very good at all. The first six minutes of the game the score was Monte Vista 6-2 – we were playing extremely well. Then we gave up way too much in transition.
"We're not very deep, only playing six guys so fatigue becomes a factor."
Monte Vista:  Bo Rankin 19 (9 reb, 1 ast), Shai Stevenson 8 (12 reb, 5 ast), Deondre McHayle 6 (6 reb, 4 ast), Trey Owens 7 (1 reb, 3 ast), Terry Bone 4 (1 ast), Adrian Bass 3 (1 reb).