Foothillers go 5-0, face LJCD in championship game Tuesday
Updated: December 13, 2015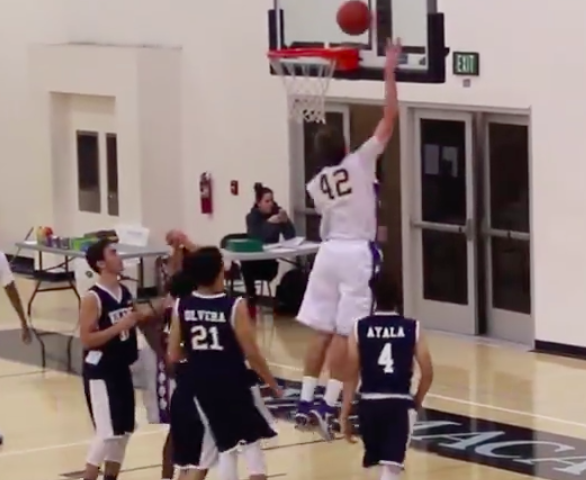 Rutherford scores for the Foothillers on Saturday at Cuyamaca College
2015-16 EAST COUNTY PREP BOYS BASKETBALL
By Adam Paul
© East County Sports.com
EL CAJON (12-13-15) — The always reliable TOMMY RUTHERFORD poured in 28 points and corralled 21 boards for his usual double-double to help No. 9 Grossmont fend off Vincent Memorial 51-41 in the semifinals of the Game-On Challenge, Saturday (Dec.12).
The Foothillers' offense started off slowly in the first quarter as they shot a collective 4-for-13 from the field and trailed 19-11. However in the second, things changed as Grossmont turned the tide and stifled the Scots offense by limiting them to 4 points.
The undefeated Foothillers took advantage of this and scored 12 points to tie the score at the break 23-23 even though they canned just 9 of 26 from the field.
Vincent Memorial, despite giving up size in the middle and athleticism, just wouldn't go away as they tried to keep the game close. In the third quarter the Fighting Scots couldn't buy a basket and the Foothillers were able to put a little distance between the two as they led 36-29.
In the final stanza, Grossmont was able to put things away down the stretch and use their athleticism to tire out the Scots, widening the margin to the 10 point finale.
"It was a rough first half, came out a little sluggish. The second half we came out with more intensity and got things going," said Grossmont superstar Rutherford.
The victory now puts the Foothillers' record at 5-0 and sends them against perennial Top 10 team La Jolla Country Day in the Game-On championship at 7 pm on Tuesday (Dec 15) at Cuyamaca College.
When asked about the upcoming matchup against the Torreys who beat Crawford 80-30 in the game prior, Rutherford had this to say, "I look forward to Tuesday. I know a couple of the guys on La Jolla Country Day, it should be a great game and a lot of fun."
Grossmont: Tommy Rutherford 28 (21 reb, 1 stl, 3 blk), Hunter Gaines 7 (2 reb, 1 ast), Branik Brown 6 (4 reb, 1 ast, 1 blk), Jeremiah Appleton 3 (1 reb, 5 ast, 3 stl), Alex Lilliard 3 (1 reb, 1 ast), Matt Murray 2 (7 reb, 2 ast, 2 stl), Jonah Hebel 2 (1 ast).
SANTANA 55, OLYMPIAN 50 – Things didn't look good for the Santana Sultans early on in their Game On Challenge contest against Olympian at Cuyamaca College, Saturday (Dec. 12).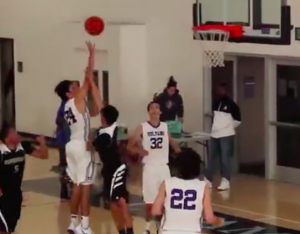 However, the Sultans were able to rally after an early deficit for the 55-50 victory over coach MARTY ELLIS' Eagles.
The first quarter for the Sultans was a rocky one as they only shot 2-for-10 from the field and trailed 20-6. The Sultans in the second period were able to take advantage of missed shots by the Olympians and were able to pull within 5 points at the break.
The Sultans (3-3) would keep the contest close in the third period as they were able to limit the Eagles' second chances offensively and used an 8-0 run to finish off the period to pull within 38-36.
It would be ANTHONY ROMERO who poured in 12 points and SAGE HICKS who tallied 10 points, leading the Sultans into what would be a fast and furious finish. Both teams in the final stanza went back and forth and finally at the 1:35 mark the Sultans took their first lead of the game thanks to Hicks, who went to the line and sank both foul shots to give the Sultans a 50-49 lead. 
The Eagles would have an opportunity to retake the lead but missed their shot and the Sultans were able to control the game from there, sinking their foul shots to give them the game.
Santana: Anthony Romero 12 (9 reb, 4 ast, 2 stl), Sage Hicks 10 (4 reb, 1 stl, 1 blk), Trent Baugh 9 (1 reb, 2 ast, 1 stl), Mitchell Miller 8 (4 reb, 1 stl, 1 blk), Frankie Gutierrez 6 (2 reb, 4 ast, 7 stl, 1 blk), Daulton Barry 5, Noah Nunez 4 (7 reb, 2 ast, 1 blk), Cooper Mendoza 2, John Bobof 1.
— ADAM PAUL
WEST HILLS 47, HORIZON 43 – All-Tournament selection BRYCE PARSONS rang up a team best 17 points, helping West Hills edge Horizon in the third place game of the annual Horsman Automotive Tournament at West Hills.
The Wolf Pack won four of five games in their tournament run.
"We beat three Division I teams in this tournament," said Pack coach JEFF ARMSTRONG, who has been West Hills' mentor for more than 20 years. "We had great play off the bench from SPENCER MOYER and D'ANTE HILL."
Armstrong credited the 6-foot-4 Moyer for "physical play inside."
"Hill gave us a lift off the bench when he hit a couple of 3s in the fourth quarter to help hold off any comeback by Horizon," the coach added.
On the defensive side, KYLE RUIZ handcuffed Horizon's Jaylen Hinson to 5 points, which is less than half of his season average.
West Hills:  Bryce Parsons 17, Marquell Cool 9, D'ante Hill 9, Spencer Moyer 7, Cameron Barry 3, Kyle Ruiz 2.
— BILL DICKENS
EL CAJON VALLEY 34, UNIVERSITY CITY 33 – El Cajon Valley pulled an upset in Saturday's (Dec. 12) Game-On Challenge at Cuyamaca College in a one point nod over the University City Centurions (2-3).
Strong arm RONNE READUS drilled in 15 points and cleared 11 rebounds while blocking 2 shots to stake the Braves to their first win in five starts.
DMIR WITHERSPOON added 7 points and 4 rebounds for El Cajon Valley, which overcame a 10-5 first quarter deficit to trail by a single digit at the half.
The Braves kept coming and escaped with the victory.
"We came out pretty flat but we did play good, solid defense," said Braves coach SCOTTY JAMES. "Even though we only scored 5 points in the first quarter we held them to 10. It's the first game that we have been in it at halftime. It was good experience for our guys."
El Cajon Valley:  Ronne Readus 15 (11 reb, 2 blk), Dmir Witherspoon 7 (4 reb), Ahmad Sulyman 4 (5 reb), Mikey Velez 3 (1 reb), Greg Jones 3, Rey-el Hill 2 (3 reb).
— BILL DICKENS
RAMONA 67, VALHALLA 61 – The Valhalla Norsemen, in Saturday's (Dec. 12) championship of the Baron-Matador Classic, could not overcome Ramona's long-range shooting which featured 12 of 25 treys.
In only the second game of his hoops season, football playerJORDAN ELLIS came up big with 18 points and 6 rebounds.
JOHN "The Bandaid" MURAD scraped in with 14 points and 10 rebounds.
NATHAN YOUSIF poured in 10 points as did MATTHEW SAKO.
"The difference in the game is Ramona was 12-for-25 on threes," said Valhalla assistant coach DON ROLLINS. "They only hit 13 twos.
"It was a tough, physical game. In the first half we lost a few opportunities to control the game. I think we'll be okay – it was a tight game, back-and-forth."
Valhalla:  Jordan Ellis 18 (6 reb, 3 ast, 3 stl), John Murad 14 (10 reb, 2 ast, 2 stl), Nathan Yousif 10 (5 reb, 5 ast), Matthew Sako 10 (2 reb, 1 ast), Cole Henderson 7 (8 reb), Daniel Bender 2 (2 reb), Kai Komaki (1 reb).
— BILL DICKENS
CENTRAL UNION 69, CHRISTIAN 47 – The Patriots (7-3) couldn't get off the ground floor of Saturday's (Dec. 12) Imperial Tiger Classic as they played chase from the opening whistle.
The only player to score in double figures for the Patriots was GARRETT NIELSEN with 15 points as the Spartans out-scored Christian across the board.
Christian: Garrett Nielsen 15 (6 reb), Jacob Sandusky 8 (5 reb, 2 ast, 1 stl), Layne Larsen 7 (4 reb, 1 ast, 2 stl), Dominic Safarta 5 (3 reb, 2 ast), Joe Vrzich 5 (3 reb), Dominic Bristol 4 (4 reb, 1 ast, 1 blk, 4 stl), Josh Henderson 2 (1 ast), Jackson Larson 1 (1 ast), Daniel Guerrero (1 reb).
— BILL DICKENS