Bender is rare local star, staying home to play at State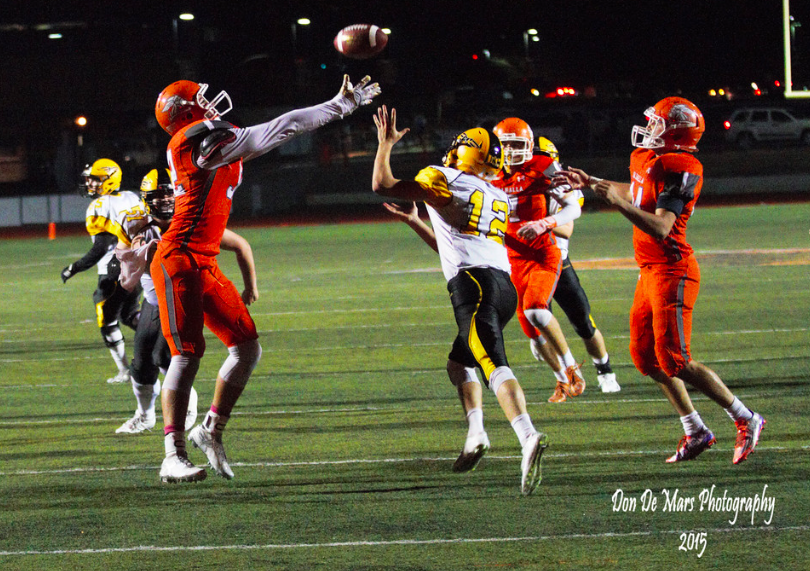 Daniel Bender scores a defensive touchdown against El Capitan
2015 EAST COUNTY PREP FOOTBALL
By Bill Dickens
© East County Sports.com
EL CAJON (12-17-15) —  Three East County football players have accepted scholarships to move on next season.
At the top of the list is 6-foot-5, 225-pound Valhalla High defensive end DANIEL BENDER, who has vowed to stay home and play at San Diego State University.
Other football players that have accepted rides include Christian High's versatile BRANDON HESTER, who will attend Dartmouth College, and Helix High/Mt. San Jacinto Community College defensive end PHILLIP "Leepo" NAPOLEON, who will attend Oregon State University.
Bender recorded an East County high 14 sacks for the Valhalla Norsemen in the 2015 season. A first team defensive line selection across the board – All-East County, All-CIF Breitbard Media team and All-Grossmont Hills League team.  He chalked up 92 tackles, recovered a fumble and intercepted a pass.
Hester, a 6-foot, 180-pound slotback caught 23 passes for 280 yards and 3 touchdowns for the Patriots. When called upon to play defense he made 37 tackles and intercepted 2 passes. Attending an Ivy League college is for the academic elite, and the fact that Hester will play football there is a bonus.
Napoleon, a 6-foot-5, 285-pound defensive lineman who graduated from Helix High in 2014 and spent the last two seasons playing for Mt. San Jacinto College in Hemet, earned All-Mountain West Conference for the Screamin' Eagles. He was a first team All-American and posted 84 tackles and 4 sacks during his two year career at MSJC. He also had 12 tackles for loss.