Helix downs El Cap to continue typical post-football surge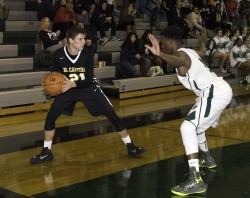 El Capitan's Colton Sandoval is guarded by Helix Tuesday night in La Mesa. / Chuck Merino photo
2015-16 EAST COUNTY PREP BOYS BASKETBALL
By Bill Dickens
© East County Sports.com
LA MESA (1-6-16) — Although visiting El Capitan dropped in a dozen 3-pointers in Tuesday's (Jan. 5) Grossmont Conference game, the Helix Highlanders came back dribbling to their 5th straight win with a 61-56 victory.
JUSTIN FLISHER and JAMAR WYNN popped in 13 points apiece as the Highlanders posted their 7th win in eight starts, and each dropped in a trio of treys.
"We jumped on them early," said Helix coach JOHN SINGER. "But we couldn't maintain our momentum."
This is the first home game for Helix (8-7).
For El Capitan, which fell to 6-9, KADE KYGAR (the tiger) nailed 6 three-pointers and 6 of 7 free throws for a game high 26 points for the Vaqueros.
DONALD IRVIN landed 5 triples on his way to a 17 point finish.
"The key was those guys shot really well," Singer commented.
Sophomore CARSON BAKER, who figures to be the starting quarterback for the Highlanders next fall, made his basketball debut with 11 points.
Helix:  Jamar Wynn 13, Justin Flisher 13, Carson Baker 11, Malik Tambwe 8, Amari Green 7, Jaylen Arnold 7, Isaiah Wooden 2.
El Capitan:  Kade Kygar 26, Donald Irvin 17, Dominic Iudiciani 4, Brendon Head 3, Ren Neuhoff 2, Devin Dulay 2, Colton Sandoval 2.
STEELE CANYON 70, MOUNT MIGUEL 50 – One thing about the Steele Canyon Cougars is, they don't rely on one particular player to carry the load.
For the Cougars (8-7) this is team balance personified.
In Tuesday's (Jan. 5) Grossmont Conference 70-50 victory over host Mount Miguel, MARCUS WHITE led the way with 18 points, including a pair of treys.
JAVON NUTTER had 14 points, and NICK HODGE added 12 more.
"It was close after the first quarter then we played a little better after that," said Cougars coach DEREK STEPHENS. "Offensively we did a good job getting good shots. Defensively we need a little work. It was good to get some practice between games."
"We played 10 games with one practice in between," he noted. "We did things better that we worked on in practice, so that was good."
Mount Miguel coach JAY ROWLETT talked about how his Matadors pulled an el-foldo in the second half 40-24.
"We worked for two quarters and they worked for four," he said. "Thus you can see the outcome."
DARIAN NORWOOD poured in 24 points and grabbed 10 rebounds to execute a double-double for Mount Miguel. He hit 8 of 10 free throws.
TREVON ALLEN added 14 points in a losing cause.
Steele Canyon:  Marcus White 18, Javon Nutter 14, Nick Hodge 12, Nick Barns 8, Gage Sanders 8, Tyler Smith 8, Eric Villegas 2.
Mount Miguel:  Darian Norwood 24 (10 reb, 1 ast, 2 stl), Trevon Allen 14 (7 reb, 1 stl), Justice Chima 5 (3 reb), Marquis Neal 4 (4 reb), Andre Cox 2 (1 reb, 3 ast), Chris Thompson 2 (1 reb, 2 ast, 1 stl), Taj Tucker (1 ast), Raymond Lucas (1 reb).
MONTE VISTA 59, CHULA VISTA 43 – The Monarchs, led by multipurpose scorer SHAI STEVENSON, clubbed host Chula Vista in Tuesday's (Jan. 5) non-league encounter.
Stevenson tallied 23 points, giving him 95 markers in his last four starts as Monte Vista (5-11) won for the third time in four games.
Stevenson also dominated the boards for 14 caroms, giving him 59 in his last four games.
Mr. BO RANKINS poured in 19 points, grabbed 9 rebounds and recorded 3 steals for Monte Vista, which took an 18-6 first quarter lead and never looked back.
"We've got some good pieces, just need to put it together," said Monarchs coach MIKE TULLY, "and that's on me."
DEONDRE McHAYLE chipped in with a powerful line of 11 points, 11 rebounds, 5 assists and 4 steals.
Monte Vista:  Shai Stevenson 23 (14 reb, 3 ast, 6 stl), Bo Rankins 19 (9 reb, 1 ast, 3 stl), Deondre McHayle 11 (11 reb, 5 ast, 4 stl), Tre Owens 5 (2 reb, 3 ast, 1 stl), Adrian Bass 2 (7 reb, 1 ast, 1 stl).