Foothillers have free rein after Braves' early foul trouble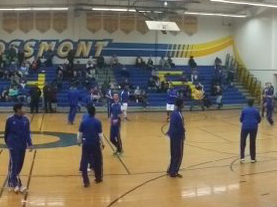 Grossmont warms up prior to Thursday night's game against El Cajon Valley
2015-16 EAST COUNTY PREP BOYS BASKETBALL
By Chris Davis
© East County Sports.com
EL CAJON (1-8-16) — Neither team would admit it, but the outcome of the game between Grossmont and El Cajon Valley on Thursday (Jan. 7) was dictated in the first minute of the game by the referees.
In the first 47 seconds of the contest El Cajon Valley's (2-10) RONNIE READUS was called for a pair of questionable fouls.  El Cajon Valley head coach SCOTTY JAMES was forced to put him on the bench.  Readus was guarding Grossmont's (14-3) big man TOMMY RUTHERFORD.  Rutherford then took control of the game and led the Foothillers to a 74-42 victory.
For the game, the UC Irvine-bound Rutherford scored 24 points with 13 rebounds.  Eleven of those points came in the opening quarter when as a team Grossmont put 26 points on the board.
Of the 22 fouls that were called on the Braves in the first half, nine were committed on Rutherford.  In the 15 foul shots that resulted from those nine fouls, Rutherford made 12.
"He's rough," James said after the game.  "I was proud of our guys on how they fought.  We didn't quit.  We have improved, the first game we played them we lost by 46 points."
When Readus came back in the second quarter, he slowed down the 6-foot-10 center.  In the first half when Readus was out Rutherford gathered eight, in the second and third quarter he got five.
"Tommy is big and heavy," James stated.  "Ronne did all he could.  He got the early fouls, but when we put him back in he held his own."
In the fourth quarter, GREG JONES was on fire as he was able to close the gap for the Braves with his nine points on 3-of-3 shooting from behind the arc.  For the game, the JV call up, hit four triples in the game.
The Braves will continue the crossover games within the Grossmont Conference as they travel west on the I-8 to take on Helix tonight.
Grossmont:  Tommy Rutherford 24 (13 reb, 3 ast), Branik Brown 11 (1 stl, 1 ast), Jeremiah Appleton 10 (2 reb, 3 stl, 3 ast), Ryan Shirley 7 (1 reb, 1 stl), Jonah Hebel 6, Matt Murray 4 (8 reb), Jacob Niskey 4 (3 reb), Dayveion Crawford 4, Franklin Golojuch 2 (2 reb), Hunter Gaines 2 (4 reb, 1 ast), Alex Lilliard 1 (1 reb), Damageae Gant 1 (2 reb, 1 ast, 1 blk), Hunter Mulder 1 (1 reb, 1 stl).
El Cajon Valley:  Greg Jones 16 (4 reb, 1 stl, 1 ast), Ahmad Sulyman 12 (1 reb, 1 stl, 1 ast), Ronne Readus 8 (9 reb, 1 stl, 2 ast, 4 blk), Hussein Al-anezi 4 (4 reb, 1 stl, 1 ast), Dmir Witherspoon 2 (7 reb, 1 ast), Ali Alsawafi (1 reb, 1 stl, 1 blk), Jeremiah Davis (1 reb).