Eastern contingent ready to represent at Spanos game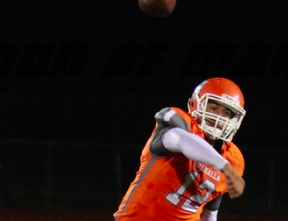 Valhalla's Phillip Naseh / Don De Mars Photography
2015-16 EAST COUNTY PREP FOOTBALL
ALEX SPANOS CLASSIC 
By Bill Dickens
© East County Sports.com
SAN DIEGO (1-16-16) — Eleven East County graduates will participate in the 26th Annual Alex Spanos All-Star Classic – California's longest-running high school all-star football game – on Saturday (Jan. 16) at 6 p.m. at San Diego Mesa College.
The Inland lineup includes Christian High wide receiver NICK SEXTON, Valhalla quarterback PHILLIP NASEH, Christian High quarterback DAVID TODD JEREMIAH, Helix linebacker TYLER CLANTON, Valhalla linebacker LOGAN BAKER, El Capitan Christian 1000-yard running back ADRIAN PETTY, linebacker CHANCE COLSON, Helix heralded defensive end FORREST HANLON (6-2, 240), Santana center JACOB KITTEN (6-2, 275), Granite Hills defensive end JACOB BURTON (6-6, 220) and El Capitan linebacker JOSHUA BENSON.
Other heavyweights in the Southland include Vaa Jennings (6-1, 295, Morse), Josiah Sa'o (6-2, 290, Kearny), Jake Sugget (6-1, 270, Eastlake), Matthew Hanau (6-2, 263, Hilltop), Davis Falo (6-2, 280, Madison), Jalen Booth (6-5, 325, kingpin of the line from San Diego).
"Those guys are hugh," said former El Cajon Valley football coach and now-skipper at San Marcos JASON TEXLER, who will direct the North All-Stars. "It's gonna be a challenge to move the ball against those guys."
The South All-Stars will be coached by San Diego CIF Coach of the Year Chris Thompson of Bonita Vista.
The last five games have been won by the South All-Stars, which hold a slight 11-10 advantage since the game went to the North-South format.
Chargers linebacker Manti Te'o and wide receiver Javontee Herndon will serve as the honorary captains and the Chargers girls will perform at halftime.