Crowd-sourcing Foothillers outlast Norsemen
Valhalla and Grossmont battle for a rebound Friday night. / Don De Mars Photography
2015-16 EAST COUNTY PREP BOYS BASKETBALL
By Chris Davis
© East County Sports.com

EL CAJON (1-16-16) — What do you get when you take two parts rowdy student sections that pretty much dislike each other.  Add in two teams that can play exciting basketball and a dash of post play that puts other games to shame.  You would have gotten the Valhalla Norsemen taking on the Grossmont Foothillers on Friday night (Jan. 15) that saw the Foothillers pull away late for a 71-59 victory.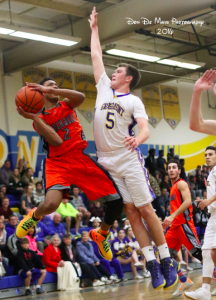 "It is real exciting when the fans get into it," Grossmont coach FRANK FOGGIANO said after the game.  "I think the fans really motivated the players."
Grossmont (15-4, 0-1 GVL) was not the early recipient of the crowd's energy, instead it was the visiting Valhalla Norsemen (13-5, 1-0 GVL).  Grossmont jumped ahead early, but by the time the three minute mark had elapsed, Valhalla was in the lead.
After a COLE HENDERSON three-pointer, the Orange were up four points.  A NATHAN YOUSIF basket made it a six point lead.  Henderson made the final shot of the quarter to make it a 14-10 score at the end of eight minutes of play.
The second stanza saw JORDAN ELLIS begin the scoring with an old-fashioned three point play to put Valhalla p seven.  JOHN MURAD hit a 10-foot jumper to push the lead to nine.  That would be the largest lead of the night for Valhalla, and it would also signal the beginning of a down-hill excursion.
BRANIK BROWN nailed a 3-pointer, for his only basket of the game, to cut it down to a six point differential.  UC Irvine signee TOMMY RUTHERFORD made his presence known, just by stepping into the gym, when he made a layup and the corresponding free throw when he was fouled to cut it to a three point Valhalla lead.  ALEX LILLIARD made a basket to cut the lead to one.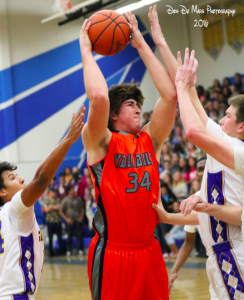 Ellis made the front end of his two free throws with about 3 minutes to go to spark a mini-run by Valhalla.  NATHAN YOUSIF then hit his only two points of the quarter to push the lead back to four.
Rutherford slammed down a very emphatic dunk to get the crowd on their feet.  JEREMIAH APPLETON made a basket to tie the game up at 22-all.  It would not be Appleton's last clutch shot of the quarter however.  The 5-foot-8 senior would hit a 3-pointer at the buzzer for halftime to give Grossmont a 29-26 lead at snack time.
Grossmont came out in the third quarter looking completely different.  "When we came out in the third quarter and switched our defense, they had a little trouble figuring it out and that allowed us to pull away," Foggiano said.
The 'Hillers went on a 20-11 run to begin the third act of this play.  "We got away from what we wanted to do defensively," Valhalla coach KEITH JACKSON said.  "I thought we did a good job in the first half.  We started letting other guys get hot.
"We had that little four minute spurt that let us get down ten and we could never get back.  Defensively we just weren't getting any stops, and when they came out in that zone it took us a couple of possessions to get into a flow.  Once we did, we were fine."
By the time the dust settled at the end of the quarter, Grossmont had a 49-39 lead.
Both teams turned it on in the final quarter.
Midway through the fourth quarter, with Grossmont leading 59-47, the Foothillers drew a foul on an attempted layup.  In response to one of his teammates getting called for a foul, Henderson slammed the ball down right in front of one of the officials. That action cost him a technical foul. HUNTER GAINES made the two technical free throws for his only points of the game.  Rutherford, who was the player that was fouled, made his two free throws as well.  With the technical foul, Grossmont was awarded the ball at midcourt.  Lilliard finished off the trip down the floor with a three pointer.  For those keeping track, that is a seven point trip down the floor.
That was the dagger for Valhalla as they never got closer than 11 points the rest of the way.
"My guys battled, they played hard," Jackson said. "It was just a couple of little runs that we let them get on, that really changed the whole complexion of the half.  I think the guys know what is at stake.  We have five seniors, if we can't learn from this, I don't know.  Our seniors should understand what this is going to mean moving forward.  We can't lose again, have to run off seven in a row now."
Valhalla: Jordan Ellis 16 (1 reb, 1 stl, 2 ast), John Murad 14 (3 reb, 3 ast), Cole Henderson 15 (8 reb, 5 stl, 1 ast), Nathan Yousif 13 (2 reb, 2 ast, 1 blk), Daniel Bender 1 (1 reb, 1 stl, 1 ast), Matthew Sako (3 reb, 1 ast), Trey Schimke (3 reb, 2 stl, 1 ast).
Grossmont: Tommy Rutherford 22 (14 reb, 1 ast, 5 blk), Matt Murray 19 (6 reb, 3 stl, 1 ast), Jeremiah Appleton 16 (5 reb, 1 stl, 4 ast), Alex Lilliard 5 (1 reb), Jacob Niskey 4, Branik Brown 3, Hunter Gaines 2 (2 reb, 2 stl, 1 ast), Ryan Shirley (1 reb).