Tenacious Patriots rally in fourth for first league win
Updated: January 27, 2016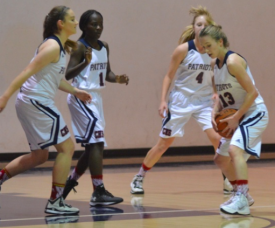 2015-16 EAST COUNTY PREP GIRLS BASKETBALL
By Adam Paul
© East County Sports.com

SAN DIEGO (1-27-16) — The Christian High Patriots received a balanced scoring effort in their come-from-behind 38-36 Central league victory over the home team Madison Warhawks, Tuesday (Jan. 26) to earn their first league win.
Keeping the Patriots in the game was the fact that five players tallied points in the book as it was an 18-16 Madison lead at the break.  The Warhawks, after three periods of play,  were able to keep their lead thanks to a 7-4 advantage to lead 25-20.
Despite being down going into the fourth quarter, the Patriots decided to change things by switching up their defense and that is when their fortunes changed. The switching of the defenses led to confusion and chaos for the Warhawks, which allowed the Patriots to take advantage and put up the necessary points to gain the victory.
Leading the balanced attack of the Patriots was MARISSA GILES who nailed 14 points, while HALEY ROBINSON was a monster on the glass grabbing 13 rebounds while the team compiled 39 boards on the night. The Patriots also had a combined 11 steals, including 6 by JASMYN CRAWFORD.
Christian:  Marissa Giles 14 (7 reb, 1 stl, 2 blk), Sage Salacup 8 (7 reb, 2 stl), Jasmyn Crawford 7 (6 stl), Brooke Owens 6 (7 reb, 1 ast, 1 stl), Haley Robinson 3 (13 reb, 1 blk, 1 stl), Alyssa Rothrock (5 reb).
WEST HILLS, 40, GRANITE HILLS 37 – The West Hills Wolf Pack held a narrow 13-11 edge over the visiting Granite Hills Eagles at the end of the first quarter of Tuesday's (Jan. 26) Grossmont Hills League game.
However, the Pack picked up steam to pull ahead by 14-7 in the second quarter, leading 27-18 at the half.
Granite Hills claimed the third quarter 7-4 and pulled ahead in the fourth, but the Pack had already established enough of a lead to claim the victory.
"I thought defensively we played well for most of the night," said Wolf Pack coach RYAN KINSER. "They struggled to score unless it was lay-ups off turnovers or offensive rebounding. Offensively we played very poor. Pressure gave us trouble and we missed open shots when we got them."
CARLY RALEY paced West Hills with 13 points and 5 rebounds.
Granite Hills was led by RAELLEAH MOORE who tossed in 13 points, while MICAYELA HERNANDEZ added 10 markers.
"We had the lead – we gave it to them," said Granite Hills coach CURTIS NORWOOD. "Key turnovers down the stretch kinda sealed our fate. We had no continuity. We had the lead with a minute left and missed an opportune moment."
West Hills:  Carly Raley 13 (5 reb, 1 ast, 3 stl, 2 blk), Maya Clemons 9 (4 reb, 2 ast, 1 stl), Kerrie Daniels 7 (8 reb, 2 stl), Vivian Panela 6 (2 reb, 4 ast), Megan Scott 5 (6 reb, 2 ast, 4 stl), Clarrisa Holder (1 reb, 1 stl).
Granite Hills:  Raelleah Moore 13 (5 reb, 3 stl), Micayela Hernandez 10 (1 reb, 2 ast, 1 stl), Diamond Hollis 8 (2 reb), Kani Kubari 2 (3 reb), Emma Kubari 2 (2 reb, 2 ast, 1 stl), Delaney Casey 2 (1 stl), Shanice Lacey (1 reb).

GROSSMONT 54, EL CAJON VALLEY 37 – SYMONE GRIFFITH led the visiting Grossmont Foothillers in Tuesday's (Jan. 26) Grossmont Valley League victory over host El Cajon Valley with 14 points and 4 assists, as Grossmont improved its record to 17-4 and 2-1 GVL.
The Foothillers rambled non-stop over the Braves as ATHENA SOTELO punched in 11 points, grabbed 5 rebounds, dished 5 assists and made 4 steals, and LYDIA HALCOTT added 10 points, 7 rebounds and 3 blocks.
CANDACE HENDERSON pitched in 10 points of her own for Grossmont.
Grossmont took a 16-8 first quarter lead and never looked back.
Although the Braves tried to stage a comeback, the Foothillers used a 16-9 run to put the game away.
For El Cajon Valley LEANNA WATSON led the Braves with 22 points, 5 rebounds, 4 assists and 4 steals, hitting 8 of 12 free throws and a pair of treys.
Grossmont:  Symone Griffith 14 (4 ast, 2 stl), Athena Sotelo 11 (5 reb, 5 ast, 4 stl), Lydia Halcott 10 (7 reb, 3 blk), Candace Henderson 10 (4 reb, 1 stl), Taisha Silas 4 (7 reb, 2 ast), Jasmine Lee 3 (4 reb), Sabrina Johannes 2.
El Cajon Valley:  Leanna Watson 22 (5 reb, 4 ast, 4 stl), Titishia Clemons 5 (5 reb, 7 stl), Mary Awadich 5 (2 reb, 2 stl), Kaheen Hasan 1 (5 reb, 2 stl), Farah Kannan 3, Sumaya Hameed 1 (5 reb), (Rabab Issa-Taba (5 reb).

STEELE CANYON 58, SANTANA 34 – The Steele Canyon Cougars made it look easy in their 58-34 Grossmont Valley league romp over the visiting Santana Sultans, Tuesday (Jan 26) to push their overall record to 13-4 and stay undefeated in league play.
Leading the scoring charge for the Cougars was the duo of ASHLEY TAVIZON who rolled a double-double of 17 points and 12 rebounds and JULES LOIBL who canned 16 points. Including these two, six other players scored points for the Cougars.
The balanced attack for the Cougars led from start to finish as they pounced to an early 12-4 lead after the first period.  They would extend their lead to 13 as they took the second stanza 17-12 to lead 29-16 at the break.
The second half was more of the same as Steele Canyon took every period, outscoring the Sultans and would match their first half total scoring of 29 points and take the second half 29-18 to wrap up the contest.
Steele Canyon: Ashley Tavizon 17 (12 reb), Jules Loibl 16 (9 reb), Mariah Smith 6 (6 reb), Elizabeth Bott 6, Marie Estavillo 4, Marianna Martinez 4, Reagan Jordan 3 (4 reb), Mya Cross 2 (5 reb), Kylie Minshew (6 reb).
— Adam Paul

HELIX 54, MONTE VISTA 22 – Helix sprinted to a 19-7 first quarter lead over Monte Vista and extended its advantage to 39-12 after three periods to sock away the Grossmont Hills League contest on Tuesday (Jan. 26) in Spring Valley.
DANIELLE SIMMONS knocked down 19 points and blocked 7 shots to put the game away for Helix.
CAM OWENS added a dozen points, 6 rebounds and 6 assists for the winners.
Helix:  Danielle Simmons 19 (2 reb, 1 stl, 7 blk), Cam Owens 12 (6 reb, 6 ast, 1 stl), Taliah Hooker 8 (1 reb, 2 stl), Taylor Garrett 6 (2 reb), Jazmyne Turner 4 (2 reb), Kaliah King 3 (3 reb, 3 blk), Marina Smith 2 (2 reb, 1 ast), Janae White (2 reb, 1 stl, 1 blk), Olivia Missouria (2 reb, 1 stl).
Monte Vista:  No report.
VALHALLA 51, EL CAPITAN 29 – Valhalla skated in front of host El Capitan to a 16-6 first quarter lead and expanded their advantage across the board in Tuesday's (Jan. 26) Grossmont Valley League encounter.
TIANA SILVER led the Norsemen with 20 points, while MOLLY  LINDSAY crashed the boards and added 11 points to help Valhalla keep control of the contest.
El Capitan could put up little resistance as only MARIE COOK scored 16 points and grabbed 4 rebounds.
Valhalla:  Tiana Silver 20, Molly Lindsay 11, Bianca Gorges 6, Alexa Somo 5, Melanie Yousif 4, Jenna Yalda 4, Lisa Damman 1.
El Capitan:  Marie Cook 16 (4 reb), Taylor Fagan 7 (3 reb, 2 ast), Lynda Hicks 2 (1 reb, 1 ast), Danielle Pimentel 2, Makenzi Kygar 2 (1 reb), Zanndra Ragole 1 (1 reb), Sarah Lohman (5 reb, 3 ast).