Lindsay works overtime for Valhalla in road win
Updated: February 3, 2016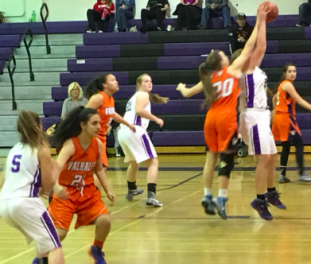 Valhalla and Santana battle for control Tuesday night in Santee.
2015-16 EAST COUNTY PREP GIRLS BASKETBALL
By Bill Dickens
© East County Sports.com
SANTEE (2-3-16) — TIANA SILVER paced Valhalla with 30 points in Tuesday's (Feb. 2) Grossmont Valley League contest but teammate MOLLY LINDSAY did her best shooting in overtime as Valhalla edged Santana 53-52.
In the overtime period Silver scored just one point, but Lindsay scored all 6 of her points in the OT, and MELANIE YOUSIF scored a bucket to give the Norsemen the victory over the Sultans.
"In the second quarter we got into our press and were pretty successful," said Valhalla coach MARC CARTER. "Molly was able to capitalize on (Santana's) turnovers."
Asked about the third quarter turnaround, after Valhalla had held a 25-10 advantage over Santana at the break, then ended up scoring only 10 points to the Sultans' 25 in that quarter, Carter offered as the reason, "Santana pressed in the third and we couldn't handle it."
It didn't matter though, as the Norsemen came through when it counted. They now are tied with Grossmont for the league lead with a 4-1 record.
Valhalla:  Tiana Silver 30, Melanie Yousif 9, Julianna Qsar 2, Marissa Asker 2, Bianca Gorges 2, Alexa Somo 2.

CHRISTIAN 43, CLAIREMONT 42 – A jump shot by MARISSA GILES in the final minute gave the Christian High Patriots a narrow victory over Clairemont and an escape from the Central League cellar.
"We were down with a minute to go and Marissa hit a jump shot," said Christian coach TIFFANY GILES.
Clairemont scored and SAGE SALACUP was fouled. She made both of her free throws.
"That was clutch," the coach understated. It also won the game for Christian. "We lost to them the last time we played them at their place."
HAYLEY ROBINSON led the Patriots on the boards with 11 caroms.
Christian:  Marissa Giles 19 (3 reb, 2 ast, 2 stl), Brooke Owens 8 (3 reb, 5 stl, 1 blk), Jasmyn Crawford 8 (3 reb, 7 stl), Sage Salacup 5 (3 reb, 1 stl), Alyssa Rothrock 2 (2 reb, 1 stl, 1 blk), Hayley Robinson 1 (11 reb, 1 ast, 1 stl).

GROSSMONT 48, EL CAPITAN 31 – The high-flying Grossmont Foothillers rode the sharp-shooting of TAISHA SILAS with 21 points to set down El Capitan and maintain the Foothillers' share of the Grossmont Valley League lead.
The victory ties Grossmont and Valhalla at the top of the pile with 4-1 apiece.
Grossmont:  Taisha Silas 21 (5 reb, 2 blk), Symone Griffith 8 (7 stl, 4 ast), Athena Sotelo 5 (6 reb, 4 ast).
El Capitan:  Marie Cook 21 (9 reb, 2 ast, 5 stl), Taylor Fagan 6 (5 reb, 2 stl), Sarah Lohman 2 (5 reb), Danielle Pimentel 2 (2 reb, 9 ast), Zanndra Ragole (6 reb, 4 ast, 1 stl), Makenzi Kygar (1 reb, 1 ast, 2 stl).

STEELE CANYON 69, EL CAJON VALLEY 28 – Host Steele Canyon erupted for 30 points in the first quarter of Tuesday's (Feb. 2) Grossmont Valley League contest and continued on the maul visiting El Cajon Valley.
JULES LOIBL and MARIAH SMITH sparked the first quarter uprising.
"We kept the pressure on them," said Cougars coach PETER RUIZ. "And that paid off in the scoring column."
Team leader ASHLEY TAVIZON gunned in 14 points and dished 10 assists for the Cougars (3-1, 14-5 overall).
LEANNA WATSON poured in 19 points for El Cajon Valley.
"This is the worst game we've played in two years," said El Cajon Valley coach CARLOS MOSS. "Steele Canyon basically just ran us into the dirt, and we just laid an egg."
"I really feel bad for Leanna, because I need to find her some help and we haven't been able to do that yet. I know she's disappointed, as I am, but she can't do it by herself."
Steele Canyon:  Ashley Tavizon 14 (10 ast), Mariah Smith 12 (5 stl), Jules Loibl 10, Bliss Montemayor 8, Kylie Minshew 7, Marianna Martinez (2 stl, 4 reb), Reagan Jordan 5 (4 reb), Elizabeth Bott 2, Marie Estavillo 2, Mya Cross 1 (5 reb).
El Cajon Valley:  Leanna Watson 19 (4 stl), Mary Awadich 2, Sumaya Hameed 5, Farah Kannan 2.

WEST HILLS 54, MONTE VISTA 24 – West Hills stormed to a 29-7 halftime lead and it was game over after that for Tuesday's (Feb.) Grossmont Hills League encounter as the Wolf Pack mauled the Monarchs.
KERRIE DANIELS paced the Pack with 15 points, while MEGAN SCOTT pitched in 11 points, grabbed 6 rebounds and dished 5 assists.
West Hills:  Kerrie Daniels 15 (4 reb, 6 stl), Megan Scott 11 (6 reb, 5 ast, 2 stl, 1 blk), Jessica Fondes 9 (5 reb, 2 ast, 1 stl), Vivian Panela 9 (1 reb, 1 stl), Carly Raley 6 (4 reb, 2 blk), Summer Stewart (2 reb, 1 stl, 1 blk), Clarrisa Holder (2 reb, 1 ast).
Monte Vista:  No information provided.