Hornets invade Cougars' den to take non-league win
Updated: February 18, 2016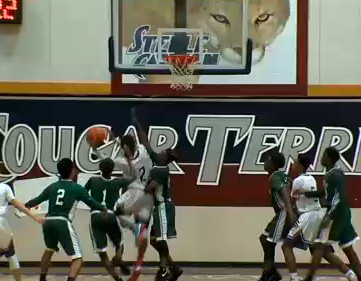 Javon Nutter scores a basket for Steele Canyon on Wednesday night.
2015-16 EAST COUNTY PREP BOYS BASKETBALL
By Chris Davis
© East County Sports.com
RANCHO SAN DIEGO (2-18-16) — The Steele Canyon Cougars lost to the Lincoln Hornets 48-37 in a non-league game at Steele Canyon on Wednesday (Feb. 17).
JAVON NUTTER and AMIR HARRIS combined for 24 of the Cougars (10-16) 37 points on an off shooting night.
"Didn't play with enough energy," head coach DEREK STEPHENS said.  "We usually move the ball well, but tonight we just stood around.  We just couldn't shoot.  I thought we got enough open looks to at least win the game.  We missed a bunch of layups and open three's.  That was the biggest difference.  Us holding them to 48 points is good for us, but scoring 37 is not going to win many games."
The Lincoln Hornets (14-12) played up to their ranking of eighth in the most recent CIF-SDS power rankings, that hold a significant role in the seeding process for the upcoming playoffs.
At the end of the first quarter, the Hornets were already out to a seven point lead.  Then the defense kicked in for the City school.  Lincoln held the Cougars to just three points, while scoring 10 of their own for a 27-13 lead.
It wouldn't get much better in the second half.
Lincoln added to the lead going up by as much as 17 points.  Steele HoCanyon would then start fighting back and would eventually get as close as nine points in the fourth quarter.
"I think we'll be alright," Stephens explained about how the team will bounce back in the playoffs.  "We didn't necessarily play our best game but it was more lack of execution that we can fix.  Effort wise it was there at the end."
Steele Canyon: Javon Nutter 12 (13 reb, 1 stl), Amir Harris 12 (3 reb, 2 stl), Nick Barns 5, Gage Sanders 4 (2 reb, 1 stl, 2 ast), Nick Hodge 2 (4 reb, 3 stl, 1 ast), DeAngelo Lewis 2 (1 reb, 1 sat), Jalen Sayles (8 reb, 1 stl, 2 ast, 1 blk), Drew Martin (1 reb).