Griffins still looking up to powerhouse Comets
Updated: February 19, 2016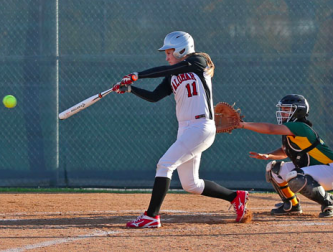 Tayler Moore drives in the game-ending run for the Comets in the bottom of the fifth inning with this walk-off hit. Photo by Hugh Cox
2016 GROSSMONT COLLEGE SOFTBALL
By Chris Davis
© East County Sports.com
SAN MARCOS (2-20-16) — Grossmont College's SoCal eighth-ranked softball team dropped a run-ruled shortened game to the region's No. 1 squad, Palomar College (9-1, 2-0 PCAC), on Friday (Feb. 19) 8-0.
Mt. San Antonio will come to the Grossmont (10-3-1, 1-1 PCAC) College campus on Saturday (Feb. 20) for a 1:00 p.m. first pitch.
The Griffins found out there is a marked difference in community college softball between No. 8 and No. 1.
Defending state champion Palomar, ranked second in the state, had its way with the G-House, run-ruling the visiting Griffins  as 2015 state tournament Most Valuable Pitcher Summer Evans threw a three-hit shutout.
Brooke Huddleson (left, 2-for-3, 2 doubles, 2 RBIs), 2015 state tournament MVP Iesha Hill (2-for-3, double, RBI), Brienna Dunckel (2-for-3, 2 steals) and Tayler Moore (2-for-3 with an RBI to end the game in the bottom of the fifth) led a 12-hit attack for Palomar.
Bailey Romano contributed a two-run single. Miriah Lopez and Katy McJunkin each added an RBI single and Taylor Willis had the Comets' other hit, a single. The Comets ran their win streak to nine games, and Evans advanced to 9-1 on the year.