Matadors put it all together, keep Eagles from outright title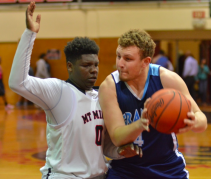 Mount Miguel senior Trevon Allen defends against the Eagles' Jacob Burton Friday night in Spring Valley.
2015-16 EAST COUNTY PREP BOYS BASKETBALL
By Bill Dickens
© East County Sports.com
SPRING VALLEY (2-20-16) — Granite Hills had its talons set on an 11th straight Grossmont League title entering Friday night's (Feb. 19) Grossmont Valley League regular season finale at Mount Miguel.
All the Eagles needed was a victory over the Matadors.
Apparently Mount Miguel didn't get the memo.
DARIAN NORWOOD cranked in 25 points to guide the Matadors to a 73-59 upset over the bewildered Eagles.
"It came down to how bad did we want it," said Norwood, who landed 11 of 18 shots from the field including one trey. "A lot of us have never been to the playoffs before, including me, so this was more than just trying to knock off Granite Hills, which we really wanted to do. We knew we had to win to make the playoffs, so that was our primary goal."
Granite Hills zipped to a 9-0 lead and that set the stage for a 12-0 run by the Matadors. The Eagles made a brief comeback, taking the lead 29-28 with 2:10 to go in the first half.
After that Mount Miguel regained the lead 34-31 by intermission. From there on the Matadors ran wild, leading by as much as 56-44 early in the fourth quarter. That was pretty much the outcome in favor of the Matadors (14-14, 4-8 GVL).
It was Senior Night at Mount Miguel and TREVON ALLEN was one of two players to be  honored. He hit 6 of 12 from the floor including one trey for 13 points, grabbed 11 rebounds, dished 4 assists and made 2 steals.
"Coach (JAY ROWLETT) told us we had to win in order to have a shot at the playoffs," Allen said. "It was my Senior Night and my last game if we didn't make it to the playoffs. Last year we didn't make it to the playoffs and it broke my heart. I didn't want this to be my last game so I played as hard as I could."
Usually overlooked due to his 5-foot-4 stature, TAJ TUCKER came off the bench to score 16 points, including 5-for-6 shooting and 4 treys. He continues to play bigger than his size as he was 2-for-2 from the free throw line, grabbed 3 rebounds and dished 4 assists.
"This was our best game of the season," said Rowlett. "There's nothing I did differently, it's just that the guys played together."
Newcomer JAMES ALLEN contributed 12 markers and 4 rebounds for the Matadors.
Mount Miguel:  Darian Norwood 25 (7 reb, 3 ast), Taj Tucker 16 (3 reb, 4 ast), Trevon Allen 13 (11 reb, 4 ast, 2 stl), James Allen 12 (4 reb, 1 ast, 1 stl), Devon Brown 7 (1 reb), Chris Thompson (5 reb), Andres Cox (2 reb, 1 ast), Marquis (2 reb, 1 ast).
Granite Hills:  Darien Cossio 17 (5 reb, 2 stl), David Setterberg 13 (4 reb, 1 ast, 1 stl), Ryan Kelly 12 (6 reb, 2 ast, 1 stl, 1 blk), Cameron Spitzer 8 (2 reb, 3 ast, 1 stl), Jake Burton 6 (12 reb, 1 ast, 2 blk), Erin Swinson 3, Mario Mezo (1 reb, 1 ast).